And the monk's quest for humility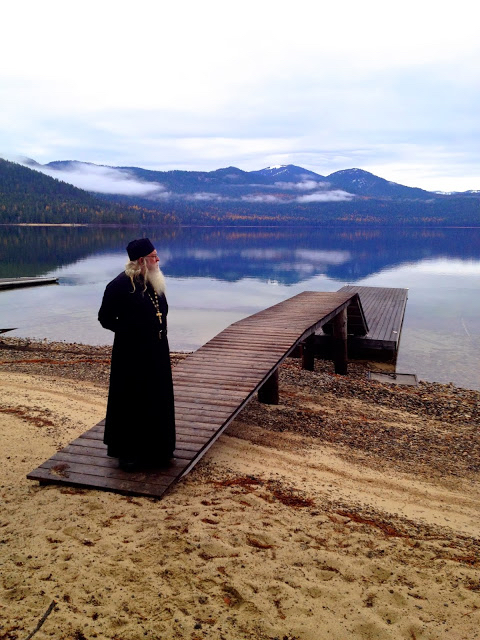 Struggling with his pride, the monk focuses on bringing his own will into conformity with the will of God, through monastic obedience. This obedience is not limited to obeying the directives of his abbot, but taking up a standard of humility that takes seriously his adherence to the 102 canons of the Sixth Ecumenical Council, in the garb he wears, and refraining from cutting his hair and beard. The monk places his own will aside, taking up the tradition of the Church, and making it is own.
Recognizing that false humility is almost wholly the product of self-righteous hypocrisy, the monk dedicates himself to a truth which is absolute, and which transcends his personal opinion. It is precisely this humility which Saint Paul reveals to us when, boasting of his sufferings and exploits, he tells us that they have meaning only in Jesus Christ.
The monk fights off the temptation of making his faith a form of ideology, for he knows the knowledge of Jesus Christ, when transformed into an ideological and moralistic knowledge, closes the door to others, and turns Christianity into a list of requirements, denuding the message of the Church into yet another worldly political force.
The monk refuses to let his Christian faith distance himself from others, because he knows the monastic life is not a withdrawal from others, but an embracing of all humanity, through his intimate relationship with Christ, through Whom all are united.
It is only through his immersion in a life of prayer, that the monk's faith becomes something other than an ideology. Through his uniting of himself in the prayer of the Church, the monk loses himself, becoming one with Christ, and with all Christians. His quest for humility comes through his having united himself to the humility of Christ, Who condescended to take on our flesh, in order to unite His divinity, with our humanity.
With love in Christ,
Abbot Tryphon
Wednesday August 22, 2018 / August 9, 2018
13th Week after Pentecost. Tone three.
Dormition (Theotokos) Fast. By Monastic Charter: Strict Fast (Bread, Vegetables, Fruits)
Apostle Matthias (63).
Synaxis of All Saints of Solovki.
New Martyr Margaret (1918).
Martyr Anthony of Alexandria.
Venerable Psoes of Egypt (4th c.).
Martyrs Julian, Marcian, John, James, Alexius, Demetrius, Photius (Phocas), Peter, Leontius, and Mary, of Constantinople (726).
Venerable Macarius, abbot of Oredezh (1532).
St. Alexis Medvedkov, archpriest of Uzine (1934).
The Restoration of the Temple of the 40 Martyrs.
The Scripture Readings
John 21:15-25
Jesus Restores Peter
15 So when they had eaten breakfast, Jesus said to Simon Peter, "Simon, son of Jonah, do you love Me more than these?"
He said to Him, "Yes, Lord; You know that I love You."
He said to him, "Feed My lambs."
16 He said to him again a second time, "Simon, son of Jonah, do you love Me?"
He said to Him, "Yes, Lord; You know that I love You."
He said to him, "Tend My sheep."
17 He said to him the third time, "Simon, son of Jonah, do you love Me?" Peter was grieved because He said to him the third time, "Do you love Me?"
And he said to Him, "Lord, You know all things; You know that I love You."
Jesus said to him, "Feed My sheep. 18 Most assuredly, I say to you, when you were younger, you girded yourself and walked where you wished; but when you are old, you will stretch out your hands, and another will gird you and carry you where you do not wish."19 This He spoke, signifying by what death he would glorify God. And when He had spoken this, He said to him, "Follow Me."
The Beloved Disciple and His Book
20 Then Peter, turning around, saw the disciple whom Jesus loved following, who also had leaned on His breast at the supper, and said, "Lord, who is the one who betrays You?" 21 Peter, seeing him, said to Jesus, "But Lord, what about this man?"
22 Jesus said to him, "If I will that he remain till I come, what is that to you? You follow Me."
23 Then this saying went out among the brethren that this disciple would not die. Yet Jesus did not say to him that he would not die, but, "If I will that he remain till I come, what is that to you?"
24 This is the disciple who testifies of these things, and wrote these things; and we know that his testimony is true.
25 And there are also many other things that Jesus did, which if they were written one by one, I suppose that even the world itself could not contain the books that would be written. Amen.
2 Corinthians 9:12-10:7
12 For the administration of this service not only supplies the needs of the saints, but also is abounding through many thanksgivings to God, 13 while, through the proof of this ministry, they glorify God for the obedience of your confession to the gospel of Christ, and for your liberal sharing with them and all men, 14 and by their prayer for you, who long for you because of the exceeding grace of God in you. 15 Thanks be to God for His indescribable gift!
The Spiritual War
10 Now I, Paul, myself am pleading with you by the meekness and gentleness of Christ—who in presence am lowly among you, but being absent am bold toward you. 2 But I beg you that when I am present I may not be bold with that confidence by which I intend to be bold against some, who think of us as if we walked according to the flesh. 3 For though we walk in the flesh, we do not war according to the flesh. 4 For the weapons of our warfare are not carnal but mighty in God for pulling down strongholds, 5 casting down arguments and every high thing that exalts itself against the knowledge of God, bringing every thought into captivity to the obedience of Christ, 6 and being ready to punish all disobedience when your obedience is fulfilled.
Reality of Paul's Authority
7 Do you look at things according to the outward appearance? If anyone is convinced in himself that he is Christ's, let him again consider this in himself, that just as he is Christ's, even so we are Christ's.
Mark 3:20-27
A House Divided Cannot Stand
20 Then the multitude came together again, so that they could not so much as eat bread. 21 But when His own people heard about this, they went out to lay hold of Him, for they said, "He is out of His mind."
22 And the scribes who came down from Jerusalem said, "He has Beelzebub," and, "By the ruler of the demons He casts out demons."
23 So He called them to Himself and said to them in parables: "How can Satan cast out Satan? 24 If a kingdom is divided against itself, that kingdom cannot stand. 25 And if a house is divided against itself, that house cannot stand. 26 And if Satan has risen up against himself, and is divided, he cannot stand, but has an end. 27 No one can enter a strong man's house and plunder his goods, unless he first binds the strong man. And then he will plunder his house.