Our Orthodoxy must not be allowed to be mere formulas
We can't just order up that which God has for us, but we must make sure we are open to the movement of the Holy Spirit in our lives. Making life around the Church a high priority in our week can serve as a good start, but Orthodoxy is by nature a faith that demands full participation and deep commitment, otherwise it becomes just another religion, devoid of salvific, transformational value.
If Orthodoxy is to be something other than mere magic, with the priest as some sort of wizard who performs the right formulas, thus allowing us to feel we've done all that is needed, our Orthodoxy will have failed us. Do we read the daily prescribed scripture readings? Do the lives of the saints impact our lives, because we read about them? Are we preparing ourselves for the Saturday night confession by taking note of our sins during the week, and being ready to be accountable before God, with the priest as our witness? Are we holding up the Orthodox standard in our public life, or do we allow ourselves to be lost in the crowd, dismissing our obligations to God during the week?
It is always good to have a spiritual father or regular confessor, but the absence of one can not be an excuse for living our Christianity lite. If we allow our pride to keep us from disclosing our sins in confession, we doom ourselves to mediocrity, and will see no spiritual growth whatsoever. If we feel we need not challenge ourselves to a deeper walk with Christ, because others probably won't notice, we cheat both God and ourselves.
The spiritual life is an adventure, full of pitfalls AND great heights. If we take this journey as the prime reason for living, the reward will be great. If we try living our life with the Church placed in a secondary roll, we will end our lives as losers, and having lost the battle and the reward. The road to paradise must begin with a commitment to make this journey our main priority. We are on a journey, and it begins with that first step. Christ stands with us, ready to lift us up when we fall, and even pull us along when we stumble or grow fainthearted.
With love in Christ,
Abbot Tryphon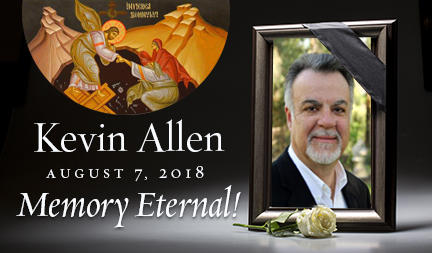 With sadness and in the hope of the resurrection, I honor the repose and remember the life of my dear friend, Kevin Allen.
Wednesday August 8, 2018 / July 26, 2018
11th Week after Pentecost. Tone one.
Fast. By Monastic Charter: Strict Fast (Bread, Vegetables, Fruits)
Hieromartyrs Hermolaus (305), Hermippus, and Hermocrates at Nicomedia.
New Hieromartyr Sergius priest (1937).
Venerable Moses the Hungarian, of the Kiev Caves (1043).
Martyr Parasceve of Rome (138).
St. Iakov (Netsvetov) of Atka-Island and Ikogmute, mission priest to the Yup'ik on the Yukon River (1867).
Martyr Oriozela of Reuma in Byzantium (ca. 250) (Greek).
Venerable Ignatius, monk, of Mt. Stirion (Greek).
Virgin-martyr Jerusalem of Byzantium (Greek). /font>
Venerable Gerontius, founder of the Skete of St. Anne, Mt. Athos (13th c.) (Greek).
St. Sava III, archbishop of Serbia (1316) (Greek).
The Scripture Readings
2 Corinthians 3:4-11
The Spirit, Not the Letter
4 And we have such trust through Christ toward God. 5 Not that we are sufficient of ourselves to think of anything as being from ourselves, but our sufficiency is from God, 6 who also made us sufficient as ministers of the new covenant, not of the letter but of the Spirit; for the letter kills, but the Spirit gives life.
Glory of the New Covenant
7 But if the ministry of death, written and engraved on stones, was glorious, so that the children of Israel could not look steadily at the face of Moses because of the glory of his countenance, which glory was passing away, 8 how will the ministry of the Spirit not be more glorious? 9 For if the ministry of condemnation had glory, the ministry of righteousness exceeds much more in glory. 10 For even what was made glorious had no glory in this respect, because of the glory that excels. 11 For if what is passing away was glorious, what remains is much more glorious.
Matthew 23:29-39
29 "Woe to you, scribes and Pharisees, hypocrites! Because you build the tombs of the prophets and adorn the monuments of the righteous, 30 and say, 'If we had lived in the days of our fathers, we would not have been partakers with them in the blood of the prophets.'
31 "Therefore you are witnesses against yourselves that you are sons of those who murdered the prophets. 32 Fill up, then, the measure of your fathers' guilt. 33 Serpents, brood of vipers! How can you escape the condemnation of hell? 34 Therefore, indeed, I send you prophets, wise men, and scribes: some of them you will kill and crucify, and some of them you will scourge in your synagogues and persecute from city to city, 35 that on you may come all the righteous blood shed on the earth, from the blood of righteous Abel to the blood of Zechariah, son of Berechiah, whom you murdered between the temple and the altar. 36 Assuredly, I say to you, all these things will come upon this generation.
Jesus Laments over Jerusalem
37 "O Jerusalem, Jerusalem, the one who kills the prophets and stones those who are sent to her! How often I wanted to gather your children together, as a hen gathers her chicks under her wings, but you were not willing! 38 See! Your house is left to you desolate; 39 for I say to you, you shall see Me no more till you say, 'Blessed is He who comes in the name of the Lord!' "