All we need for happiness is right in front of us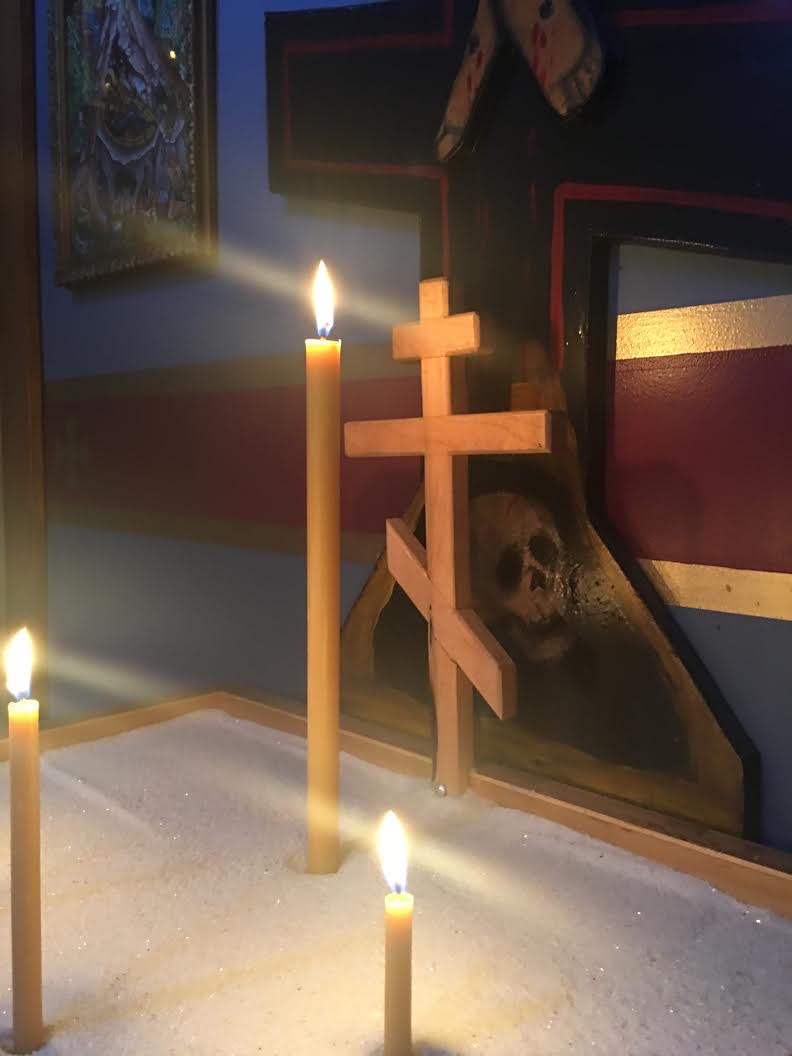 It is easy to resist taking care of oneself if we run at full speed as though we are the only one who can get things done. We all need to set priorities, making sure we focus on Christ and not let that which is transitory rule our lives. If we pay attention to our health, family and spiritual life, everything else will take care of itself. We shouldn't let life be so full of work that we don't have time to focus on the things that bring us joy. We must pay attention when the Lord is calling us to slow down.
If we focus only on the things that haven't been done and ignore the little things that bring joy to our life, we'll find ourselves in a rut. If we are constantly thinking of where we'd rather be living, or the job we'd rather have, or the work that still needs to be completed, we'll wake up one day and realize all we've needed for happiness has been right in front of us. We don't want to wait to enjoy what we already have.
With love in Christ,
Abbot Tryphon
Tuesday August 21, 2018 / August 8, 2018
13th Week after Pentecost. Tone three.
Dormition (Theotokos) Fast. By Monastic Charter: Food without Oil
St. Emilian the Confessor, bishop of Cyzicus (820).
St. Philaret of Ichalka, Ivanovo (1913).
New Hieromartyr Joseph (1918).
New Hieromartyr Nicholas priest (1937).
New Hieromartyr Nicodemus (Krotov) archbishop of Kostroma and Galich (1938).
Venerable Gregory, iconographer of the Kiev Caves (12th c.).
Translation of the relics (1566) of Venerables Zosimas (1478) and Sabbatius (1435) of Solovki.
Second translation of the relics (1992) of Venerables Zosimas, Sabbatius, and Herman of Solovki.
St. Myron, bishop of Crete (350).
Martyrs Eleutherius and Leonides of Constantinople, and many infants with them.
Venerable Gregory of Sinai (Mt. Athos) (1346).
"Tolga" Icon of the Most Holy Theotokos (1314).
Martyr Gormizdas of Persia (418).
New Martyr Triandaphyllus of Zagora in Thessaly (1680) (Greek).
Twelve Ascetics of Egypt (Greek).
Two Martyrs of Tyre (Greek).
Martyr Styracius (Greek).
New Martyr Anastasius (Spaso) of Radovishte in Strumica who suffered at Thessalonica (1794) (Greek).
St. Gregory, wonderworker of the Kiev Caves (14th c.).
St. Zosimas the Sinaite of Tumana Monastery, Serbia (14th c.).
Monk-martyr Euthymius, abbot of the Monastery of St. John the Baptist at Garesja, Georgia (1804).
The Scripture Readings
2 Corinthians 8:16-9:5
Collection for the Judean Saints
16 But thanks be to God who puts the same earnest care for you into the heart of Titus. 17 For he not only accepted the exhortation, but being more diligent, he went to you of his own accord. 18 And we have sent with him the brother whose praise is in the gospel throughout all the churches, 19 and not only that, but who was also chosen by the churches to travel with us with this gift, which is administered by us to the glory of the Lord Himself and to show your ready mind, 20 avoiding this: that anyone should blame us in this lavish gift which is administered by us— 21 providing honorable things, not only in the sight of the Lord, but also in the sight of men.
22 And we have sent with them our brother whom we have often proved diligent in many things, but now much more diligent, because of the great confidence which we have in you. 23 If anyone inquires about Titus, he is my partner and fellow worker concerning you. Or if our brethren are inquired about, they aremessengers of the churches, the glory of Christ. 24 Therefore show to them, and before the churches, the proof of your love and of our boasting on your behalf.
Administering the Gift
9 Now concerning the ministering to the saints, it is superfluous for me to write to you; 2 for I know your willingness, about which I boast of you to the Macedonians, that Achaia was ready a year ago; and your zeal has stirred up the majority. 3 Yet I have sent the brethren, lest our boasting of you should be in vain in this respect, that, as I said, you may be ready; 4 lest if some Macedonians come with me and find you unprepared, we (not to mention you!) should be ashamed of this confident boasting. 5 Therefore I thought it necessary to [e]exhort the brethren to go to you ahead of time, and prepare your generous gift beforehand, which you had previously promised, that it may be ready as a matter of generosity and not as a [f]grudging obligation.
Mark 3:13-19
The Twelve Apostles
13 And He went up on the mountain and called to Him those He Himself wanted. And they came to Him. 14 Then He appointed twelve, that they might be with Him and that He might send them out to preach, 15 and to have power to heal sicknesses and to cast out demons: 16 Simon, to whom He gave the name Peter; 17 James the son of Zebedee and John the brother of James, to whom He gave the name Boanerges, that is, "Sons of Thunder"; 18 Andrew, Philip, Bartholomew, Matthew, Thomas, James the son of Alphaeus, Thaddaeus, Simon the Cananite; 19 and Judas Iscariot, who also betrayed Him. And they went into a house.