We must guard our hearts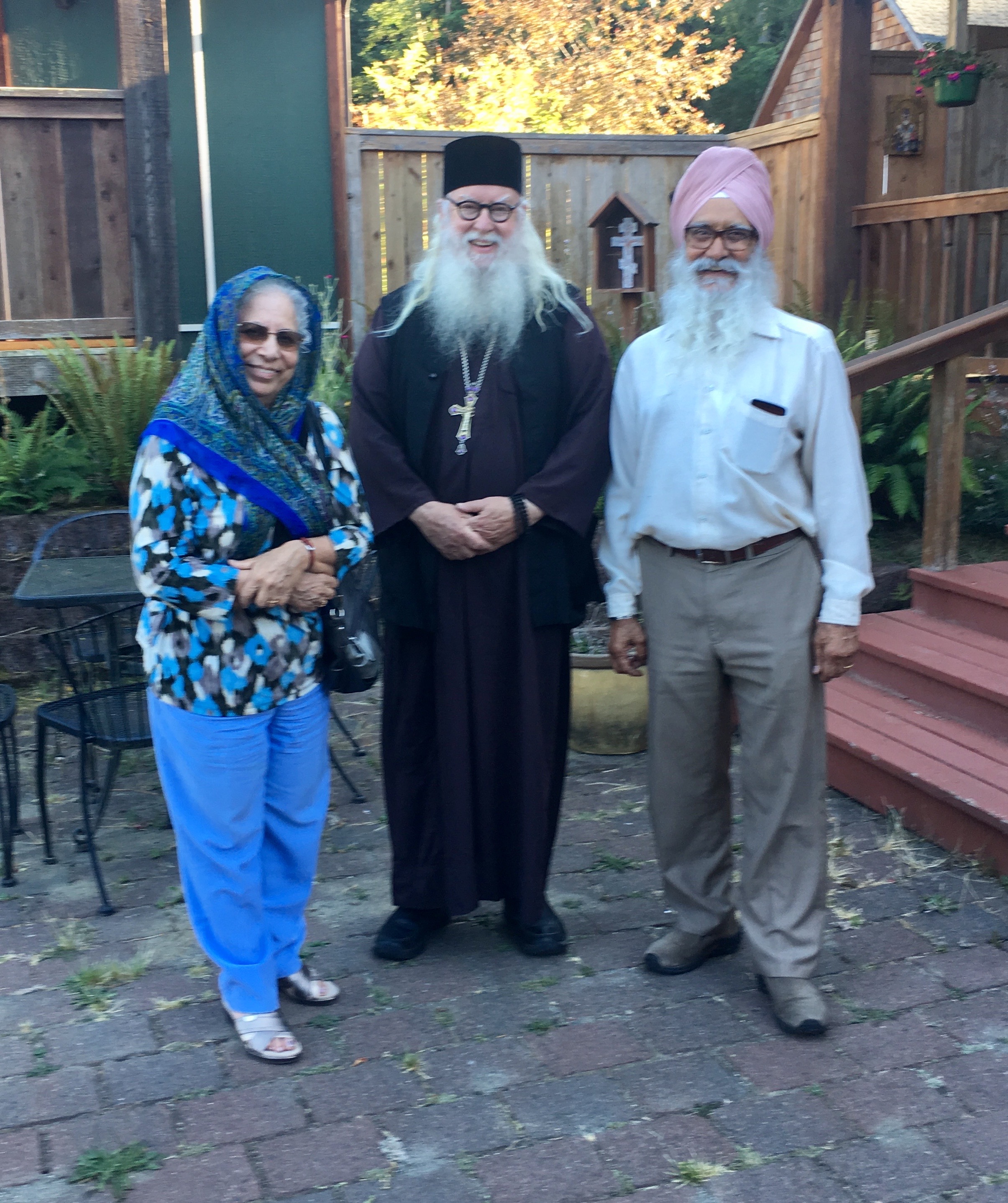 As we are all filled with thoughts that flood our minds, let us consider each thought and decide whether it be our own, or those of the enemy of our salvation. If they be the latter they should be driven out, and given no room to linger. Negative thoughts that are allowed to grow in our heart dispel the possibility of living in purity and holiness.
Saint Seraphim of Sarov said, "To call on God is to invite him into your heart: but will you dare to invite so great a Father when you have no dwelling fit for him? Your heart is full of evil desires, and yet you invite him in." We must guard our thoughts and keep pure our hearts.
With love in Christ,
Abbot Tryphon
Photo: My friends, Raghbir Sandhu Singh, and his wife, visited the monastery earlier this week.
Saturday August 4, 2018 / July 22, 2018
10th Week after Pentecost. Tone eight.
Holy Myrrh-bearer and Equal-to-the-Apostles Mary Magdalen (1st c.).
Translation of the relics (404) of Hieromartyr Phocas, bishop of Sinope (117).
New Hieromartyr Michael priest (1918).
New Hieromartyr Alexis priest (1931).
Venerable Cornelius, monk, of Pereyaslavl, and confessor of Alexandrov Convent (1693).
Venerable Marcella of Chios (1500).
St. Cyril I, patriarch of Antioch (298).
St. Wandregisilus of Caux (668) (Gaul).
St. Cyprian, fool-for-Christ of Suzdal (1622).
The Scripture Readings
Romans 15:30-33
30 Now I beg you, brethren, through the Lord Jesus Christ, and through the love of the Spirit, that you strive together with me in prayers to God for me, 31 that I may be delivered from those in Judea who do not believe, and that my service for Jerusalem may be acceptable to the saints, 32 that I may come to you with joy by the will of God, and may be refreshed together with you. 33 Now the God of peace be with you all. Amen.
Matthew 17:24-18:4
Peter and His Master Pay Their Taxes
24 When they had come to Capernaum, those who received the temple tax came to Peter and said, "Does your Teacher not pay the temple tax?"
25 He said, "Yes."
And when he had come into the house, Jesus anticipated him, saying, "What do you think, Simon? From whom do the kings of the earth take customs or taxes, from their sons or from strangers?"
26 Peter said to Him, "From strangers."
Jesus said to him, "Then the sons are free. 27 Nevertheless, lest we offend them, go to the sea, cast in a hook, and take the fish that comes up first. And when you have opened its mouth, you will find a piece of money; take that and give it to them for Me and you."
Who Is the Greatest?
18 At that time the disciples came to Jesus, saying, "Who then is greatest in the kingdom of heaven?"
2 Then Jesus called a little child to Him, set him in the midst of them, 3 and said, "Assuredly, I say to you, unless you are converted and become as little children, you will by no means enter the kingdom of heaven. 4 Therefore whoever humbles himself as this little child is the greatest in the kingdom of heaven.