The Divine Flame will consume you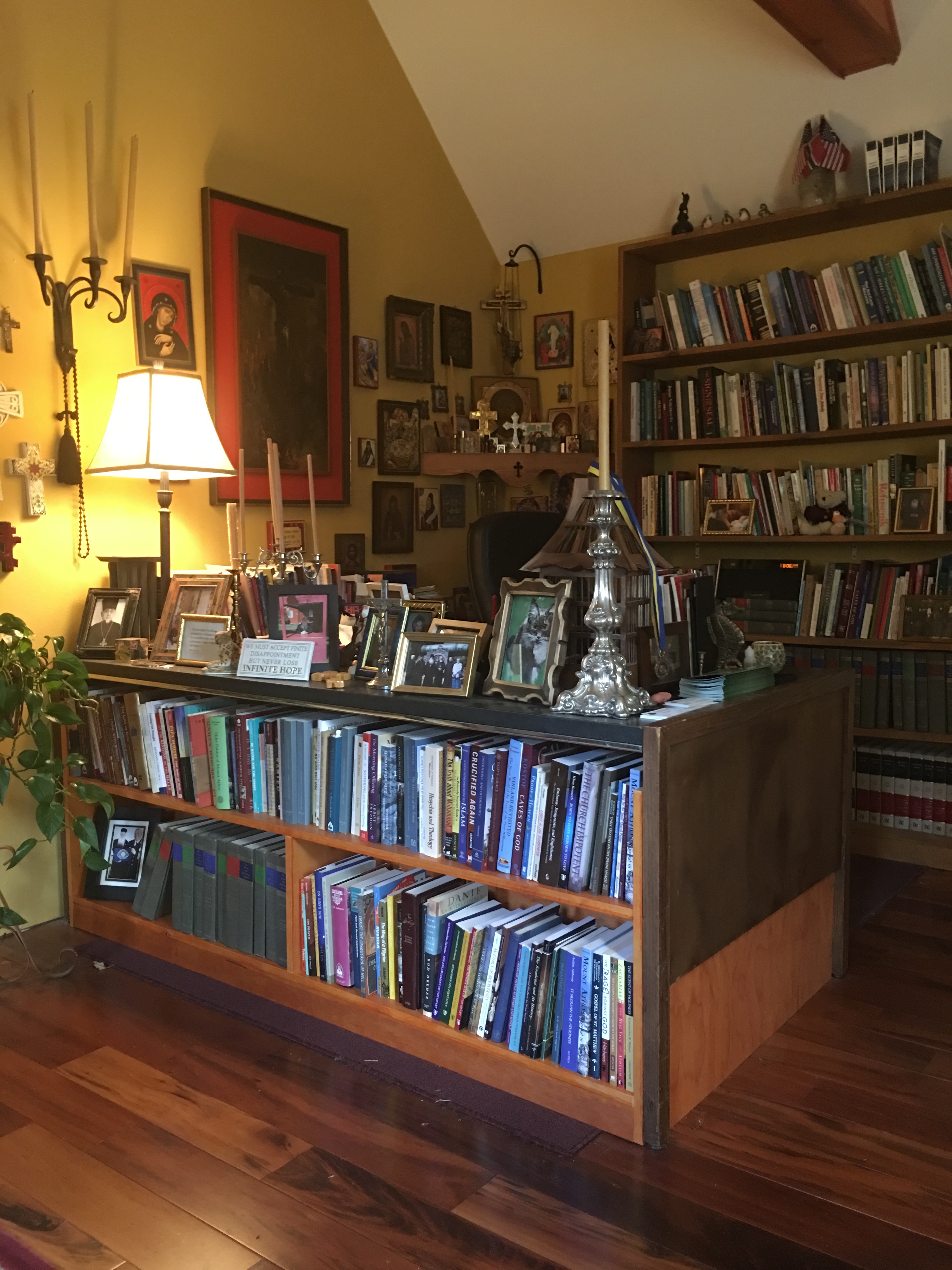 At the very first moment you decide to turn to God, your heart begins to be warmed by the action of the Holy Spirit. Your heart is kindled with the divine flame that will transform you. This flame will consume you completely, and will melt everything of a fallen nature within you. Once this flame of divine love has been actualized within your heart, do nothing that would allow it to be extinguished. Cooperate with the Fire of God, and let it completely consume you.
Put all your effort into this spiritual transformation that is beginning in your heart. Let nothing else take center stage over this action by God that is meant to save you, and make you complete. From a little flame, this fire will burn in your heart, and nothing of your fallen nature will be able to withstand it. This flame will transform your whole being, for the action of the Holy Spirit will take you into God's Kingdom, which resides within you.
Love in Christ,
Abbot Tryphon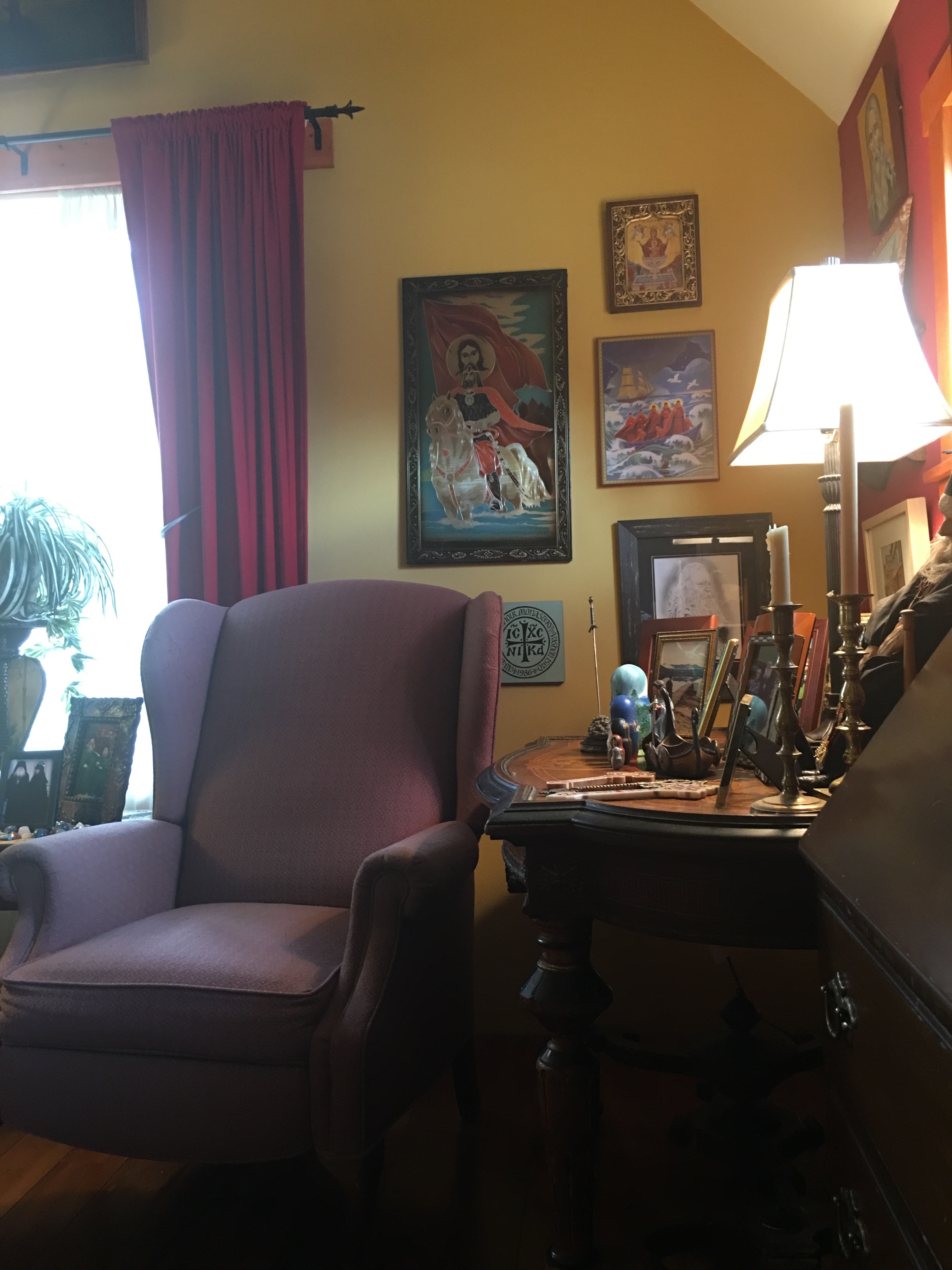 Photos: The interior of my study.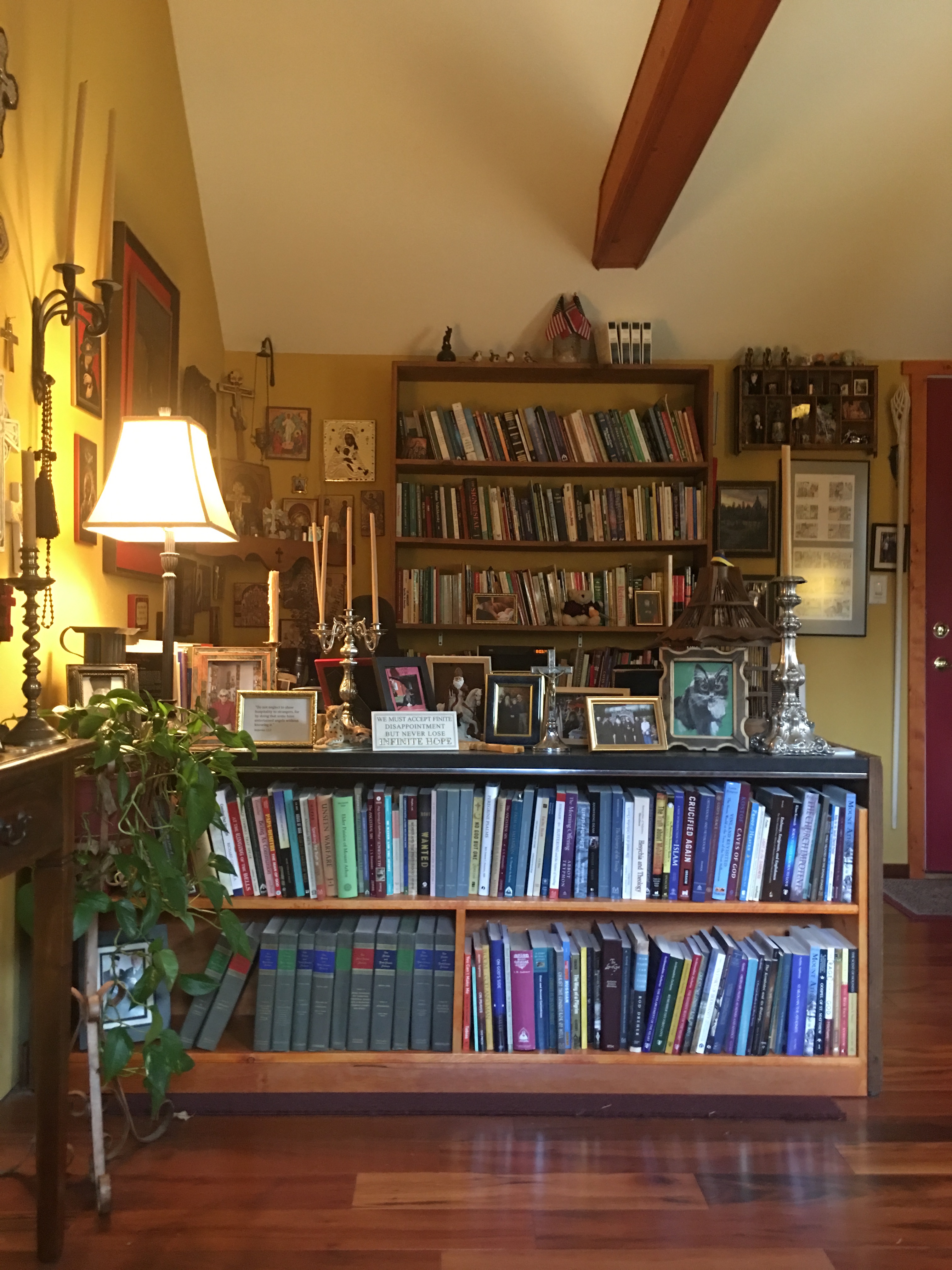 Tuesday August 7, 2018 / July 25, 2018
11th Week after Pentecost. Tone one.
The Dormition of the Righteous Anna, mother of the Most Holy Theotokos.
Holy Women Olympias (Olympiada) the Deaconess of Constantinople (409), and the Virgin Eupraxia of Tabenna (413).
Venerable Macarius, abbot of Zheltovod and Unzha (1444).
New Hieromartyr Nicholas priest (1918).
New Hieromartyr Alexander priest (1927).
St. Gregory (Kallidis), metropolitan of Thessalonica and Heraclea (1925).
New Hieromartyrs Vukosav Milanovic and Rodoljub Samardzic of Kulen Bakufa, Serbia (1941-1945).
New Hieromartyr Theodore Tonkovid, priest of Lovets (Pskov) (1942).
St. Iraida confessor (1967).
Commemoration of the Holy 165 Fathers of the Fifth Ecumenical Council (553).
Martyrs Sanctus, Maturus, Attalus, Blandina, Vivlia, Vetius, Epagathus, Ponticus, Alexander and others at Lyons (177) (Gaul).
Venerable Christopher, abbot of Solvychegodsk (Vologda) (1572).
New Hieromartyrs Grand Duke Michael Alexandrovich, Nicholas (Johnson) and Peter (Remes).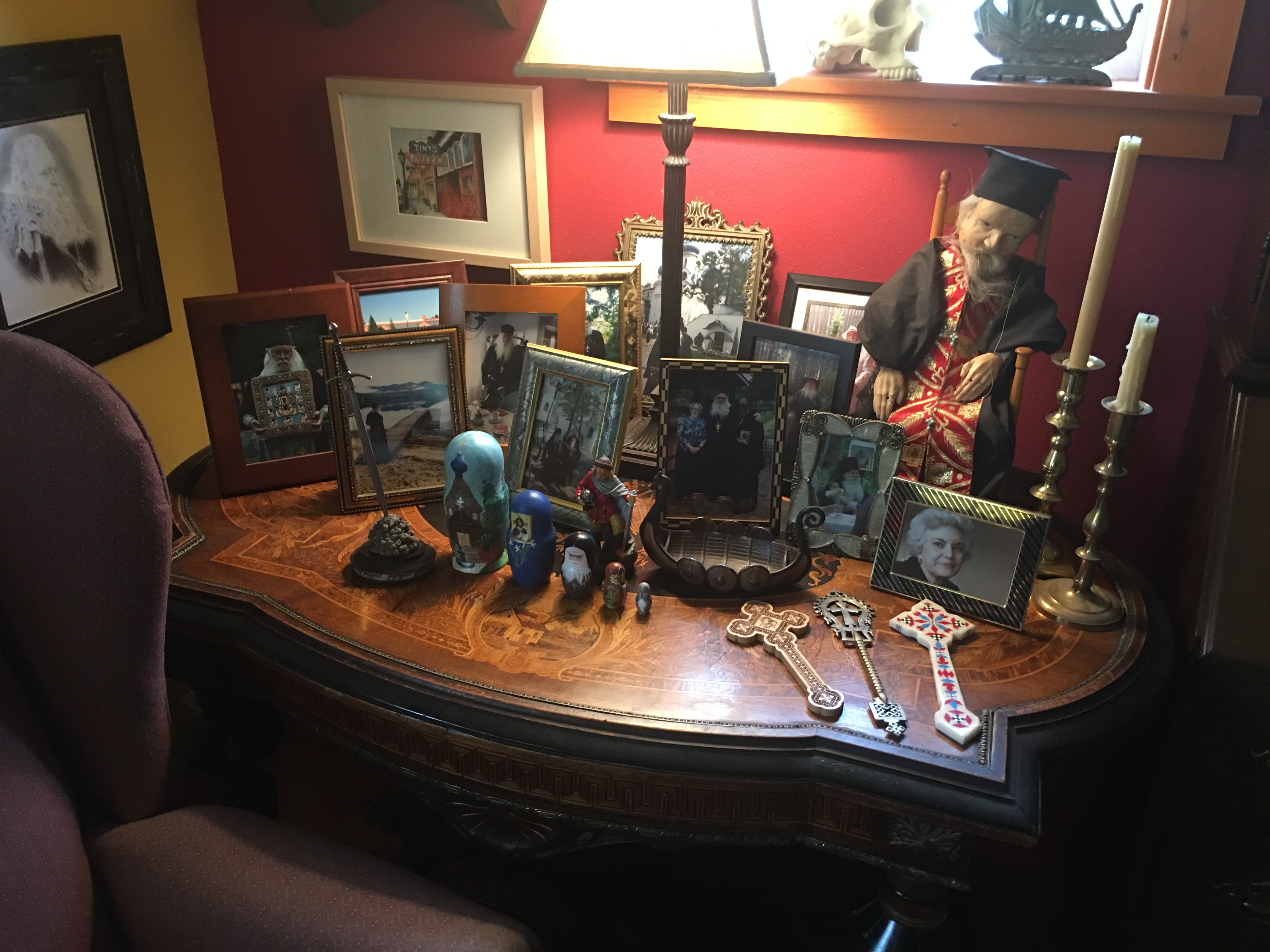 The Scripture Readings
2 Corinthians 2:14-3:3
14 Now thanks be to God who always leads us in triumph in Christ, and through us diffuses the fragrance of His knowledge in every place. 15 For we are to God the fragrance of Christ among those who are being saved and among those who are perishing. 16 To the one we are the aroma of death leading to death, and to the other the aroma of life leading to life. And who is sufficient for these things? 17 For we are not, as so many, peddling the word of God; but as of sincerity, but as from God, we speak in the sight of God in Christ.
Christ's Epistle
3 Do we begin again to commend ourselves? Or do we need, as some others, epistles of commendation to you or letters of commendation from you? 2 You are our epistle written in our hearts, known and read by all men; 3 clearly you are an epistle of Christ, ministered by us, written not with ink but by the Spirit of the living God, not on tablets of stone but on tablets of flesh, that is, of the heart.
Matthew 23:23-28
23 "Woe to you, scribes and Pharisees, hypocrites! For you pay tithe of mint and anise and cummin, and have neglected the weightier matters of the law: justice and mercy and faith. These you ought to have done, without leaving the others undone. 24 Blind guides, who strain out a gnat and swallow a camel!
25 "Woe to you, scribes and Pharisees, hypocrites! For you cleanse the outside of the cup and dish, but inside they are full of extortion and self-indulgence. 26 Blind Pharisee, first cleanse the inside of the cup and dish, that the outside of them may be clean also.
27 "Woe to you, scribes and Pharisees, hypocrites! For you are like whitewashed tombs which indeed appear beautiful outwardly, but inside are full of dead men's bones and all uncleanness. 28 Even so you also outwardly appear righteous to men, but inside you are full of hypocrisy and lawlessness.