My saintly elder and eldress are the foundation of this monastery
Established in 1986, our monastery was dedicated to Christ our All-Merciful Saviour, and we began the journey into a greater and deeper dedication of ourselves to Christ. We've had a difficult path to travel, with many hardships along the way. There was a night I remember clearly, when I sat up crying, and in the depths of despair, because our former bishop had turned against us, and we'd lost all financial and spiritual support from those we loved the most. Hieromonk Paul, my co-struggler, and the co-founder of this monastery, stood by me when others could find no good in me. We, together,  suffered greatly during those early years. These were times when we were misunderstood, and ostracized by many of our own brothers and sisters in Christ. These were periods of extreme poverty, when we knew not where the next meal was coming from, or how we were going to pay the rent.
Once we acquired our land,  I personally suffered physical attack by a neighbor, who did not want a monastery next to his property. Yet the Lord, in His great mercy, allowed us to eventually purchase that very property. Giving up and walking away, was never an option. Even when we were hated, or misunderstood, we knew our monastic struggle must continue. My own spiritual father, Blessed Archimandrite Dimitry, who'd suffered great humiliation during his long years, counseled me to keep my eyes on Christ, and not put my trust in any human. His loving counsel gave me strength when I did not receive support from those in authority over me. It was Father Dimitry's holiness, and his unending joy in his life in Christ, that served as an excellent example to me.
At one of the lowest points in my monastic life, I remember going to Father Dimitry, and asking his blessing to leave for the Holy Mountain of Athos, feeling that I'd totally failed in establishing a monastery. He told me that my salvation was on Vashon Island, and that I should continue my struggles where God had placed me. Needless to say, my spiritual father was correct, and this  monastery is proof that Father Dimitry knew God's plan for Father Paul and me.
This beautiful monastery, surrounded by a forest on an island in the Salish Sea, is truly a miracle, and I am grateful that God has blessed me to be a part of it, however small and insignificant I am. I am grateful for my brother monks, all of whom love and honor me, just as I love and honor them. I am also grateful the Lord has gifted me, in my old age, the venerable Father Nicholas Letten, a ninety-two year old priest, as my friend and confessor.
I am grateful for my loving and holy spiritual mother, Abbess Markella, who is both a friend, sister and mother to me. She is known to those who know and love her, for her gift of clairvoyance. No matter how difficult my struggle becomes, no matter the persecution that would crush my spirit, and bring me down, she always counsels me to trust in God's love, and to remember that, in the end, the attacks of the evil one will be overcome by His Great and Loving Mercy. She reminds me weekly of the protection my monastery receives from the Most Holy Theotokos, in whose name we've dedicated our temple. Knowing Mother Markella, this venerable holy nun,  respects and loves this monastery, means everything to me.
I consider myself a truly blessed monk. Glory to God for all things.
With love in Christ,
Abbot Tryphon
Photos: Blessed Archimandrite Dimitry of Santa Rosa, and Abbess Markella of the Life Giving Spring Greek Orthodox Monastery in Dunlap, CA. The third photo was taken recently while visiting Father Nicholas in Portland, Oregon.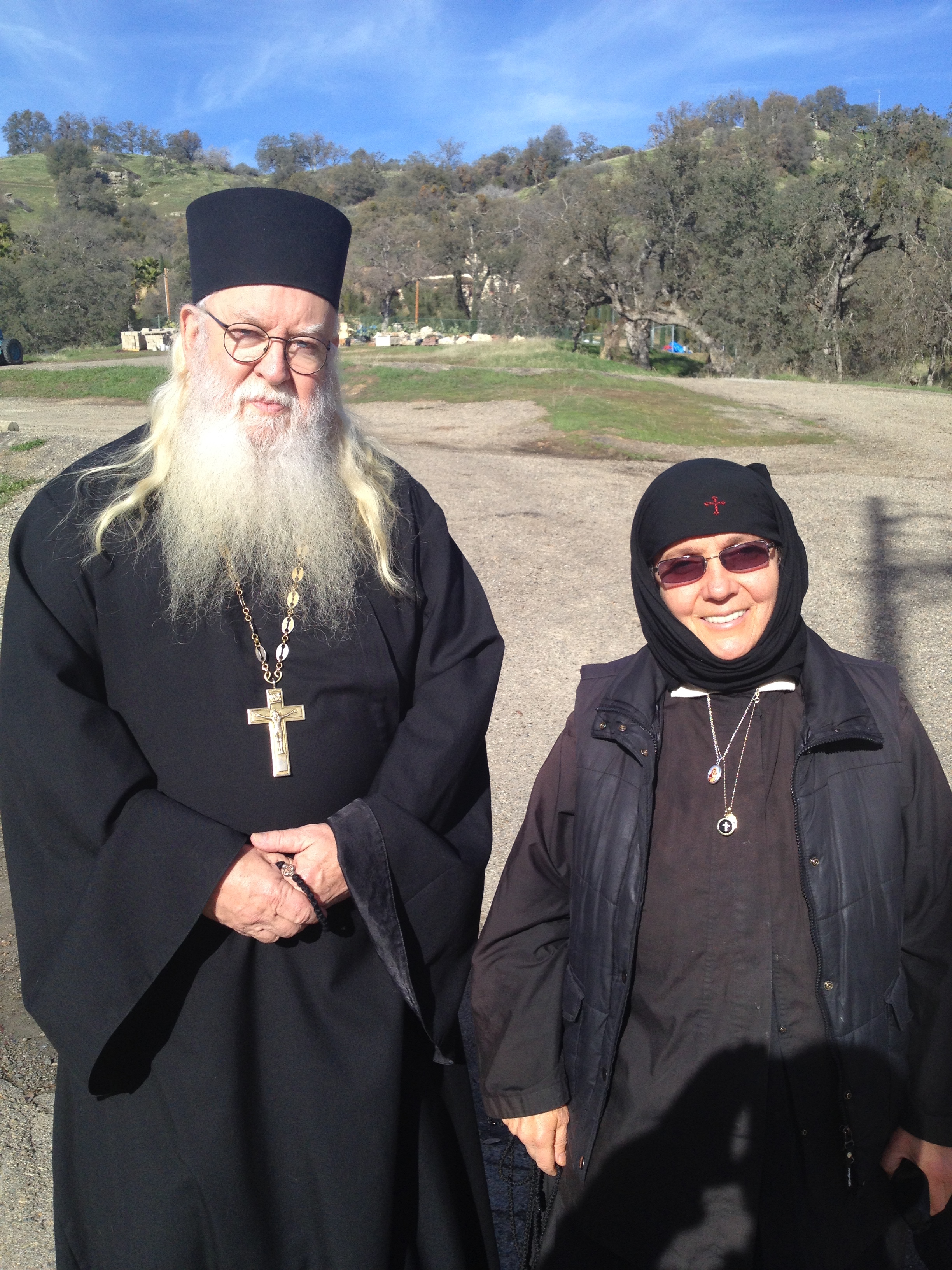 Thursday August 9, 2018 / July 27, 2018
11th Week after Pentecost. Tone one.
Holy Great-martyr and Healer Panteleimon (305).
Commemoration of the canonization of Venerable Herman of Alaska (1970).
New Hieromartyrs Ambrose, bishop of Sarapul, priests Plato and Panteleimon (1918).
New Hieromartyr John priest (1941).
St. Ioasaph, metropolitan of Moscow (1555).
Blessed Nicholas Kochanov, fool-for-Christ at Novgorod (1392).
Venerable Anthusa, abbess of Mantinea in Asia Minor and her 90 sisters (759).
St. Clement of Ochrid, bishop of Greater Macedonia (916), and Sts. Angelar (10th c.), Gorazd (896), Nahum of Ochrid (910), and Sabbas (10th c.), disciples of Sts. Cyril and Methodius (Bulgaria).
Martyr Christodulus (1777) (Greek).
The blind man who confessed Christ and was martyred with St. Panteleimon (Greek).
853 Martyrs of Thrace who were drowned (Greek).
St. Manuel, monk (Greek).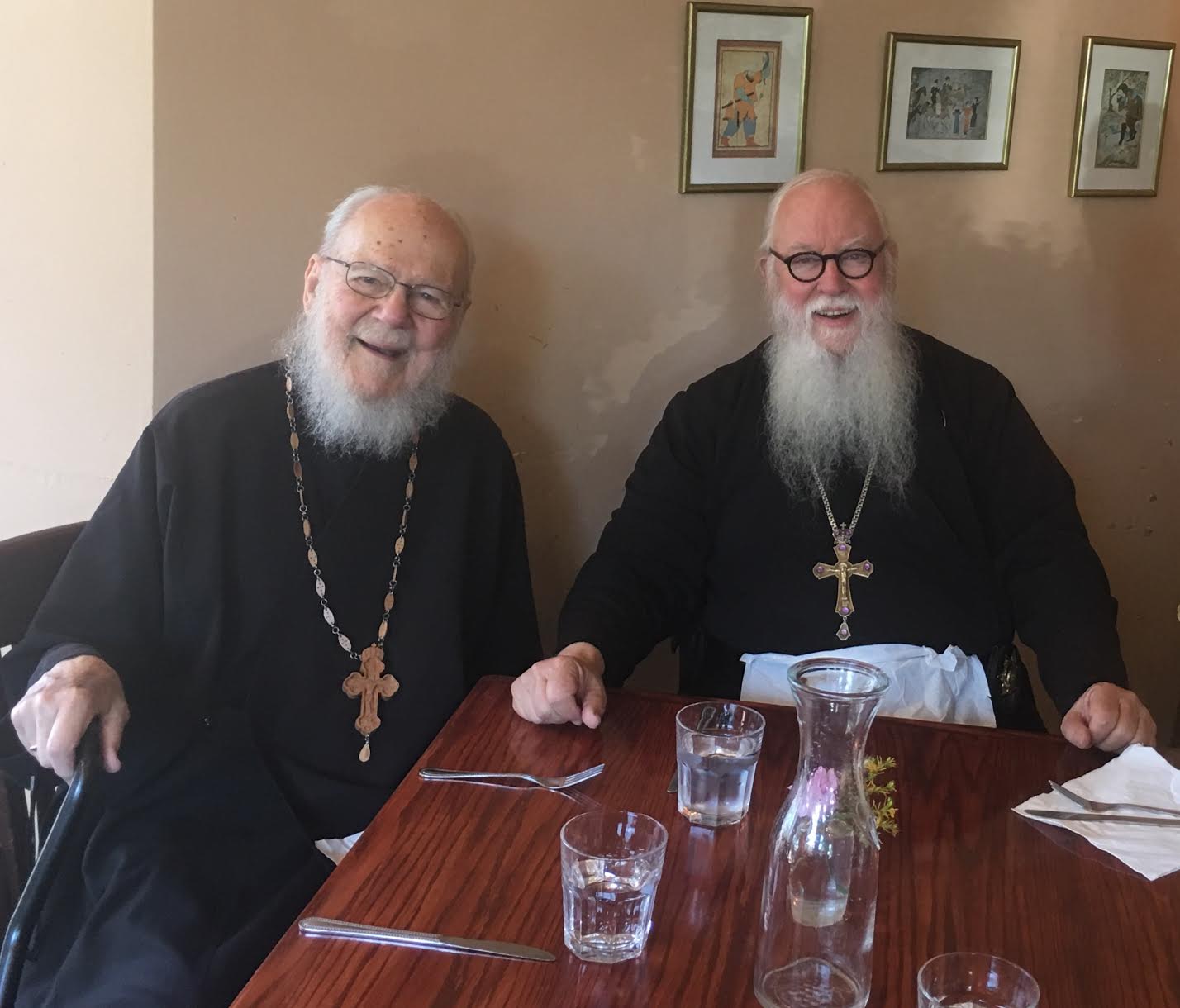 The Scripture Readings
Luke 21:12-19
12 But before all these things, they will lay their hands on you and persecute you, delivering you up to the synagogues and prisons.You will be brought before kings and rulers for My name's sake. 13 But it will turn out for you as an occasion for testimony.14 Therefore settle it in your hearts not to meditate beforehand on what you will answer; 15 for I will give you a mouth and wisdomwhich all your adversaries will not be able to contradict or resist. 16 You will be betrayed even by parents and brothers, relatives and friends; and they will put some of you to death. 17 And you will be hated by all for My name's sake. 18 But not a hair of your head shall be lost. 19 By your patience possess your souls.
2 Timothy 2:1-10
Be Strong in Grace
2 You therefore, my son, be strong in the grace that is in Christ Jesus. 2 And the things that you have heard from me among many witnesses, commit these to faithful men who will be able to teach others also. 3 You therefore must endure hardship as a good soldier of Jesus Christ. 4 No one engaged in warfare entangles himself with the affairs of this life, that he may please him who enlisted him as a soldier. 5 And also if anyone competes in athletics, he is not crowned unless he competes according to the rules. 6 The hardworking farmer must be first to partake of the crops. 7 Consider what I say, and may the Lord give you understanding in all things.
8 Remember that Jesus Christ, of the seed of David, was raised from the dead according to my gospel, 9 for which I suffer trouble as an evildoer, even to the point of chains; but the word of God is not chained. 10 Therefore I endure all things for the sake of the elect, that they also may obtain the salvation which is in Christ Jesus with eternal glory.
John 15:17-16:2
17 These things I command you, that you love one another.
The World's Hatred
18 "If the world hates you, you know that it hated Me before it hated you. 19 If you were of the world, the world would love its own. Yetbecause you are not of the world, but I chose you out of the world, therefore the world hates you. 20 Remember the word that I said to you, 'A servant is not greater than his master.' If they persecuted Me, they will also persecute you. If they kept My word, they will keep yours also. 21 But all these things they will do to you for My name's sake, because they do not know Him who sent Me. 22 If I had not come and spoken to them, they would have no sin, but now they have no excuse for their sin. 23 He who hates Me hates My Father also. 24 If I had not done among them the works which no one else did, they would have no sin; but now they have seen and also hated both Me and My Father. 25 But this happened that the word might be fulfilled which is written in their law, 'They hated Me without a cause.'
The Coming Rejection
26 "But when the Helper comes, whom I shall send to you from the Father, the Spirit of truth who proceeds from the Father, He will testify of Me. 27 And you also will bear witness, because you have been with Me from the beginning.
Jesus Warns and Comforts His Disciples
16 "These things I have spoken to you, that you should not be made to stumble. 2 They will put you out of the synagogues; yes, the time is coming that whoever kills you will think that he offers God service.