The similarities between the trainer and the spiritual father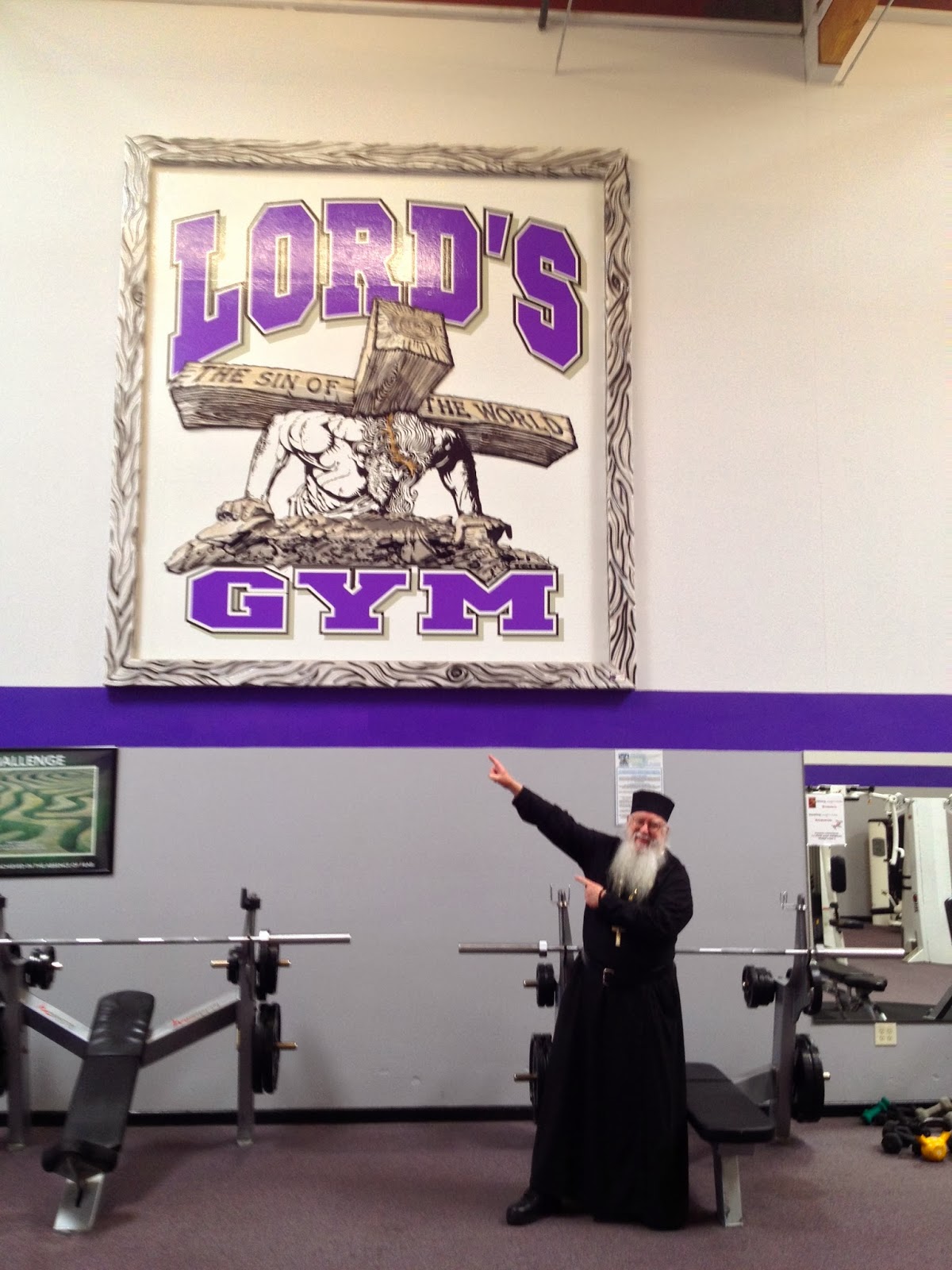 Just after my graduation from college I moved to Portland, Oregon, where I worked at various jobs, including waiting tables in an upscale restaurant (to this day, I'm a good tipper), bartender in a small Irish pub (I'm one quarter Scottish), and working as an orderly in a trauma center. All these jobs contributed in important ways to my ultimate vocation as a priest and a monk. (I'll leave it to my readers to figure this one out.)
Shortly after my move to Portland, I decided that I wanted to work out at a local weight lifting gym (what young man doesn't want to be buff?). After asking around, I discovered Laprinzi's Gym, a Portland institution to this day. Laprinzi's has always been known for having some of the best trainers, and I knew that success at weightlifting would require professional help and direction.
Being a skinny college grad, I felt somewhat intimidated as I walked into a gym filled with Olympic style weightlifters, but I was soon made to feel at ease after one of the trainers approached me, offering to help me get started. Grateful for the direction, I began what was to be a mainstay of my physical exercise for years to come. I didn't stop weight lifting until I'd become a monk, and have regretted the decision to stop until this very day. Long distance running was my other passion, leading ultimately to hip replacement surgery some seven years ago, according to my surgeon.
The very day I walked into Laprinzi's Gym, another young man walked in for his first try at weightlifting. But, unlike myself, he was too prideful to accept direction from anyone. He stupidly turned down the offer of a trainer, and proceeded to weight lift without professional guidance. Some six months later, my trainer quietly pointed to the other young man, saying, "David, do you notice the difference between your body and his? Since he has been his own trainer, he sees only his front side, so his muscle development is concentrated in his upper arms and chest. His back muscles and legs are underdeveloped, so he looks like a skinny ape".
I share this story because of the saying in Orthodoxy, "The man who is his own spiritual director, becomes the disciple of a fool." When we embark on the spiritual path, we need the direction and foresight of someone who is experienced, for there are all sorts of traps ahead, including pride. In choosing a spiritual father or mother as our guide, we are directed on the path to Christ by someone who knows us, and is able to point out those traps that would snare us. This guide, like the trainer described above, sees us from a perspective that is otherwise hidden from us, and like the weightlifter who desires to look buff, the man on a quest for spiritual transformation, needs a spiritual father can point to those sins and omissions that need our attention.
"A priest is a spiritual physician. Show your wounds to him without shame, sincerely, openly, trusting and confiding in him as his son; for the confessor is your spiritual father, who should love you more than your own father and mother; for Christ's love is higher than any natural love. He must give an answer to God for you (Saint John of Kronstadt, 'My Life in Christ')."
With love in Christ,
Abbot Tryphon
Friday July 6, 2018 / June 23, 2018
6th Week after Pentecost. Tone four.
Apostles' (Peter & Paul) Fast. Food with Oil
The Meeting of the Vladimir Icon of the Most Holy Theotokos in memory of Saving of Moscow from the Invasion of Khan Achmed.
Synaxis of All Saints of Vladimir.
Martyr Agrippina of Rome (253-260).
New Hieromartyrs Alexander, Alexis, Peter priests (1918).
New Hieromartyr Mitrophan archbishop of Astrakhan (1919), bishop Leonty of Enotaeva, and those with him.
New Hieromartyr Maxim, bishop of Serpukhov (1930).
St. Artemius of Verkola (1545).
Translation of the relics (1714) of St. Herman, archbishop of Kazan (1567).
Martyrs Eustochius, Gaius, Probus, Lollius, and Urban, of Ancyra (4th c.).
Pskov Icon of the Most Holy Theotokos, "Tenderness" (1524), Zaonikeevsk (1588), and "Vratarnitsa"(1894) Icons of the Mother of God.
Venerables Joseph (1612), Anthony, and Ioannicius, abbots, of Vologda.
Translation of the relics of Venerable Michael, fool-for-Christ of Klops Monastery (1482).
Virgin Etheldreda of Ely (England) (679) (Celtic & British).
St. Dionysius of Polotsk (1182).
St. Nicetas of Thebes in Boetia (1079) and his disciples Theodore, Gregory and Daniel.
The Scripture Readings
Luke 1:39-49
Mary Visits Elizabeth
39 Now Mary arose in those days and went into the hill country with haste, to a city of Judah, 40 and entered the house of Zacharias and greeted Elizabeth. 41 And it happened, when Elizabeth heard the greeting of Mary, that the babe leaped in her womb; and Elizabeth was filled with the Holy Spirit. 42 Then she spoke out with a loud voice and said, "Blessed are you among women, and blessed is the fruit of your womb! 43 But why is this granted to me, that the mother of my Lord should come to me? 44 For indeed, as soon as the voice of your greeting sounded in my ears, the babe leaped in my womb for joy. 45 Blessed is she who believed, for there will be a fulfillment of those things which were told her from the Lord."
The Song of Mary
46 And Mary said:
"My soul magnifies the Lord,
47 And my spirit has rejoiced in God my Savior.
48 For He has regarded the lowly state of His maidservant;
For behold, henceforth all generations will call me blessed.
49 For He who is mighty has done great things for me,
And holy is His name.
Luke 1:56
56 And Mary remained with her about three months, and returned to her house.
1 Corinthians 4:5-8
5 Therefore judge nothing before the time, until the Lord comes, who will both bring to light the hidden things of darkness and reveal the counsels of the hearts. Then each one's praise will come from God.
Fools for Christ's Sake
6 Now these things, brethren, I have figuratively transferred to myself and Apollos for your sakes, that you may learn in us not to think beyond what is written, that none of you may be puffed up on behalf of one against the other. 7 For who makes you differ from another? And what do you have that you did not receive? Now if you did indeed receive it, why do you boast as if you had not received it?
8 You are already full! You are already rich! You have reigned as kings without us—and indeed I could wish you did reign, that we also might reign with you!
Matthew 13:44-54
The Parable of the Hidden Treasure
44 "Again, the kingdom of heaven is like treasure hidden in a field, which a man found and hid; and for joy over it he goes and sells all that he has and buys that field.
The Parable of the Pearl of Great Price
45 "Again, the kingdom of heaven is like a merchant seeking beautiful pearls, 46 who, when he had found one pearl of great price, went and sold all that he had and bought it.
The Parable of the Dragnet
47 "Again, the kingdom of heaven is like a dragnet that was cast into the sea and gathered some of every kind, 48 which, when it was full, they drew to shore; and they sat down and gathered the good into vessels, but threw the bad away. 49 So it will be at the end of the age. The angels will come forth, separate the wicked from among the just, 50 and cast them into the furnace of fire. There will be wailing and gnashing of teeth."
51 Jesus said to them, "Have you understood all these things?"
They said to Him, "Yes, Lord."
52 Then He said to them, "Therefore every scribe instructed concerning the kingdom of heaven is like a householder who brings out of his treasure things new and old."
Jesus Rejected at Nazareth
53 Now it came to pass, when Jesus had finished these parables, that He departed from there. 54 When He had come to His own country, He taught them in their synagogue, so that they were astonished and said, "Where did this Man get this wisdom and thesemighty works?