Spiritual pain control or spiritual healing?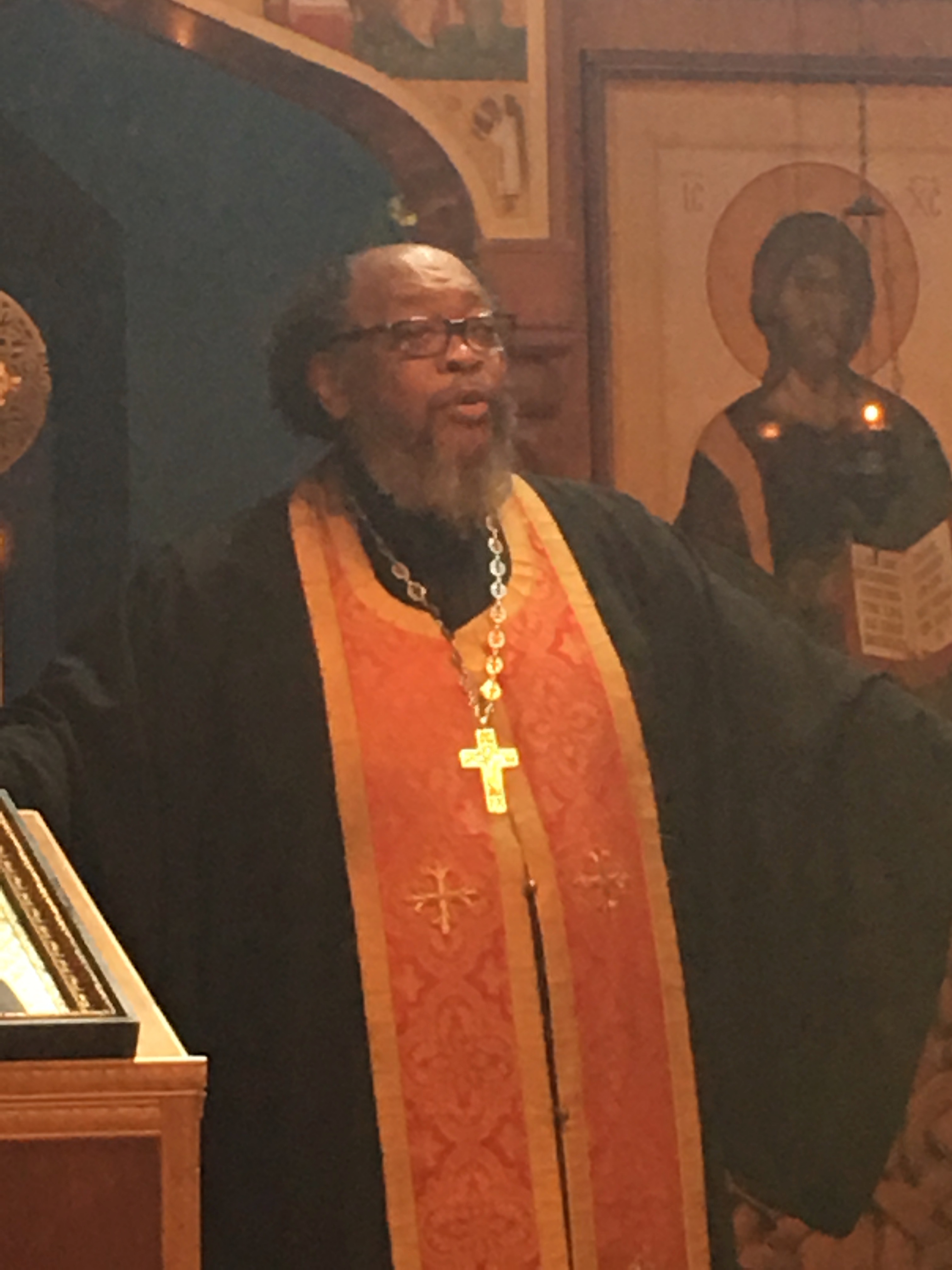 Since the Church is the hospital for the soul, it is important we take full advantage of all the resources for healing found within the Church. Confession is the all important beginning for this healing process to begin. The grace imparted during a good confession opens wide the gates of God's grace, and we begin our inner journey towards reconciliation.
Becoming a frequent communicant of the Holy Mysteries of Christ's Body and Blood, imparts to us the grace needed for the healing of the soul, and frees the soul from the the bondage that comes from the sin that has weighted us down.
Strictly keeping a Prayer Rule, as directed by our priest or spiritual father, also contributes to the healing process. Reading spiritually uplifting books, as well as the lives of the saints, greatly contributes towards the transformation that can be ours if we take our faith seriously. As well, the fasting rules of the Church are designed to help us become whole, and further the healing process that began when we first made a commitment to living a life in Christ.
If we fail to follow these time tested spiritual practices that are meant to bring about healing of body and soul, we will not find the healing that is available to us. Instead, we will find ourselves treating the Church as though she were simply a hospice, where we get a quick fix for the pain and sin that keeps us from becoming whole, and find ourselves with short term results that only mask the sin and sickness that rule our lives.
It is up to us to decide if we will allow the Church to be a hospital that brings about the cure, or simply a hospice that masks the pain and sin. The choice is ours, and it is a choice that should not be put off, lest the hour come when we are called to account before the Throne of God, and we stand before Him with an unhealed heart.
Love in Christ,
Abbot Tryphon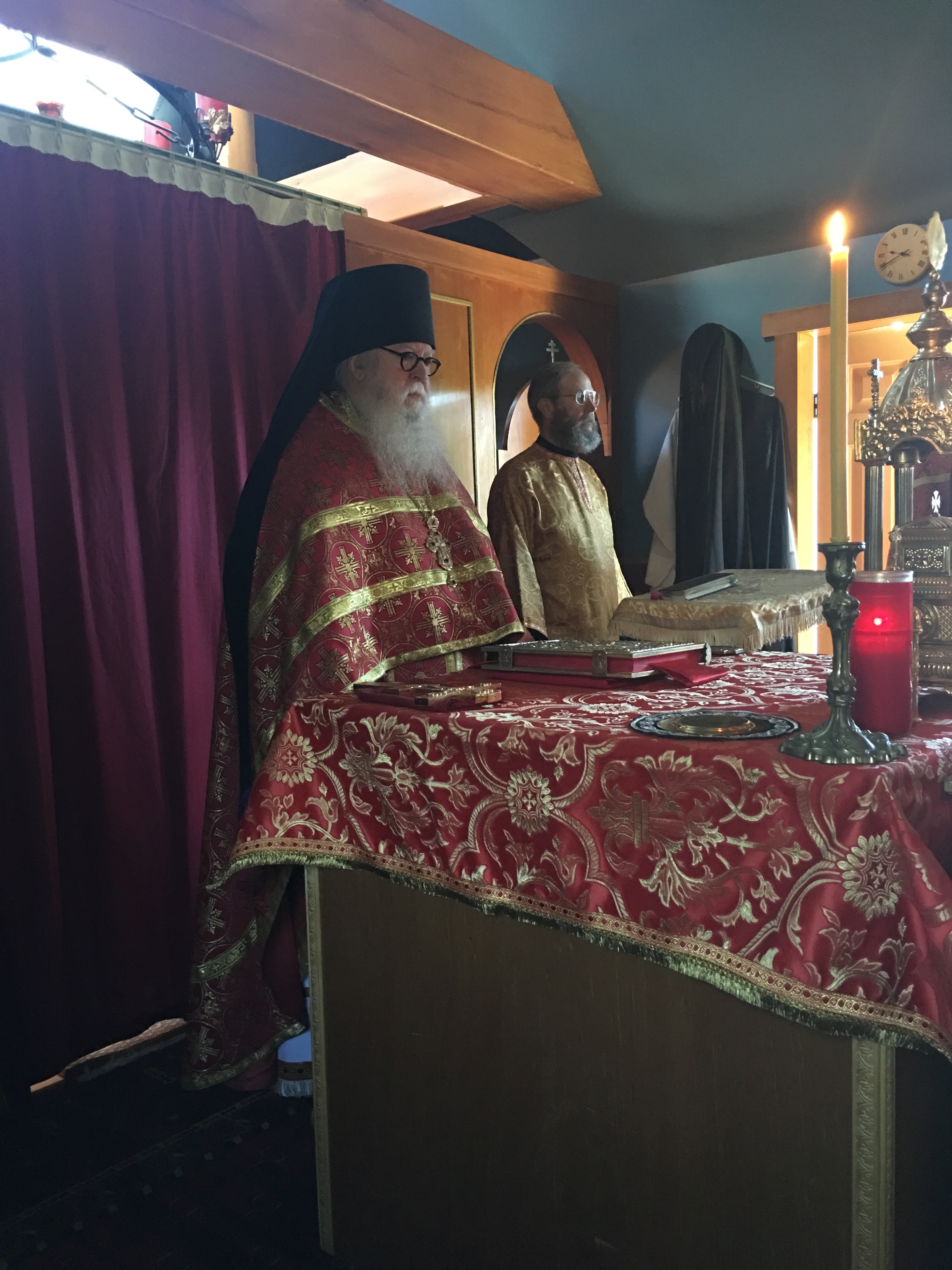 Photos: I asked my friend, Father Moses Berry, to deliver the homily for our Sunday Liturgy. Father Moses is rector of Theotokos "Unexpected Joy" Orthodox Church in Ash Grove, Missouri. Hieromonk Paul is returning to the monastery after a visit to his aging parents in Montana.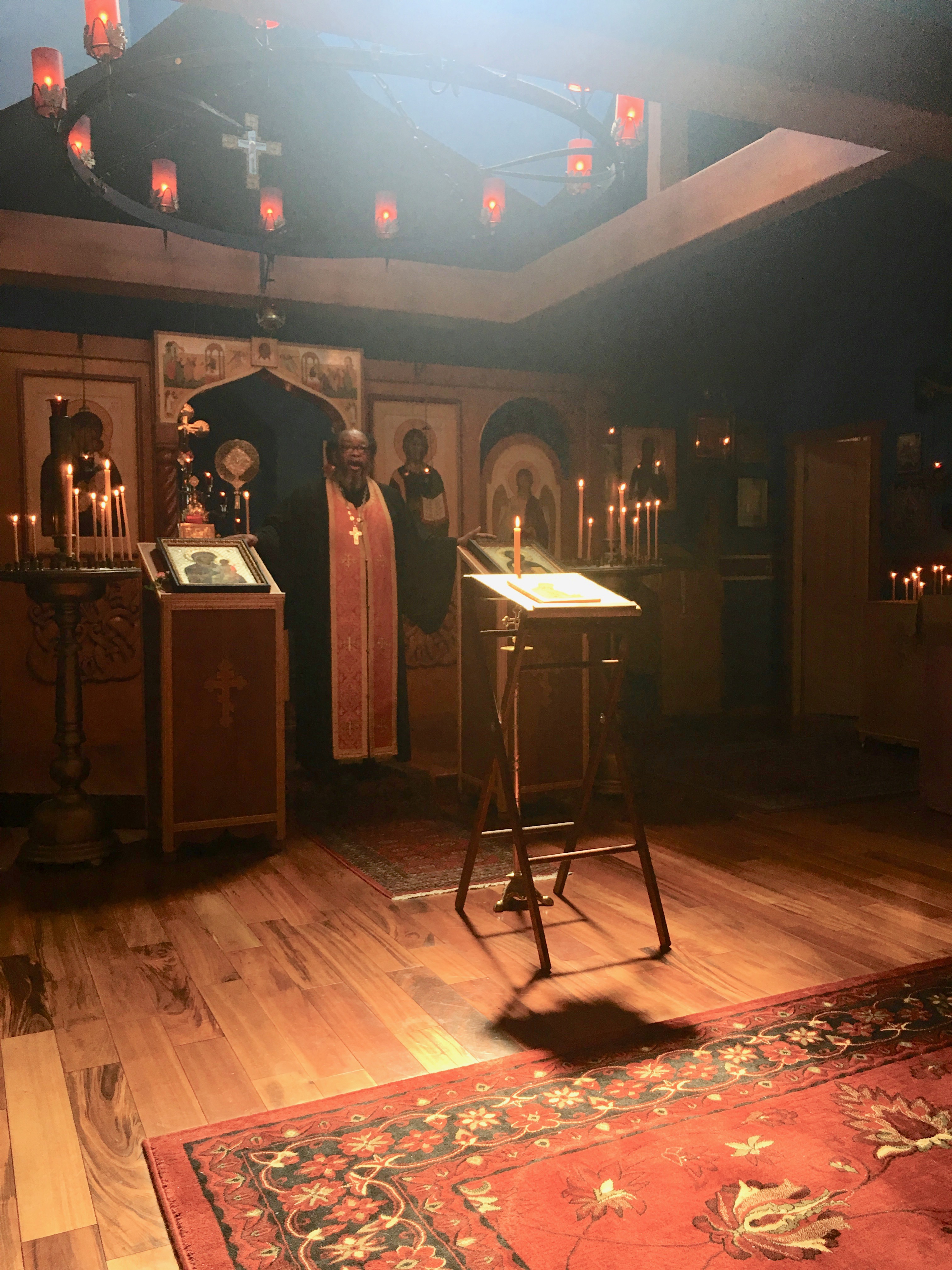 Monday July 9, 2018 / June 26, 2018
7th Week after Pentecost. Tone five.
Apostles' (Peter & Paul) Fast. Fish Allowed
Appearance of the Tikhvin Icon of the Most Holy Theotokos (1383).
Venerable David of Thessalonica (540).
New Hieromartyr Gregory priest (1918).
St. Dionysius, archbishop of Suzdal (1385).
Uncovering of the relics (1569) of Venerable Tikhon of Lukhov (1503).
Translation of the relics of Venerable Nilus of Stolben Island (1995).
Venerable John, bishop of the Goths in Crimea (ca. 787).
Kazan "Of the Seven Lakes", "Nemetsk" (1399) and "Lidda" or Roman Icons of the Most Holy Theotokos.
The Holy Martyred Brothers John and Paul, and Gallicanus
Venerable Serapion of Kozha Lake.
Translation of the relics of St. Brannock (Brynach) of Braunton, England (Celtic & British).
New Martyr David of St. Anne's Skete, martyred in Thessalonica (1813).
Anthion, monk.(Greek).
The Scripture Readings
Luke 1:39-49
Mary Visits Elizabeth
39 Now Mary arose in those days and went into the hill country with haste, to a city of Judah, 40 and entered the house of Zacharias and greeted Elizabeth. 41 And it happened, when Elizabeth heard the greeting of Mary, that the babe leaped in her womb; and Elizabeth was filled with the Holy Spirit. 42 Then she spoke out with a loud voice and said, "Blessed are you among women, and blessed is the fruit of your womb! 43 But why is this granted to me, that the mother of my Lord should come to me? 44 For indeed, as soon as the voice of your greeting sounded in my ears, the babe leaped in my womb for joy. 45 Blessed is she who believed, for there will be a fulfillment of those things which were told her from the Lord."
The Song of Mary
46 And Mary said:
"My soul magnifies the Lord,
47 And my spirit has rejoiced in God my Savior.
48 For He has regarded the lowly state of His maidservant;
For behold, henceforth all generations will call me blessed.
49 For He who is mighty has done great things for me,
And holy is His name.
Luke 1:56
56 And Mary remained with her about three months, and returned to her house.
1 Corinthians 5:9-6:11
Immorality Must Be Judged
9 I wrote to you in my epistle not to keep company with sexually immoral people. 10 Yet I certainly did not mean with the sexually immoral people of this world, or with the covetous, or extortioners, or idolaters, since then you would need to go out of the world. 11 But now I have written to you not to keep company with anyone named a brother, who is sexually immoral, or covetous, or an idolater, or a reviler, or a drunkard, or an extortioner—not even to eat with such a person.
12 For what have I to do with judging those also who are outside? Do you not judge those who are inside? 13 But those who are outside God judges. Therefore "put away from yourselves the evil person."
Do Not Sue the Brethren
6 Dare any of you, having a matter against another, go to law before the unrighteous, and not before the saints? 2 Do you not know that the saints will judge the world? And if the world will be judged by you, are you unworthy to judge the smallest matters? 3 Do you not know that we shall judge angels? How much more, things that pertain to this life? 4 If then you have judgments concerning things pertaining to this life, do you appoint those who are least esteemed by the church to judge? 5 I say this to your shame. Is it so, that there is not a wise man among you, not even one, who will be able to judge between his brethren? 6 But brother goes to law against brother, and that before unbelievers!
7 Now therefore, it is already an utter failure for you that you go to law against one another. Why do you not rather accept wrong? Why do you not rather let yourselves be cheated? 8 No, you yourselves do wrong and cheat, and you do these things to your brethren! 9 Do you not know that the unrighteous will not inherit the kingdom of God? Do not be deceived. Neither fornicators, nor idolaters, nor adulterers, nor homosexuals, nor sodomites, 10 nor thieves, nor covetous, nor drunkards, nor revilers, nor extortioners will inherit the kingdom of God. 11 And such were some of you. But you were washed, but you were sanctified, but you were justified in the name of the Lord Jesus and by the Spirit of our God.
Matthew 13:54-58
54 When He had come to His own country, He taught them in their synagogue, so that they were astonished and said, "Where did this Man get this wisdom and these mighty works? 55 Is this not the carpenter's son? Is not His mother called Mary? And His brothers James, Joses, Simon, and Judas? 56 And His sisters, are they not all with us? Where then did this Man get all these things?" 57 So they were offended at Him.
But Jesus said to them, "A prophet is not without honor except in his own country and in his own house." 58 Now He did not do many mighty works there because of their unbelief.