The Link Between the Old and New Testament Temples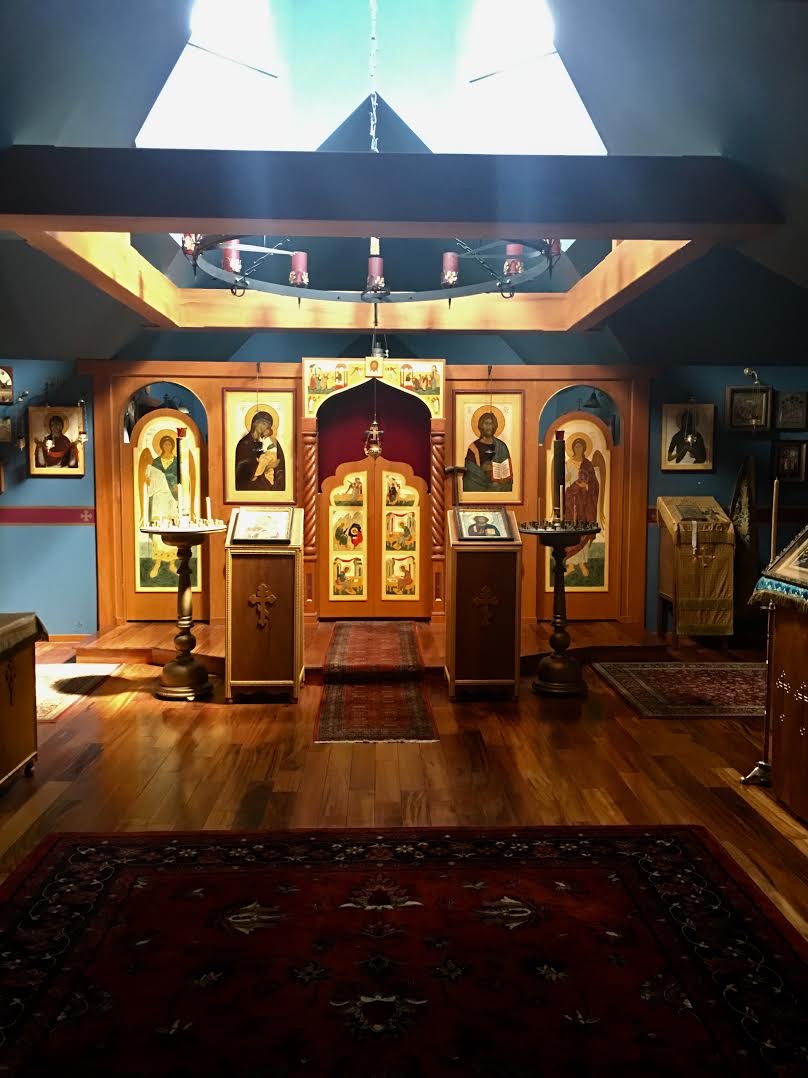 Orthodox temples have kept to the same form and function since ancient times. Using the Old Testament Temple model, Orthodox churches are divided into several courts or spaces peculiar to their function. The Holy Table, upon which is celebrated the Eucharist, is situated at the east end of the building behind the Iconostasis (icon screen). This is a continuation of and corresponds to the Holy of Holies in the ancient Israelite temple in Jerusalem.
The whole area behind the iconostasis is called the altar, and is considered the most sacred part of the temple. While great respect must be shown throughout the Church, the altar is very special. It is here that the Holy Spirit descends making the offering of bread and wine in to the Body and Blood of Christ.
Only those who receive the specific blessing of the bishop or the priest may enter, since no one has the right to go behind the iconostasis. The Church allows only those who have a particular reason to be there, a specific task or function, to enter. A blessing must be received each and every time, even if a person serves regularly behind the iconostasis. No one should ever simply wander into the altar without a blessing.
The Holy Table, the proskomedia table (table of preparation), and the discos and chalice, should never be touched by anyone other than a bishop, priest or deacon. The sacredness of these items, set apart for divine worship, is such because they have all been blessed by the Church for the worship of God.
We approach our God with fear and awe, bowing down in worship before His Throne in wonder. We worship the Holy Trinity with the same reverence as did the ancients. The very God Who created us, and Who condescended to join His Divinity with our humanity, is worshiped in temples just as beautiful as that which He commanded to be built in the Holy City, because He has invited us into communion with Him. The worship we offer on this earth is an image of that which is taking place before the Throne in Heaven.
With love in Christ,
Abbot Tryphon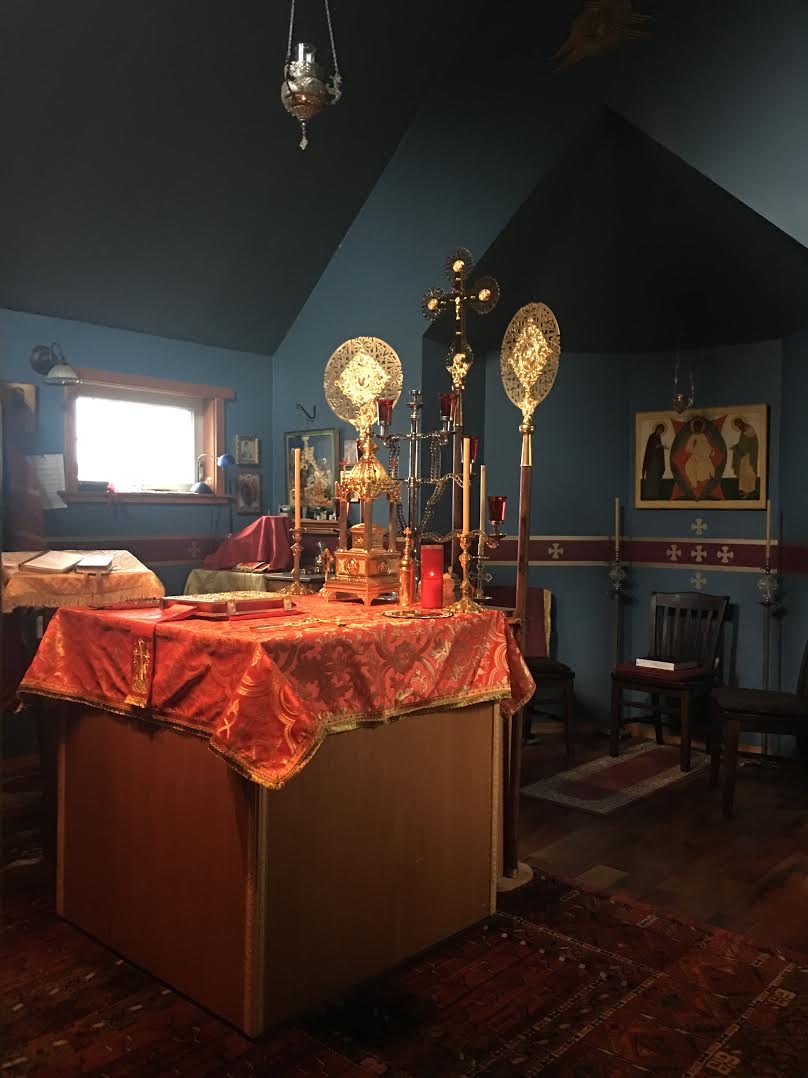 Monday June 4, 2018 / May 22, 2018
2nd Week after Pentecost. Tone eight.
Apostles' (Peter & Paul) Fast. By Monastic Charter: Strict Fast (Bread, Vegetables, Fruits)
Beginning of Apostles' (Peter & Paul) Fast
Hieromartyr Basiliscus, bishop of Comana (308).
St. John-Vladimir, martyr and ruler of Serbia (1015).
Blessed James, youth of Borovichi (Novgorod) (1540).
New Hieromartyr Michael priest (1942).
Commemoration of the Second Ecumenical Council (381).
New Hieromartyr Zachariah of Prusa (1802) (Greek).
Righteous Melchisedec, king of Salem.
Martyrs Markella and Codratus (Greek).
Martyr Sophia the Healer (Greek).
New Monk-martyrs Paul and Demetrius of Tripoli near Kalavryta (1818) (Greek).
The Scripture Readings
Romans 2:28-3:18
28 For he is not a Jew who is one outwardly, nor is circumcision that which is outward in the flesh; 29 but he is a Jew who is oneinwardly; and circumcision is that of the heart, in the Spirit, not in the letter; whose praise is not from men but from God.
God's Judgment Defended
3 What advantage then has the Jew, or what is the profit of circumcision? 2 Much in every way! Chiefly because to them were committed the oracles of God. 3 For what if some did not believe? Will their unbelief make the faithfulness of God without effect? 4 Certainly not! Indeed, let God be true but every man a liar. As it is written:
"That You may be justified in Your words,
And may overcome when You are judged."
5 But if our unrighteousness demonstrates the righteousness of God, what shall we say? Is God unjust who inflicts wrath? (I speak as a man.) 6 Certainly not! For then how will God judge the world?
7 For if the truth of God has increased through my lie to His glory, why am I also still judged as a sinner? 8 And why not say, "Let us do evil that good may come"?—as we are slanderously reported and as some affirm that we say. Their condemnation is just.
All Have Sinned
9 What then? Are we better than they? Not at all. For we have previously charged both Jews and Greeks that they are all under sin.
10 As it is written:
"There is none righteous, no, not one;
11 There is none who understands;
There is none who seeks after God.
12 They have all turned aside;
They have together become unprofitable;
There is none who does good, no, not one."
13 "Their throat is an open tomb;
With their tongues they have practiced deceit";
"The poison of asps is under their lips";
14 "Whose mouth is full of cursing and bitterness."
15 "Their feet are swift to shed blood;
16 Destruction and misery are in their ways;
17 And the way of peace they have not known."
18 "There is no fear of God before their eyes."
Matthew 6:31-34
31 "Therefore do not worry, saying, 'What shall we eat?' or 'What shall we drink?' or 'What shall we wear?' 32 For after all these things the Gentiles seek. For your heavenly Father knows that you need all these things. 33 But seek first the kingdom of God and His righteousness, and all these things shall be added to you. 34 Therefore do not worry about tomorrow, for tomorrow will worry about its own things. Sufficient for the day is its own trouble.
Matthew 7:9-11
9 Or what man is there among you who, if his son asks for bread, will give him a stone? 10 Or if he asks for a fish, will he give him a serpent? 11 If you then, being evil, know how to give good gifts to your children, how much more will your Father who is in heaven give good things to those who ask Him!