How can we possibly love everyone?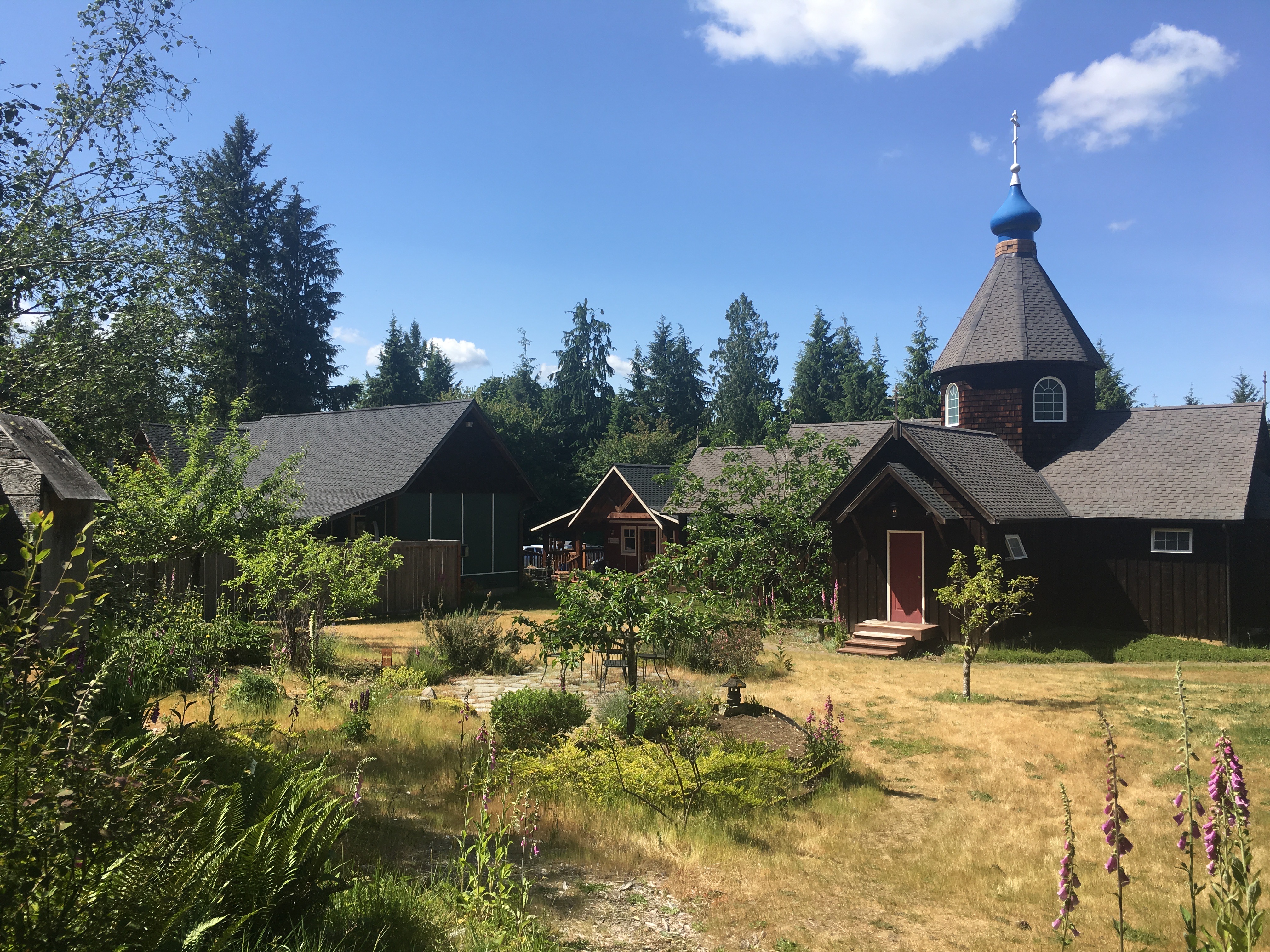 "I am the light of the world, whoever believes in me shall not walk in darkness but shall walk in the light of life." We all know this vivid image of Christ, given to us by Our Lord Himself, tells us that it is He who is the source of light, and whose love and truth shines forth in our world. The Lord also reminds all of us a fundamental truth, that not only is He the light of the world, but that WE are the light of the world… "Let YOUR light shine before others, that they may see your good works and glorify your Father in heaven."
That this heavenly light radiates through us is demonstrated by our love, for we are instructed by Christ to love our neighbors as ourselves, and even to love our enemies. There are always individuals who come into our lives that we find difficult to like, let alone love, so how do we follow the commandment of Christ to love everyone?
As Christians we venerate icons of the saints, knowing that Christ's light shines forth in His saints. Each time the priest or deacon censes the church during the services, he also censes the people, recognizing the image of God in everyone, and calling us, by this liturgical action, to recognize the image of God in others.
If we see everyone as Christ, even those who are unlovable, unkind, hurtful, or even evil, can be seen as created in the image of God, though their sin obscures that image. They, by their unrepentant lives, are Christ crucified. Yet they are loved by God, and we are commanded to do the same.
But how? This is where grace comes in! Like Saint Paul, we can say that anything good we do is Christ in us. Loving one's enemies is perhaps one of the most difficult of Christ's commandments to keep, but with Christ all things are possible. As we struggle to love others we must do so with a prayerful heart, asking that the Lord give us the grace needed to truly love others.
It is the same grace from God that is needed to forgive those who offend or hurt us. Because God has forgiven us, and loves us, we can also forgive and love others. It is all about grace, for if we seek out the aid of the Holy Spirit, all things good can be ours, including holiness.
With love in Christ,
Abbot Tryphon
Saturday June 2, 2018 / May 20, 2018
Adoposis of Pentecost. Tone seven.
Fast-free Week. Fast-free
Martyr Thalelaeus at Aegae in Cilicia and companions, Martyrs Alexander and Asterius (284).
Uncovering of the relics (1431) of St. Alexis, metropolitan of Moscow and wonderworker of all Russia (1378).
St. Dovmont-Timothy, prince of Pskov (1299).
Martyr Asclas of Egypt (287).
Sts. Zabulon and Susanna, parents of St. Nina (Nino) (4th c.) (Georgia).
Venerable Thalassius the Myrrh-giver of Libya (ca. 660).
Venerables Nicetas, John, and Joseph, monks, of Chios (1050).
St. Ethelbert, king and martyr (793) (Celtic & British).
Venerable Stephen, abbot of Piperi in Serbia (1697) (Greek).
St. Mark hermit (Greek).
St. Austregiselus, bishop of Bourges (624) (Neth.).
The Scripture Readings
John 10:1-9
Jesus the True Shepherd
10 "Most assuredly, I say to you, he who does not enter the sheepfold by the door, but climbs up some other way, the same is a thief and a robber. 2 But he who enters by the door is the shepherd of the sheep. 3 To him the doorkeeper opens, and the sheep hear his voice; and he calls his own sheep by name and leads them out. 4 And when he brings out his own sheep, he goes before them; and the sheep follow him, for they know his voice. 5 Yet they will by no means follow a stranger, but will flee from him, for they do not know the voice of strangers." 6 Jesus used this illustration, but they did not understand the things which He spoke to them.
Jesus the Good Shepherd
7 Then Jesus said to them again, "Most assuredly, I say to you, I am the door of the sheep. 8 All who ever came before Me are thieves and robbers, but the sheep did not hear them. 9 I am the door. If anyone enters by Me, he will be saved, and will go in and out and find pasture.
Romans 1:7-12
7 To all who are in Rome, beloved of God, called to be saints:
Grace to you and peace from God our Father and the Lord Jesus Christ.
Desire to Visit Rome
8 First, I thank my God through Jesus Christ for you all, that your faith is spoken of throughout the whole world. 9 For God is my witness, whom I serve with my spirit in the gospel of His Son, that without ceasing I make mention of you always in my prayers, 10 making request if, by some means, now at last I may find a way in the will of God to come to you. 11 For I long to see you, that I may impart to you some spiritual gift, so that you may be established— 12 that is, that I may be encouraged together with you by the mutual faith both of you and me.
Matthew 5:42-48
42 Give to him who asks you, and from him who wants to borrow from you do not turn away.
Love Your Enemies
43 "You have heard that it was said, 'You shall love your neighbor and hate your enemy.' 44 But I say to you, love your enemies, bless those who curse you, do good to those who hate you, and pray for those who spitefully use you and persecute you, 45 that you may be sons of your Father in heaven; for He makes His sun rise on the evil and on the good, and sends rain on the just and on the unjust.46 For if you love those who love you, what reward have you? Do not even the tax collectors do the same? 47 And if you greet your brethren only, what do you do more than others? Do not even the tax collectors do so? 48 Therefore you shall be perfect, just as your Father in heaven is perfect.