The more we seek Him the more His grace abounds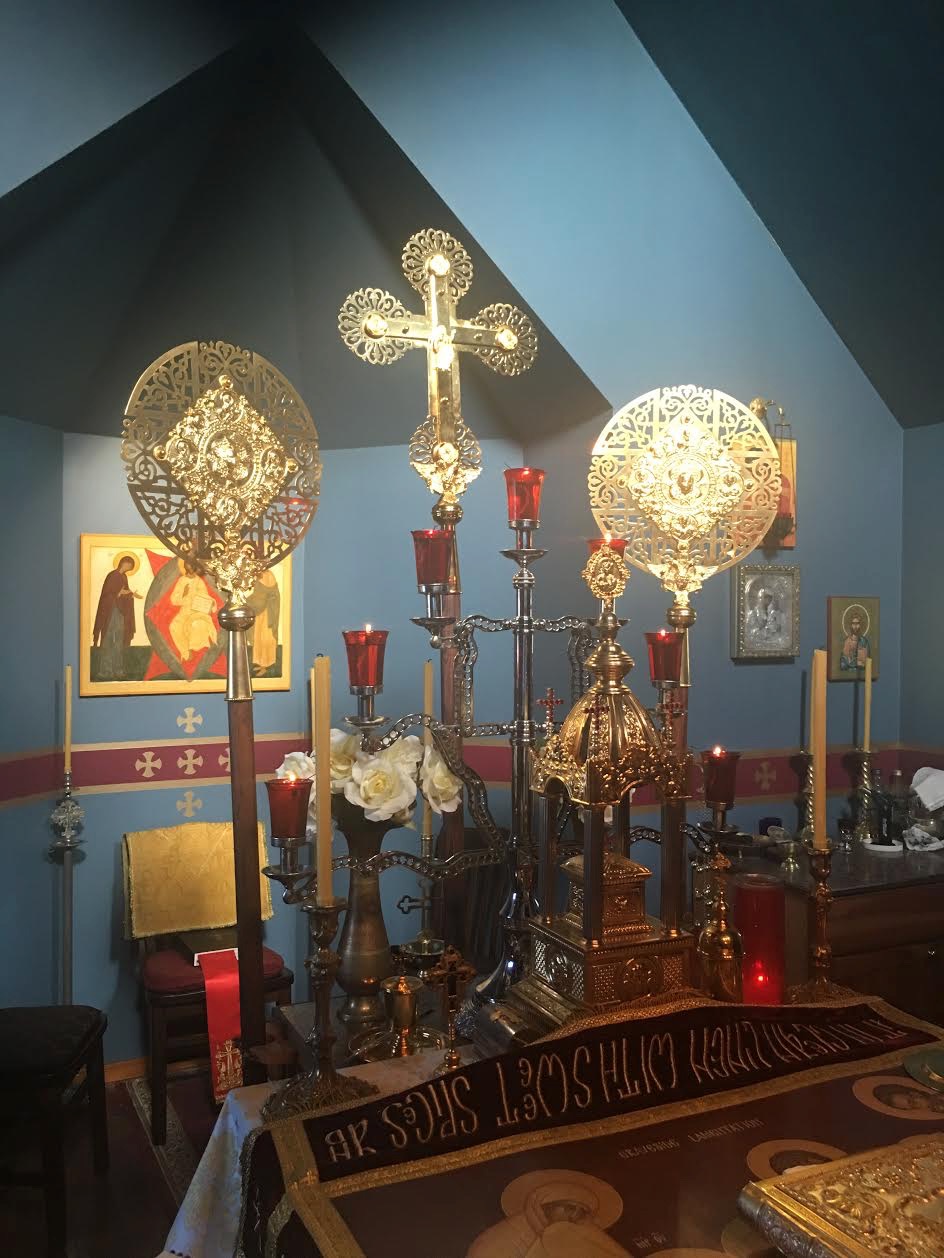 Saint Tikhon of Zadonsk said, "Do not think about the sins of your brother but about what in him is better than in yourself." These words are powerful, and can be life changing if we take them as our own. Finding fault only in ourselves is always grace imparting, for it is the way of Christ. As well, being quick to ask others for their forgiveness is always better than waiting for them to ask for yours.
The way of Christ seems difficult, but the more we seek Him out the more His grace abounds, and we can say with the Apostle Paul, "I am crucified with Christ: nevertheless I live; yet not I, but Christ lives in me: and the life which I now live in the flesh I live by the faith of the Son of God, who loved me, and gave himself for me (Gal 2:20)."
A clear sign of love for God is when our heartfelt gladness in God shines forth for all to see. The love of God cannot exist without joy, and the sweetness of our love for God extends to all those around us. This is true because the sweetness of our love cannot be felt without joy. This joy which is both spiritual and heavenly, and is a foretaste of the sweetness of eternal life.
Love in Christ,
Abbot Tryphon
Wednesday May 16, 2018 / May 3, 2018
Apodosis of Pascha. Tone five.
Fast. Fish Allowed
Martyrs Timothy the Reader and his wife Maura of Antinoe in Egypt (286).
Venerable Theodosius, abbot of the Kiev Caves Monastery and founder of cenobitic monasticism in Russia (1074).
Venerable Peter the Wonderworker, bishop of Argos (10th c.).
New Hieromartyr Nicholas priest (1941).
Venerables Juliana (1393) and Eupraxia (1394) of Moscow.
St. Theophanes of Vatopedi, metropolitan of Peritheorion (14th c.).
Translation of the Dormition Icon of the Mother of God from Constantinople to the Kiev-Pechersk Far Caves (1073).
Pechersk Not-Wrought-by-Hand (1085), "Pechersk" (with Sts. Anthony and Theodosius) (1085), "Sven-Caves" (1288), "Yaskinsky"and Vlakhernsky" Icons of the Mother of God
St. Ansfried, bishop of Utrecht (1010).
Venerable Ecumenius the Wonderworker, bishop of Tricca (Greek).
Translation of the relics of Venerable Luke of Mt. Stirion (Greek).
New Martyr Ahmet the Calligrapher of Constantinople (Greek).
New Martyr Mary of Crete. (Greek).
St. Mamai, Catholicos of Georgia (744) (Georgia).
Venerable Fathers Michael and Arsenius the Georgians (9th c.) (Georgia).
Martyr Paul of Vilnius, Lithuania (17th c.).
Great-martyr Xenia the Wonderworker of Peloponnesus.
St. Glywys of Corwall.
The Scripture Readings
Luke 6:17-23
Jesus Heals a Great Multitude
17 And He came down with them and stood on a level place with a crowd of His disciples and a great multitude of people from all Judea and Jerusalem, and from the seacoast of Tyre and Sidon, who came to hear Him and be healed of their diseases, 18 as well as those who were tormented with unclean spirits. And they were healed. 19 And the whole multitude sought to touch Him, for power went out from Him and healed them all.
The Beatitudes
20 Then He lifted up His eyes toward His disciples, and said:
"Blessed are you poor,
For yours is the kingdom of God.
21 Blessed are you who hunger now,
For you shall be filled.
Blessed are you who weep now,
For you shall laugh.
22 Blessed are you when men hate you,
And when they exclude you,
And revile you, and cast out your name as evil,
For the Son of Man's sake.
23 Rejoice in that day and leap for joy!
For indeed your reward is great in heaven,
For in like manner their fathers did to the prophets.
Acts 18:22-28
22 And when he had landed at Caesarea, and gone up and greeted the church, he went down to Antioch. 23 After he had spent some time there, he departed and went over the region of Galatia and Phrygia in order, strengthening all the disciples.
Ministry of Apollos
24 Now a certain Jew named Apollos, born at Alexandria, an eloquent man and mighty in the Scriptures, came to Ephesus. 25 This man had been instructed in the way of the Lord; and being fervent in spirit, he spoke and taught accurately the things of the Lord, though he knew only the baptism of John. 26 So he began to speak boldly in the synagogue. When Aquila and Priscilla heard him, they took him aside and explained to him the way of God more accurately. 27 And when he desired to cross to Achaia, the brethren wrote, exhorting the disciples to receive him; and when he arrived, he greatly helped those who had believed through grace; 28 for he vigorously refuted the Jews publicly, showing from the Scriptures that Jesus is the Christ.
John 12:36-47
36 While you have the light, believe in the light, that you may become sons of light." These things Jesus spoke, and departed, and was hidden from them.
Who Has Believed Our Report?
37 But although He had done so many signs before them, they did not believe in Him, 38 that the word of Isaiah the prophet might be fulfilled, which he spoke:
"Lord, who has believed our report?
And to whom has the arm of the Lord been revealed?"
39 Therefore they could not believe, because Isaiah said again:
40 "He has blinded their eyes and hardened their hearts,
Lest they should see with their eyes,
Lest they should understand with their hearts and turn,
So that I should heal them."
41 These things Isaiah said when he saw His glory and spoke of Him.
Walk in the Light
42 Nevertheless even among the rulers many believed in Him, but because of the Pharisees they did not confess Him, lest they should be put out of the synagogue; 43 for they loved the praise of men more than the praise of God.
44 Then Jesus cried out and said, "He who believes in Me, believes not in Me but in Him who sent Me. 45 And he who sees Me sees Him who sent Me. 46 I have come as a light into the world, that whoever believes in Me should not abide in darkness. 47 And if anyone hears My words and does not believe, I do not judge him; for I did not come to judge the world but to save the world.