Prayer is born of love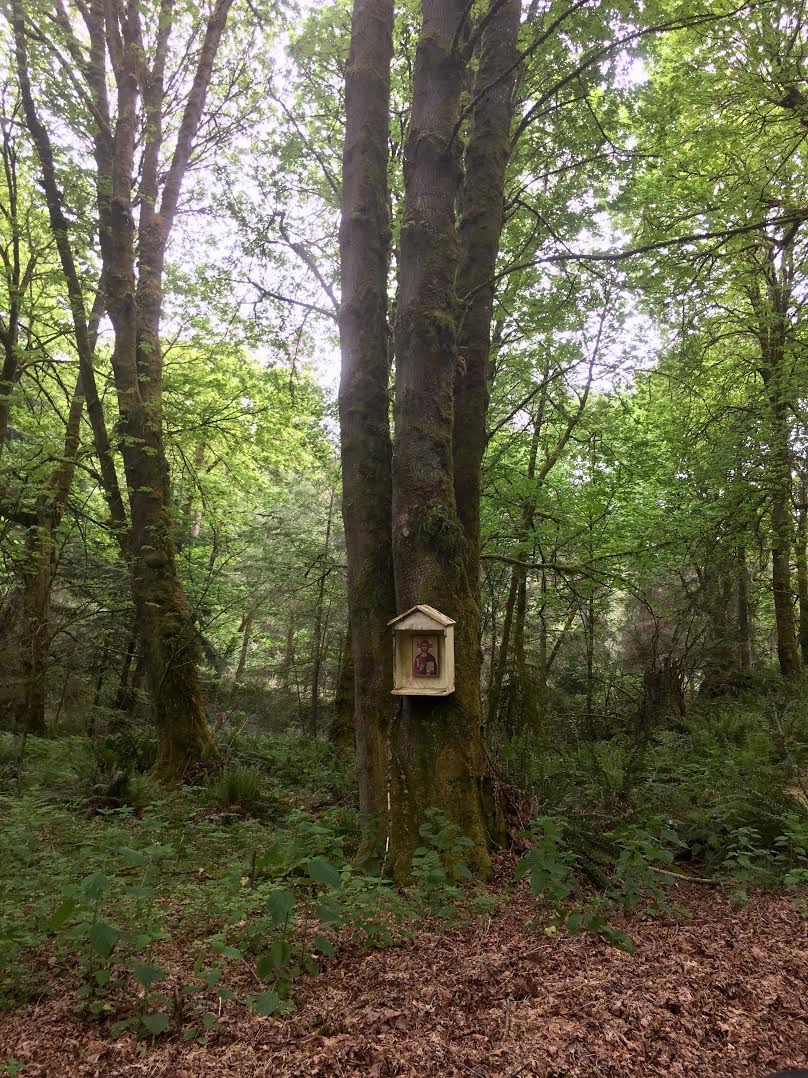 If we find fault in others, our judgmental attitude prevents us from having a successful communion with God. Prayer is born of love, while fault-finding, idle talk, and self-indulgence are the death of prayer. Love and prayer are interconnected because both involve God, and if we love God we are given the power to keep our mind on Him both day and night. Nothing keeps us from Him, and nothing hinders our communion with Him. Even the distractions and temptations of the world fade away as nothing, for as God's love grows in us, so does love of our neighbor grow.
With love in Christ,
Abbot Tryphon
Monday May 7, 2018 / April 24, 2018
Fifth Week of Pascha. Tone four.
Martyr Sabbas Stratelates ("the General") of Rome, and 70 soldiers with him (272).
St. Alexis Toth, priest of Wilkes Barre, Pennsylvania (1909).
Martyr Sergius (1938).
Hieromartyr Branko of Veljusa, Serbia (1941).
Venerables Sabbas (13th c.) and Alexis the Hermit of the Kiev Caves.
Martyrs Pasicrates, Valentine and Julius in Moesia (Bulgaria) (228).
Martyrs Eusebius, Neon, Leontius, Longinus, and others at Nicomedia (303).
Venerable Thomas the Fool of Syria (550).
Venerable Elizabeth the Wonderworker of Constantinople (540).
"Molchensk" Icon (1405) of the Mother of God.
Saint Luke, Tailor of Mytilene (1564).
New Martyr Nicholas of Magnesia (1795).
Martyr Alexander of Lyons (177) (Gaul).
St. Elias (Iorest) (1678) and St. Sava (Brancovici) (1683), metropolitans of Ardeal, confessors against the Calvinists (Transylvania).
St. Joseph the Confessor, bishop of Maramures (1711) (Romania).
New Martyr Doukas of Mitylene (1564) (Greek).
St. Innocent, presbyter on the Mount of Olives (4th c.).
St. Xenophon, founder of the monastery of St. George (Xenophontos) on Mt. Athos (1018).
New Martyr George in Anatolia (1796).
St. Wilfrid, archbishop of York (709) (Celtic & British).
St. Egbert, bishop of Iona (729) (Celtic & British).
St. Mellitus, archbishop of Canterbury. (Celtic & British).
Uncovering of the relict of St. Yvo, bishop. (Celtic & British).
The Scripture Readings
Acts 12:12-17
12 So, when he had considered this, he came to the house of Mary, the mother of John whose surname was Mark, where many were gathered together praying. 13 And as Peter knocked at the door of the gate, a girl named Rhoda came to answer. 14 When she recognized Peter's voice, because of her gladness she did not open the gate, but ran in and announced that Peter stood before the gate. 15 But they said to her, "You are beside yourself!" Yet she kept insisting that it was so. So they said, "It is his angel."
16 Now Peter continued knocking; and when they opened the door and saw him, they were astonished. 17 But motioning to them with his hand to keep silent, he declared to them how the Lord had brought him out of the prison. And he said, "Go, tell these things to James and to the brethren." And he departed and went to another place.
John 8:42-51
42 Jesus said to them, "If God were your Father, you would love Me, for I proceeded forth and came from God; nor have I come of Myself, but He sent Me. 43 Why do you not understand My speech? Because you are not able to listen to My word. 44 You are of yourfather the devil, and the desires of your father you want to do. He was a murderer from the beginning, and does not stand in the truth, because there is no truth in him. When he speaks a lie, he speaks from his own resources, for he is a liar and the father of it. 45 But because I tell the truth, you do not believe Me. 46 Which of you convicts Me of sin? And if I tell the truth, why do you not believe Me?47 He who is of God hears God's words; therefore you do not hear, because you are not of God."
Before Abraham Was, I AM
48 Then the Jews answered and said to Him, "Do we not say rightly that You are a Samaritan and have a demon?"
49 Jesus answered, "I do not have a demon; but I honor My Father, and you dishonor Me. 50 And I do not seek My own glory; there is One who seeks and judges. 51 Most assuredly, I say to you, if anyone keeps My word he shall never see death."