Everything proceeds out of God's mercy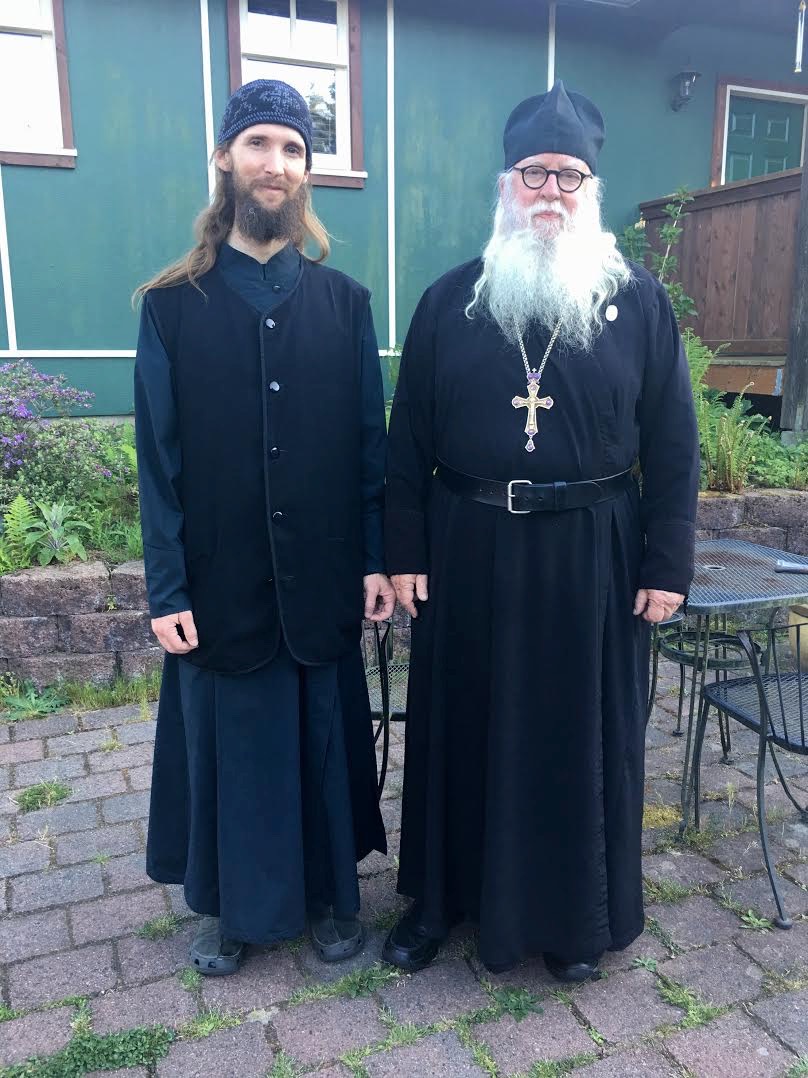 There is a common misconception concerning the word "mercy", used throughout the liturgical services of the Church, as well as our private prayers, and the Jesus Prayer. It is a given that we are all sinners, but the asking for God's mercy is not limited to asking His forgiveness, or begging God to overlook our sinfulness. When we pray forty Lord have mercies, we are recognizing that EVERYTHING proceeds out of God's mercy. The air we breath, the health we enjoy, the food on our table, the water in our tap, the friendships we treasure, our family, and everything good, flows out upon us through God's mercy.
Lord Jesus Christ have mercy on us.
With love in Christ,
Abbot Tryphon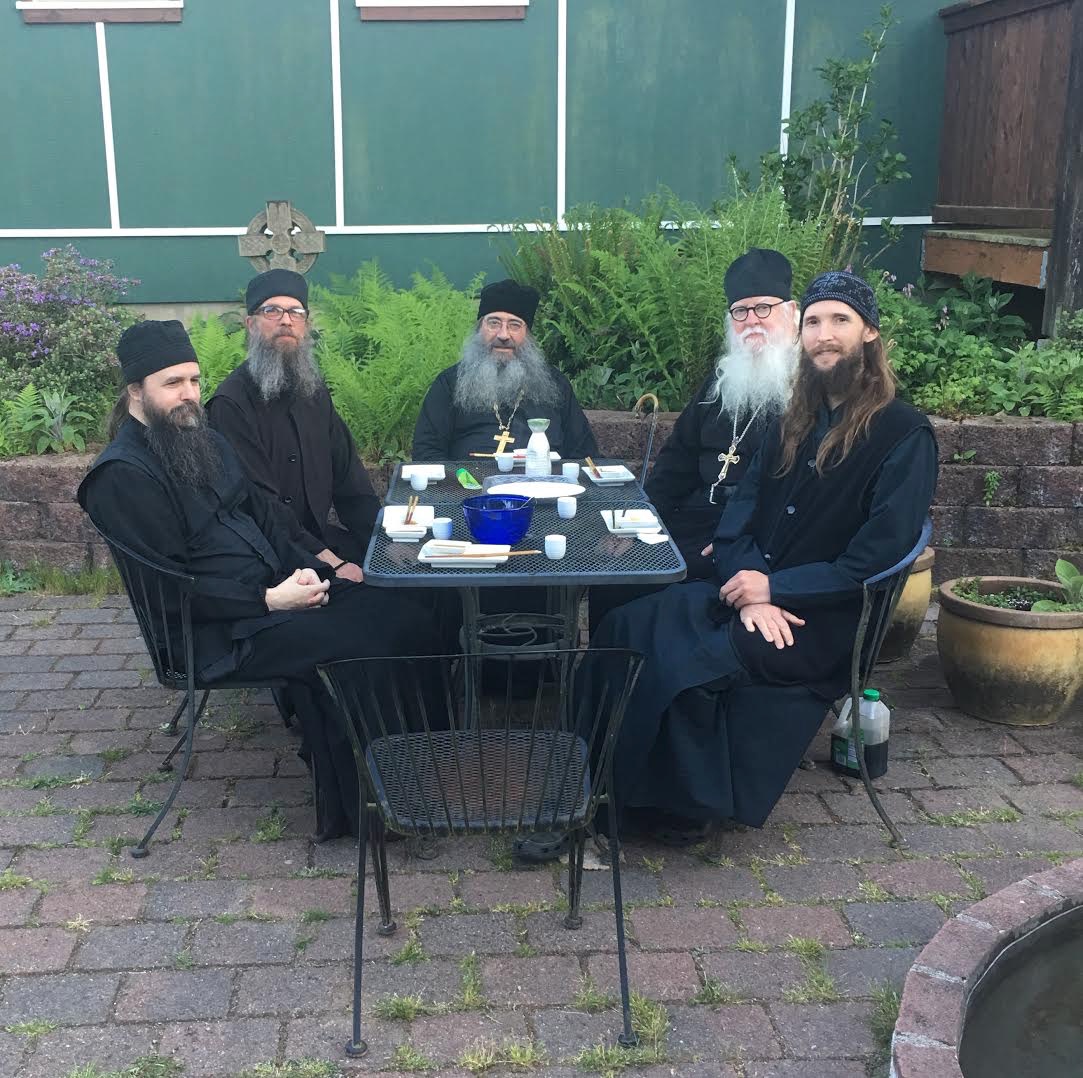 Photos: We have been blessed with a visit by Archdeacon Sergius, a monk of our brother monastery, Holy Cross Hermitage, in West Virginia. Father Sergius said they refer to me as Uncle Tryphon at Holy Cross!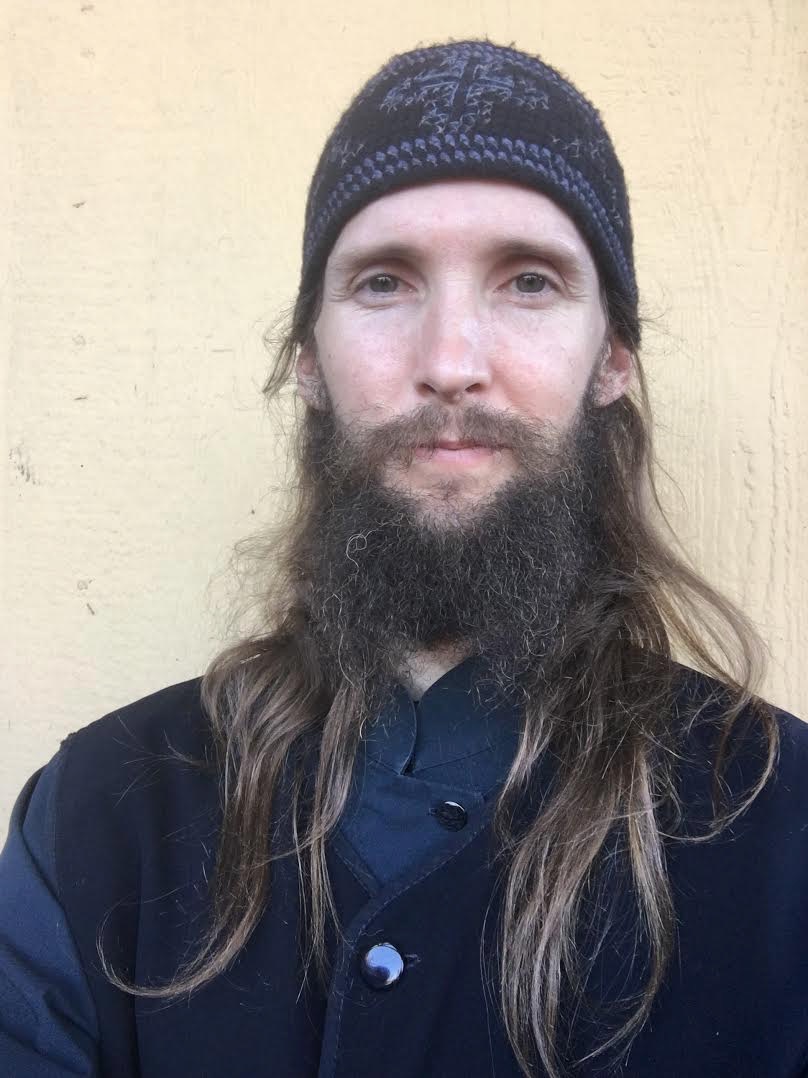 Tuesday May 8, 2018 / April 25, 2018
Fifth Week of Pascha. Tone four.
Holy Apostle and Evangelist Mark (63).
Martyr Sergius (1938).
Venerable Basil Polianomerulsk (1767) (Romania).
Venerable Sylvester, abbot of Obnora (1379).
"Constantinople" Icon (1071) of the Mother of God.
St. Macedonius, patriarch of Constantinople (516).
St. Aninanus, second bishop of Alexandria (86).
Hieromartyr Stephen, bishop of Antioch (479).
Martyr Nice (Greek).
Eight anchorites who were martyred. (Greek).
The Scripture Readings
Luke 10:1-15
The Seventy Sent Out
10 After these things the Lord appointed seventy others also, and sent them two by two before His face into every city and place where He Himself was about to go. 2 Then He said to them, "The harvest truly is great, but the laborers are few; therefore pray the Lord of the harvest to send out laborers into His harvest. 3 Go your way; behold, I send you out as lambs among wolves. 4 Carry neither money bag, knapsack, nor sandals; and greet no one along the road. 5 But whatever house you enter, first say, 'Peace to this house.' 6 And if a son of peace is there, your peace will rest on it; if not, it will return to you. 7 And remain in the same house, eating and drinking such things as they give, for the laborer is worthy of his wages. Do not go from house to house. 8 Whatever city you enter, and they receive you, eat such things as are set before you. 9 And heal the sick there, and say to them, 'The kingdom of God has come near to you.' 10 But whatever city you enter, and they do not receive you, go out into its streets and say, 11 'The very dust of your city which clings to us we wipe off against you. Nevertheless know this, that the kingdom of God has come near you.' 12 But I say to you that it will be more tolerable in that Day for Sodom than for that city.
Woe to the Impenitent Cities
13 "Woe to you, Chorazin! Woe to you, Bethsaida! For if the mighty works which were done in you had been done in Tyre and Sidon, they would have repented long ago, sitting in sackcloth and ashes. 14 But it will be more tolerable for Tyre and Sidon at the judgment than for you. 15 And you, Capernaum, who are exalted to heaven, will be brought down to Hades.
Acts 12:25-13:12
Barnabas and Saul Appointed
25 And Barnabas and Saul returned from Jerusalem when they had fulfilled their ministry, and they also took with them John whose surname was Mark.
13 Now in the church that was at Antioch there were certain prophets and teachers: Barnabas, Simeon who was called Niger, Lucius of Cyrene, Manaen who had been brought up with Herod the tetrarch, and Saul. 2 As they ministered to the Lord and fasted, the Holy Spirit said, "Now separate to Me Barnabas and Saul for the work to which I have called them." 3 Then, having fasted and prayed, and laid hands on them, they sent them away.
Preaching in Cyprus
4 So, being sent out by the Holy Spirit, they went down to Seleucia, and from there they sailed to Cyprus. 5 And when they arrived in Salamis, they preached the word of God in the synagogues of the Jews. They also had John as their assistant.
6 Now when they had gone through the island to Paphos, they found a certain sorcerer, a false prophet, a Jew whose name wasBar-Jesus, 7 who was with the proconsul, Sergius Paulus, an intelligent man. This man called for Barnabas and Saul and sought to hear the word of God. 8 But Elymas the sorcerer (for so his name is translated) withstood them, seeking to turn the proconsul away from the faith. 9 Then Saul, who also is called Paul, filled with the Holy Spirit, looked intently at him 10 and said, "O full of all deceit and all fraud, you son of the devil, you enemy of all righteousness, will you not cease perverting the straight ways of the Lord? 11 And now, indeed, the hand of the Lord is upon you, and you shall be blind, not seeing the sun for a time."
And immediately a dark mist fell on him, and he went around seeking someone to lead him by the hand. 12 Then the proconsul believed, when he saw what had been done, being astonished at the teaching of the Lord.
John 8:51-59
51 Most assuredly, I say to you, if anyone keeps My word he shall never see death."
52 Then the Jews said to Him, "Now we know that You have a demon! Abraham is dead, and the prophets; and You say, 'If anyone keeps My word he shall never taste death.' 53 Are You greater than our father Abraham, who is dead? And the prophets are dead. Who do You make Yourself out to be?"
54 Jesus answered, "If I honor Myself, My honor is nothing. It is My Father who honors Me, of whom you say that He is your God.55 Yet you have not known Him, but I know Him. And if I say, 'I do not know Him,' I shall be a liar like you; but I do know Him and keep His word. 56 Your father Abraham rejoiced to see My day, and he saw it and was glad."
57 Then the Jews said to Him, "You are not yet fifty years old, and have You seen Abraham?"
58 Jesus said to them, "Most assuredly, I say to you, before Abraham was, I AM."
59 Then they took up stones to throw at Him; but Jesus hid Himself and went out of the temple, going through the midst of them, and so passed by.