Christ's resurrection becomes our resurrection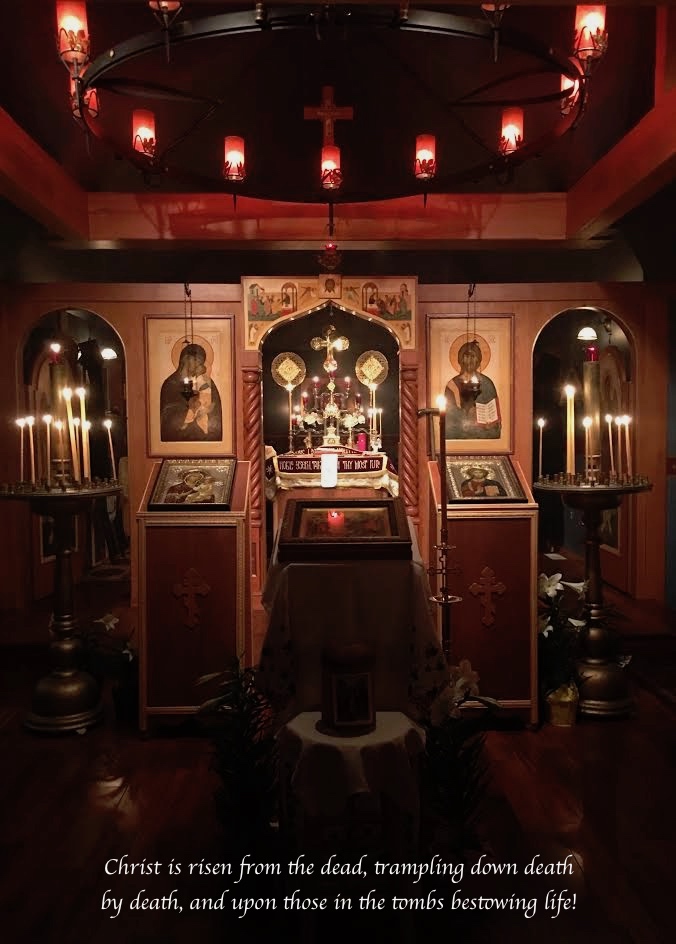 Orthodox do not accept the Doctrine of Original Sin as espoused in the West, but teach, as did the Early Church Fathers, that we inherit only the results of Adams sin, not his guilt. This is known as Ancestral Sin because the sin of our first parents, Adam and Eve, resulted in our having inherited death, sickness and an inclination towards evil. Christ's death on the cross has its power, not as an atonement sacrifice, but in the conquering of the power of death. The perminancy of death has been destroyed by Christ's resurrection from the dead. It is by Christ's resurrection that a way has been made for us to be transformed by contact with the Living God, and thus becoming his children by adoption. Since Christ's resurrection destroyed the power and permanency of death, His resurrection becomes our resurrection.
With love in the Risen Lord Jesus Christ,
Abbot Tryphon
Photo: The Monastery's church, dedicated to the Protection of the Holy Virgin.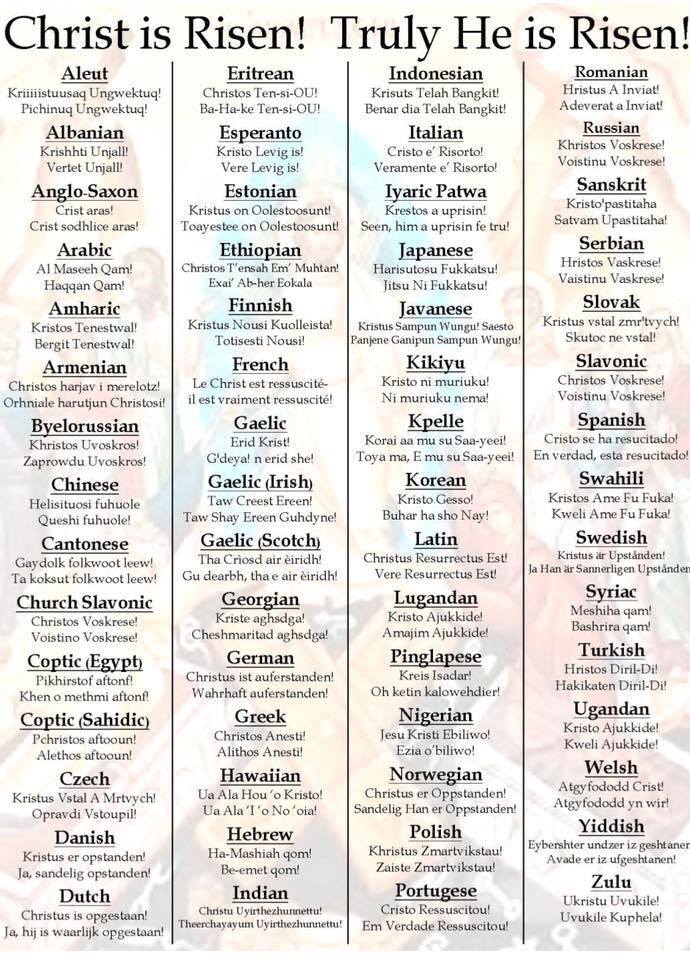 Wednesday April 11, 2018 / March 29, 2018
Bright Wednesday.
Bright Week. Fast-free
Synaxis of the Venerable Fathers of the Holy Mount Sinai (movable holiday on the Wednesday of the Bright Week).
"Kasperov" Icon of the Most Holy Theotokos (movable holiday on the Wednesday of the Bright Week).
Martyr Mark, bishop of Arethusa (364), and with him Hieromartyr Cyril the Deacon of Heliopolis, and others, who suffered under Julian the Apostate (362).
New Martyrs Priest Paul (Voinarsky), and brothers Paul and Alexis Kiryan, of the Crimea (1919).
New Hieromartyr Micael priest(1933).
Venerable John, Anchorite of Egypt (4th c.).
St. Eustathius (Eustace) the Confessor, bishop of Kios in Bithynia(9thc.).
Venerables Jonah (1480) and Mark of the Pskov Caves.
St. Diadochus, bishop of Photike in Epirus (ca. 486).
St. Eustasius, abbot of Luxeuil (7th c.).
Sts. Gwynllw and Gwladys, parents of St. Cadoc.
The Scripture Readings
Acts 2:22-36
22 "Men of Israel, hear these words: Jesus of Nazareth, a Man attested by God to you by miracles, wonders, and signs which God did through Him in your midst, as you yourselves also know— 23 Him, being delivered by the determined purpose and foreknowledge of God, you have taken by lawless hands, have crucified, and put to death; 24 whom God raised up, having loosed the pains of death, because it was not possible that He should be held by it. 25 For David says concerning Him:
'I foresaw the Lord always before my face,
For He is at my right hand, that I may not be shaken.
26 Therefore my heart rejoiced, and my tongue was glad;
Moreover my flesh also will rest in hope.
27 For You will not leave my soul in Hades,
Nor will You allow Your Holy One to see corruption.
28 You have made known to me the ways of life;
You will make me full of joy in Your presence.'
29 "Men and brethren, let me speak freely to you of the patriarch David, that he is both dead and buried, and his tomb is with us to this day. 30 Therefore, being a prophet, and knowing that God had sworn with an oath to him that of the fruit of his body, according to the flesh, He would raise up the Christ to sit on his throne, 31 he, foreseeing this, spoke concerning the resurrection of the Christ, that His soul was not left in Hades, nor did His flesh see corruption. 32 This Jesus God has raised up, of which we are all witnesses. 33 Therefore being exalted to the right hand of God, and having received from the Father the promise of the Holy Spirit, He poured out this which you now see and hear.
34 "For David did not ascend into the heavens, but he says himself:
'The Lord said to my Lord,
"Sit at My right hand,
35 Till I make Your enemies Your footstool."'
36 "Therefore let all the house of Israel know assuredly that God has made this Jesus, whom you crucified, both Lord and Christ."
John 1:35-51
The First Disciples
35 Again, the next day, John stood with two of his disciples. 36 And looking at Jesus as He walked, he said, "Behold the Lamb of God!"
37 The two disciples heard him speak, and they followed Jesus. 38 Then Jesus turned, and seeing them following, said to them, "What do you seek?"
They said to Him, "Rabbi" (which is to say, when translated, Teacher), "where are You staying?"
39 He said to them, "Come and see." They came and saw where He was staying, and remained with Him that day (now it was about the tenth hour).
40 One of the two who heard John speak, and followed Him, was Andrew, Simon Peter's brother. 41 He first found his own brother Simon, and said to him, "We have found the Messiah" (which is translated, the Christ). 42 And he brought him to Jesus.
Now when Jesus looked at him, He said, "You are Simon the son of Jonah. You shall be called Cephas" (which is translated, A Stone).
Philip and Nathanael
43 The following day Jesus wanted to go to Galilee, and He found Philip and said to him, "Follow Me." 44 Now Philip was from Bethsaida, the city of Andrew and Peter. 45 Philip found Nathanael and said to him, "We have found Him of whom Moses in the law, and also the prophets, wrote—Jesus of Nazareth, the son of Joseph."
46 And Nathanael said to him, "Can anything good come out of Nazareth?"
Philip said to him, "Come and see."
47 Jesus saw Nathanael coming toward Him, and said of him, "Behold, an Israelite indeed, in whom is no deceit!"
48 Nathanael said to Him, "How do You know me?"
Jesus answered and said to him, "Before Philip called you, when you were under the fig tree, I saw you."
49 Nathanael answered and said to Him, "Rabbi, You are the Son of God! You are the King of Israel!"
50 Jesus answered and said to him, "Because I said to you, 'I saw you under the fig tree,' do you believe? You will see greater things than these." 51 And He said to him, "Most assuredly, I say to you, hereafter you shall see heaven open, and the angels of God ascending and descending upon the Son of Man."