The power and influence of good deeds
"For it is the will of God, that with well-doing ye may put to silence the ignorance of foolish men (1 Peter 2:15).
Bishop Nikolai Velimirovic tells us in The Prologue from Ochrid that we are better off if we do not engage others in lengthy debates and fruitless discussions, but that we can better change their hearts by our love and good deeds. Arguing with others, even over matters of faith, is usually a fruitless venture, rarely leading the other to ponder the truth of your words. Better to demonstrate truth by holiness of life, patience, and kindness in our response. Entering into heated words most often leads to a standoff, where only the demons win in the end.
"It is difficult, my brethren, to dispute with an atheist; it is difficult to converse with a stupid man; it is difficult to change an embittered man. It is only with the greatest difficulty that you will convince an atheist, a stupid man, or an embittered man, with words."
"If you argue with an atheist on his own diabolical terms, you simply strengthen the demon of atheism. If you converse with a stupid man in a spirit of derision, the darkness of stupidity will be made the greater. If you think to change a bitter man by anger, you will merely add more fuel to the fire of bitterness."
Responding to the embittered man, the angry man, or the stupid man, while hoping to win him over, does nothing for him, and eventually gives power to the demon who would devour the man's soul, and consume your own. Thinking you have to prove the correctness of your point of view does nothing for truth, but only gives power to the demons of pride, anger, and stupidity. The power and influence of good deeds always wins out in the end.
With love in the Risen Lord Jesus Christ,
Abbot Tryphon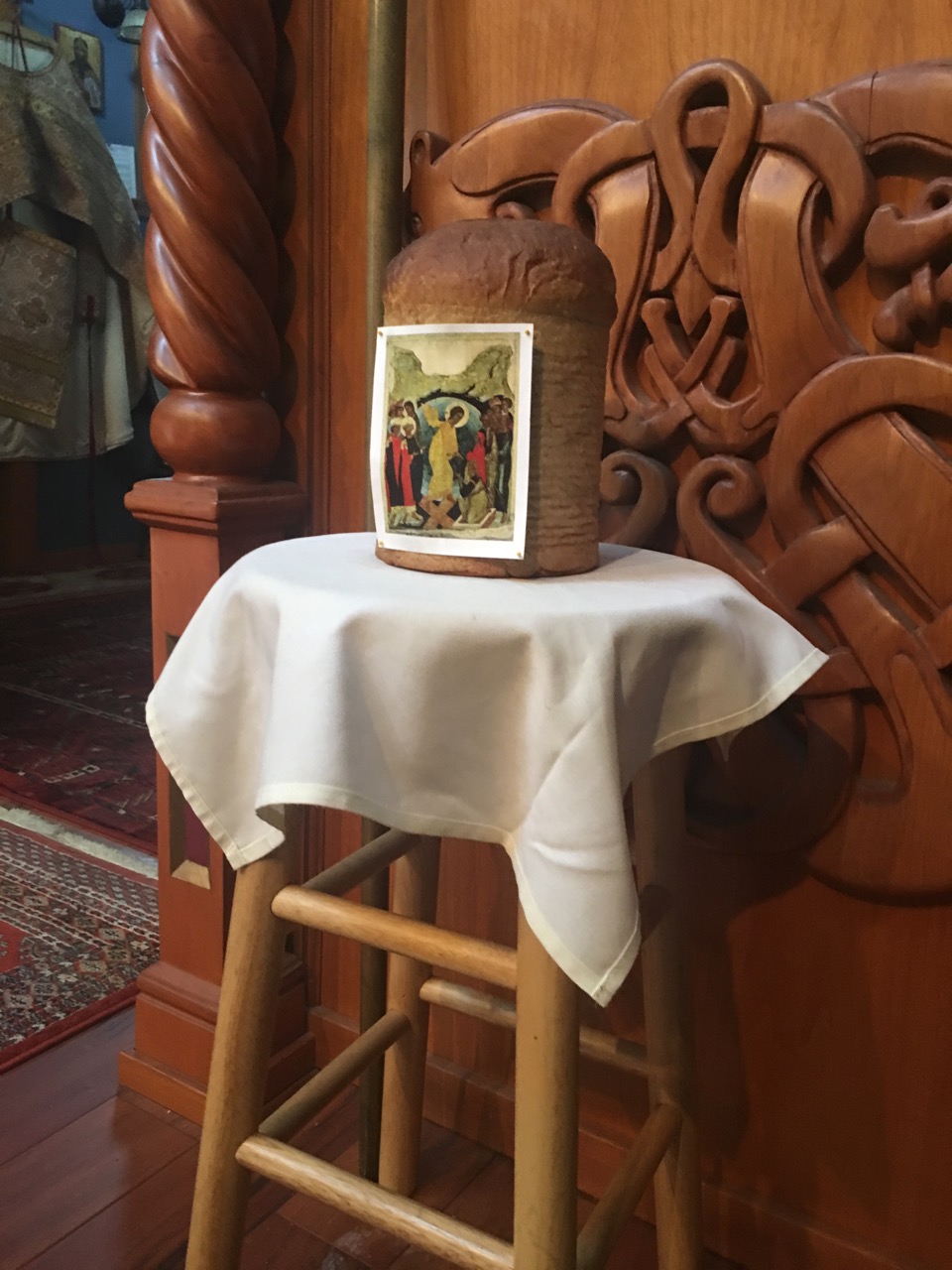 Tuesday April 10, 2018 / March 28, 2018
Bright Tuesday.
Bright Week. Fast-free
"Iveron" Icon of the Most Holy Theotokos (movable holiday on the Tuesday of the Bright Week).
Blessed Martyrs and Fathers of the St. David-Gareji Monastery (17th c.) (Georgia) (movable holiday on the Tuesday of the Bright Week).
"Shuisky" Icon of the Most Holy Theotokos (movable holiday on the Tuesday of the Bright Week).
Venerable Hilarion the New, abbot of Pelecete (754).
Venerable Stephen the Wonderworker, abbot of Tryglia (815).
New Hieromartyr Nicholas priest(1931).
New Hieromartyr Basil priest(1938).
Martyr John (1939).
New Hieromartyr Priest Peter Ochryzko of Chartoviec (Chelm and Podlasie, Poland) (1944).
Martyr Eustratius of the Kiev Caves (1096).
Venerable Hilarion, monk, of Gdov (Pskov) (1476).
Martyrs Jonah and Barachisius and those with them in Persia: Zanithas, Lazarus, Maruthas (Marotas), Narses, Elias, Marinus (Mares), Abibus, Sembeeth (Sivsithina), and Sabbas (330).
Sts. George, bishop, Parodus and Peter, presbyters, and Prince Enravota-Boyan (833), martyrs of Bulgaria (Bulgaria).
St. Hesychius the Theologian of Jerusalem, disciple of St. Gregory the Theologian (434).
Apostle Herodion of the Seventy (Greek).
Sts. Priscus, Malchus, and Alexander in Caesaria of Palestine (259).
St. Dionysius the Merciful, bishop of Larissa (1510).
Venerable Jonah of Kliminetsk (Olonets) (1534).
Venerable John, Bishop of Manglisi (1751) (Georgia).
The Scripture Readings
Acts 2:14-21
Peter's Sermon
14 But Peter, standing up with the eleven, raised his voice and said to them, "Men of Judea and all who dwell in Jerusalem, let this be known to you, and heed my words. 15 For these are not drunk, as you suppose, since it is only the third hour of the day. 16 But this is what was spoken by the prophet Joel:
17 'And it shall come to pass in the last days, says God,
That I will pour out of My Spirit on all flesh;
Your sons and your daughters shall prophesy,
Your young men shall see visions,
Your old men shall dream dreams.
18 And on My menservants and on My maidservants
I will pour out My Spirit in those days;
And they shall prophesy.
19 I will show wonders in heaven above
And signs in the earth beneath:
Blood and fire and vapor of smoke.
20 The sun shall be turned into darkness,
And the moon into blood,
Before the coming of the great and awesome day of the Lord.
21 And it shall come to pass
That whoever calls on the name of the Lord
Shall be saved.'
Luke 24:12-35
12 But Peter arose and ran to the tomb; and stooping down, he saw the linen cloths lying by themselves; and he departed, marveling to himself at what had happened.
The Road to Emmaus
13 Now behold, two of them were traveling that same day to a village called Emmaus, which was seven miles from Jerusalem. 14 And they talked together of all these things which had happened. 15 So it was, while they conversed and reasoned, that Jesus Himself drew near and went with them. 16 But their eyes were restrained, so that they did not know Him.
17 And He said to them, "What kind of conversation is this that you have with one another as you walk and are sad?"
18 Then the one whose name was Cleopas answered and said to Him, "Are You the only stranger in Jerusalem, and have You not known the things which happened there in these days?"
19 And He said to them, "What things?"
So they said to Him, "The things concerning Jesus of Nazareth, who was a Prophet mighty in deed and word before God and all the people, 20 and how the chief priests and our rulers delivered Him to be condemned to death, and crucified Him. 21 But we were hoping that it was He who was going to redeem Israel. Indeed, besides all this, today is the third day since these things happened. 22 Yes, and certain women of our company, who arrived at the tomb early, astonished us. 23 When they did not find His body, they came saying that they had also seen a vision of angels who said He was alive. 24 And certain of those who were with us went to the tomb and found it just as the women had said; but Him they did not see."
25 Then He said to them, "O foolish ones, and slow of heart to believe in all that the prophets have spoken! 26 Ought not the Christ to have suffered these things and to enter into His glory?" 27 And beginning at Moses and all the Prophets, He expounded to them in all the Scriptures the things concerning Himself.
The Disciples' Eyes Opened
28 Then they drew near to the village where they were going, and He indicated that He would have gone farther. 29 But they constrained Him, saying, "Abide with us, for it is toward evening, and the day is far spent." And He went in to stay with them.
30 Now it came to pass, as He sat at the table with them, that He took bread, blessed and broke it, and gave it to them. 31 Then their eyes were opened and they knew Him; and He vanished from their sight.
32 And they said to one another, "Did not our heart burn within us while He talked with us on the road, and while He opened the Scriptures to us?" 33 So they rose up that very hour and returned to Jerusalem, and found the eleven and those who were with them gathered together, 34 saying, "The Lord is risen indeed, and has appeared to Simon!" 35 And they told about the things that had happened on the road, and how He was known to them in the breaking of bread.