When despondency seizes us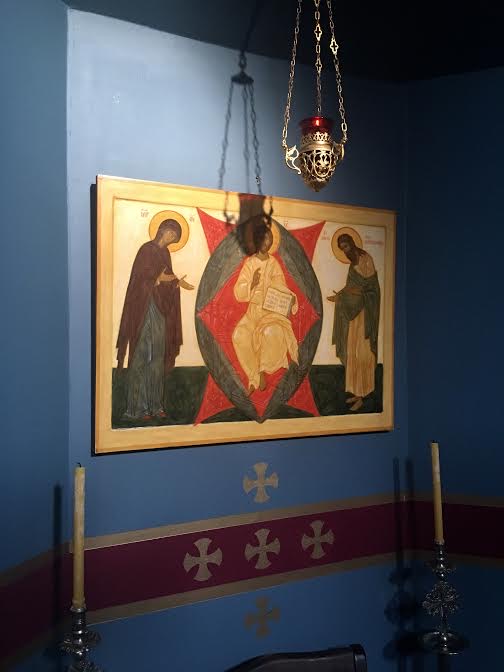 The renowned 19th century Russian saint, Seraphim of Sarov (1759-1833), said of himself, "I don't know anything". These words were remarkable coming from a hermit who was the most sought after spiritual adviser of his age, with even the Tsar seeking out his counsel. Yet Saint Seraphim recognized that he was but a funnel from which anything good that came out of him, was from God.
As a priestmonk, I am often troubled by the knowledge that I am a poor example to others, and that I fall short, daily, of living out the image of Christ in me. Yet I am compelled to live out every day with joyfulness of heart, no matter what. I am also compelled to preach, teach, and write of the things of the Lord, and to try to trust God, no matter what. I try, as best I can, to remember the words, "Rejoice in the Lord always: and again I say, Rejoice (Philippians 4:4)".
I try to remember the words of Saint Basil the Fool for Christ, whose holy relics reside in Saint Basil's Cathedral in Red Square, who said, "winter is cold, but paradise is sweet". Knowing that true validation comes only from God, I try not to be hurt when I do not receive validation from my peers, remembering that I am called upon to give to others, what I want to receive.
Like Saint Anthony the Great, I cry out to God, "where are You?", all the while floating in a river of grace. I want to be a friend of God, yet often feel like the chick who has been pushed out of the nest by the mother eagle.
Yet I am comforted by the counsel of Saint Seraphim, who instructed his spiritual children with the words: "When despondency seizes us, let us not give in to it. Rather, fortified and protected by the light of faith, let us with great courage say to the spirit of evil: "What are you to us, you who are cut off from God, a fugitive from Heaven, and a slave of evil? You dare not do anything to us: Christ, the Son of God, has dominion over us and over all. Leave us, you thing of bane. We are made steadfast by the uprightness of His Cross. Serpent, we trample on your head."
With love in Christ,
Abbot Tryphon
Tuesday April 24, 2018 / April 11, 2018
Third Week of Pascha. Tone two.
Hieromartyr Antipas, bishop of Pergamus (92), disciple of St. John the Theologian.
New Hieromartyr Nicholas priest (1938).
Venerable James, abbot of Zhelezny Bor (1442), and his fellow-ascetic St. James.
St. Barsanuphius, bishop of Tver (1576).
Martyrs Processus and Martinian of Rome (67).
Venerable Pharmuthius, anchorite of Egypt (4th c.).
Venerable John, disciple of Venerable Gregory of Decapolis (820).
Venerables Euthymius (1456) and Chariton (1509), abbots of Syanzhema (Vologda).
St. Callinicus of Cernica, bishop of Rimnic in Romania (1868) (Romania).
Venerable Guthlac, hermit of Crowland (714) (Celtic & British).
Hieromartyr Domninus, bishop of Salona in Dalmatia, and eight soldiers with him (100).
St. Philip, bishop of Gortyna, Crete (180).
The Scripture Readings
Acts 8:5-17
5 Then Philip went down to the city of Samaria and preached Christ to them. 6 And the multitudes with one accord heeded the things spoken by Philip, hearing and seeing the miracles which he did. 7 For unclean spirits, crying with a loud voice, came out of many who were possessed; and many who were paralyzed and lame were healed. 8 And there was great joy in that city.
The Sorcerer's Profession of Faith
9 But there was a certain man called Simon, who previously practiced sorcery in the city and astonished the people of Samaria, claiming that he was someone great, 10 to whom they all gave heed, from the least to the greatest, saying, "This man is the great power of God." 11 And they heeded him because he had astonished them with his sorceries for a long time. 12 But when they believed Philip as he preached the things concerning the kingdom of God and the name of Jesus Christ, both men and women were baptized. 13 Then Simon himself also believed; and when he was baptized he continued with Philip, and was amazed, seeing the miracles and signs which were done.
The Sorcerer's Sin
14 Now when the apostles who were at Jerusalem heard that Samaria had received the word of God, they sent Peter and John to them, 15 who, when they had come down, prayed for them that they might receive the Holy Spirit. 16 For as yet He had fallen upon none of them. They had only been baptized in the name of the Lord Jesus. 17 Then they laid hands on them, and they received the Holy Spirit.
John 6:27-33
27 Do not labor for the food which perishes, but for the food which endures to everlasting life, which the Son of Man will give you, because God the Father has set His seal on Him."
28 Then they said to Him, "What shall we do, that we may work the works of God?"
29 Jesus answered and said to them, "This is the work of God, that you believe in Him whom He sent."
30 Therefore they said to Him, "What sign will You perform then, that we may see it and believe You? What work will You do? 31 Our fathers ate the manna in the desert; as it is written, 'He gave them bread from heaven to eat.'"
32 Then Jesus said to them, "Most assuredly, I say to you, Moses did not give you the bread from heaven, but My Father gives you the true bread from heaven. 33 For the bread of God is He who comes down from heaven and gives life to the world."