Imparting the faith in this secularized world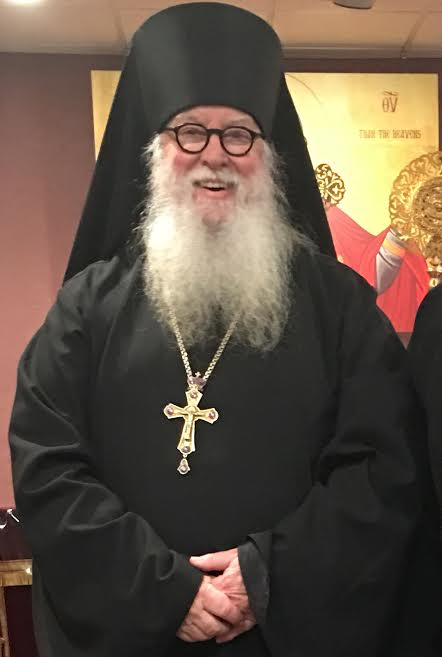 The first missionary monks to the North American came to a land where Orthodoxy had never been. Their encounter with the native peoples was one of mutual respect. They did not greet their new neighbors as pagans, but as a people who's experience with God was limited, but who nevertheless held to certain truths that were, by their very nature, Orthodox truths. Sharing with these peoples, the Orthodox monks came to know that the native Alaskans did not worship totem poles, but used them as tools for passing on family and tribal history. The monks honored the indigenous peoples, befriending them, and, most important of all, treating them as God's children.
Orthodox clergy must remember that we are the first line of witness for the Faith, and if we hold ourselves aloof while wearing our cassocks and crosses in public, we are in essence slamming the door in the faces of potential converts to our faith. And, as priests belonging to different jurisdictions, we must cooperate in the foundation of new missions, so we don't undermine the ability of any one mission to support a full time priest, and raise the necessary funds to construct a permanent church. Having numerous little mission parishes without proper facilities, and a full time priest, is counterproductive to the overall goal of a mission, because the witness it gives to the community at large is one of disunity among the Orthodox, and the promotion of the commonly held view that we are multiple denominations.
With love in Christ,
Abbot Tryphon
Sunday March 18, 2018 / March 5, 2018
Fourth Sunday of the Great Lent. Tone eight.
Great Lent. Food with Oil
Venerable John Lestvichnik (movable holiday on the 4th Sunday of the Great Lent).
Martyr Conon of Isauria (2nd c.).
St. Nicholas (1919).
New Hieromartyr John priest and New Hieromartyrs Mardarius and Theopane (1938).
St. Nicholas (Velimirovich), bishop of Ochrid and Zhicha, Serbia (1956) (Serbia).
Uncovering of the relics (1996) of St. Luke, hierarch-surgeon of Simferopol (1961).
Translation of the relics (1463) of St. Theodore, prince of Smolensk and Yaroslav (1299), and his children Sts. David (1321) and Constantine.
Monk-martyr Adrian, abbot of Poshekhonye (1550) and his fellow-ascetic St. Leonidas (1549).
Martyr Onisius of Isauria (2nd c.).
Martyr Conon the Gardener of Pamphylia (251).
Virgin-martyr Irais (Rhais) of Antinoe in Egypt (3rd c.) and with her Martyr Archelaus and 152 Martyrs in Egypt.
Martyr Eulogius of Palestine.
Martyr Eulampius of Palestine.
Venerable Mark the Faster of Egypt (5th c.).
Venerable Hesychius the Faster of Bithynia (790).
"Nurtured Up-Bringing" Icon of the Mother of God.
New Martyr John the Bulgarian (Mt. Athos), at Constantinople (1784) (Greek).
Martyr Archelaus and 152 Martyrs in Egypt.
St. Kieran (Ciaran) of Saigher, Munster (Ireland) (5th-6th c.) (Celtic & British).
St. Theophilus, bishop of Caesaria in Palestine (200).
St. Virgil, archbishop of Aries (618).
Sts. Basil (1249) and Constantine (1257), princes of Yaroslavl.
New Hieromartyr Parthenius, Bishop of Didymoteichon in Thrace (1805).
New Martyr George of Rapsana (1818).
St. Piran, mont of Perranporth.
The Scripture Readings
John 20:11-18
Mary Magdalene Sees the Risen Lord
11 But Mary stood outside by the tomb weeping, and as she wept she stooped down and looked into the tomb. 12 And she saw two angels in white sitting, one at the head and the other at the feet, where the body of Jesus had lain. 13 Then they said to her, "Woman, why are you weeping?"
She said to them, "Because they have taken away my Lord, and I do not know where they have laid Him."
14 Now when she had said this, she turned around and saw Jesus standing there, and did not know that it was Jesus. 15 Jesus said to her, "Woman, why are you weeping? Whom are you seeking?"
She, supposing Him to be the gardener, said to Him, "Sir, if You have carried Him away, tell me where You have laid Him, and I will take Him away."
16 Jesus said to her, "Mary!"
She turned and said to Him, "Rabboni!" (which is to say, Teacher).
17 Jesus said to her, "Do not cling to Me, for I have not yet ascended to My Father; but go to My brethren and say to them, 'I am ascending to My Father and your Father, and to My God and your God.'"
18 Mary Magdalene came and told the disciples that she had seen the Lord, and that He had spoken these things to her.
Mark 9:17-31
17 Then one of the crowd answered and said, "Teacher, I brought You my son, who has a mute spirit. 18 And wherever it seizes him, it throws him down; he foams at the mouth, gnashes his teeth, and becomes rigid. So I spoke to Your disciples, that they should cast it out, but they could not."
19 He answered him and said, "O faithless generation, how long shall I be with you? How long shall I bear with you? Bring him to Me."20 Then they brought him to Him. And when he saw Him, immediately the spirit convulsed him, and he fell on the ground and wallowed, foaming at the mouth.
21 So He asked his father, "How long has this been happening to him?"
And he said, "From childhood. 22 And often he has thrown him both into the fire and into the water to destroy him. But if You can do anything, have compassion on us and help us."
23 Jesus said to him, "If you can believe, all things are possible to him who believes."
24 Immediately the father of the child cried out and said with tears, "Lord, I believe; help my unbelief!"
25 When Jesus saw that the people came running together, He rebuked the unclean spirit, saying to it: "Deaf and dumb spirit, I command you, come out of him and enter him no more!" 26 Then the spirit cried out, convulsed him greatly, and came out of him. And he became as one dead, so that many said, "He is dead." 27 But Jesus took him by the hand and lifted him up, and he arose.
28 And when He had come into the house, His disciples asked Him privately, "Why could we not cast it out?"
29 So He said to them, "This kind can come out by nothing but prayer and fasting."
Jesus Again Predicts His Death and Resurrection
30 Then they departed from there and passed through Galilee, and He did not want anyone to know it. 31 For He taught His disciples and said to them, "The Son of Man is being betrayed into the hands of men, and they will kill Him. And after He is killed, He will rise the third day."