Waging war against  the flesh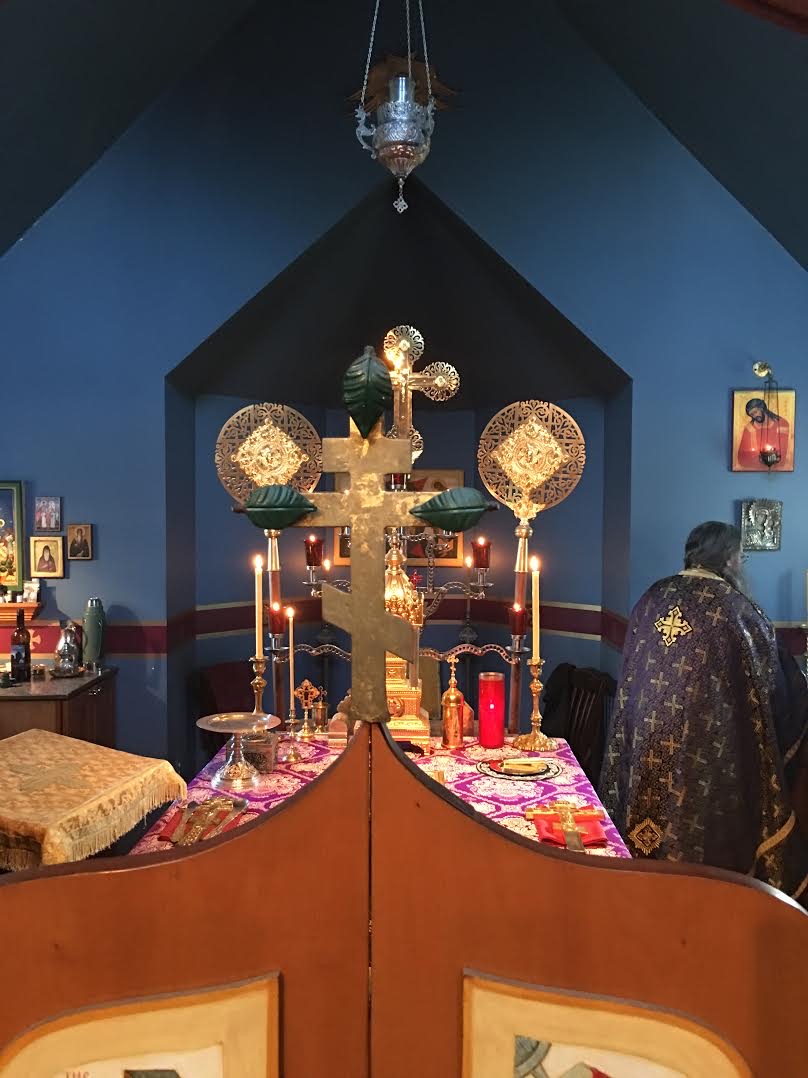 Since the eyes and the ears are the doors of the soul, an Orthodox Christian must not leave the body without attention. Unlike the religion of Gnosticism, which teaches the separation of soul and body, with the physical world being evil and something to be overcome, historic Christianity teaches the unity the body and soul, with the physical world being transformed and made anew in Christ. This means that, while caring about one's soul, an Orthodox Christian must not leave the body without attention.
The body is given over to temptation, which is rooted in the mind. As Christians we know that we must never play with temptations, for in doing so we have already fallen half-way. Thus, an Orthodox Christian who takes his salvation seriously would never partake in seductive dances, or enter into flirtation as though it were a sport, for he would know this to be a dangerous game.
Temptations gain hold when we entertain dirty thoughts and ideas, sometimes by allowing our eyes and ears to entertain things that can overcome our will, causing us to fall. It is much easier to stop a temptation in the beginning, than to do battle with a seductive idea once it has gained entry. A person who wants to prevent a burglary makes every effort to prevent a burglar from gaining entrance in the first place. Like taking precautions that will prevent a burglary, we must never allow ourselves to entertain temptations, for that would be like inviting a criminal into your home with the intent of trying to talk him out of steal from you.
Many are convinced that sexual needs are so insurmountable in strength, as to make it impossible to resist. This is only the case when we habitually give in the the passions, and avoid using the tools given to us by the Church to bring our body into submission. If we observe the periods of fasting, especially the Wednesday and Friday days of abstinence, eat moderate amounts of food, avoid the overuse of alcoholic, and say no to drugs, we will have taken a big step forward in our struggle with lust. Remember, a healthy body contributes to the health of the soul.
Finally, it is good to take to heart the advice of Saint Ephraim of Syrian, "Think about the good so as not to think about the bad." Guard against spending time with people whose jokes and story-telling are occasions for sinful thoughts, and avoid bad company, for "Bad company corrupts good character (1 Corinthians 15:33)."
With love in Christ,
Abbot Tryphon
Tuesday March 13, 2018 / February 28, 2018
Fourth Week of the Great Lent: Adoration of Cross. Tone seven.
Great Lent. By Monastic Charter: Food without Oil
Venerable Basil the Confessor (747), companion of St. Procopius at Decapolis.
St. Arsenius (Matsievich), metropolitan of Rostov, confessor (1772).
New Hieromartyr Sergius priest (1932).
Blessed Nicholas of Pskov, fool-for-Christ (1576).
Hieromartyr Proterius, patriarch of Alexandria, and six companions (457).
Hieromartyr Nestor, bishop of Magydos in Pamphylia (250).
Venerables Marana, Cyanna (Kyra), and Domnica (Domnina), nuns, of Syria (ca. 450).
Apostles Nymphas and Eubulus.
Venerable Romanus, desert-dweller of Condat in the Jura Mountains (460) (Gaul).
New Virgin-martyr Kyranna of Thessalonica (1751) (Greek).
Venerable Barsus of Damascus, bishop (Greek).
February 29th.
Venerable John Cassian the Roman, abbot (435).
Venerable John, called Barsanuphius, of Nitria in Egypt (5th c.).
Martyr Theoctyrist [Theostyrictus] (8th C).
"Devpeteruv" (1392) Icon of the Mother of God.
The Monk Leo, Cappadocian Monastic.
Venerable Cassian, recluse and faster of the Kiev Caves (12th c.).
St. Oswald, archbishop of York (992) (Celtic & British).
St. Germanus of Dacia Pontica (Dobrogea, Romania) (5th c.) (Romania).
St. Theosterictus the Confessor, abbot of Pelecete Monastery near Prusa (826).
St. Cassian of Mu Lake Hermitage, disciple of St. Alexander of Svir (16th c.).
St. Meletius, archbishop of Kharkov (1840).
The Scripture Readings
Isaiah 25:1-9
Praise to God
25 O Lord, You are my God.
I will exalt You,
I will praise Your name,
For You have done wonderful things;
Your counsels of old are faithfulness and truth.
2 For You have made a city a ruin,
A fortified city a ruin,
A palace of foreigners to be a city no more;
It will never be rebuilt.
3 Therefore the strong people will glorify You;
The city of the terrible nations will fear You.
4 For You have been a strength to the poor,
A strength to the needy in his distress,
A refuge from the storm,
A shade from the heat;
For the blast of the terrible ones is as a storm against the wall.
5 You will reduce the noise of aliens,
As heat in a dry place;
As heat in the shadow of a cloud,
The song of the terrible ones will be diminished.
6 And in this mountain
The Lord of hosts will make for all people
A feast of choice pieces,
A feast of wines on the lees,
Of fat things full of marrow,
Of well-refined wines on the lees.
7 And He will destroy on this mountain
The surface of the covering cast over all people,
And the veil that is spread over all nations.
8 He will swallow up death forever,
And the Lord God will wipe away tears from all faces;
The rebuke of His people
He will take away from all the earth;
For the Lord has spoken.
9 And it will be said in that day:
"Behold, this is our God;
We have waited for Him, and He will save us.
This is the Lord;
We have waited for Him;
We will be glad and rejoice in His salvation."
Genesis 9:8-17
8 Then God spoke to Noah and to his sons with him, saying: 9 "And as for Me, behold, I establish My covenant with you and with your descendants after you, 10 and with every living creature that is with you: the birds, the cattle, and every beast of the earth with you, of all that go out of the ark, every beast of the earth. 11 Thus I establish My covenant with you: Never again shall all flesh be cut off by the waters of the flood; never again shall there be a flood to destroy the earth."
12 And God said: "This is the sign of the covenant which I make between Me and you, and every living creature that is with you, for perpetual generations: 13 I set My rainbow in the cloud, and it shall be for the sign of the covenant between Me and the earth. 14 It shall be, when I bring a cloud over the earth, that the rainbow shall be seen in the cloud; 15 and I will remember My covenant which isbetween Me and you and every living creature of all flesh; the waters shall never again become a flood to destroy all flesh. 16 The rainbow shall be in the cloud, and I will look on it to remember the everlasting covenant between God and every living creature of all flesh that is on the earth." 17 And God said to Noah, "This is the sign of the covenant which I have established between Me and all flesh that is on the earth."
Proverbs 12:8-22
8 A man will be commended according to his wisdom,
But he who is of a perverse heart will be despised.
9 Better is the one who is slighted but has a servant,
Than he who honors himself but lacks bread.
10 A righteous man regards the life of his animal,
But the tender mercies of the wicked are cruel.
11 He who tills his land will be satisfied with bread,
But he who follows frivolity is devoid of understanding.[a]
12 The wicked covet the catch of evil men,
But the root of the righteous yields fruit.
13 The wicked is ensnared by the transgression of his lips,
But the righteous will come through trouble.
14 A man will be satisfied with good by the fruit of his mouth,
And the recompense of a man's hands will be rendered to him.
15 The way of a fool is right in his own eyes,
But he who heeds counsel is wise.
16 A fool's wrath is known at once,
But a prudent man covers shame.
17 He who speaks truth declares righteousness,
But a false witness, deceit.
18 There is one who speaks like the piercings of a sword,
But the tongue of the wise promotes health.
19 The truthful lip shall be established forever,
But a lying tongue is but for a moment.
20 Deceit is in the heart of those who devise evil,
But counselors of peace have joy.
21 No grave trouble will overtake the righteous,
But the wicked shall be filled with evil.
22 Lying lips are an abomination to the Lord,
But those who deal truthfully are His delight.