Far more important than being emotional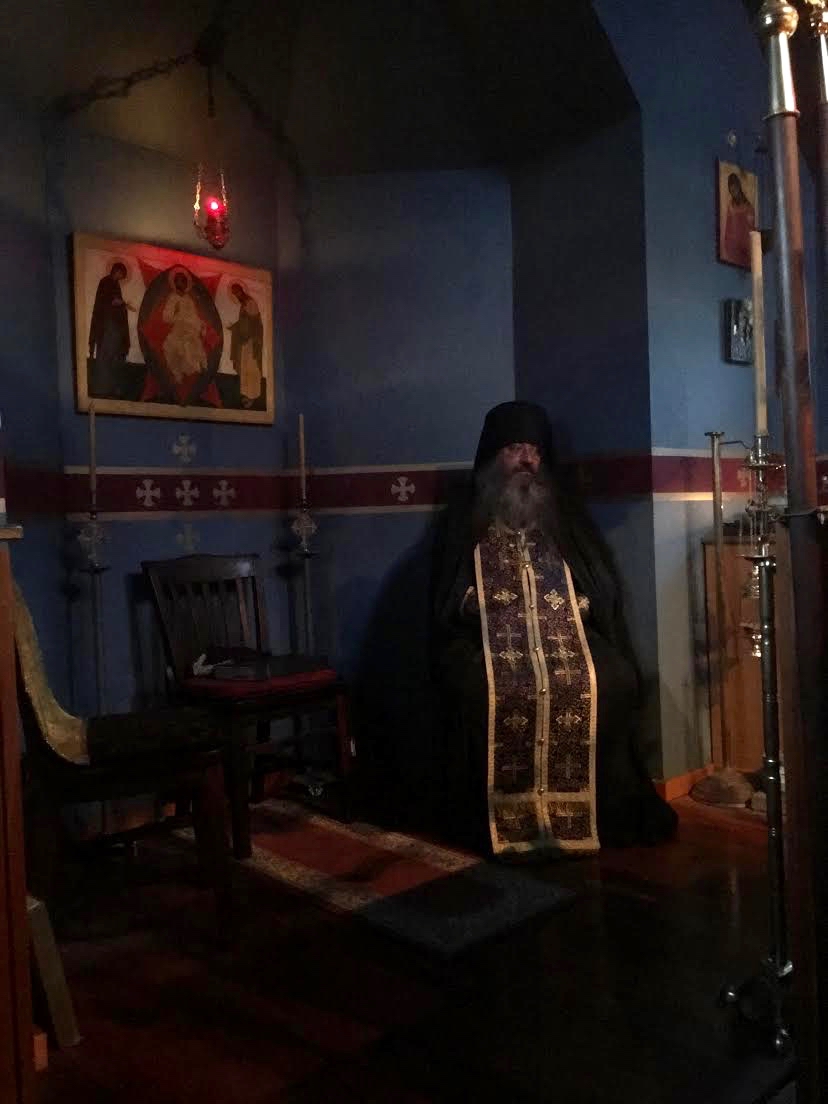 When we find ourselves struggling with prayer, and feel that it has become dry and lifeless, we are sometimes tempted to stop praying. When our prayer has become a struggle, it is good to remember that God knows our needs, and even knows what we want to say when we don't seem to know. This is the time we need to just pray without worrying about it. When we find we can't keep our minds focused on the formal morning and evening prayers, as found in our prayer book, it is perfectly acceptable to simply light our lampada (hanging oil lamp), sit quietly before our icons, and let silence be our voice.
God wants to enter into our heart, and requires only our permission and cooperation. This relationship does not require an emotional response, for, like all relationships, we are not always open to an emotional response. Being real with God is far more important than being emotional, since emotions can be contrived and fleshly. As in all relationships, there are times when we do feel moved by emotions, but the lack of such feelings in no way represents a lack of love for God, because God cares for us, and God knows we love him, even when suffering in those dry times.
With love in Christ,
Abbot Tryphon
Saturday March 10, 2018 / February 25, 2018
Third Saturday of the Great Lent. Tone six.
Great Lent. Food with Oil
Parents' Saturday. Remembrance of the dead.
St. Tarasius, archbishop of Constantinople (806).
New Hieromartyr Alexander, priest, Virgin-Martyr Mstislava (1938).
New Hieromartyr Priest Leo Korobczuk of Laskov (Chelm and Podlasie, Poland) (1944).
New Hieromartyr Nicholas priest (1945).
Hieromartyr Reginus, bishop of the isle of Skopelos (355).
Venerable Polycarp.
Martyr Anthony.
Venerables Erasmus and Paphnutius of Kephala, monks, contemporaries of St. Anthony the Great (4th c.).
Martyrs Alexander at Marcionopolis (305) and Hypatius.
St. Ethelbert, king of Kent (616) (Celtic & British).
Venerable Walburga, abbess of Heidenheim (779) (Celtic & British).
St. Maecellus, bishop of Apamea in Syria (Greek).
St. Theodore, fool-for-Chist (Greek).
The Scripture Readings
Hebrews 10:32-38
32 But recall the former days in which, after you were illuminated, you endured a great struggle with sufferings: 33 partly while you were made a spectacle both by reproaches and tribulations, and partly while you became companions of those who were so treated; 34 for you had compassion on me in my chains, and joyfully accepted the plundering of your goods, knowing that you have a better and an enduring possession for yourselves in heaven. 35 Therefore do not cast away your confidence, which has great reward. 36 For you have need of endurance, so that after you have done the will of God, you may receive the promise:
37 "For yet a little while,
And He who is coming will come and will not tarry.
38 Now the just shall live by faith;
But if anyone draws back,
My soul has no pleasure in him."
Mark 2:14-17
14 As He passed by, He saw Levi the son of Alphaeus sitting at the tax office. And He said to him, "Follow Me." So he arose and followed Him.
15 Now it happened, as He was dining in Levi's house, that many tax collectors and sinners also sat together with Jesus and His disciples; for there were many, and they followed Him. 16 And when the scribes and Pharisees saw Him eating with the tax collectors and sinners, they said to His disciples, "How is it that He eats and drinks with tax collectors and sinners?"
17 When Jesus heard it, He said to them, "Those who are well have no need of a physician, but those who are sick. I did not come to call the righteous, but sinners, to repentance."