vs contemplating our passions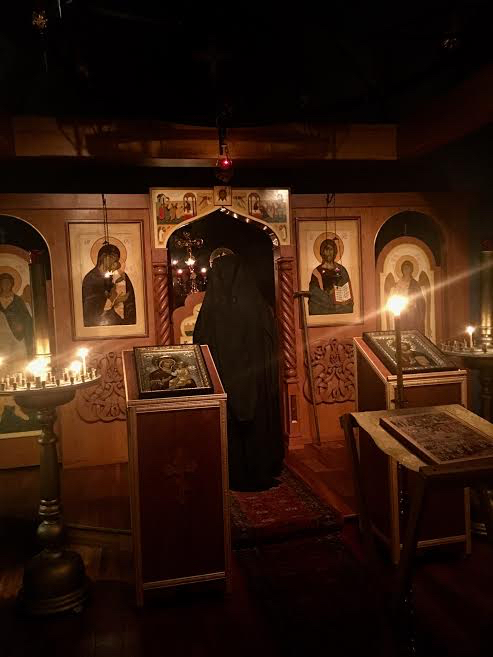 As Orthodox Christians we are instructed by the Fathers to not look upon our supposed virtues, but to contemplate our passions and sins. We are instructed by the gospels to keep the commandments of Christ, and not allow ourselves to think we are near the perfection that is required if we hope to bring about the cure of the nous that is required for us to enter the Kingdom of God.
Our sickness is a clear sign of the presence of sin, and this sin grieves God. This same God does not merely offer an escape from the eternal bondage of death, but invites us to entrance into life in Christ here and now.
Although imprecise, we often use anthropomorphic language when speaking about God. Thus, we can say that God is like a mother whose sick child is in need of healing, and is not offended by the child's sickness. Yet, given the truth that God loves His fallen creatures, we can also say that God IS offended by our deliberate turning from the holiness and communion with Him, that we were created for.
We are invited to be restored to the original state intended by our Creator, and be united in communion with God. In our fallen state, we are invited to be spiritually healed, not sentenced, for salvation is not merely an escape from punishment. God, although He can be anthropomorphically described as a judge, is in reality our physician, and the cure frees us from the eternal bondage of death, and gives us entrance to life in Christ in the here and now.
We are invited to share in God's divinity, through the action of theosis, whereby we "become as gods". This ancient teaching of the Church in no way implies we become gods, as the Mormons teach, for God is still God, and we are still His creatures. But it does mean that the Creator Who condescended to take on our humanity, shares His divinity with us.
Theosis is both the transformative process by which we "become as gods",  as well as the goal of that process. The goal is the attainment of union with God, and is brought about by the effects of the purification of mind and body. Theosis is the very purpose of human life, and is achievable only through a cooperation between humans' activities and God's uncreated energies (or operations).
With love in Christ,
Abbot Tryphon
Monday February 5, 2018 / January 23, 2018
Week of the Prodigal Son. Tone two.
Hieromartyr Clement, bishop of Ancyra, and Martyr Agathangelus (296).
New Hieromartyr Seraphim, Virgin-martyrs Evdokia and Ecaterine. Virgin-martyr Militsa (1938).
Venerable Gennadius of Kostroma, monk (1565).
Synaxis of All Saints of Kostroma.
Translation of the relics (1786) of St. Theoctistus, archbishop of Novgorod (1310).
Venerable Mausimas the Syrian, monk (4th c.).
Venerable Salamanes the Silent of the Euphrates, monk (ca. 400).
St. Paulinus the Merciful, bishop of Nola (431).
Commemoration of the Sixth Ecumenical Council (680-681).
St. Eusebius, recluse of Mt. Coryphe near Antioch (5th c.) (Greek).
Venerable Dionysius of Olympus and Mt. Athos (1541) (Greek).
The Scripture Readings
1 John 2:18-3:10
Deceptions of the Last Hour
18 Little children, it is the last hour; and as you have heard that the Antichrist is coming, even now many antichrists have come, by which we know that it is the last hour. 19 They went out from us, but they were not of us; for if they had been of us, they would have continued with us; but they went out that they might be made manifest, that none of them were of us.
20 But you have an anointing from the Holy One, and you know all things. 21 I have not written to you because you do not know the truth, but because you know it, and that no lie is of the truth.
22 Who is a liar but he who denies that Jesus is the Christ? He is antichrist who denies the Father and the Son. 23 Whoever denies the Son does not have the Father either; he who acknowledges the Son has the Father also.
Let Truth Abide in You
24 Therefore let that abide in you which you heard from the beginning. If what you heard from the beginning abides in you, you also will abide in the Son and in the Father. 25 And this is the promise that He has promised us—eternal life.
26 These things I have written to you concerning those who try to deceive you. 27 But the anointing which you have received from Him abides in you, and you do not need that anyone teach you; but as the same anointing teaches you concerning all things, and is true, and is not a lie, and just as it has taught you, you will abide in Him.
The Children of God
28 And now, little children, abide in Him, that when[d] He appears, we may have confidence and not be ashamed before Him at His coming. 29 If you know that He is righteous, you know that everyone who practices righteousness is born of Him.
3 Behold what manner of love the Father has bestowed on us, that we should be called children of God! Therefore the world does not know us, because it did not know Him. 2 Beloved, now we are children of God; and it has not yet been revealed what we shall be, but we know that when He is revealed, we shall be like Him, for we shall see Him as He is. 3 And everyone who has this hope in Him purifies himself, just as He is pure.
Sin and the Child of God
4 Whoever commits sin also commits lawlessness, and sin is lawlessness. 5 And you know that He was manifested to take away our sins, and in Him there is no sin. 6 Whoever abides in Him does not sin. Whoever sins has neither seen Him nor known Him.
7 Little children, let no one deceive you. He who practices righteousness is righteous, just as He is righteous. 8 He who sins is of the devil, for the devil has sinned from the beginning. For this purpose the Son of God was manifested, that He might destroy the works of the devil. 9 Whoever has been born of God does not sin, for His seed remains in him; and he cannot sin, because he has been born of God.
The Imperative of Love
10 In this the children of God and the children of the devil are manifest: Whoever does not practice righteousness is not of God, nor ishe who does not love his brother.
Mark 11:1-11
The Triumphal Entry
11 Now when they drew near Jerusalem, to Bethphage and Bethany, at the Mount of Olives, He sent two of His disciples; 2 and He said to them, "Go into the village opposite you; and as soon as you have entered it you will find a colt tied, on which no one has sat. Loose it and bring it. 3 And if anyone says to you, 'Why are you doing this?' say, 'The Lord has need of it,' and immediately he will send it here."
4 So they went their way, and found the colt tied by the door outside on the street, and they loosed it. 5 But some of those who stood there said to them, "What are you doing, loosing the colt?"
6 And they spoke to them just as Jesus had commanded. So they let them go. 7 Then they brought the colt to Jesus and threw their clothes on it, and He sat on it. 8 And many spread their clothes on the road, and others cut down leafy branches from the trees and spread them on the road. 9 Then those who went before and those who followed cried out, saying:
"Hosanna!
'Blessed is He who comes in the name of the Lord!'
10 Blessed is the kingdom of our father David
That comes in the name of the Lord!
Hosanna in the highest!"
11 And Jesus went into Jerusalem and into the temple. So when He had looked around at all things, as the hour was already late, He went out to Bethany with the twelve.