The aggressive secularization of the United States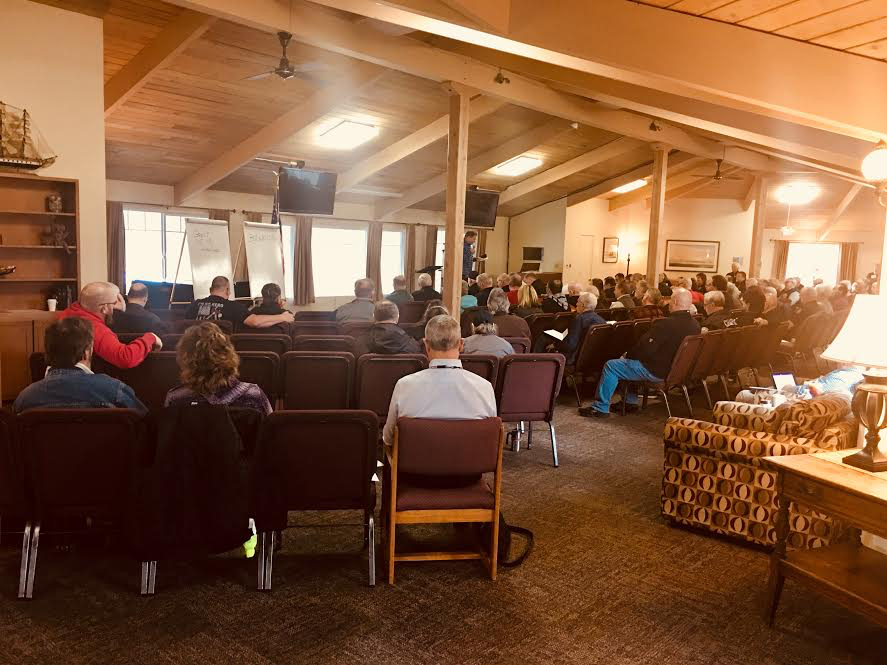 As an American I have watched with sadness, the eroding of our Christian values and standards of living. When I was in grade school, each day was begun with the reading of the Bible, broadcast over the intercom system (yes, we had the technology when I was little). At my graduation from high school, there were two public gatherings in the gym, the first being the baccalaureate service, where the minister chosen by the seniors gave an inspirational address, and religious hymns and patriotic songs were sung. The second public gathering was the actual graduation ceremony. The baccalaureate service is long gone from the American scene, found, as it were, to be an unconstitutional infringement on the separation of Church and State.
Gone, also, are the student Christian organizations, banned as they were, from the use of public school facilities, again on the basis of the separation of Church and State. Many of these same schools have given over classroom use to Muslim students, for their required prayer services.
Our courts have aggressively moved to push the Christian faith further from the public forum. Attacks toward public displays of religious themes, such as the Ten Commandments, Nativity Creches, and even crosses from the graves of soldiers, have increasingly become the norm. There is even a movement to force police and fire department chaplains to remove the cross from their badges, something we've all vowed to resist.
This aggressive move towards secularism has increasingly become a part of American foreign policy, with the move to pressure other countries to follow our lead. Just as the Russian Revolution was supported, in the very beginning, by the anti-monarchist sentiments of the American government, so too, are we seeing an increase in the negative attitudes of the American government towards the rise in power and influence, of the Russian Orthodox Church. At a time when our governmental leaders are pushing Christianity from the public forum, we criticize the Russian government because of it's close ties with the Russian Orthodox Church. We even question the sincerity of Russian leaders Orthodox faith, perhaps because we know that many of our own leaders have put on the veneer of being Christian, for political survival.
Russians know the dangers of aggressive secularism, having suffered seventy years of state sponsored atheism, and many Russians look with amazement at what they see as American capitulation to a secularism that has promoted a sort of state atheism of it's own.
That the Moscow Patriarchate sought the prosecution of the group Pussy Riot, for the desecration of Christ the Saviour Cathedral, with their "punk-at-prayer," invasion of this sacred temple of God, was greeted by many Americans as a simple act of childishness that should be "forgiven", is further indication of just how far we have fallen as a Christian nation. We no longer see anything as a sacrilege, because we hold nothing to be sacred.
The Moscow Patriarchate has announced a "War on Aggressive Liberalism", and called upon believers to fight the "anti-clerical forces" and "false values of aggressive liberalism." The Patriarchate will not sit back complacently, and watch a replay of the rise of anti-Church forces that hurled the Russian people into the dark days of the Communist aggression against the Church, and against believers.
The same forces that are aggressively seeking to discredit the clergy, divide Russian society, and turn Russians away from their temples, is at work in the United States. The time has come for all Christians to stand firm, and resist the forces of aggressive secularism. Whether we be Russian, Canadians, British, Greeks, or Americans, we need to stand united, and work to return Western civilization to her Christian roots.
As Americans, we need to make sure our governmental leaders know that we will not allow our nation to make war, either in reality, or in theory, against a land that is attempting to return Christ to the centrality of their national identity. Russia is not our enemy, and to treat her as such, is certain to further erode the American way of life. We can not continue, as a nation, to place profit, worldly influence, military power, and oil, over and above our Christian values, for to do so will lead to our certain doom.
Roman Catholic Cardinal George of Chicago stated: "I shall die in my bed, my successor shall die in prison, his successor will die as a martyr in the public square". God will protect his Orthodox Church from the Gates of Hell…but the blood of the Martyrs waters the roots of the Church.
With love in Christ,
Abbot Tryphon
Photo: Northwest Regional Seminar of the International Conference of Police Chaplains, Cannon Beach, Oregon.
Friday February 9, 2018 / January 27, 2018
Week of the Prodigal Son. Tone two.
Fast. Fish Allowed
Translation of the relics (437) of St. John Chrysostom, archbishop of Constantinople.
Venerable Peter of Egypt (5th c.).
New Martyr Demetrius at Constantinople (1784) (Greek).
Venerable Titus the Soldier, monk of the Kiev Caves.
New Hieromartyr Peter (Zverev) of Voronezh (1929).
St. Demetrius Klepinine, priest of Paris (1944).
Venerable Leonty (Stasevich) of Ivanovo (1972).
The Scripture Readings
John 10:1-9
Jesus the True Shepherd
10 "Most assuredly, I say to you, he who does not enter the sheepfold by the door, but climbs up some other way, the same is a thief and a robber. 2 But he who enters by the door is the shepherd of the sheep. 3 To him the doorkeeper opens, and the sheep hear his voice; and he calls his own sheep by name and leads them out. 4 And when he brings out his own sheep, he goes before them; and the sheep follow him, for they know his voice. 5 Yet they will by no means follow a stranger, but will flee from him, for they do not know the voice of strangers." 6 Jesus used this illustration, but they did not understand the things which He spoke to them.
Jesus the Good Shepherd
7 Then Jesus said to them again, "Most assuredly, I say to you, I am the door of the sheep. 8 All who ever came before Me are thieves and robbers, but the sheep did not hear them. 9 I am the door. If anyone enters by Me, he will be saved, and will go in and out and find pasture.
2 John 1-13
Greeting the Elect Lady
1 The Elder,
To the elect lady and her children, whom I love in truth, and not only I, but also all those who have known the truth, 2 because of the truth which abides in us and will be with us forever:
3 Grace, mercy, and peace will be with you from God the Father and from the Lord Jesus Christ, the Son of the Father, in truth and love.
Walk in Christ's Commandments
4 I rejoiced greatly that I have found some of your children walking in truth, as we received commandment from the Father. 5 And now I plead with you, lady, not as though I wrote a new commandment to you, but that which we have had from the beginning: that we love one another. 6 This is love, that we walk according to His commandments. This is the commandment, that as you have heard from the beginning, you should walk in it.
Beware of Antichrist Deceivers
7 For many deceivers have gone out into the world who do not confess Jesus Christ as coming in the flesh. This is a deceiver and an antichrist. 8 Look to yourselves, that we do not lose those things we worked for, but that we may receive a full reward.
9 Whoever transgresses and does not abide in the doctrine of Christ does not have God. He who abides in the doctrine of Christ has both the Father and the Son. 10 If anyone comes to you and does not bring this doctrine, do not receive him into your house nor greet him; 11 for he who greets him shares in his evil deeds.
John's Farewell Greeting
12 Having many things to write to you, I did not wish to do so with paper and ink; but I hope to come to you and speak face to face, that our joy may be full.
13 The children of your elect sister greet you. Amen.
Mark 15:22-25 New King James Version (NKJV)
22 And they brought Him to the place Golgotha, which is translated, Place of a Skull. 23 Then they gave Him wine mingled with myrrh to drink, but He did not take it. 24 And when they crucified Him, they divided His garments, casting lots for them to determine what every man should take.
25 Now it was the third hour, and they crucified Him.
New King James Version (NKJV)
Scripture taken from the New King James Version®. Copyright © 1982 by Thomas Nelson. Used by permission. All rights reserved.
Mark 15:33-41
Jesus Dies on the Cross
33 Now when the sixth hour had come, there was darkness over the whole land until the ninth hour. 34 And at the ninth hour Jesus cried out with a loud voice, saying, "Eloi, Eloi, lama sabachthani?" which is translated, "My God, My God, why have You forsaken Me?"
35 Some of those who stood by, when they heard that, said, "Look, He is calling for Elijah!" 36 Then someone ran and filled a sponge full of sour wine, put it on a reed, and offered it to Him to drink, saying, "Let Him alone; let us see if Elijah will come to take Him down."
37 And Jesus cried out with a loud voice, and breathed His last.
38 Then the veil of the temple was torn in two from top to bottom. 39 So when the centurion, who stood opposite Him, saw that He cried out like this and breathed His last, he said, "Truly this Man was the Son of God!"
40 There were also women looking on from afar, among whom were Mary Magdalene, Mary the mother of James the Less and of Joses, and Salome, 41 who also followed Him and ministered to Him when He was in Galilee, and many other women who came up with Him to Jerusalem.