The Ship that is the Church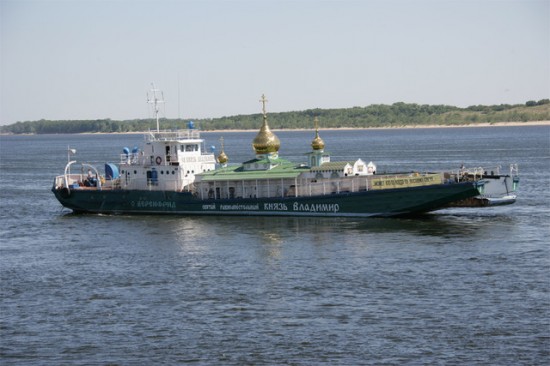 The nave of every Orthodox temple is symbolic of the image of the Church as being a ship. As the waves of passions confront us and threaten to hurtle us against the rocks, it is good to remember that as long as we remain on board the ship of the Church, we are safe. We sail aboard a ship that is piloted by Christ Himself, and we are comforted with the knowledge that this ship is headed to the safe harbor, which is the eternal Kingdom of God.
Love in Christ,
Abbot Tryphon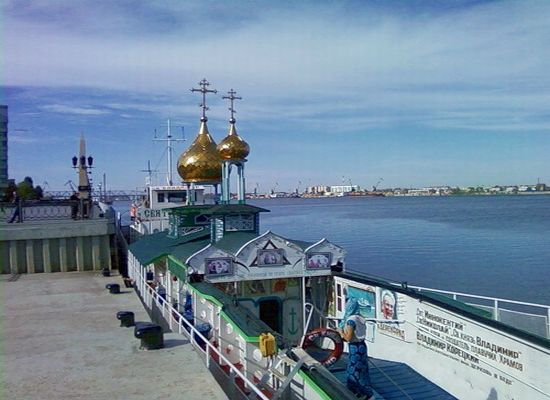 Monday January 8, 2018 / December 26, 2017
32nd Week after Pentecost. Tone six.
Sviatki. Fast-free
Righteous Joseph the Betrothed, Holy Righteous David the King, and James the Brother of the Lord (movable holiday on the Sunday after the Nativity of our Lord God and Savior Jesus Christ).
Synaxis of the Most Holy Theotokos.
Hieromartyr Euthymius, bishop of Sardis (840).
Venerable Isaac II (Bobrikov, the Younger), archimandrite of Optina (1938).
New Hieromartyrs Alexander and Demetrius priests (1918).
New Hieromartyrs Nicholas, Michael, Nicholas priests and Michael deacon (1930).
New Hieromartyrs Leonidas bishop of Mariysk, Alexander priest, hieromartyr Basil and Virgin-martyrs Anthisa and Makaria (1937).
St. Russian New Martyr, Andrew, bishop of Ufa (1937) and New Martyr, Valentina, (1937).
New Hieromartyrs Gregory priest and Virgin-martyrs Augusta and Mary, Martyr Agrippina (1938).
Venerable Constantine, monk, of Synnada (9th c.).
Venerable Evaristus of the Studion Monastery (825).
St. Nicodemus of Tismana, Romania (1406).
"Vilen-Ostrabramsk", "Three Joys" or "Merciful", " Barlovsk" (1392) or "the Blessed Womb", "Baibuzsk" (1852) Icons of the Mother of God.
New Hieromartyr Constantius the Russian, at Constantinople (1743).
Venerable Nicodemus the Serbian (Serbia).
St. Archelaus, bishop of Kaskhara in Mesopotamia (3rd c.).
St. Zenon, bishop of Maiuma in Palestine (4th c.).
St. Tathai, abbot of Llantathan.
The Scripture Readings
Hebrews 2:11-18
11 For both He who sanctifies and those who are being sanctified are all of one, for which reason He is not ashamed to call them brethren, 12 saying:
"I will declare Your name to My brethren;
In the midst of the assembly I will sing praise to You."
13 And again:
"I will put My trust in Him."
And again:
"Here am I and the children whom God has given Me."
14 Inasmuch then as the children have partaken of flesh and blood, He Himself likewise shared in the same, that through death He might destroy him who had the power of death, that is, the devil, 15 and release those who through fear of death were all their lifetime subject to bondage. 16 For indeed He does not give aid to angels, but He does give aid to the seed of Abraham. 17 Therefore, in all things He had to be made like His brethren, that He might be a merciful and faithful High Priest in things pertaining to God, to make propitiation for the sins of the people. 18 For in that He Himself has suffered, being tempted, He is able to aid those who are tempted.
Galatians 1:11-19
Call to Apostleship
11 But I make known to you, brethren, that the gospel which was preached by me is not according to man. 12 For I neither received it from man, nor was I taught it, but it came through the revelation of Jesus Christ.
13 For you have heard of my former conduct in Judaism, how I persecuted the church of God beyond measure and tried to destroy it. 14 And I advanced in Judaism beyond many of my contemporaries in my own nation, being more exceedingly zealous for the traditions of my fathers.
15 But when it pleased God, who separated me from my mother's womb and called me through His grace, 16 to reveal His Son in me, that I might preach Him among the Gentiles, I did not immediately confer with flesh and blood, 17 nor did I go up to Jerusalem to those who were apostles before me; but I went to Arabia, and returned again to Damascus.
Contacts at Jerusalem
18 Then after three years I went up to Jerusalem to see Peter, and remained with him fifteen days. 19 But I saw none of the other apostles except James, the Lord's brother.
Matthew 2:13-23
The Flight into Egypt
13 Now when they had departed, behold, an angel of the Lord appeared to Joseph in a dream, saying, "Arise, take the young Child and His mother, flee to Egypt, and stay there until I bring you word; for Herod will seek the young Child to destroy Him."
14 When he arose, he took the young Child and His mother by night and departed for Egypt, 15 and was there until the death of Herod, that it might be fulfilled which was spoken by the Lord through the prophet, saying, "Out of Egypt I called My Son."
Massacre of the Innocents
16 Then Herod, when he saw that he was deceived by the wise men, was exceedingly angry; and he sent forth and put to death all the male children who were in Bethlehem and in all its districts, from two years old and under, according to the time which he had determined from the wise men. 17 Then was fulfilled what was spoken by Jeremiah the prophet, saying:
18 "A voice was heard in Ramah,
Lamentation, weeping, and great mourning,
Rachel weeping for her children,
Refusing to be comforted,
Because they are no more."
The Home in Nazareth
19 Now when Herod was dead, behold, an angel of the Lord appeared in a dream to Joseph in Egypt, 20 saying, "Arise, take the young Child and His mother, and go to the land of Israel, for those who sought the young Child's life are dead." 21 Then he arose, took the young Child and His mother, and came into the land of Israel.
22 But when he heard that Archelaus was reigning over Judea instead of his father Herod, he was afraid to go there. And being warned by God in a dream, he turned aside into the region of Galilee. 23 And he came and dwelt in a city called Nazareth, that it might be fulfilled which was spoken by the prophets, "He shall be called a Nazarene."