Darkness does not exist in its own right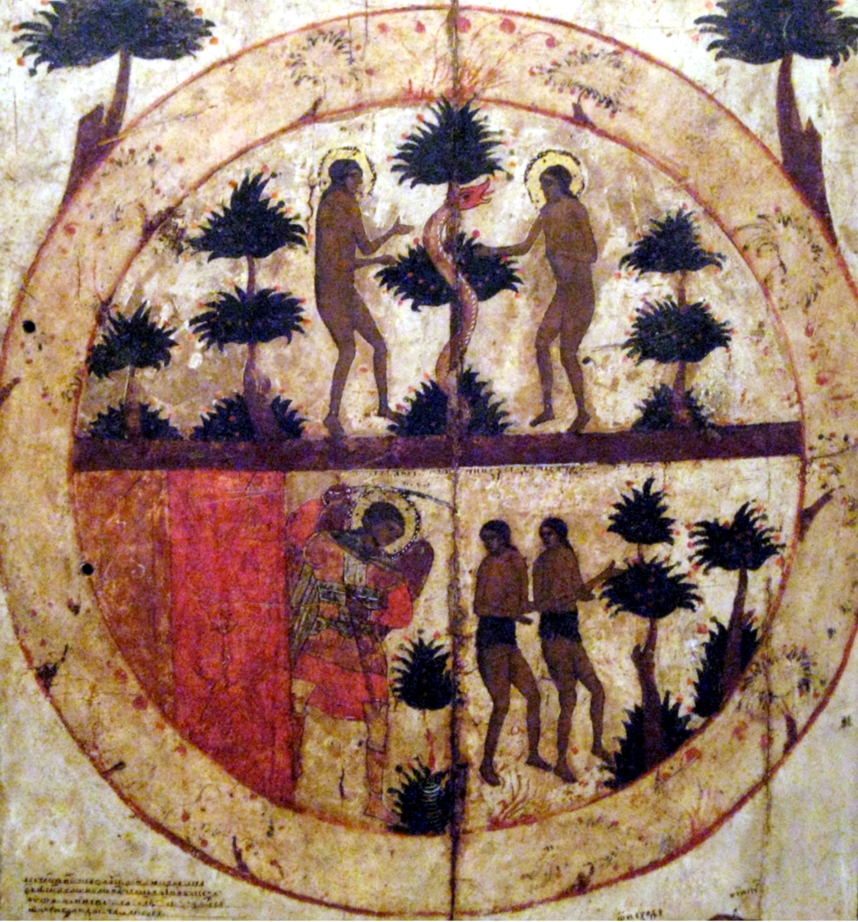 Our Orthodox Christian theology views evil not as a primeval essence that is co-eternal and equal to God, but rather a falling away from good. Evil does not exist in and of itself, and was not created by God. Our Orthodox Church rejects the Gnostic teaching that the entirety of being is made up of two realms which have forever existed together: the kingdom of light, and the kingdom of darkness.
This darkness does not exist in its own right, but is simply the absence or lack of light. Evil, according to Saint Basil the Great, 'is not a living and animated substance, but a condition of the soul which is opposed to virtue and which springs up in the slothful because of their falling away from Good. Do not, therefore, contemplate evil from without; and do not imagine some original nature of wickedness, but let each one recognize himself as the first author of the vice that is in him'.
Nothing is greater than God, including evil, and evil results when the free will of God's creation is directed against God and thereby engendering evil.
This is precisely what happened when the light-bearing morning star (Lucifer), fell away from the Source of goodness, and became the evil one, Satan. Lucifer, by imposing his own will, found himself in darkness. Since his power is based in falsehood, he can only influence us by convincing people that he is as powerful as God. Yet his power is finite, and good will eventually triumph on the Last Day.
That God would allow evil to exist in the first place, is a mystery, for the scriptures do not explain this. Yet we do know through the scriptures that true love must express itself in action, and in the face of evil and suffering, a Christian is called to action by loving God and his neighbor. Evil then becomes but a simple practical problem, one that the Christian finds ways to alleviate. As Christians we are charged with bringing God's love and goodness into the world by our actions.
Saint Anthony of Egypt, said, "The devil is afraid of us when we pray and make sacrifices. He is also afraid when we are humble and good. He is especially afraid when we love Jesus very much. He runs away when we make the Sign of the Cross."
With love in Christ,
Abbot Tryphon
Saturday January 6, 2018 / December 24, 2017
31st Week after Pentecost. Tone five.
Fast. Food with Oil
Saturday the Nativity of our Lord God and Savior Jesus Christ
The Eve of the Nativity of Christ (Rozhdestvenskyi Sochelnik).
Nun-martyr Eugenia of Rome, and with her Martyrs Philip her father, Protus, Hyacinth (Jacinth), Basilla, and Claudia (262).
New Hieromartyr Innocentius (1928).
New Hieromartyr Sergius priest (1942).
Venerable Nicholas the Monk of Bulgaria (9th c.).
Venerable Antioch, monk of Palestine (635), and St. Vitimionus of Scete.
New Martyr Achmed (Ahmet) the Calligrapher (or Architect) of Constantinople (1682) (Greek).
Venerable Aphrodisius, monk of Palestine (6th c.).
The Scripture Readings
Galatians 3:15-22
The Changeless Promise
15 Brethren, I speak in the manner of men: Though it is only a man's covenant, yet if it is confirmed, no one annuls or adds to it. 16 Now to Abraham and his Seed were the promises made. He does not say, "And to seeds," as of many, but as of one, "And to your Seed," who is Christ. 17 And this I say, that the law, which was four hundred and thirty years later, cannot annul the covenant that was confirmed before by God in Christ, that it should make the promise of no effect. 18 For if the inheritance is of the law, it is no longer of promise; but God gave it to Abraham by promise.
Purpose of the Law
19 What purpose then does the law serve? It was added because of transgressions, till the Seed should come to whom the promise was made; and it was appointed through angels by the hand of a mediator. 20 Now a mediator does not mediate for one only, but God is one.
21 Is the law then against the promises of God? Certainly not! For if there had been a law given which could have given life, truly righteousness would have been by the law. 22 But the Scripture has confined all under sin, that the promise by faith in Jesus Christ might be given to those who believe.
Matthew 13:31-36
The Parable of the Mustard Seed
31 Another parable He put forth to them, saying: "The kingdom of heaven is like a mustard seed, which a man took and sowed in his field, 32 which indeed is the least of all the seeds; but when it is grown it is greater than the herbs and becomes a tree, so that the birds of the air come and nest in its branches."
The Parable of the Leaven
33 Another parable He spoke to them: "The kingdom of heaven is like leaven, which a woman took and hid in three measures of meal till it was all leavened."
Prophecy and the Parables
34 All these things Jesus spoke to the multitude in parables; and without a parable He did not speak to them, 35 that it might be fulfilled which was spoken by the prophet, saying:
"I will open My mouth in parables;
I will utter things kept secret from the foundation of the world."
The Parable of the Tares Explained
36 Then Jesus sent the multitude away and went into the house. And His disciples came to Him, saying, "Explain to us the parable of the tares of the field."
Hebrews 1:1-12
God's Supreme Revelation
1 God, who at various times and in various ways spoke in time past to the fathers by the prophets, 2 has in these last days spoken to us by His Son, whom He has appointed heir of all things, through whom also He made the worlds; 3 who being the brightness of Hisglory and the express image of His person, and upholding all things by the word of His power, when He had by Himself purged our sins, sat down at the right hand of the Majesty on high, 4 having become so much better than the angels, as He has by inheritance obtained a more excellent name than they.
The Son Exalted Above Angels
5 For to which of the angels did He ever say:
"You are My Son,
Today I have begotten You"?
And again:
"I will be to Him a Father,
And He shall be to Me a Son"?
6 But when He again brings the firstborn into the world, He says:
"Let all the angels of God worship Him."
7 And of the angels He says:
"Who makes His angels spirits
And His ministers a flame of fire."
8 But to the Son He says:
"Your throne, O God, is forever and ever;
A scepter of righteousness is the scepter of Your kingdom.
9 You have loved righteousness and hated lawlessness;
Therefore God, Your God, has anointed You
With the oil of gladness more than Your companions."
10 And:
"You, Lord, in the beginning laid the foundation of the earth,
And the heavens are the work of Your hands.
11 They will perish, but You remain;
And they will all grow old like a garment;
12 Like a cloak You will fold them up,
And they will be changed.
But You are the same,
And Your years will not fail."
Luke 2:1-20
Christ Born of Mary
2 And it came to pass in those days that a decree went out from Caesar Augustus that all the world should be registered. 2 This census first took place while Quirinius was governing Syria. 3 So all went to be registered, everyone to his own city.
4 Joseph also went up from Galilee, out of the city of Nazareth, into Judea, to the city of David, which is called Bethlehem, because he was of the house and lineage of David, 5 to be registered with Mary, his betrothed wife, who was with child. 6 So it was, that while they were there, the days were completed for her to be delivered. 7 And she brought forth her firstborn Son, and wrapped Him in swaddling cloths, and laid Him in a manger, because there was no room for them in the inn.
Glory in the Highest
8 Now there were in the same country shepherds living out in the fields, keeping watch over their flock by night. 9 And behold, an angel of the Lord stood before them, and the glory of the Lord shone around them, and they were greatly afraid. 10 Then the angel said to them, "Do not be afraid, for behold, I bring you good tidings of great joy which will be to all people. 11 For there is born to you this day in the city of David a Savior, who is Christ the Lord. 12 And this will be the sign to you: You will find a Babe wrapped in swaddling cloths, lying in a manger."
13 And suddenly there was with the angel a multitude of the heavenly host praising God and saying:
14 "Glory to God in the highest,
And on earth peace, goodwill toward men!"
15 So it was, when the angels had gone away from them into heaven, that the shepherds said to one another, "Let us now go to Bethlehem and see this thing that has come to pass, which the Lord has made known to us." 16 And they came with haste and found Mary and Joseph, and the Babe lying in a manger. 17 Now when they had seen Him, they made widely known the saying which was told them concerning this Child. 18 And all those who heard it marveled at those things which were told them by the shepherds. 19 But Mary kept all these things and pondered them in her heart. 20 Then the shepherds returned, glorifying and praising God for all the things that they had heard and seen, as it was told them.