Hammi the Norwegian Forest Cat, and his Norwegian Abbot friend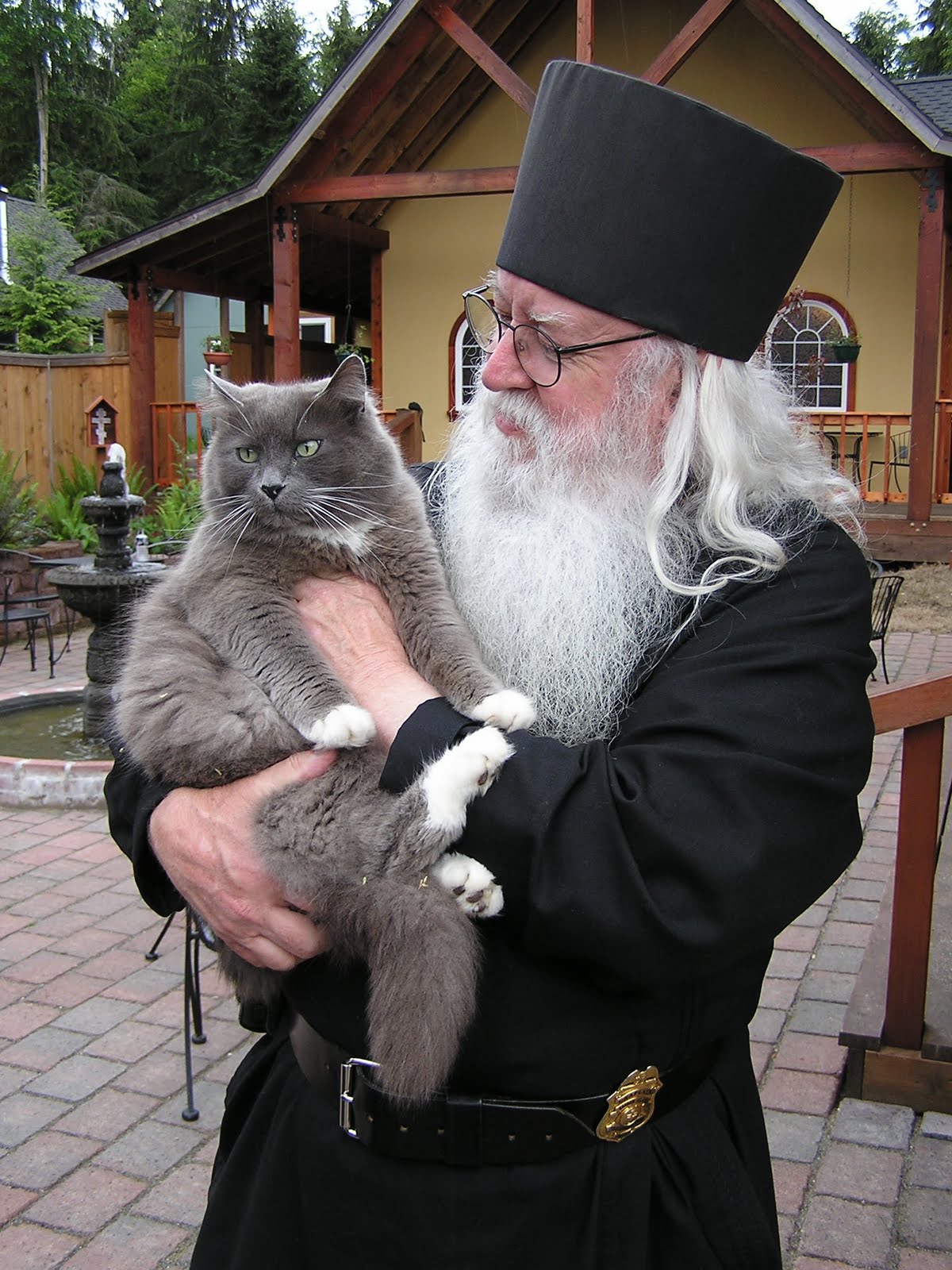 Soon after moving our monastery from a rental house and into the temporary quarters of an old trailer house, Hammi arrived. We startled each other midway between the foundations of what is now the library and the trailer. I reached down to him and he came right over to greet me. Picking him up, I took him to the trailer and introduced him to Father Paul. Both of us had talked about the need of getting a cat as a mouser. This cat seemed to be ideal.
Father Paul was less enthusiastic, since we were both allergic to cat dander. Father was a bit upset when I opened a large can of salmon, giving a small portion to this visiting cat, yet within a week the cat was sleeping on Father Paul's bed and we were wondering why we were not having allergic reactions to our new housemate.
From the beginning this cat was a real ham, so we named him Hammi. It was a number of years before we discovered Hammi was a Norwegian Forest Cat, known for having personalities similar to dogs, and NO cat dander. Perfect fit!
Anyone who's ever visited the monastery has been met in the parking lot by our beloved Hammi. He always runs down to greet visitors, accompanying them up the steps to the courtyard. Whenever we are sitting on the porch or in the library, Hammi is usually nearby. If he sees one of us heading into the forest for a walk, Hammi is right there with us.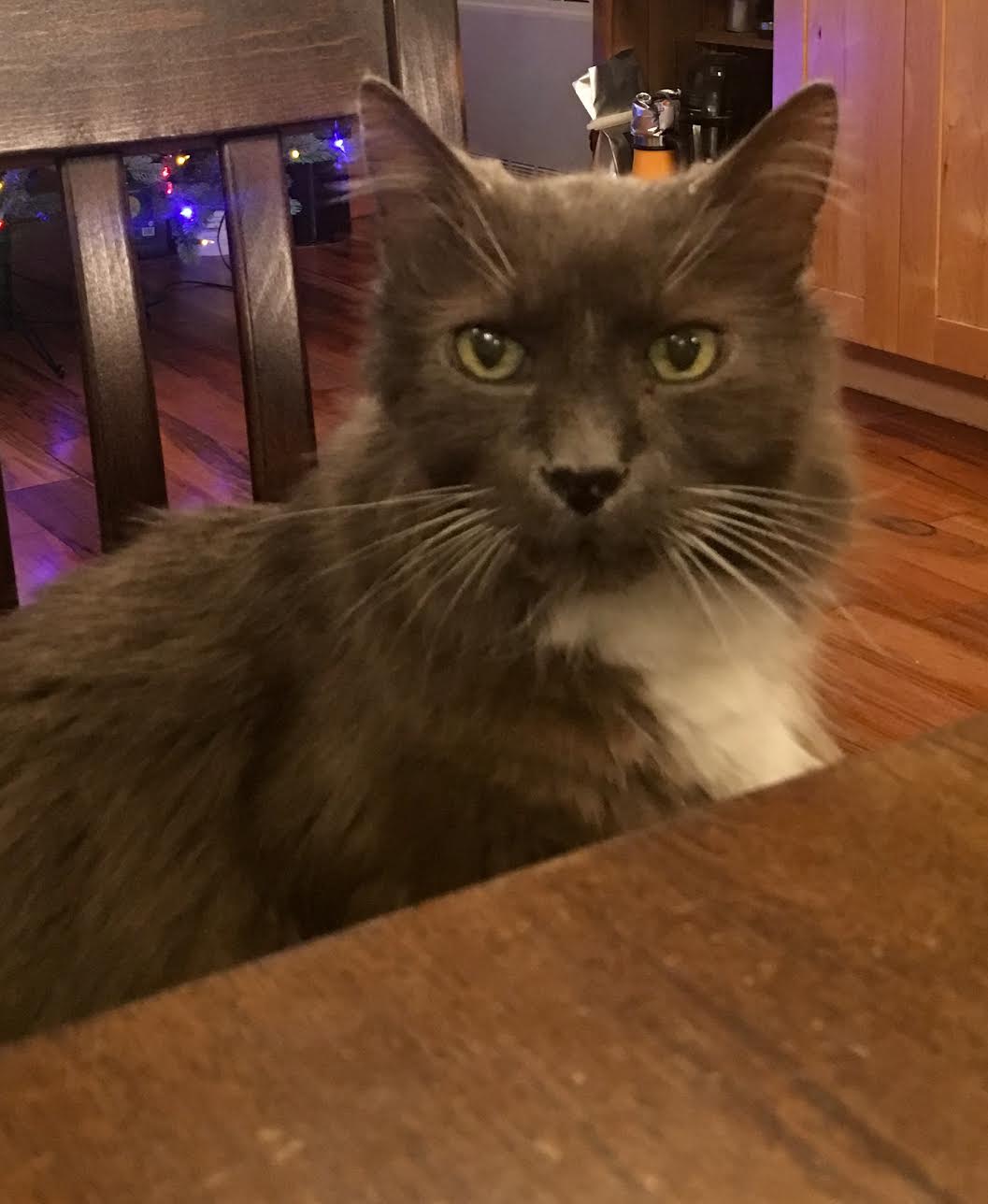 Hammi the Norwegian Forest Cat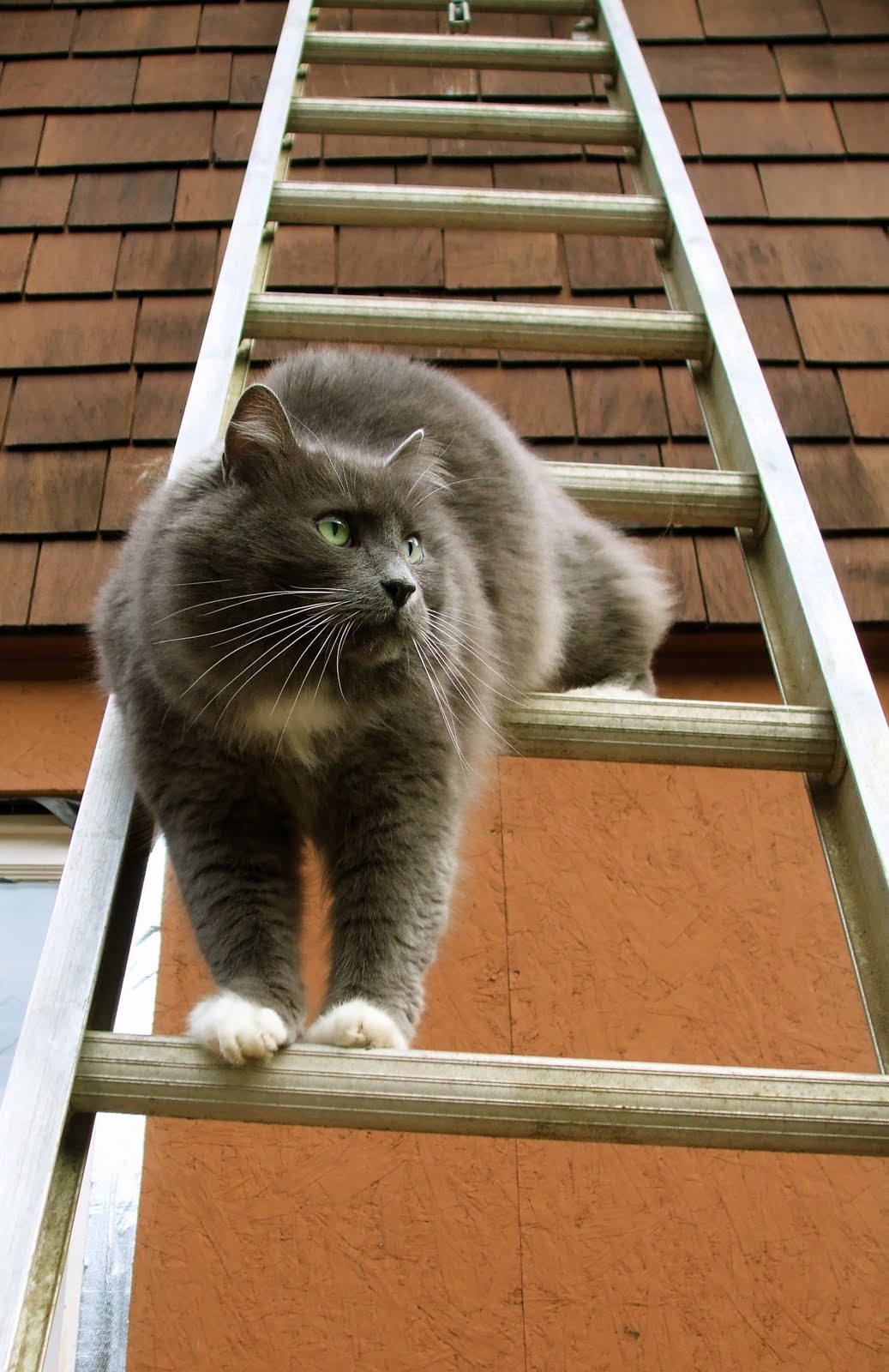 Many Orthodox children are familiar with the book, The Abbot and I, a story told by a cat who resides in the cell of the abbot of a monastery. When children visit with their parents and meet Hammi and the Abbot, they are of course reminded of this book. I have a copy in my study and will gladly read it to visiting children.
Anyone who's ever had a pet knows how important they can be to the life of a family. Children learn to be responsible and compassionate when caring for their pets. Older people, especially whose living alone, find companionship and unconditional love from their pets.
Our lives are enriched when we share our homes with animals, for that special bond which develops between we humans and our pets enriches and sustains us. Truly, pets are gifts from God.
With love in Christ,
Abbot Tryphon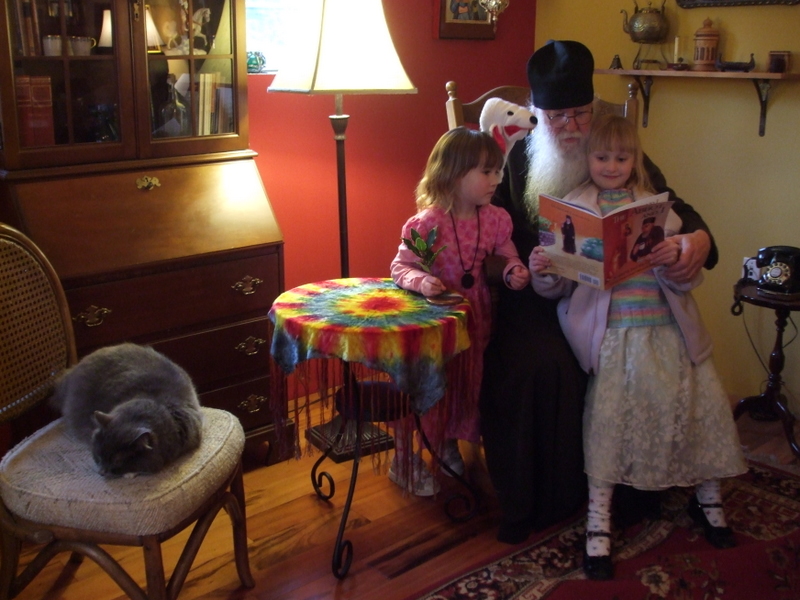 Friday January 12, 2018 / December 30, 2017
32nd Week after Pentecost. Tone six.
Sviatki. Fast-free
St. Macarius, metropolitan of Moscow (1563).
Virgin-martyr Anysia at Thessalonica (298).
Martyr Zoticus of Constantinople, feeder of orphans (4th c.).
New Hieromartyr Priest Sergius Florinsky of Rakvere, Estonia (1918).
Virgin-martyr Mary (1946).
Apostle Timon the Deacon (1st c.).
Martyr Philoterus of Nicomedia, and with him six soldiers and one count (311).
Venerable Theodora, nun of Caesarea in Cappadocia (8th cen.).
Venerable Theodora, nun, of Constantinople (940).
New Martyr Gideon of Karakallou, Mt. Athos (1818) (Greek).
Martyrs Magistrianus, Paulinus, Umbrius, Verus, Severus, Callistratus, Florentius, Arianus, Anthimus, Ubricius, Isidore, Euculus, Sampson, Studius, and Thespesius, who suffered under Julian the Apostate (4th c.).
Opening of the relics (1652) of Venerable Daniel of Pereyaslavl (1540).
St. Egwin, bishop of Worcester (717) (Celtic & British).
St. Tryphon, bishop of Rostov (1468).
St. Leo the Archimandrite (Greek).
St. Isaacius of Dalmaton (Greek).
The Scripture Readings
John 10:1-9
Jesus the True Shepherd
10 "Most assuredly, I say to you, he who does not enter the sheepfold by the door, but climbs up some other way, the same is a thief and a robber. 2 But he who enters by the door is the shepherd of the sheep. 3 To him the doorkeeper opens, and the sheep hear his voice; and he calls his own sheep by name and leads them out. 4 And when he brings out his own sheep, he goes before them; and the sheep follow him, for they know his voice. 5 Yet they will by no means follow a stranger, but will flee from him, for they do not know the voice of strangers." 6 Jesus used this illustration, but they did not understand the things which He spoke to them.
Jesus the Good Shepherd
7 Then Jesus said to them again, "Most assuredly, I say to you, I am the door of the sheep. 8 All who ever came before Me are thieves and robbers, but the sheep did not hear them. 9 I am the door. If anyone enters by Me, he will be saved, and will go in and out and find pasture.
1 Peter 1:1-2
Greeting to the Elect Pilgrims
1 Peter, an apostle of Jesus Christ,
To the pilgrims of the Dispersion in Pontus, Galatia, Cappadocia, Asia, and Bithynia, 2 elect according to the foreknowledge of God the Father, in sanctification of the Spirit, for obedience and sprinkling of the blood of Jesus Christ:
Grace to you and peace be multiplied.
1 Peter 1:10-12
10 Of this salvation the prophets have inquired and searched carefully, who prophesied of the grace that would come to you, 11 searching what, or what manner of time, the Spirit of Christ who was in them was indicating when He testified beforehand the sufferings of Christ and the glories that would follow. 12 To them it was revealed that, not to themselves, but to us they were ministering the things which now have been reported to you through those who have preached the gospel to you by the Holy Spirit sent from heaven—things which angels desire to look into.
1 Peter 2:6-10
6 Therefore it is also contained in the Scripture,
"Behold, I lay in Zion
A chief cornerstone, elect, precious,
And he who believes on Him will by no means be put to shame."
7 Therefore, to you who believe, He is precious; but to those who are disobedient,
"The stone which the builders rejected
Has become the chief cornerstone,"
8 and
"A stone of stumbling
And a rock of offense."
They stumble, being disobedient to the word, to which they also were appointed.
9 But you are a chosen generation, a royal priesthood, a holy nation, His own special people, that you may proclaim the praises of Him who called you out of darkness into His marvelous light; 10 who once were not a people but are now the people of God, who had not obtained mercy but now have obtained mercy.
Mark 12:1-12
The Parable of the Wicked Vinedressers
12 Then He began to speak to them in parables: "A man planted a vineyard and set a hedge around it, dug a place for the wine vat and built a tower. And he leased it to vinedressers and went into a far country. 2 Now at vintage-time he sent a servant to the vinedressers, that he might receive some of the fruit of the vineyard from the vinedressers. 3 And they took him and beat him and sent him away empty-handed. 4 Again he sent them another servant, and at him they threw stones, wounded him in the head, and sent him away shamefully treated. 5 And again he sent another, and him they killed; and many others, beating some and killing some.6 Therefore still having one son, his beloved, he also sent him to them last, saying, 'They will respect my son.' 7 But those vinedressers said among themselves, 'This is the heir. Come, let us kill him, and the inheritance will be ours.' 8 So they took him and killed him and cast him out of the vineyard.
9 "Therefore what will the owner of the vineyard do? He will come and destroy the vinedressers, and give the vineyard to others.10 Have you not even read this Scripture:
'The stone which the builders rejected
Has become the chief cornerstone.
11 This was the Lord's doing,
And it is marvelous in our eyes'?"
12 And they sought to lay hands on Him, but feared the multitude, for they knew He had spoken the parable against them. So they left Him and went away.