Be not troubled about many things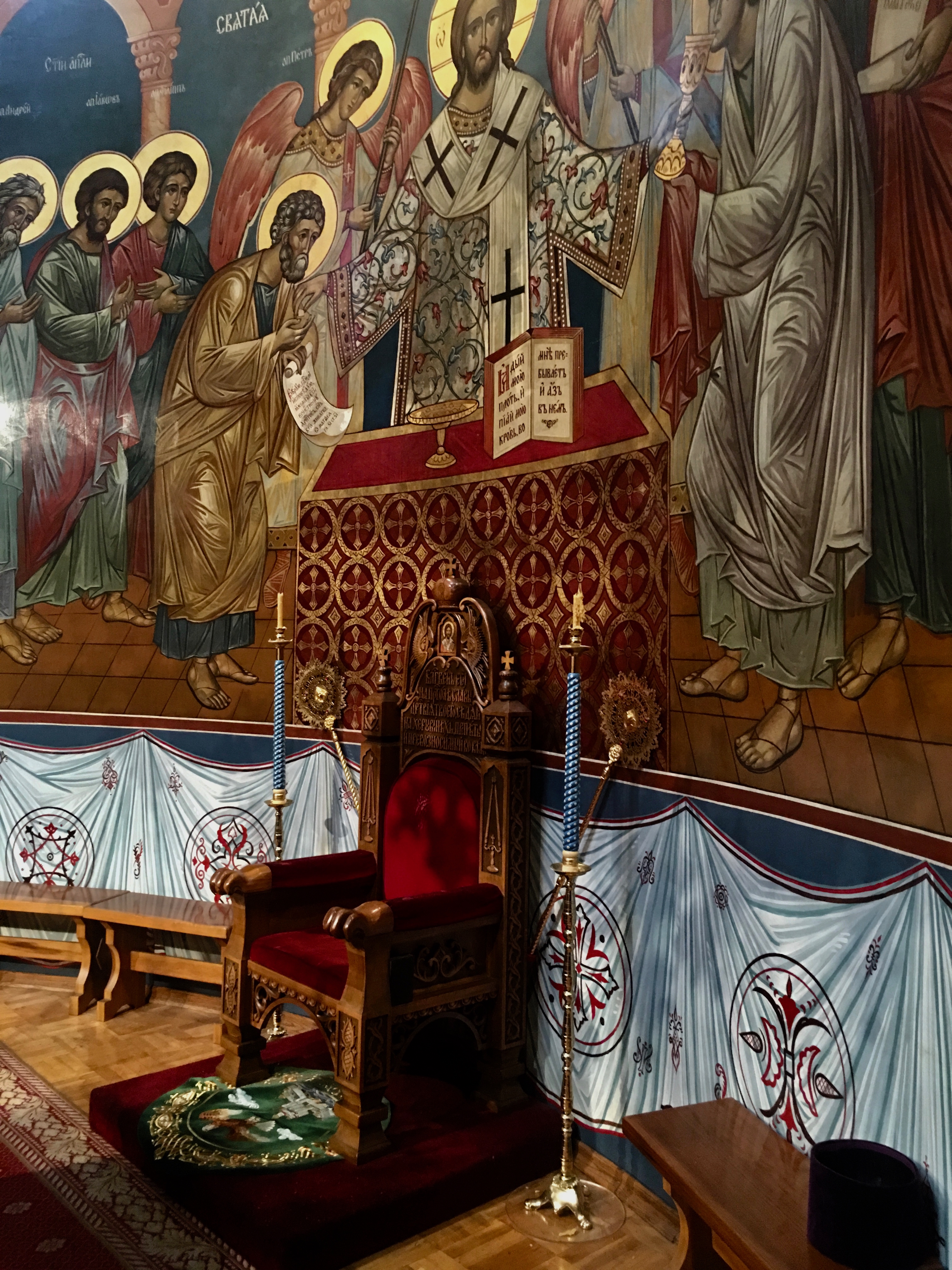 Every day can bring about many events or problems that can make us feel unsettled. Yet if we want to keep unrest at bay, it is important that we prayerfully receive everything with the knowledge that God is watching over us, and that all will be fine in the end. Spending time worrying accomplishes nothing, for worrying simply brings on the stress that keep our attention in the wrong place.
If we keep our focus on Christ, knowing that He is with us in both troubled times, and moments of celebration, we can peacefully receive all that befalls us. Knowing that even difficulties and hardships are vehicles used by God for our salvation, how can we despair?
"When we serve the Lord we shall not be troubled about many things, but always keep in mind the one thing needful (Luke 10:41)."
Love in Christ,
Abbot Tryphon
Monday January 1, 2018 / December 19, 2017
31st Week after Pentecost. Tone five.
Nativity (St. Philip's Fast). By Monastic Charter: Strict Fast (Bread, Vegetables, Fruits)
Martyr Boniface at Tarsus in Cilicia (290) and Righteous Aglae (Aglaida) of Rome.
Venerable Elias of Murom, wonderworker of the Kiev Caves (1188).
Martyrs Elias, Probus, and Ares, in Cilicia (308.
Martyrs Polyeuctus at Caesarea in Cappadocia, and Timothy the Deacon in Mauretania (309).
St. Boniface the Merciful, bishop of Ferentino (6th c.).
St. Gregory (Gregentius), archbishop of Omirits (552).
Hieromartyr Capito, bishop of Cherson (4th c.).
Martyra Hermylus and Phocas.
Martyrs Eutyches and Thessalonica and with them 200 men and 70 women (Greek).
Sts. George the Scribe and Sava of Khakhuli (11th c.).
The Scripture Readings
Hebrews 11:17-23
The Faith of the Patriarchs
17 By faith Abraham, when he was tested, offered up Isaac, and he who had received the promises offered up his only begotten son,18 of whom it was said, "In Isaac your seed shall be called," 19 concluding that God was able to raise him up, even from the dead, from which he also received him in a figurative sense.
20 By faith Isaac blessed Jacob and Esau concerning things to come.
21 By faith Jacob, when he was dying, blessed each of the sons of Joseph, and worshiped, leaning on the top of his staff.
22 By faith Joseph, when he was dying, made mention of the departure of the children of Israel, and gave instructions concerning his bones.
The Faith of Moses
23 By faith Moses, when he was born, was hidden three months by his parents, because they saw he was a beautiful child; and they were not afraid of the king's command.
Hebrews 11:27-31
27 By faith he forsook Egypt, not fearing the wrath of the king; for he endured as seeing Him who is invisible. 28 By faith he kept the Passover and the sprinkling of blood, lest he who destroyed the firstborn should touch them.
29 By faith they passed through the Red Sea as by dry land, whereas the Egyptians, attempting to do so, were drowned.
By Faith They Overcame
30 By faith the walls of Jericho fell down after they were encircled for seven days. 31 By faith the harlot Rahab did not perish with those who did not believe, when she had received the spies with peace.
Mark 9:42-10:1
Jesus Warns of Offenses
42 "But whoever causes one of these little ones who believe in Me to stumble, it would be better for him if a millstone were hung around his neck, and he were thrown into the sea. 43 If your hand causes you to sin, cut it off. It is better for you to enter into life maimed, rather than having two hands, to go to hell, into the fire that shall never be quenched— 44 where
'Their worm does not die
And the fire is not quenched.'
45 And if your foot causes you to sin, cut it off. It is better for you to enter life lame, rather than having two feet, to be cast into hell, into the fire that shall never be quenched— 46 where
'Their worm does not die,
And the fire is not quenched.'
47 And if your eye causes you to sin, pluck it out. It is better for you to enter the kingdom of God with one eye, rather than having two eyes, to be cast into hell fire— 48 where
'Their worm does not die
And the fire is not quenched.'
Tasteless Salt Is Worthless
49 "For everyone will be seasoned with fire, and every sacrifice will be seasoned with salt. 50 Salt is good, but if the salt loses its flavor, how will you season it? Have salt in yourselves, and have peace with one another."
Marriage and Divorce
10 Then He arose from there and came to the region of Judea by the other side of the Jordan. And multitudes gathered to Him again, and as He was accustomed, He taught them again.