Complaining weakens our resolve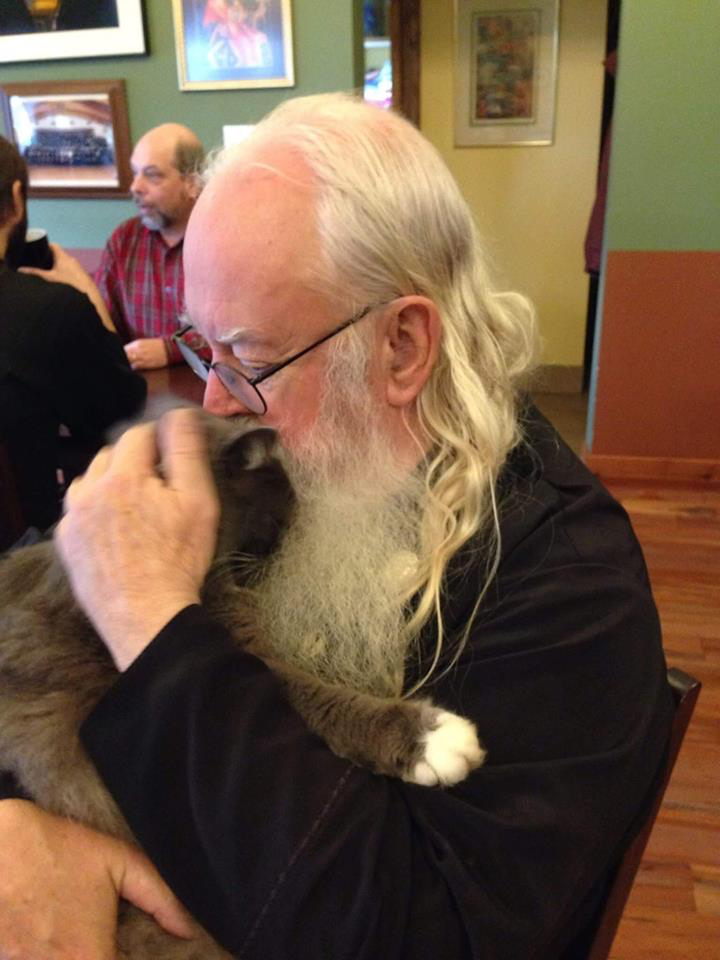 If we are always complaining about how unfairly we are treated, we will have failed in our imitation of Christ, Who was abused by His enemies unto death. We should strive to reign with Our Lord by loving our enemies and never complain. Christ looked towards His Heavenly Father and when we are tempted to complain we should gaze upon the cross.
Complaining disturbs the heart and distracts us from the Path. Complaining weakens our resolve and interferes with the acquisition of peace and holiness. When we complain we are rejecting the role of suffering as a means towards the union with God. Complaining keeps our heart from soaring to the heavens and experiencing the joy that can be had when we surrender ourselves into the protective arms of Jesus.
With love in Christ,
Abbot Tryphon
Saturday January 13, 2018 / December 31, 2017
32nd Week after Pentecost. Tone six.
Sviatki. Fast-free
Saturday after the Nativity and before the Baptism of Our Lord and God and Saviour Jesus Christ
Apodosis of the Nativity of Christ.
Venerable Melania the Younger, nun, of Rome (439).
New Hieromartyr Michael priest (1937).
Martyr Peter (1938).
Holy Confessor Dositheus, metropolitan of Zagreb (1945).
St. Peter Mogila, metropolitan of Kiev (1646).
Venerable Gelasius, monk, of Palestine.
Venerable Gaius, monk.
Venerable Theophylactus of Ochrid (1126).
Ten Virgin-martyrs of Nicomedia (Greek).
Venerable Zoticus of Constantinople, feeder of orphans (4th c.) (Greek).
St. Anysius, bishop of Thessalonica (406).
Venerable Sabiana, Abbess of the Samtskhe Monastery (11th c.).
Martyrs Busiris, Gaudentius and Nemo (Greek).
The Scripture Readings
1 Thessalonians 5:14-23
14 Now we exhort you, brethren, warn those who are unruly, comfort the fainthearted, uphold the weak, be patient with all. 15 See that no one renders evil for evil to anyone, but always pursue what is good both for yourselves and for all.
16 Rejoice always, 17 pray without ceasing, 18 in everything give thanks; for this is the will of God in Christ Jesus for you.
19 Do not quench the Spirit. 20 Do not despise prophecies. 21 Test all things; hold fast what is good. 22 Abstain from every form of evil.
Blessing and Admonition
23 Now may the God of peace Himself sanctify you completely; and may your whole spirit, soul, and body be preserved blameless at the coming of our Lord Jesus Christ.
Luke 17:3-10
3 Take heed to yourselves. If your brother sins against you, rebuke him; and if he repents, forgive him. 4 And if he sins against you seven times in a day, and seven times in a day returns to you, saying, 'I repent,' you shall forgive him."
Faith and Duty
5 And the apostles said to the Lord, "Increase our faith."
6 So the Lord said, "If you have faith as a mustard seed, you can say to this mulberry tree, 'Be pulled up by the roots and be planted in the sea,' and it would obey you. 7 And which of you, having a servant plowing or tending sheep, will say to him when he has come in from the field, 'Come at once and sit down to eat'? 8 But will he not rather say to him, 'Prepare something for my supper, and gird yourself and serve me till I have eaten and drunk, and afterward you will eat and drink'? 9 Does he thank that servant because he did the things that were commanded him? I think not. 10 So likewise you, when you have done all those things which you are commanded, say, 'We are unprofitable servants. We have done what was our duty to do.'"