Closed Communion in the Orthodox Church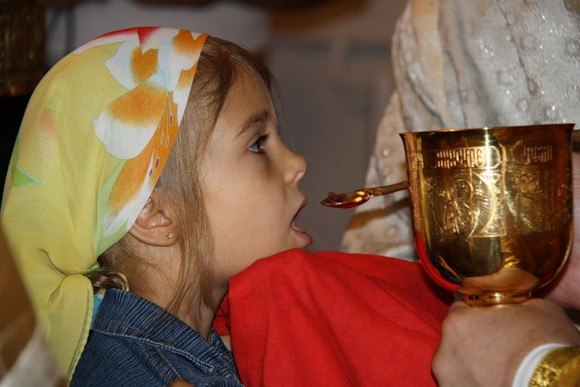 When a stranger approaches the Holy Gifts during the celebration of the Divine Liturgy it is the norm in the Orthodox Church for the priest to ask the person to "kiss the chalice". Not knowing if the person is Orthodox, or whether they are in good standing with the Church, the priest can not give them communion. This "closed communion" is not meant as a way of separating ourselves from visitors as though we were better than them, but as our way of guarding the Holy Mysteries from being received by someone who is not part of the Church and who may hold to views concerning the Eucharist that are in opposition to the teachings of scripture and the dogmas of the Ancient Apostolic and Catholic Church.
Priests are guardians of the Holy Mysteries and must make sure they are not defiled. The priest must also protect the person who may receive without proper preparation and belief. Every Orthodox Christian is expected to have prepared for communion by abstaining from all food and drink from midnight on, as well as having said the pre-communion prayers. A good confession is also an important part of proper preparation for Holy Communion.
When a person believes that the things which we teach are true and has receive baptism in the Orthodox Church unto regeneration, and who is so living a life in Christ, the communion is not simply common bread or common wine we are receiving, but the very Body and Blood of the Saviour. The Logos (Word) Who took on our flesh for the salvation of the world, is received into our bodies through the action of the Holy Spirit and the prayer of His word (this is my body….this is my blood). At this moment our blood and flesh, by transmutation, are nourished with the flesh and blood of Jesus who was made flesh.
Closed communion is the way the Church protects anyone who does not hold to these beliefs from receiving unworthily and therefore hurting their soul. As well, when the priest co-mingles the commemoration particles after the communion of the faithful, with the Body and Blood of Christ, he commemorates the union we have with each other as members of the Body of Christ, the Church. This union is not just with those who are communing with us in this Liturgy, but a union of both the Church Militant here on earth, and the Church Triumphant in heaven. Within the life of the Church there is no separation from each other at death. The Body of Christ is made up of both those who have gone on before us and those who are still alive, for we are all alive in Christ. In a very real way we are not only communing of Christ's true Body and Blood, but we are communing of each other as the Body of Christ, the Church!
Love in Christ,
Abbot Tryphon
Wednesday January 3, 2018 / December 21, 2017
31st Week after Pentecost. Tone five.
Nativity (St. Philip's Fast). Food with Oil
Forefeast of the Nativity of Christ.
Virgin-martyr Juliana of Nicomedia, and with her 500 men and 130 women (304).
Repose of St. Peter, metropolitan of All Russia (1326).
New Hieromartyr Michael priest (1918).
New Hieromartyr Sergius deacon (1937).
New Hieromartyr Nicetas bishop of Belevsk (1938).
New Hieromartyr Leontius deacon (1940).
St. Juliana, princess of Vyazma (1406).
Blessed Procopius of Vyatka, fool-for-Christ (1677).
St. Philaret (Theodosius in schema), metropolitan of Kiev (1857).
Martyr Theomistocles of Myra in Lycia (251).
St. Macarius the Faster, Abbot of the Khakhuli Monastery (11th c.) (Georgia).
St. Anthony II The Catholicos of Georgia (1827) (Georgia).
Finding of the relicts (1950) of New Monk-martyr Ephraim of Nea Makri (1426).
The Scripture Readings
John 10:1-9
Jesus the True Shepherd
10 "Most assuredly, I say to you, he who does not enter the sheepfold by the door, but climbs up some other way, the same is a thief and a robber. 2 But he who enters by the door is the shepherd of the sheep. 3 To him the doorkeeper opens, and the sheep hear his voice; and he calls his own sheep by name and leads them out. 4 And when he brings out his own sheep, he goes before them; and the sheep follow him, for they know his voice. 5 Yet they will by no means follow a stranger, but will flee from him, for they do not know the voice of strangers." 6 Jesus used this illustration, but they did not understand the things which He spoke to them.
Jesus the Good Shepherd
7 Then Jesus said to them again, "Most assuredly, I say to you, I am the door of the sheep. 8 All who ever came before Me[a] are thieves and robbers, but the sheep did not hear them. 9 I am the door. If anyone enters by Me, he will be saved, and will go in and out and find pasture.
James 1:1-18
Greeting to the Twelve Tribes
1 James, a bondservant of God and of the Lord Jesus Christ,
To the twelve tribes which are scattered abroad:
Greetings.
Profiting from Trials
2 My brethren, count it all joy when you fall into various trials, 3 knowing that the testing of your faith produces patience. 4 But let patience have its perfect work, that you may be perfect and complete, lacking nothing. 5 If any of you lacks wisdom, let him ask of God, who gives to all liberally and without reproach, and it will be given to him. 6 But let him ask in faith, with no doubting, for he who doubts is like a wave of the sea driven and tossed by the wind. 7 For let not that man suppose that he will receive anything from the Lord; 8 he is a double-minded man, unstable in all his ways.
The Perspective of Rich and Poor
9 Let the lowly brother glory in his exaltation, 10 but the rich in his humiliation, because as a flower of the field he will pass away. 11 For no sooner has the sun risen with a burning heat than it withers the grass; its flower falls, and its beautiful appearance perishes. So the rich man also will fade away in his pursuits.
Loving God Under Trials
12 Blessed is the man who endures temptation; for when he has been approved, he will receive the crown of life which the Lord has promised to those who love Him. 13 Let no one say when he is tempted, "I am tempted by God"; for God cannot be tempted by evil, nor does He Himself tempt anyone. 14 But each one is tempted when he is drawn away by his own desires and enticed. 15 Then, when desire has conceived, it gives birth to sin; and sin, when it is full-grown, brings forth death.
16 Do not be deceived, my beloved brethren. 17 Every good gift and every perfect gift is from above, and comes down from the Father of lights, with whom there is no variation or shadow of turning. 18 Of His own will He brought us forth by the word of truth, that we might be a kind of firstfruits of His creatures.
Mark 10:11-16
11 So He said to them, "Whoever divorces his wife and marries another commits adultery against her. 12 And if a woman divorces her husband and marries another, she commits adultery."
Jesus Blesses Little Children
13 Then they brought little children to Him, that He might touch them; but the disciples rebuked those who brought them. 14 But when Jesus saw it, He was greatly displeased and said to them, "Let the little children come to Me, and do not forbid them; for of such is the kingdom of God. 15 Assuredly, I say to you, whoever does not receive the kingdom of God as a little child will by no means enter it." 16 And He took them up in His arms, laid His hands on them, and blessed them.