We are all on our journey to God, together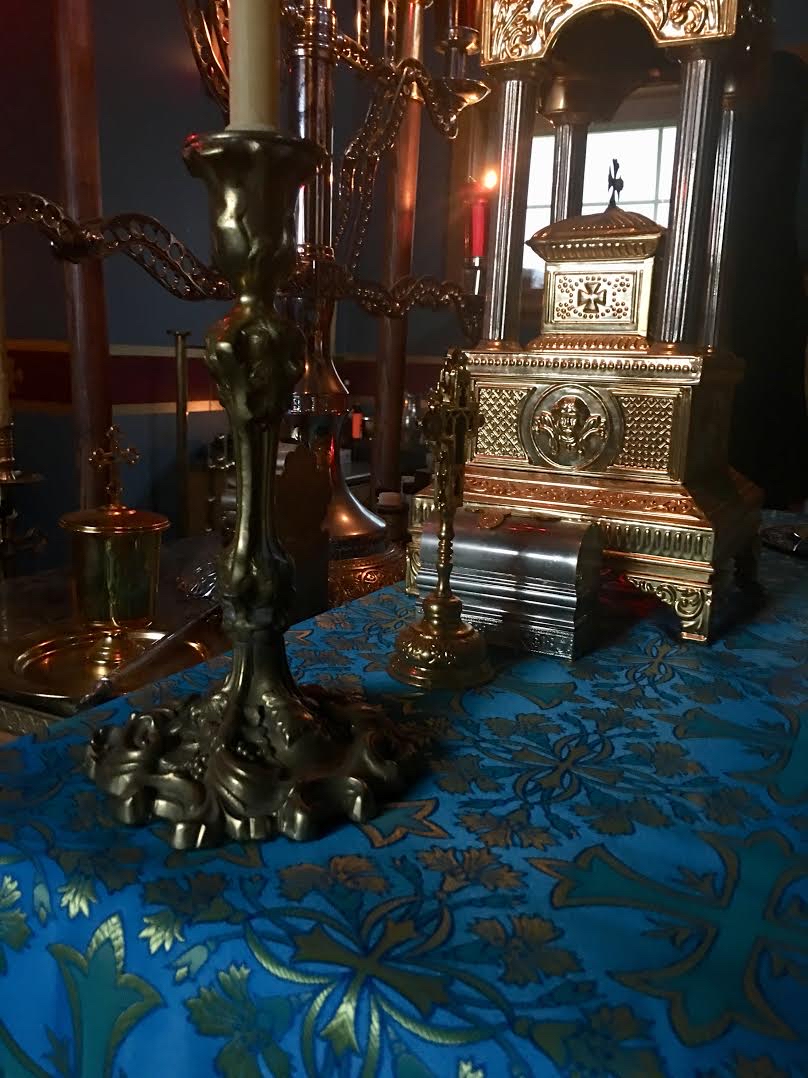 As we struggle in this life, it is good to remember that we are all journeying to God, together . We find our place of silence, where we encounter God, but even in this place set apart, we are together. In our journey to God, our common goal is the acquisition of a humble and a contrite heart. Our shared homeland is to be found in the Divine Liturgy, where we enter into the Heavenly Realm, and participate in the Eternal Banquet, together.
Even in our moments of loneliness and despondency, we are together. We are together in our celebration of life, and even in our death, we are together. Even though we seem so alone, we are together, for in Christ we are One Body, the Church.
It is together that we chant the words, "Glory to God for His loving kindness. Glory to Him forever". United, together, we await the Second Coming of Christ Our King and Our God, and it will be together that we dwell in the House of the Lord, worshipping the Holy Trinity, forever.
With love in Christ,
Abbot Tryphon
Thursday December 7, 2017 / November 24, 2017
27th Week after Pentecost. Tone one.
Nativity (St. Philip's Fast). Fish Allowed
Great-martyr Mercurius of Caesarea in Cappadocia (259).
Great-martyr Catherine of Alexandria (305).
Hieromartyr Mercurius of Smolensk (1238).
Venerable Mercurius, the Faster of the Kievan Caves, far caves (14th C).
New Hieromartyr Eugraphus (1919).
New Hieromartyrs Eugine and Michael priests, Virgin-martyr Anysia (1937).
New Hieromartyrs Alexander, Alexis, John, Cornelius, and Metrophanes priests (1937).
Martyrs Augusta (Faustina) the Empress, Porphyrius, and 200 soldiers at Alexandria with Great-martyr Catherine (305).
Venerable Mastridia of Alexandria (1060).
Venerable Simon, abbot of Soiga Monastery (Vologda) (1561).
Martyr Philothea of Romania (1060).
St. Gregory, founder of the monastery of the Golden Rock in Pontus.
Martyr Alexander at Corinth (4th C).
Venerable Luke, steward of the Kiev Caves (13th c.).
St. Hermogenes, bishop of Agrigentum (ca. 260).
Venerable Romanus of Bordeaux (382), and Venerable Protasius, hermit of Auvergne (6th c.) (Gaul).
Venerable Portianus of Arthone (527) (Gaul).
St. Minver, virgin of Cornwall.
Maryrs Philemenus, Christopher, Eugene, Procopius, and another Christopher (Greek).
Martyr Chrysogenes and Monk-martyr Mark Triglinos (Greek).
Hieromartyrs Clement, pope of Rome (101), and Peter, archbishop of Alexandria (311) (Greek).
St. Malchus of Chalcis in Syria (5th c.).
St. Nicodemus the Younger of Philokalos in Thessalonica (ca. 1305).
The Scripture Readings
1 Timothy 6:17-21
Instructions to the Rich
17 Command those who are rich in this present age not to be haughty, nor to trust in uncertain riches but in the living God, who gives us richly all things to enjoy. 18 Let them do good, that they be rich in good works, ready to give, willing to share, 19 storing up for themselves a good foundation for the time to come, that they may lay hold on eternal life.
Guard the Faith
20 O Timothy! Guard what was committed to your trust, avoiding the profane and idle babblings and contradictions of what is falsely called knowledge— 21 by professing it some have strayed concerning the faith.
Grace be with you. Amen.
Luke 18:31-34
Jesus a Third Time Predicts His Death and Resurrection
31 Then He took the twelve aside and said to them, "Behold, we are going up to Jerusalem, and all things that are written by the prophets concerning the Son of Man will be accomplished. 32 For He will be delivered to the Gentiles and will be mocked and insulted and spit upon. 33 They will scourge Him and kill Him. And the third day He will rise again."
34 But they understood none of these things; this saying was hidden from them, and they did not know the things which were spoken.