What about your burial plans when your family is not Orthodox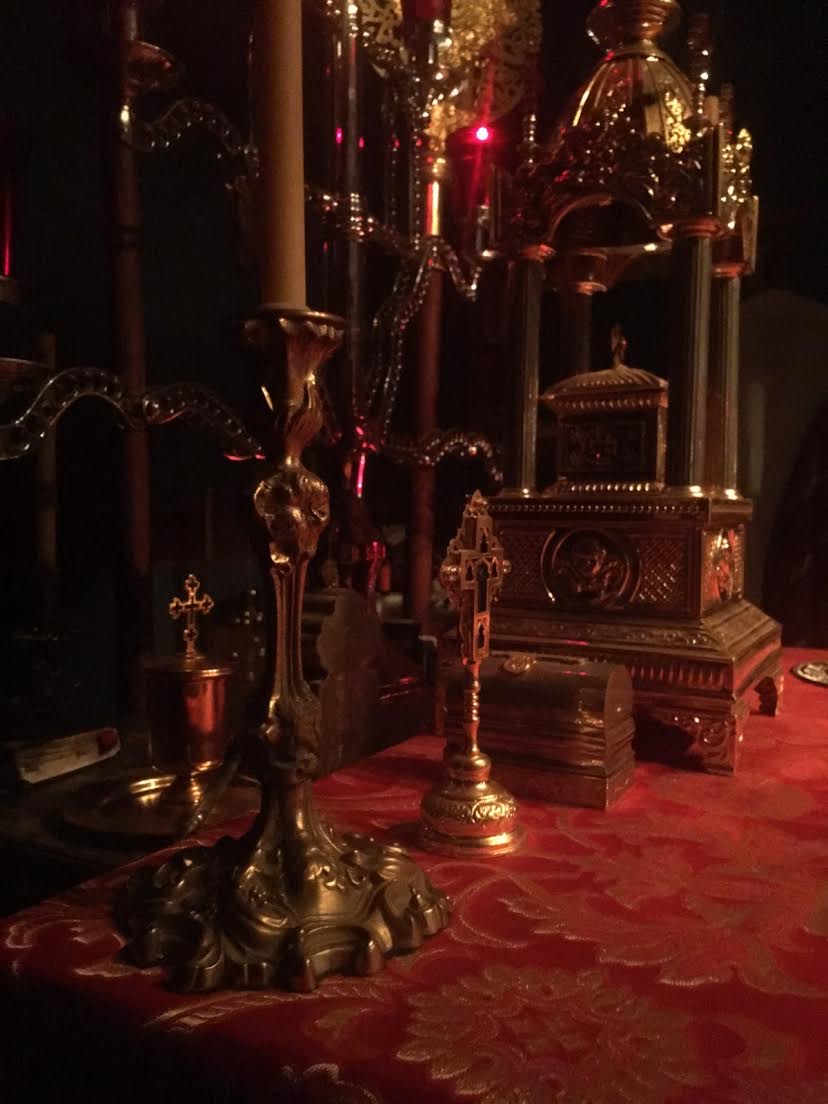 Some Orthodox Christians, whose family members are either not Orthodox, or who are no longer practicing the Orthodox faith, think they should skip any funeral arrangements that would involve the Church. They figure their relatives would likely not attend a service, given the common practice of cremating the body and forgoing a formal funeral service, so why bother making plans that will mean nothing to the relatives. Yet we must remember that it doesn't matter whether any of our relatives show up for our funeral, for ultimately the service is important for ourselves. We all need the prayers of the Church as we leave this life, so it is important that we make arrangements for an Orthodox funeral.
There is also the role cemeteries can play in our own spiritual life, as a cemetery is a clear reminder of our own mortality. I have already picked the plot where my own remains will be placed on the grounds of our monastery, and I've even ordered the crafting of my casket (it will have book shelves which can easily be removed when my time comes). Seeing where one will eventually be laid to rest is a good way to remember the importance of living a life of repentance, ever being prepared for the day our life comes to an end. When that day comes, we have the blessed assurance that the Church, just as she supported us during our life, will be there in support as we leave this world.
With love in Christ,
Abbot Tryphon
I just received word that Khouria Lynn Wilson fell asleep in the Lord on Thursday morning. May her memory be eternal. 
Please keep Father Wayne, beloved husband of Lynn, and the members of Saint Barnabas Orthodox Church in Costa Mesa, CA, in your prayers.
Sunday December 3, 2017 / November 20, 2017
26th Sunday after Pentecost. Tone one.
Nativity (St. Philip's Fast). Fish Allowed
Forefeast of the Entry of the Most Holy Theotokos into the Temple.
Venerable Gregory Decapolites (816).
St. Proclus, archbishop of Constantinople (447).
New Hieromartyrs Macarius bishop of Ecaterinoslav, Alexis, Alexander, Vladimir, John, Alexis, Basil, Nicholas, John, Emilian, Nocolos priests and Hieromartyrs Arsenius, Eutihius and Hillarion, Woman Hieromartyr Ioanicus hegumen (1937).
New Woman Hieromartyr Tatiana (after 1937).
Venerable Diodorus of George Hill (Solovki) (1633).
Martyr Dasius of Dorostolum (Romania) (303).
Martyrs Eustace, Thespesius, and Anatolius of Nicaea (312).
Hieromartyrs Nerses and Joseph; and John, Saverius, Isaac, and Hypatius, bishops of Persia; Martyrs Azades, Sasonius, Thecla, and Anna (343).
Martyrs Bautha and Denachis, who suffered with Hieromartyr Nerses of Persia (343). St. Isaac, bishop of Armenia (440). Venerable Theoctistus the Confessor (855). St. Edmund, king of England and martyr (869) (Celtic & British).
St. Sozomen of Cyprus (12th c.).
The Scripture Readings
Luke 24:1-12
Jesus Has Risen
24 On the first day of the week, very early in the morning, the women took the spices they had prepared and went to the tomb.2 They found the stone rolled away from the tomb, 3 but when they entered, they did not find the body of the Lord Jesus. 4 While they were wondering about this, suddenly two men in clothes that gleamed like lightning stood beside them. 5 In their fright the women bowed down with their faces to the ground, but the men said to them, "Why do you look for the living among the dead? 6 He is not here; he has risen! Remember how he told you, while he was still with you in Galilee: 7 'The Son of Man must be delivered over to the hands of sinners, be crucified and on the third day be raised again.' " 8 Then they remembered his words.
9 When they came back from the tomb, they told all these things to the Eleven and to all the others. 10 It was Mary Magdalene, Joanna, Mary the mother of James, and the others with them who told this to the apostles. 11 But they did not believe the women, because their words seemed to them like nonsense. 12 Peter, however, got up and ran to the tomb. Bending over, he saw the strips of linen lying by themselves, and he went away, wondering to himself what had happened.
Ephesians 5:8-19
8 For you were once darkness, but now you are light in the Lord. Live as children of light 9 (for the fruit of the light consists in all goodness, righteousness and truth) 10 and find out what pleases the Lord. 11 Have nothing to do with the fruitless deeds of darkness,but rather expose them. 12 It is shameful even to mention what the disobedient do in secret. 13 But everything exposed by the lightbecomes visible—and everything that is illuminated becomes a light. 14 This is why it is said:
"Wake up, sleeper,
rise from the dead,
and Christ will shine on you."
15 Be very careful, then, how you live—not as unwise but as wise, 16 making the most of every opportunity, because the days are evil.17 Therefore do not be foolish, but understand what the Lord's will is. 18 Do not get drunk on wine, which leads to debauchery. Instead, be filled with the Spirit, 19 speaking to one another with psalms, hymns, and songs from the Spirit. Sing and make music from your heart to the Lord,
Luke 12:16-21
16 And he told them this parable: "The ground of a certain rich man yielded an abundant harvest. 17 He thought to himself, 'What shall I do? I have no place to store my crops.'
18 "Then he said, 'This is what I'll do. I will tear down my barns and build bigger ones, and there I will store my surplus grain. 19 And I'll say to myself, "You have plenty of grain laid up for many years. Take life easy; eat, drink and be merry."'
20 "But God said to him, 'You fool! This very night your life will be demanded from you. Then who will get what you have prepared for yourself?'
21 "This is how it will be with whoever stores up things for themselves but is not rich toward God."