Embracing Absolute Truth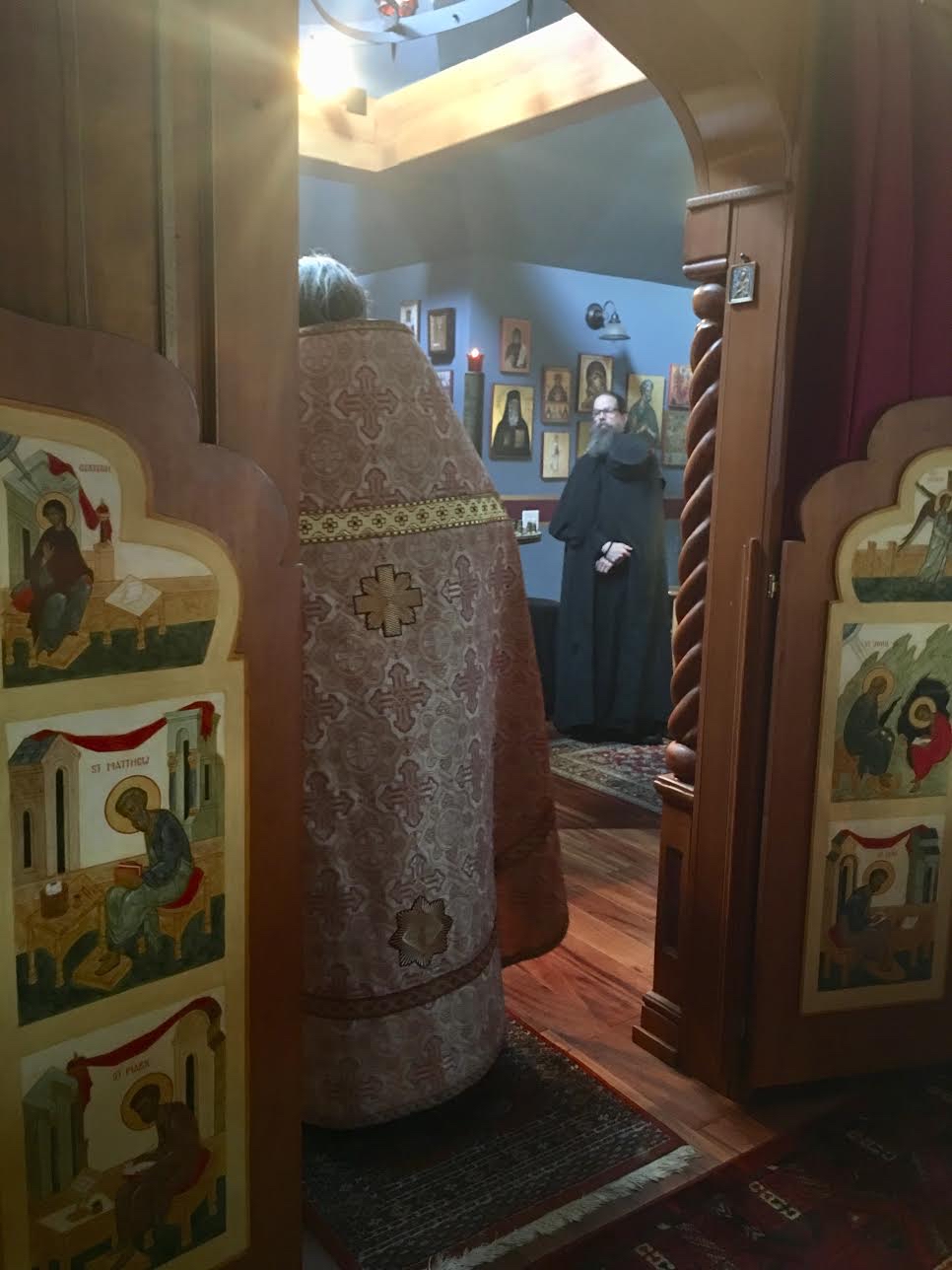 In an age when many people think truth is relative, the knowledge that there is such a thing as absolute truth, is comforting. The freedom that comes with the knowledge that we are able to embrace teachings that are a continuation of an unbroken line dating back to Apostolic times, is liberating. As Orthodox Christians, we are not faced with the troubling task of interpreting the scriptures anew, or deciding moral and dogmatic teachings for ourselves, or trying to make our faith relevant for this age. Rather, we can immerse ourselves in the knowledge that we have embraced the Mind of the Ancient Universal Church.
We haven't had to reinvent the Faith, because we have aligned ourselves with the Church that is both ancient, and relevant for the modern seeker. We know the Church's teachings are not based on the finite mind, or the imagination of our own fallen nature, but the eternal truths that have endured from ancient of times.
It is comforting to know the Church has remained true to her inheritance for some two thousand years. It is liberating to know ancient Christian dogmas, ways of worship, and moral teachings, are guiding our lives, just as they have for two thousand years.
Truth is not relative, but is absolute. There is no greater freedom than to be able to receive, as our own, the transcending truth that has made saints from ancient times. There is no greater freedom than being able to embrace the absolute truth that transcends time, space, culture, and race. No greater joy than to be counted as belonging to Christ, and having joined ourselves to the very Church He founded.
Love in Christ,
Abbot Tryphon
Wednesday November 29, 2017 / November 16, 2017
26th Week after Pentecost. Tone eight.
Nativity (St. Philip's Fast). Food with Oil
Holy Apostle and Evangelist Matthew (60).
New Hieromartyrs Theodore Korolev priest and with him Martyr Ananius Boykov and Michael Boldakov (1929).
New Hieromartyrs John, Nicholas, Victor, Basil, Makarius and Michael priests, Hieromartyr Panteleimon (1937).
Martyr Demetrius (1938).
New Hieromartyr Philumenus (1978).
St. Fulvianus, prince of Ethiopia, in holy baptism Matthew (1st c.).
Hieromartyr Hipatius bishop of Gangra (360).
Venerable Sergius, abbot, of Malopinega (1585).
St. Eucherius of Lyons (449).
St. Lubuinus, missionary to Friesland (773) (Neth.).
St. Otmar, abbot and monastic founder in Switzerland (759).
The Scripture Readings
John 21:15-25
Jesus Restores Peter
15 So when they had eaten breakfast, Jesus said to Simon Peter, "Simon, son of Jonah, do you love Me more than these?"
He said to Him, "Yes, Lord; You know that I love You."
He said to him, "Feed My lambs."
16 He said to him again a second time, "Simon, son of Jonah, do you love Me?"
He said to Him, "Yes, Lord; You know that I love You."
He said to him, "Tend My sheep."
17 He said to him the third time, "Simon, son of Jonah, do you love Me?" Peter was grieved because He said to him the third time, "Do you love Me?"
And he said to Him, "Lord, You know all things; You know that I love You."
Jesus said to him, "Feed My sheep. 18 Most assuredly, I say to you, when you were younger, you girded yourself and walked where you wished; but when you are old, you will stretch out your hands, and another will gird you and carry you where you do not wish."19 This He spoke, signifying by what death he would glorify God. And when He had spoken this, He said to him, "Follow Me."
The Beloved Disciple and His Book
20 Then Peter, turning around, saw the disciple whom Jesus loved following, who also had leaned on His breast at the supper, and said, "Lord, who is the one who betrays You?" 21 Peter, seeing him, said to Jesus, "But Lord, what about this man?"
22 Jesus said to him, "If I will that he remain till I come, what is that to you? You follow Me."
23 Then this saying went out among the brethren that this disciple would not die. Yet Jesus did not say to him that he would not die, but, "If I will that he remain till I come, what is that to you?"
24 This is the disciple who testifies of these things, and wrote these things; and we know that his testimony is true.
25 And there are also many other things that Jesus did, which if they were written one by one, I suppose that even the world itself could not contain the books that would be written. Amen.
1 Timothy 1:18-20
Fight the Good Fight
18 This charge I commit to you, son Timothy, according to the prophecies previously made concerning you, that by them you may wage the good warfare, 19 having faith and a good conscience, which some having rejected, concerning the faith have suffered shipwreck, 20 of whom are Hymenaeus and Alexander, whom I delivered to Satan that they may learn not to blaspheme.
1 Timothy 2:8-15
Men and Women in the Church
8 I desire therefore that the men pray everywhere, lifting up holy hands, without wrath and doubting; 9 in like manner also, that the women adorn themselves in modest apparel, with propriety and moderation, not with braided hair or gold or pearls or costly clothing, 10 but, which is proper for women professing godliness, with good works. 11 Let a woman learn in silence with all submission. 12 And I do not permit a woman to teach or to have authority over a man, but to be in silence. 13 For Adam was formed first, then Eve. 14 And Adam was not deceived, but the woman being deceived, fell into transgression. 15 Nevertheless she will be saved in childbearing if they continue in faith, love, and holiness, with self-control.
Luke 15:1-10
The Parable of the Lost Sheep
15 Then all the tax collectors and the sinners drew near to Him to hear Him. 2 And the Pharisees and scribes complained, saying, "This Man receives sinners and eats with them." 3 So He spoke this parable to them, saying:
4 "What man of you, having a hundred sheep, if he loses one of them, does not leave the ninety-nine in the wilderness, and go after the one which is lost until he finds it? 5 And when he has found it, he lays it on his shoulders, rejoicing. 6 And when he comes home, he calls together his friends and neighbors, saying to them, 'Rejoice with me, for I have found my sheep which was lost!' 7 I say to you that likewise there will be more joy in heaven over one sinner who repents than over ninety-nine just persons who need no repentance.
The Parable of the Lost Coin
8 "Or what woman, having ten silver coins, if she loses one coin, does not light a lamp, sweep the house, and search carefully until she finds it? 9 And when she has found it, she calls her friends and neighbors together, saying, 'Rejoice with me, for I have found the piece which I lost!' 10 Likewise, I say to you, there is joy in the presence of the angels of God over one sinner who repents."