And the flowering of a monastic brotherhood (part 3)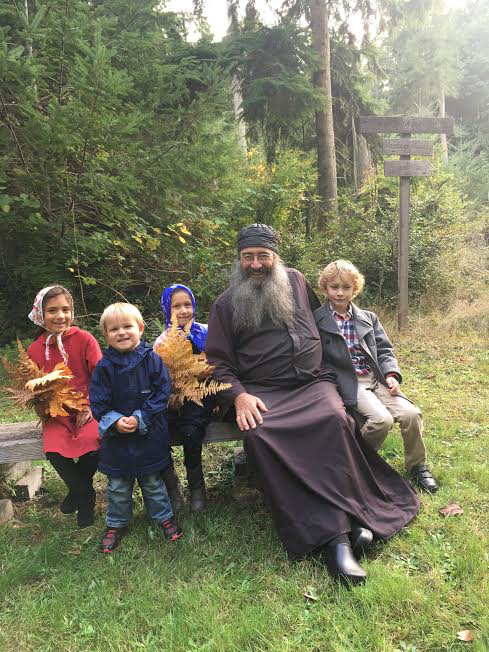 The House in Medford
With the prospect of winter ahead, we knew our days of camping had come to an end. Visiting a small Orthodox mission parish in Medford, Oregon, we were invited to move into the vacant house next door, formerly the home of an old man who had passed away. His daughter, who lived in Texas, agreed to let us live rent free, provided we paid the utility bills.
We contacted a Medford realtor, and continued our search for that elusive rural sight on which to plant our monastery. Day after day we would drive through the mountains and valleys of Southern Oregon, looking at farms and ranches, and praying for the guidance of the Holy Spirit. After the snows of a winter had begun to melt, we happened upon a fifty-acre ranch, with two old houses and three barns, surrounded by federal forestland. Located in the Apple Gate Valley just west of Ashland, it seemed like to perfect location for a monastery. Yet when we approached the county about establishing a monastery on this ranch, we were told it would be impossible, for the land was zoned fifty-acre family farm, and the county was unwilling to recognize our monastic brotherhood as a family, insisting we'd have to be "blood related". If we wanted a monastery in their county, it would have to be within the city limits of one of their towns.
Holy Week in Seattle
Contesting the constitutionality of a county's zoning law was not the beginning foundation we wanted for our monastery. We saw this zoning code as a possible sign that this farm was not the place God intended for us. With Great Lent nearing completion, we decided to put off any further decision until after Pascha. Invited to participate in the Holy Week and the Paschal celebration at Saint Spiridon Cathedral in Seattle, by Archpriest Vadim Pogrebniak, the cathedral dean, we drove north into Washington State.
Holy Week was particularly special. We slept on the floor of the old rectory, now serving as the parish office, and attended all the services leading up to the Midnight Paschal Liturgy. On Bright Monday, with Holy Week behind us and Paschal joy in our hearts, we took the ferry to Vashon Island, accepting an invitation to spend two nights in the home of an Orthodox couple we'd met a year earlier, former members of my good friend Archpriest Basil Rhodes' parish, Saint Nicholas Church, in Saratoga, CA.
Vashon is the largest of the southern most islands in the Salish Sea, surrounded by waters known as the Puget Sound. Eighty-five percent undeveloped forest, Vashon is about the size of Manhattan, New York, but with a rural population of only around 11,000. A diverse population known for its strong arts community, Vashon proved to be one of the most welcoming places I'd ever visited. Two days on the island were enough to convince us this was the place God had called us to be. Before heading back to Medford, Oregon, Father Paul and I had visited a realty office, and arranged to rent a small house.
Love in Christ,
Abbot Tryphon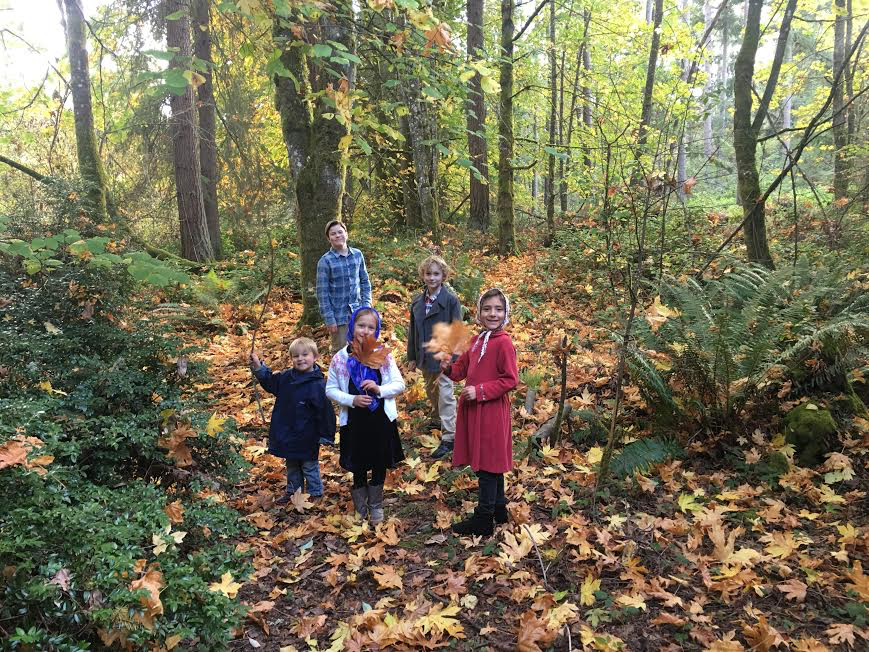 Photos: Children brought to the Monastery by their parents, exploring the trails with Hieromonk Paul.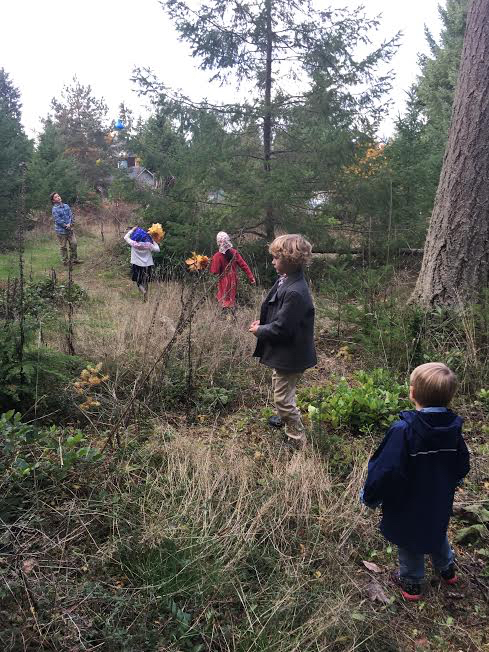 Saturday November 4, 2017 / October 22, 2017
22nd Week after Pentecost. Tone four.
The Kazan Icon of the Most Holy Theotokos, commemorating the deliverance from the Poles in 1612.
Holy Equal-to-the-Apostles Abercius, bishop and wonderworker of Hierapolis (167).
7 Holy Youths ("7 Sleepers") of Ephesus: Maximilian, Jamblichus, Martinian, Dionysius, Antoninus, Constantine (Hexakustodianos), and John (250).
New Hieromartyrs Seraphim archbishop of Uglich and with him German archimandrite, Vladimir, Alexander, Basil, Alexander priests and Martyrs Herman and Menas (1937).
New Hieromartyrs Nicholas, Nicholas priests and Martyr Gregory (1937).
Martyrs Alexander the bishop, Heraclius, Anna, Elizabeth, Theodota and Glyceria, at Adrianopolis (2nd-3rd c.).
"Andronikos" and "Jacobshtad" (17th c.) Icons of the Mother of God.
Venerable Lot of Egypt (5th c.).
Venerables Theodore and Paul, abbots, of Rostov (1409).
Venerable James of Luga and Omutch, disciple of Theophilus of Omutch.
St. Mellon, bishop of Rouen.
Martyr Zachariah (Greek).
Venerable Rufus of the Paradise (Greek).
The Scripture Readings
Luke 1:39-49
Mary Visits Elizabeth
39 Now Mary arose in those days and went into the hill country with haste, to a city of Judah, 40 and entered the house of Zacharias and greeted Elizabeth. 41 And it happened, when Elizabeth heard the greeting of Mary, that the babe leaped in her womb; and Elizabeth was filled with the Holy Spirit. 42 Then she spoke out with a loud voice and said, "Blessed are you among women, and blessed is the fruit of your womb! 43 But why is this granted to me, that the mother of my Lord should come to me? 44 For indeed, as soon as the voice of your greeting sounded in my ears, the babe leaped in my womb for joy. 45 Blessed is she who believed, for there will be a fulfillment of those things which were told her from the Lord."
The Song of Mary
46 And Mary said:
"My soul magnifies the Lord,
47 And my spirit has rejoiced in God my Savior.
48 For He has regarded the lowly state of His maidservant;
For behold, henceforth all generations will call me blessed.
49 For He who is mighty has done great things for me,
And holy is His name.
Luke 1:56
56 And Mary remained with her about three months, and returned to her house.
Philippians 2:5-11
The Humbled and Exalted Christ
5 Let this mind be in you which was also in Christ Jesus, 6 who, being in the form of God, did not consider it robbery to be equal with God, 7 but made Himself of no reputation, taking the form of a bondservant, and coming in the likeness of men. 8 And being found in appearance as a man, He humbled Himself and became obedient to the point of death, even the death of the cross. 9 Therefore God also has highly exalted Him and given Him the name which is above every name, 10 that at the name of Jesus every knee should bow, of those in heaven, and of those on earth, and of those under the earth, 11 and that every tongue should confess that Jesus Christ isLord, to the glory of God the Father
Luke 10:38-42
Mary and Martha Worship and Serve
38 Now it happened as they went that He entered a certain village; and a certain woman named Martha welcomed Him into her house. 39 And she had a sister called Mary, who also sat at Jesus' feet and heard His word. 40 But Martha was distracted with much serving, and she approached Him and said, "Lord, do You not care that my sister has left me to serve alone? Therefore tell her to help me."
41 And Jesus answered and said to her, "Martha, Martha, you are worried and troubled about many things. 42 But one thing is needed, and Mary has chosen that good part, which will not be taken away from her.
Luke 11:27-28
Keeping the Word
27 And it happened, as He spoke these things, that a certain woman from the crowd raised her voice and said to Him, "Blessed is the womb that bore You, and the breasts which nursed You!"
28 But He said, "More than that, blessed are those who hear the word of God and keep it!"