And the flowering of a monastic brotherhood (part 2)
The Search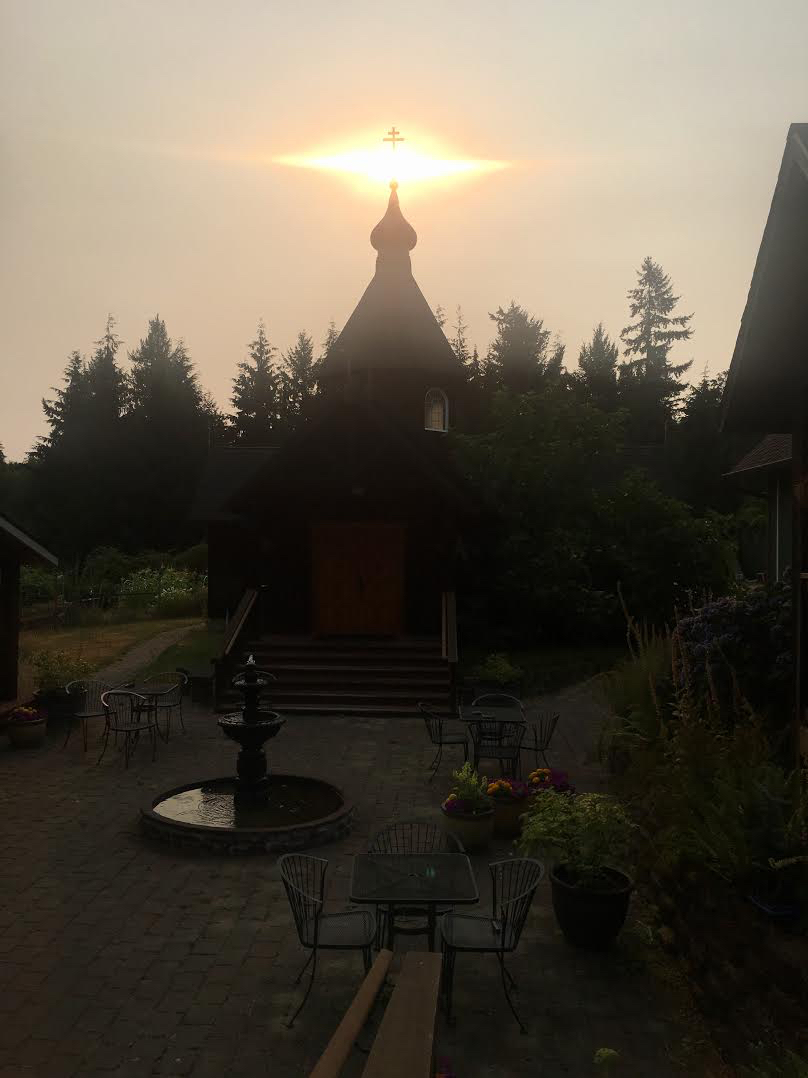 In early 1987, after receiving a blessing from our bishop to relocate the monastery, we rented a storage unit in Santa Rosa, packed away our library, icons, and furniture, and left the Bay Area in search of our promised land. We rented a two-bedroom cabin on Cobb Mountain, just north of the Napa Valley wine country, and began our quest for that rural location. With the financial backing of a benefactor in Berkeley (an Episcopalian), we set out each morning, with a realtor, searching for just the right old farm or ranch house, hoping to replant the sprout that was our fledging monastery.
After two months of looking in Lake County, we set our sights on Oregon. Traveling in our old Ford pickup with a camper on the back, and pitching a tent each night, we continued our journey, seeking after God's will. The sight of two bearded monks, dressed in black robes, joining other campers in state parks, certainly attracted attention. I remember one old man trading freshly caught trout each morning, for a cup of dark roasted coffee, which I'd prepared in a French Press. His wife was sick of trout, and he was sick of her coffee. We were the beneficiaries of their marital spat, enjoying pan-fried trout for breakfast each morning.
We had a large dyptich with an icon of Christ on the right and the Holy Virgin on the left, which serviced as our traveling iconostasis. Each morning we would set the dyptich on a picnic table, place incense in the censer, and pray Matins together. The smell of the campfire, fresh coffee, and incense, united together, seemed as a beautiful offering to God, and has remained with me to this very day.
One campsite that was particularly memorable was just east of Portland, Oregon. The mornings were crisp with the air and scent of early autumn, and we were the only people occupying the state campground. Mount Hood loomed above us like the spire of a great cathedral, and felt I could remain there forever. Chanting Matins before this mountain made me feel connected to the Prophet Moses of the Old Testament, for I felt I was standing on holy ground.
Love in Christ,
Abbot Tryphon
Friday November 3, 2017 / October 21, 2017
22nd Week after Pentecost. Tone four.
Fast. Food with Oil
Venerable Hilarion the Great of Palestine (371).
Translation of the relics (1206) of St. Hilarion, bishop of Meglin, Bulgaria (1164).
New Hieromartyrs Paulinus bisop of Mogilev, Arkadius bishop of Ekaterinburg and with them Anatolius and Nicander priests and Martyr Cyprian (1937).
New Hieromartyr Damian bishop of Kursk (1937).
New Hieromartyrs Constantine, Sergius, Basil, Theodore, Vladimir, Nicholas, John, Basil, Alexander, Demetrius and Alexis priests, Sergius and John deacons and Martyr Sophronius (1937).
New Woman-Hieromartyr Pelagia (1944).
Venerable Hilarion of the Kiev Caves (1067).
Venerable Hilarion, abbot, of Pskov (1476).
Venerables Theophilus and James, abbots of Omutch on Pskov Lake (1412).
Martyrs Dasius, Gaius, and Zoticus at Nicomedia (303).
Saint Hilarion, Metropolitan of Kiev (16th C).
Venerable Philotheus of Neapolis and Mt. Athos (14th c.) (Greek).
Martyr John of Peloponnesus (1773) (Greek).
Venerables Bessarion (Sarai), hieromonk (1745), and Sophronius of Ciorara, monk (ca. 1765), confessors, and St. Oprea of Salistie, martyred by the Latins in Romania (Romania).
Priest-Confessors John of Gales, and Moses (Macinic) of Sibiel (18th c.) (Transylvania).
Newly-revealed Martyrs Andrew, Stephen, Paul and Peter (Greek).
Hieromartyr Priest Socrates and Martyr Theodote of Ancyra (230) (Greek).
Monk-martyr Eucratus (Greek).
St. Baruch, monk (Greek).
Monk-martyr Zachariah (Greek).
Martyr Azes (Greek).
Translation of the relics of St. Christodulus the Wonderworker of Patmos (1093) (Greek).
Martyr Ursula of Cologne and her companions (383).
St. Fintan Munnu of Teachmunnu (635) (Celtic & British).
St. Malathgeny of Cluain-Edneach (767) (Celtic & British).
St. Condedus, hermit of Fontenelle.
The Scripture Readings
Colossians 4:10-18
10 Aristarchus my fellow prisoner greets you, with Mark the cousin of Barnabas (about whom you received instructions: if he comes to you, welcome him), 11 and Jesus who is called Justus. These are my only fellow workers for the kingdom of God who are of the circumcision; they have proved to be a comfort to me.
12 Epaphras, who is one of you, a bondservant of Christ, greets you, always laboring fervently for you in prayers, that you may stand perfect and complete in all the will of God. 13 For I bear him witness that he has a great zeal for you, and those who are in Laodicea, and those in Hierapolis. 14 Luke the beloved physician and Demas greet you. 15 Greet the brethren who are in Laodicea, and Nymphas and the church that is in his house.
Closing Exhortations and Blessing
16 Now when this epistle is read among you, see that it is read also in the church of the Laodiceans, and that you likewise read the epistle from Laodicea. 17 And say to Archippus, "Take heed to the ministry which you have received in the Lord, that you may fulfill it."
18 This salutation by my own hand—Paul. Remember my chains. Grace be with you. Amen.
Luke 10:1-15
The Seventy Sent Out
10 After these things the Lord appointed seventy others also, and sent them two by two before His face into every city and place where He Himself was about to go. 2 Then He said to them, "The harvest truly is great, but the laborers are few; therefore pray the Lord of the harvest to send out laborers into His harvest. 3 Go your way; behold, I send you out as lambs among wolves. 4 Carry neither money bag, knapsack, nor sandals; and greet no one along the road. 5 But whatever house you enter, first say, 'Peace to this house.' 6 And if a son of peace is there, your peace will rest on it; if not, it will return to you. 7 And remain in the same house, eating and drinking such things as they give, for the laborer is worthy of his wages. Do not go from house to house. 8 Whatever city you enter, and they receive you, eat such things as are set before you. 9 And heal the sick there, and say to them, 'The kingdom of God has come near to you.' 10 But whatever city you enter, and they do not receive you, go out into its streets and say, 11 'The very dust of your city which clings to us we wipe off against you. Nevertheless know this, that the kingdom of God has come near you.' 12 But I say to you that it will be more tolerable in that Day for Sodom than for that city.
Woe to the Impenitent Cities
13 "Woe to you, Chorazin! Woe to you, Bethsaida! For if the mighty works which were done in you had been done in Tyre and Sidon, they would have repented long ago, sitting in sackcloth and ashes. 14 But it will be more tolerable for Tyre and Sidon at the judgment than for you. 15 And you, Capernaum, who are exalted to heaven, will be brought down to Hades.