And the acquisition of a humble and a contrite heart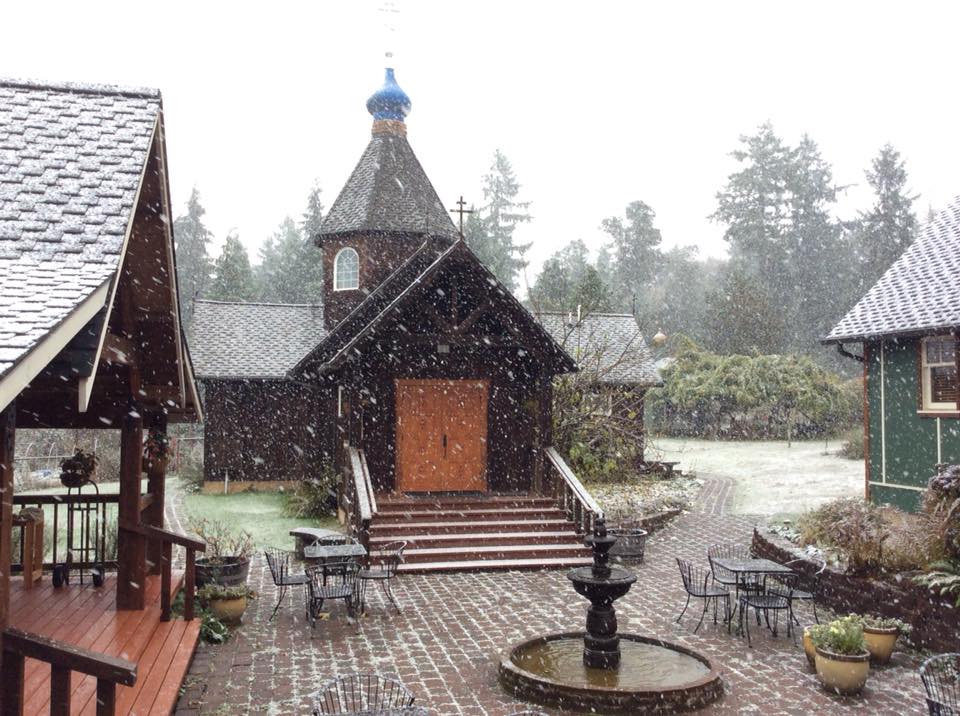 When the monk attempts to rely on his own strength to do battle with his fallen nature, he will be defeated. The arena, his field of battle, takes place in his own heart, and will be a life long battle. The monk must manifest his word in deeds, and his weapons in this unseen warfare, must be based on complete lack of self-reliance. His monastic skufa serves as his helmet, symbolizing his total reliance on God's mercy. His shield and his coat of mail, is his firm trust in He whom he serves. The monks armor, his cassock, is bound with his belt, which is the cutting off of bodily passions.
The monks boots keep the monk grounded in humility, and serve as a recognition of his powerlessness in this spiritual warfare without having put on Christ each hour. The Prayer Rope becomes his sword, which he holds in one hand, assures that the Jesus Prayer is ever on his lips or within his heart. His spear, which he holds in his other hand, is the blessing cross, representing his firm resolve to resist the passions which assail him.
The food that sustains him in his battle against the enemy, is frequent communion with God, both through the mystery of the Holy Eucharist, and inwardly; the clear and cloudless atmosphere, which enables him to see the enemy from afar. Finally, the monks mantle reminds him that he must be dead to the world, for this very cloth will become his burial shroud.
The monk must be on guard, ever quick to ask forgiveness of his brothers, ever ready to account before others, his failure to live the Gospels in fullness and truth. For the monk, not a day, not even an hour, must pass without examining his conscience, for only in being ruthless with himself, will he rid every trace of the old man, the fallen man, from his life. The whole of a monks life must be given over the the acquisition of the Holy Spirit, and a humble and a contrite heart.
With love in Christ,
Abbot Tryphon
Thursday November 30, 2017 / November 17, 2017
26th Week after Pentecost. Tone eight.
Nativity (St. Philip's Fast). Fish Allowed
St. Gregory the Wonderworker of Neo-Caesarea (266).
Venerable Nikon, abbot of Radonezh, disciple of St. Sergius (1426).
Sts. Acisclus and Victoria of Cordoba (4th c.).
Venerable Lazarus the iconographer of Constantinople (857).
Martyr Gobron (Michael) and 133 soldiers of Georgia (914) (Georgia).
Venerable Longinus of Egypt (4th c.).
St. Maximus (Maximian), patriarch of Constantinople (434).
Venerable Gennadius, abbot of Vatopedi, Mt. Athos (14th c.).
St. Gregory, bishop of Tours, and with him Venerable Aredius, abbot of Limoges and Venerable Vulfolaic, stylite of Trier (Gaul).
Venerable Hilda, abbess of Whitby (680) (British).
Martyrs Zachariah the Cobbler and his wife, Mary (3rd c.) (Greek).
Hieromartyr Basil, bishop of Hamah (282).
Martyrs Gregory, Victor, and Geminus of Heracleon in Thrace (304).
150 philosophers converted by St. Catherine, and who suffered in Alexandria (305).
St. John the Cobbler of Olumba, Cairo, and Sinai (7th c.).
The Scripture Readings
1 Timothy 3:1-13
Qualifications of Overseers
3 This is a faithful saying: If a man desires the position of a bishop, he desires a good work. 2 A bishop then must be blameless, the husband of one wife, temperate, sober-minded, of good behavior, hospitable, able to teach; 3 not given to wine, not violent, not greedy for money, but gentle, not quarrelsome, not covetous; 4 one who rules his own house well, having his children in submission with all reverence 5 (for if a man does not know how to rule his own house, how will he take care of the church of God?); 6 not a novice, lest being puffed up with pride he fall into the same condemnation as the devil. 7 Moreover he must have a good testimony among those who are outside, lest he fall into reproach and the snare of the devil.
Qualifications of Deacons
8 Likewise deacons must be reverent, not double-tongued, not given to much wine, not greedy for money, 9 holding the mystery of the faith with a pure conscience. 10 But let these also first be tested; then let them serve as deacons, being found blameless. 11 Likewise, their wives must be reverent, not slanderers, temperate, faithful in all things. 12 Let deacons be the husbands of one wife, ruling theirchildren and their own houses well. 13 For those who have served well as deacons obtain for themselves a good standing and great boldness in the faith which is in Christ Jesus.
Luke 16:1-9
The Parable of the Unjust Steward
16 He also said to His disciples: "There was a certain rich man who had a steward, and an accusation was brought to him that this man was wasting his goods. 2 So he called him and said to him, 'What is this I hear about you? Give an account of your stewardship, for you can no longer be steward.'
3 "Then the steward said within himself, 'What shall I do? For my master is taking the stewardship away from me. I cannot dig; I am ashamed to beg. 4 I have resolved what to do, that when I am put out of the stewardship, they may receive me into their houses.'
5 "So he called every one of his master's debtors to him, and said to the first, 'How much do you owe my master?' 6 And he said, 'A hundred measures[a] of oil.' So he said to him, 'Take your bill, and sit down quickly and write fifty.' 7 Then he said to another, 'And how much do you owe?' So he said, 'A hundred measures of wheat.' And he said to him, 'Take your bill, and write eighty.' 8 So the master commended the unjust steward because he had dealt shrewdly. For the sons of this world are more shrewd in their generation than the sons of light.
9 "And I say to you, make friends for yourselves by unrighteous mammon, that when you fail, they may receive you into an everlasting home.