Cooperating with the Physician of Our Souls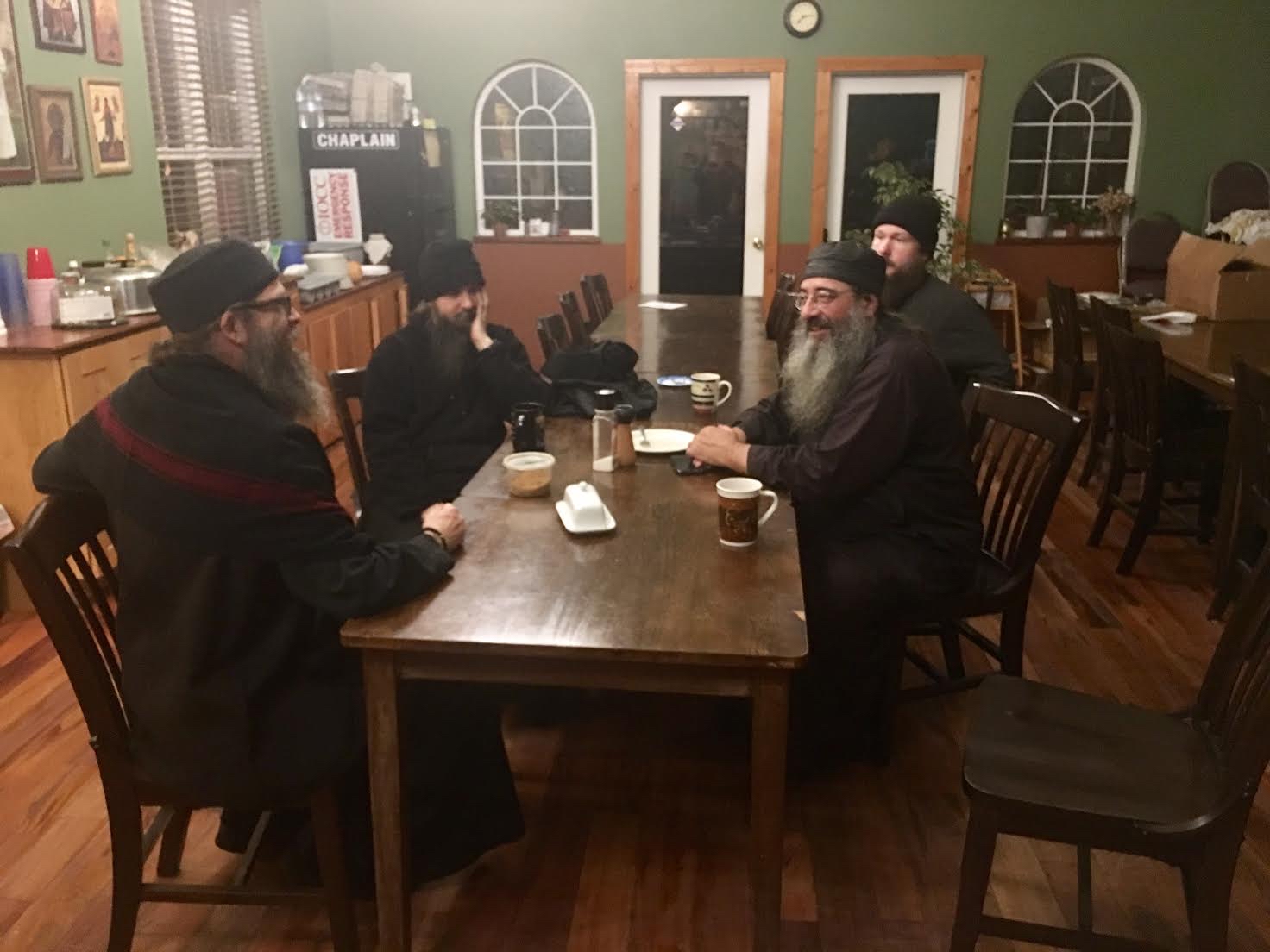 Although imprecise, we often use anthropomorphic language when speaking about God. Thus, we can say that God is like a mother whose sick child is in need of healing, and is not offended by the child's sickness. Yet, given the truth that God loves His fallen creatures, we can also say that God IS offended by our deliberate turning from the holiness and communion with Him, that we were created for.
Our sickness is a clear sign of the presence of sin, and this sin grieves God. This same God does not merely offer an escape from the eternal bondage of death, but invites us to entrance into life in Christ here and now.
Perhaps we can say that God is scandalized with the state of our soul, like the doctor might be irritated upon hearing the news that his patient has not been taking his prescribed medication. Like the doctor, God has given us a prescription whereby the healing of the darkened nous can begin to take place. Yet our Orthodox Christianity does not hold to the notion that our guilt as sinful creatures translates as punishment for sin, but rather that confession and repentance are seen in therapeutic terms.
We are invited to be restored to His original intent, and reunited with God. In our fallen state, we are invited to be spiritually healed, not sentenced, for salvation is not merely an escape from punishment. God, although He can be anthropomorphically described as a judge, is in reality our physician, and the cure frees us from the eternal bondage of death, and gives us entrance to life in Christ in the here and now.
We are invited to share in God's divinity, through the action of theosis, whereby we "become as gods". This ancient teaching of the Church in no way implies we become gods, as the Mormons teach, for God is still God, and we are still His creatures. But it does mean that the Creator Who condescended to take on our humanity, shares His divinity with us.
Theosis is both the transformative process by which we "become as gods",  as well as the goal of that process. The goal is the attainment of union with God, and is brought about by the effects of the purification of mind and body. Theosis is the very purpose of human life, and is achievable only through a cooperation between humans' activities and God's uncreated energies (or operations).
With love in Christ,
Abbot Tryphon
Photo: Monk Nicodemus, of Saint John of San Francisco Monastery in Manton, CA., is spending a week with us. Father Nicodemus has been a delight to have in our midst.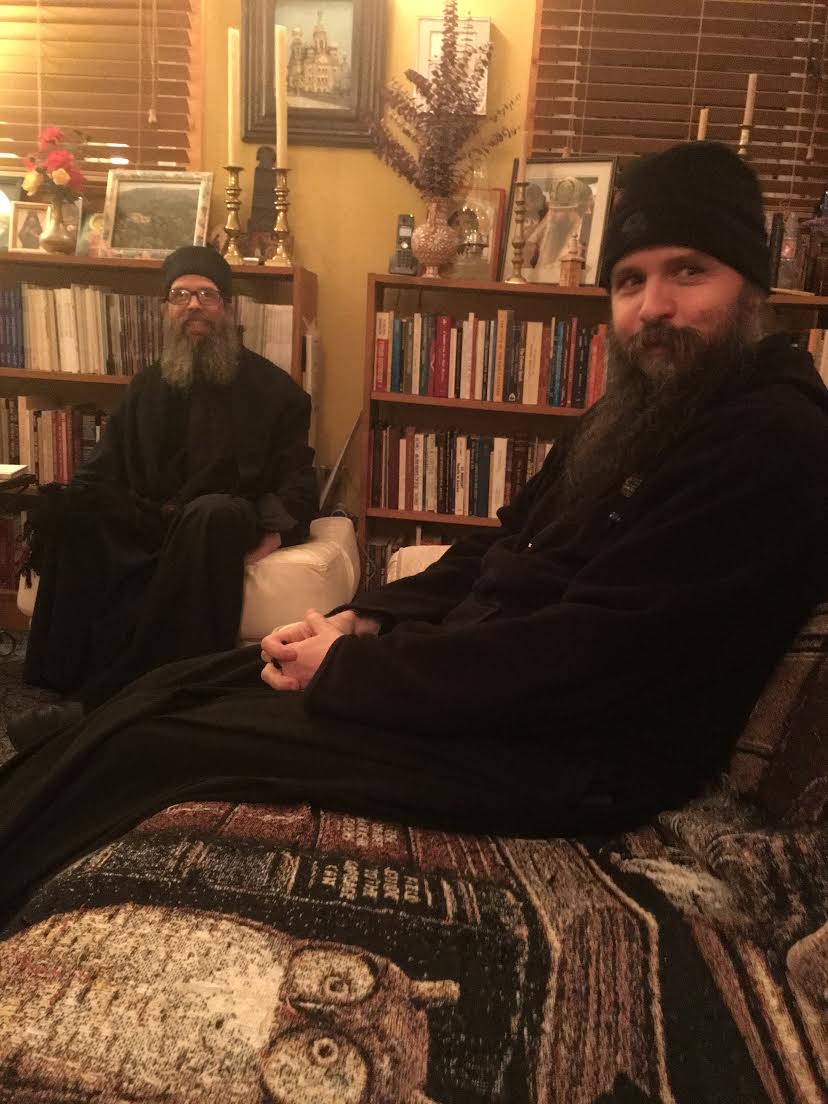 Thursday November 16, 2017 / November 3, 2017
24th Week after Pentecost. Tone six.
Martyrs Acepsimas the Bishop, Joseph the Presbyter, and Aeithalas the Deacon, of Persia (376).
Dedication of the Church of the Great-martyr George in Lydda (4th c.).
New Hieromartyrs Basil, Peter, Basil, Alexander, Vladimir, Sergius, Nicholas, Vicentius, John, Peter, Alexander, Paul, Cosmas priests and Simeon deacon (1937).
Virgin-martyr Evdokia (1938).
New Hieromartyr Sergius deacon (1942).
Martyrs Atticus, Agapius, Eudoxius, Carterius, Istucarius (Styrax), Pactobius (Tobias), and Nictopolion, at Sebaste (320).
Venerable Acepsimas, hermit of Cyrrhus in Syria (4th c.).
St. Snandulia of Persia (380).
Venerable Anna, daughter of Prince Vsevolod I Yaroslavich (1112).
Venerable Elias of Egypt.
St. Achaemonides, (or Hormisdas), confessor, of Persia (4th).
St. Winifred of Treffynon (Holywell), N. Wales, (630) (Celtic & British).
Translation of the relicts of St. Edith, nun of Wilton.
St. Theodore, confessor, bishop of Ancyra (8-9th c.) (Greek).
New Martyr Hieromonk George of Neopolis, Asia Minor (1797) (Greek).
Martyrs Dacius, Severus, Andronas, Theodotus, and Theodota (Greek).
St. Hubert of Maastricht (727) (Neth.).
Venerable Nicholas, Radiant Star of the Georgians (1308) (Georgia).
St. Pimen of Zographou, Mt. Athos (16th-17th c.).
The Meeting (1196) of St. Sava (1235) and St. Symeon the Myrrh-gusher (1200) of Serbia at Vatopedi, Mt. Athos.
St. Pirmin, bishop and monastic founder (753) (Germany).
The Scripture Readings
1 Thessalonians 5:1-8
The Day of the Lord
5 But concerning the times and the seasons, brethren, you have no need that I should write to you. 2 For you yourselves know perfectly that the day of the Lord so comes as a thief in the night. 3 For when they say, "Peace and safety!" then sudden destruction comes upon them, as labor pains upon a pregnant woman. And they shall not escape. 4 But you, brethren, are not in darkness, so that this Day should overtake you as a thief. 5 You are all sons of light and sons of the day. We are not of the night nor of darkness. 6 Therefore let us not sleep, as others do, but let us watch and be sober. 7 For those who sleep, sleep at night, and those who get drunk are drunk at night. 8 But let us who are of the day be sober, putting on the breastplate of faith and love, and as a helmet the hope of salvation.
Luke 11:47-12:1
47 Woe to you! For you build the tombs of the prophets, and your fathers killed them. 48 In fact, you bear witness that you approve the deeds of your fathers; for they indeed killed them, and you build their tombs. 49 Therefore the wisdom of God also said, 'I will send them prophets and apostles, and some of them they will kill and persecute,' 50 that the blood of all the prophets which was shed from the foundation of the world may be required of this generation, 51 from the blood of Abel to the blood of Zechariah who perished between the altar and the temple. Yes, I say to you, it shall be required of this generation.
52 "Woe to you lawyers! For you have taken away the key of knowledge. You did not enter in yourselves, and those who were entering in you hindered."
53 And as He said these things to them, the scribes and the Pharisees began to assail Him vehemently, and to cross-examine Him about many things, 54 lying in wait for Him, and seeking to catch Him in something He might say, that they might accuse Him.
Beware of Hypocrisy
12 In the meantime, when an innumerable multitude of people had gathered together, so that they trampled one another, He began to say to His disciples first of all, "Beware of the leaven of the Pharisees, which is hypocrisy.