Striving to attain holiness by embracing unfair treatment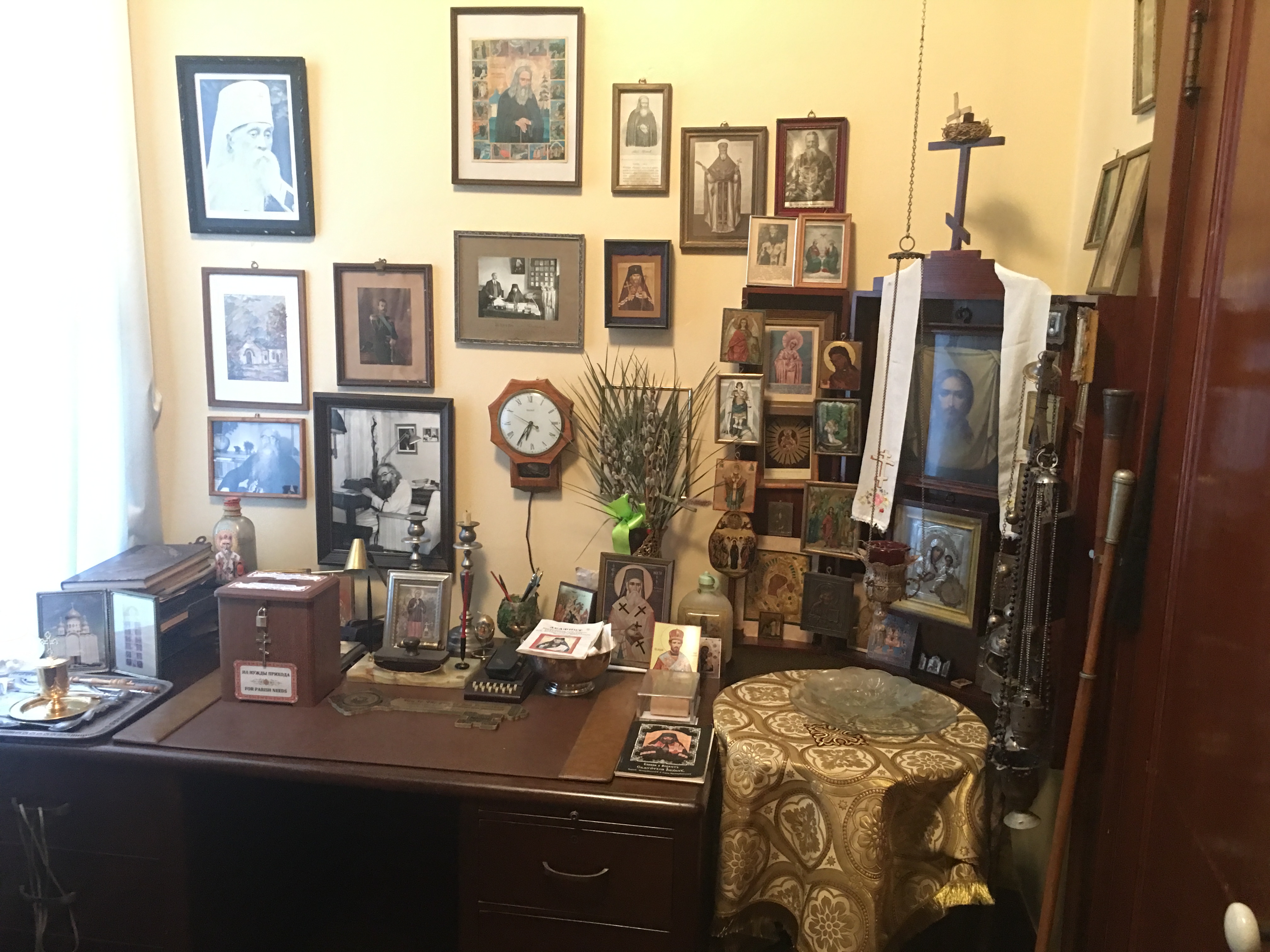 If we are always complaining about how unfairly we are treated, we will have failed in our imitation of Christ, Who was abused by His enemies unto death. We should strive to reign with Our Lord by loving our enemies and never complain. Christ looked towards His Heavenly Father and when we are tempted to complain we should gaze upon the cross.
Many of the saints were those who suffered ill treatment, even at the hands of fellow Christians. Saint Nektarios, perhaps the most popular saint in all of Greece, was falsely accused of grievous sins, removed from his diocese, and died in exile, yet is now glorified as one of the most important saints of our age. Saint John of San Francisco was taken to court by members of his own cathedral, yet this humble man is now venerated as a saint of the Universal Church.
Saint John Chrysostom was forcibly removed as Patriarch of Constantinople, and died in exile, yet is considered one of the greatest saints of the Church, and remembered as one of the greatest preachers in Church history. Many monastic saints, founders of holy monasteries, were persecuted by their own bishops, yet, receiving the persecution as allowed by God, they readily embraced their suffering and humiliation as salvific.
These saints knew that complaining disturbs the heart and distracts us from the Path. Complaining weakens our resolve and interferes with the acquisition of peace and holiness. When we complain we are rejecting the role of suffering as a means towards union with God. Complaining keeps our heart from soaring to the heavens and experiencing the joy that can be had when we surrender ourselves into the protective arms of Jesus.
The Evil One would have us fight off the attacks of our fellow Christians, for he knows that division and slander within the Church bring about the destruction of the unity that is the Body of Christ. When we see that the divisive behavior that sometimes takes root the Church is nothing but a tool of the Devil, we learn that praying for one another is the medicine needed to bring about the end of the Devil's plans.
Humility and prayer are hated by the Evil One, for nothing brings an end to his evil plans like the saintly living out of the gospel teachings. Fellow Christians are never our enemy, but only fellow victims of the dark plans of Satan.
With love in Christ,
Abbot Tryphon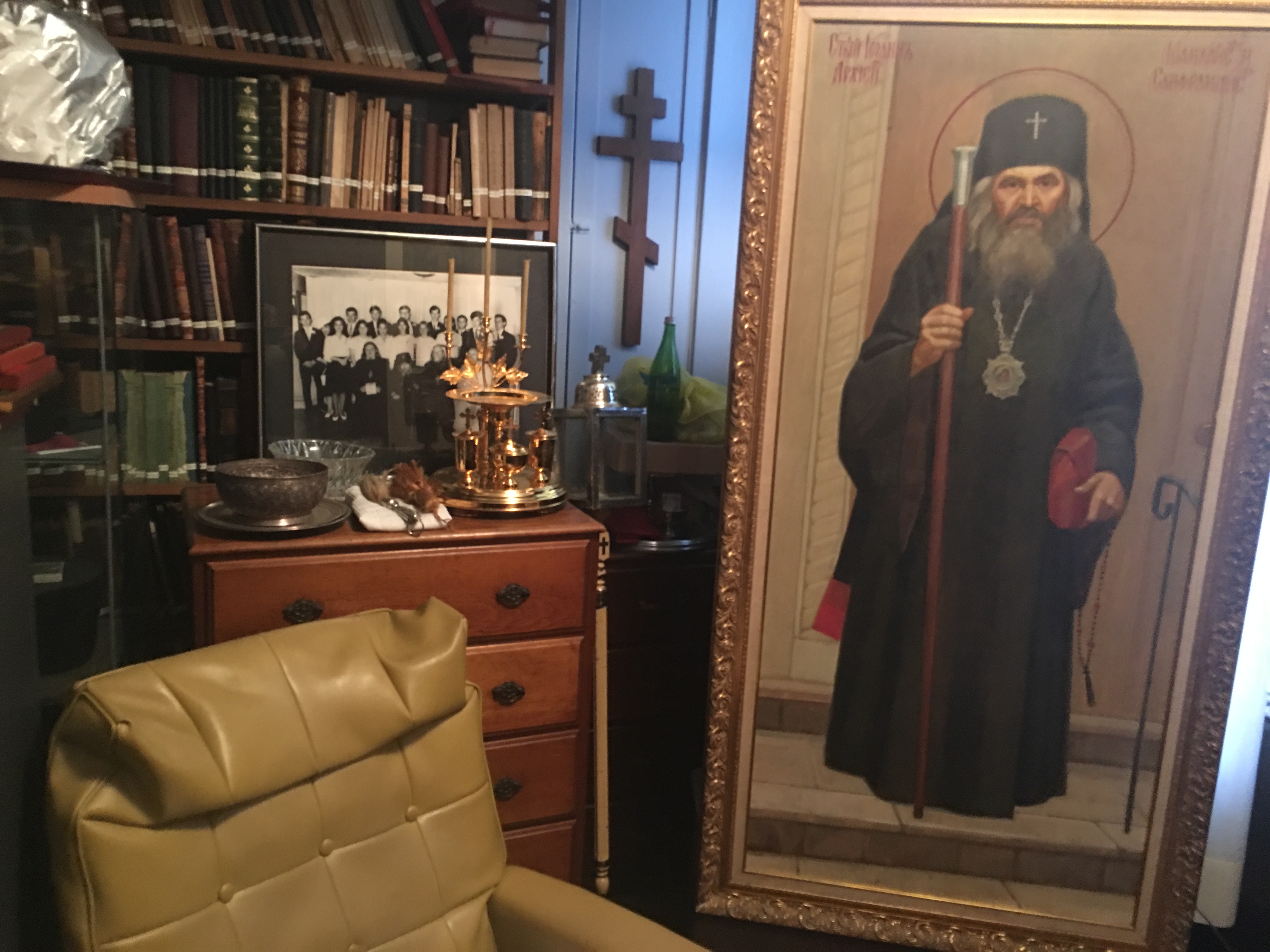 Photo: The office/cell of Saint John the Wonderworker, in Saint Tikhon's House in San Francisco.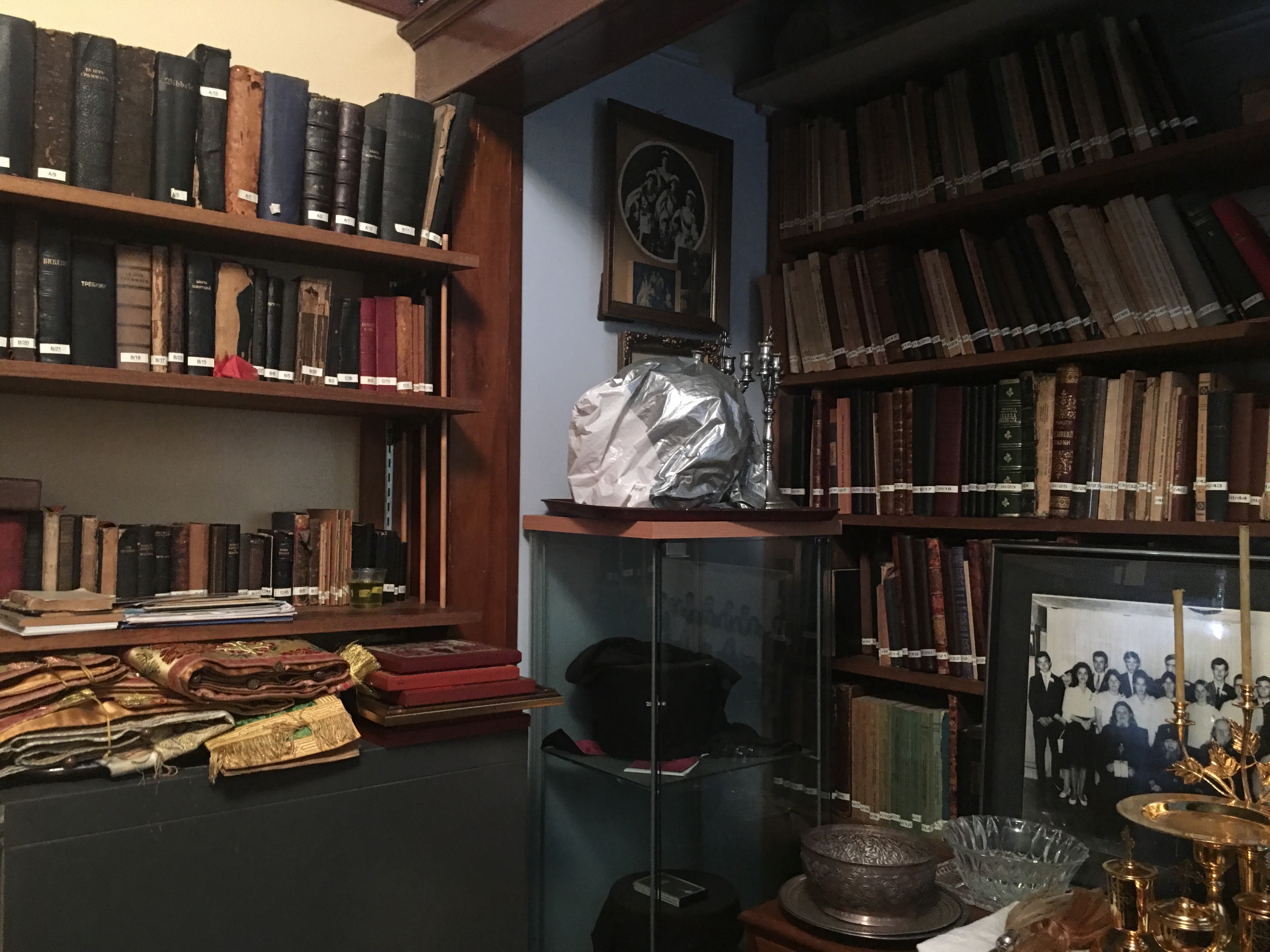 Wednesday November 22, 2017 / November 9, 2017
25th Week after Pentecost. Tone seven.
Fast. By Monastic Charter: Strict Fast (Bread, Vegetables, Fruits)
Martyrs Onesiphorus and Porphyrius of Ephesus (284).
Venerable Matrona, abbess, of Constantinople (492).
Venerable Theoctiste of the isle of Lesbos (881).
New Hieromartyrs Parthenius bishop of Ananiev, Constantine, Demetrius, Nestor, Theodore, Constantine, Victor, Elias priests, Joseph deacon and Hieromartyr Alexis (1937).
Venerable Onesiphorus the Confessor of the Kiev Caves (1148).
Martyr Alexander of Thessalonica (305).
Martyr Anthony of Apamea (5th c.).
Venerable John the Short of Egypt (422).
Venerables Eustolia (610) and Sosipatra (635) of Constantinople.
St. Nectarius (Kephalas), metropolitan of Pentapolis (1920) (Greek).
Icon of the Most Holy Theotokos "The Quick Hearer of Mt. Athos" (10th c.).
Venerable Simeon Metaphrastes of Constantinople (960).
Venerables Euthymius (990) and Neophytus, the Serbians of Mt. Athos (Greek).
Martyrs Narses and Artemonos (Greek).
St. Helladius, monk (Greek).
Martyrs Claudius, Castor, Sempronian, and Nicostrat (Romania).
The Scripture Readings
2 Thessalonians 2:1-12
The Great Apostasy
2 Now, brethren, concerning the coming of our Lord Jesus Christ and our gathering together to Him, we ask you, 2 not to be soon shaken in mind or troubled, either by spirit or by word or by letter, as if from us, as though the day of Christ had come. 3 Let no one deceive you by any means; for that Day will not come unless the falling away comes first, and the man of sin is revealed, the son of perdition, 4 who opposes and exalts himself above all that is called God or that is worshiped, so that he sits as God in the temple of God, showing himself that he is God.
5 Do you not remember that when I was still with you I told you these things? 6 And now you know what is restraining, that he may be revealed in his own time. 7 For the mystery of lawlessness is already at work; only He who now restrains will do so until He is taken out of the way. 8 And then the lawless one will be revealed, whom the Lord will consume with the breath of His mouth and destroy with the brightness of His coming. 9 The coming of the lawless one is according to the working of Satan, with all power, signs, and lying wonders, 10 and with all unrighteous deception among those who perish, because they did not receive the love of the truth, that they might be saved. 11 And for this reason God will send them strong delusion, that they should believe the lie, 12 that they all may be condemned who did not believe the truth but had pleasure in unrighteousness.
Luke 12:48-59
48 But he who did not know, yet committed things deserving of stripes, shall be beaten with few. For everyone to whom much is given, from him much will be required; and to whom much has been committed, of him they will ask the more.
Christ Brings Division
49 "I came to send fire on the earth, and how I wish it were already kindled! 50 But I have a baptism to be baptized with, and how distressed I am till it is accomplished! 51 Do you suppose that I came to give peace on earth? I tell you, not at all, but rather division.52 For from now on five in one house will be divided: three against two, and two against three. 53 Father will be divided against son and son against father, mother against daughter and daughter against mother, mother-in-law against her daughter-in-law and daughter-in-law against her mother-in-law."
Discern the Time
54 Then He also said to the multitudes, "Whenever you see a cloud rising out of the west, immediately you say, 'A shower is coming'; and so it is. 55 And when you see the south wind blow, you say, 'There will be hot weather'; and there is. 56 Hypocrites! You can discern the face of the sky and of the earth, but how is it you do not discern this time?
Make Peace with Your Adversary
57 "Yes, and why, even of yourselves, do you not judge what is right? 58 When you go with your adversary to the magistrate, make every effort along the way to settle with him, lest he drag you to the judge, the judge deliver you to the officer, and the officer throw you into prison. 59 I tell you, you shall not depart from there till you have paid the very last mite."