Leavetaking of the Holy Mountain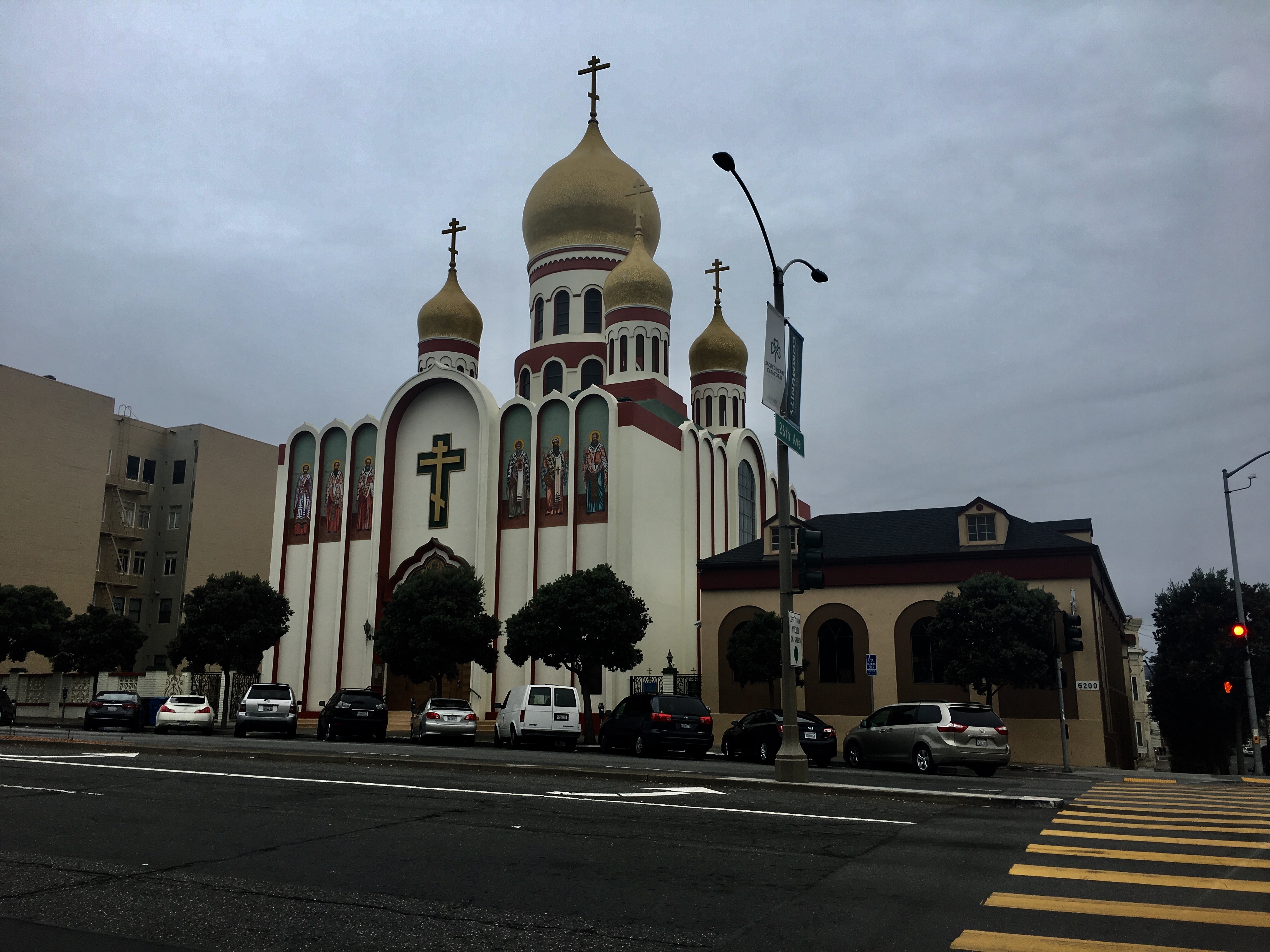 Altogether, Father Basil and I visited seven different monasteries during our ten day pilgrimage to the Holy Mountain. Each monastery had its own powerful impact on my soul, and I found it very difficult to leave what must truly be the homeland of every Orthodox monk. Rather than attempt to describe my experience at each monastery, I now want to continue the account of this holy pilgrimage by describing my visit to the Island of Aegina.
Aegina
Just outside of Athens, Aegina is one of the islands in the Saronic Gulf and is the site of the largest Orthodox Church in all of Greece. This church is dedicated to one of the most beloved saints in the Orthodox world, Saint Nektarios of Pentapolis. At the time of our pilgrimage to the island, the church was not yet completed, but we could see it off in the distance. We drove by taxi to Holy Trinity Monastery, the women's community where Saint Nektarios had served as spiritual father, and where his holy relics were enshrined.
I had purchased an icon of Saint Nektarios in Athens before making my way to Mount Athos, and retrieved it from the iconographer after returning to Athens, just before heading to Aegina. As Father Basil and I arrived at the monastery, a service of supplication was about to be served before the saint's holy relics. After venerating, I touched the icon on the saint's relics as a blessing for my monastery, and this icon is venerated in our monastery to this very day.
We were invited to write any prayer request on a scrap of paper, and Father Basil suggested I petition the saint for help with something that had plagued me since childhood. I suffered from dyslexia, and asked the saint that I might be healed of this learning disorder. I walked out of that chapel, never to suffer from dyslexia again.
Love in Christ,
Abbot Tryphon
Photo: Holy Virgin Russian Orthodox Cathedral in San Francisco, CA.
Sunday November 12, 2017 / October 30, 2017
23rd Sunday after Pentecost. Tone six.
Hieromartyr Zenobius and his sister Zenobia of Aegae, Cilicia (285).
New Hieromartyr Eugene (Zernov), metropolitan of Nizhni Novgorod (1935).
New Hieromartyr Leonid priest (1941).
New Hiero-confessor Varnava (Nastic) of Bosnia (1964).
New Hieromartyr Mathew priest (1942).
Finding of the relics of Agathangelus the Confessor, metropolitan of Yaroslavl (1998).
Apostles Tertius, Mark, Justus, and Artemas of the Seventy (1st c.).
Hieromartyr Marcian, bishop of Syracuse (2nd c).
Martyr Eutropia of Alexandria (220).
Martyr Anastasia of Thessalonica (3rd C).
St. Stephen Milutin (1320), his brother St. Dragutin (monk Theoctistus) (1316), and their mother St. Helen (1306), wife of Urosh I of Serbia (Serbia).
"Ozeryansk" (16th C) Icon of the Mother of God.
Martyrs Alexander, Cronion, Julian, Macarius, and 13 companions at Alexandria (250).
Martyr Dometius of Phrygia.
Apostle Cleopas (1st c.) (Greek).
St. Joseph I, Patriarch of Constantinople (1283) (Greek).
New Hieromartyr Nicanor (Kudriavtsev) bishop of Bogoroditsk.
Finding of the relics of Great-martyr Stephen-Urosh III of Dechani, Serbia (1331).
Martyr Jotham Zedgenidze, Paravani (1465) (Georgia).
The Scripture Readings
Matthew 28:16-20
The Great Commission
16 Then the eleven disciples went away into Galilee, to the mountain which Jesus had appointed for them. 17 When they saw Him, they worshiped Him; but some doubted.
18 And Jesus came and spoke to them, saying, "All authority has been given to Me in heaven and on earth. 19 Go therefore and make disciples of all the nations, baptizing them in the name of the Father and of the Son and of the Holy Spirit, 20 teaching them to observe all things that I have commanded you; and lo, I am with you always, even to the end of the age." Amen.
Ephesians 2:4-10
4 But God, who is rich in mercy, because of His great love with which He loved us, 5 even when we were dead in trespasses, made us alive together with Christ (by grace you have been saved), 6 and raised us up together, and made us sit together in the heavenly places in Christ Jesus, 7 that in the ages to come He might show the exceeding riches of His grace in His kindness toward us in Christ Jesus. 8 For by grace you have been saved through faith, and that not of yourselves; it is the gift of God, 9 not of works, lest anyone should boast. 10 For we are His workmanship, created in Christ Jesus for good works, which God prepared beforehand that we should walk in them.
Luke 8:26-39
A Demon-Possessed Man Healed
26 Then they sailed to the country of the Gadarenes, which is opposite Galilee. 27 And when He stepped out on the land, there met Him a certain man from the city who had demons for a long time. And he wore no clothes, nor did he live in a house but in the tombs. 28 When he saw Jesus, he cried out, fell down before Him, and with a loud voice said, "What have I to do with You, Jesus, Son of the Most High God? I beg You, do not torment me!" 29 For He had commanded the unclean spirit to come out of the man. For it had often seized him, and he was kept under guard, bound with chains and shackles; and he broke the bonds and was driven by the demon into the wilderness.
30 Jesus asked him, saying, "What is your name?"
And he said, "Legion," because many demons had entered him. 31 And they begged Him that He would not command them to go out into the abyss.
32 Now a herd of many swine was feeding there on the mountain. So they begged Him that He would permit them to enter them. And He permitted them. 33 Then the demons went out of the man and entered the swine, and the herd ran violently down the steep place into the lake and drowned.
34 When those who fed them saw what had happened, they fled and told it in the city and in the country. 35 Then they went out to see what had happened, and came to Jesus, and found the man from whom the demons had departed, sitting at the feet of Jesus, clothed and in his right mind. And they were afraid. 36 They also who had seen it told them by what means he who had been demon-possessed was healed. 37 Then the whole multitude of the surrounding region of the Gadarenes asked Him to depart from them, for they were seized with great fear. And He got into the boat and returned.
38 Now the man from whom the demons had departed begged Him that he might be with Him. But Jesus sent him away, saying, 39 "Return to your own house, and tell what great things God has done for you." And he went his way and proclaimed throughout the whole city what great things Jesus had done for him.