The German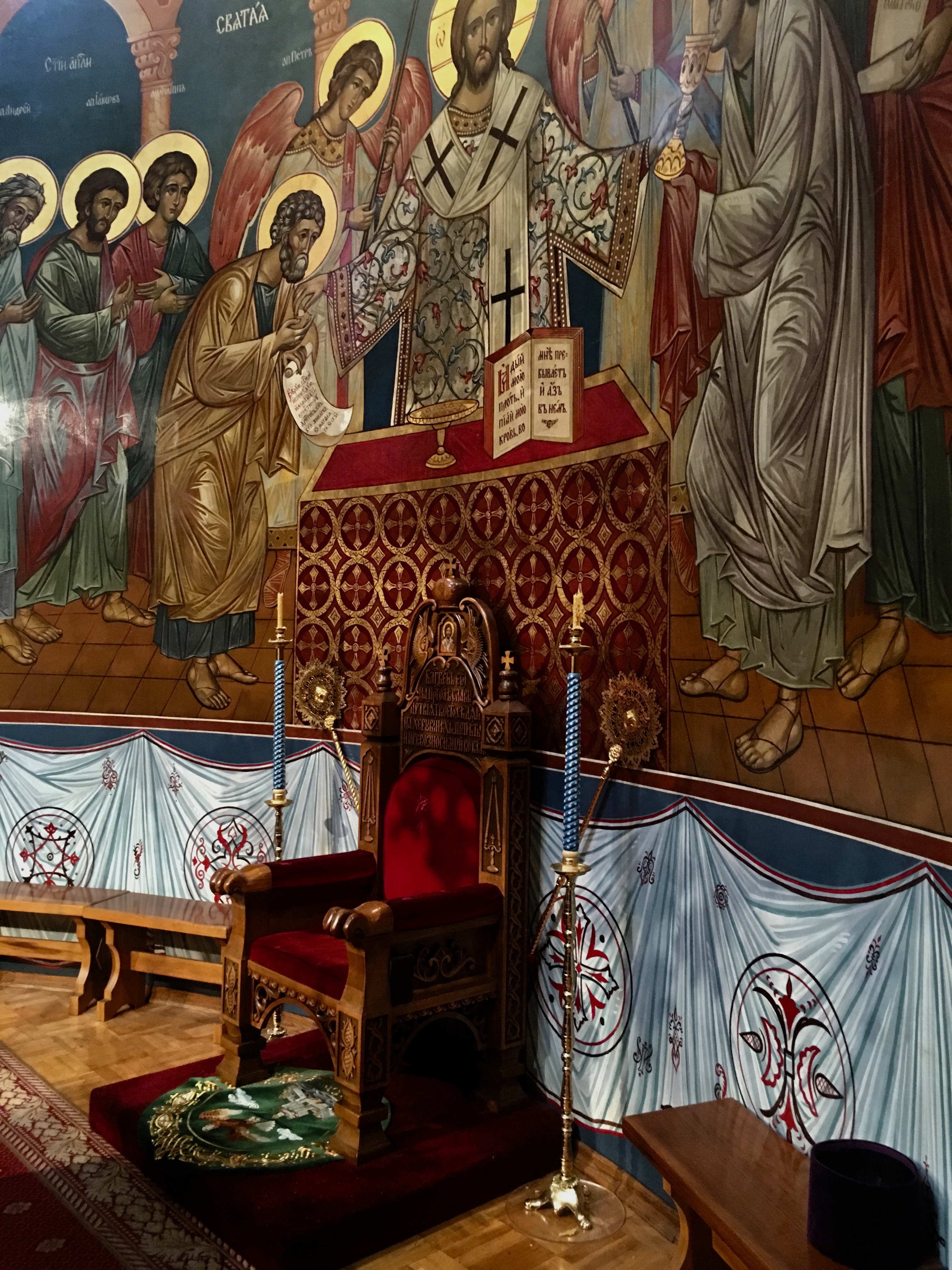 At the conclusion of the service we once again approached the holy icon, offering our final veneration. I joined the other monks, but I could not look upon her, shamed as I was. I prostrated, kissed the base of the holy icon, turned, and left the chapel.  Wandering about the grounds of the Great Lavra by myself, I was approached by a monk who told me I must return to the guesthouse. Entering the room I was sharing with Father Basil, he could immediately see I had been crying. My friend asked me what had happened, but I was unable to respond. The tears overwhelmed me, making it impossible to relate what I had experienced.
It was not until the next day that I was able to finally tell my friend I had been addressed by the Holy Virgin, and even then, my tears made it difficult to speak. It would take years of relating this event before I could finally share without breaking down. Father Basil, hearing of my experience, told me that this miraculous icon, in its long history, had moved by itself, shed tears, poured forth myrrh, and SPOKEN!
The next morning we headed to the great Russian monastery, Saint Panteleimon's, where we would spend the next few days. Shortly after arriving I was approached by a Russian monk with a request. It seemed another pilgrim had decided he wanted to convert to Orthodoxy, but he only spoke English and German. Would I be willing, the monk asked, to spend time with this German. I had been prepared, as it were, by the Mother of God, to share Orthodoxy with a German tourist! We sat on rocks next to the Aegean Sea, right next to the very building Saint Silouan the Athonite had dwelt in for years, and spoke of Orthodoxy for hours.
With love in Christ,
Abbot Tryphon
Photo: The High Place in Holy Virgin Russian Orthodox Cathedral in San Francisco.
Saturday November 11, 2017 / October 29, 2017
23rd Week after Pentecost. Tone five.
Virgin-martyr Anastasia the Roman (256).
Venerable Abramius the Recluse (360) and his niece St. Mary, of Mesopotamia (397).
Venerable Abramius, archimandrite of Rostov (Valaam) (1073).
New Hieromartyrs Nicholas priest and with him Cosma, Victor, Naum, Philip, John, Paul, Andrew, Paul, Basil, Alexis, John and Virgin-martyr Agaphia (1918).
New Hieromartyr John priest (1930).
New Hieromartyr Eugine priest (1937).
Virgin-martyr Anastasia (after 1937).
New Hieromartyr Leonid priest (1941).
Martyrs Claudius, Asterius, Neon, and Theonilla, of Aegae in Cilicia (285).
Venerable Anna (known as Euphemianus) of Constantinople (826).
Venerable Abramius, recluse of the Kiev Caves (12th-13th c.).
Venerablemartyr Anastasius.
Venerable Ermelindis, hermitess (6th c.) (Neth.).
New Martyr Athanasius of Sparta, at Muatanach (1653) (Greek).
Martyr Timothy of Esphigmenou Monastery, Mt. Athos (1820) (Greek).
Martyr Melitene of Marcionopolis (Greek).
Martyrs Cyril, Menas, and Menaeus (Greek).
St. Rostislav, prince of Moravia, Czechoslovakia (870).
St. Serapion of Zarzma, Georgia (900) (Georgia).
The Scripture Readings
2 Corinthians 8:1-5
Excel in Giving
8 Moreover, brethren, we make known to you the grace of God bestowed on the churches of Macedonia: 2 that in a great trial of affliction the abundance of their joy and their deep poverty abounded in the riches of their liberality. 3 For I bear witness that according to their ability, yes, and beyond their ability, they were freely willing, 4 imploring us with much urgency that we would receive[a] the gift and the fellowship of the ministering to the saints. 5 And not only as we had hoped, but they first gave themselves to the Lord, and then to us by the will of God.
Luke 8:16-21
The Parable of the Revealed Light
16 "No one, when he has lit a lamp, covers it with a vessel or puts it under a bed, but sets it on a lampstand, that those who enter may see the light. 17 For nothing is secret that will not be revealed, nor anything hidden that will not be known and come to light.18 Therefore take heed how you hear. For whoever has, to him more will be given; and whoever does not have, even what he seems to have will be taken from him."
Jesus' Mother and Brothers Come to Him
19 Then His mother and brothers came to Him, and could not approach Him because of the crowd. 20 And it was told Him by some,who said, "Your mother and Your brothers are standing outside, desiring to see You."
21 But He answered and said to them, "My mother and My brothers are these who hear the word of God and do it."