And the flowering of a monastic brotherhood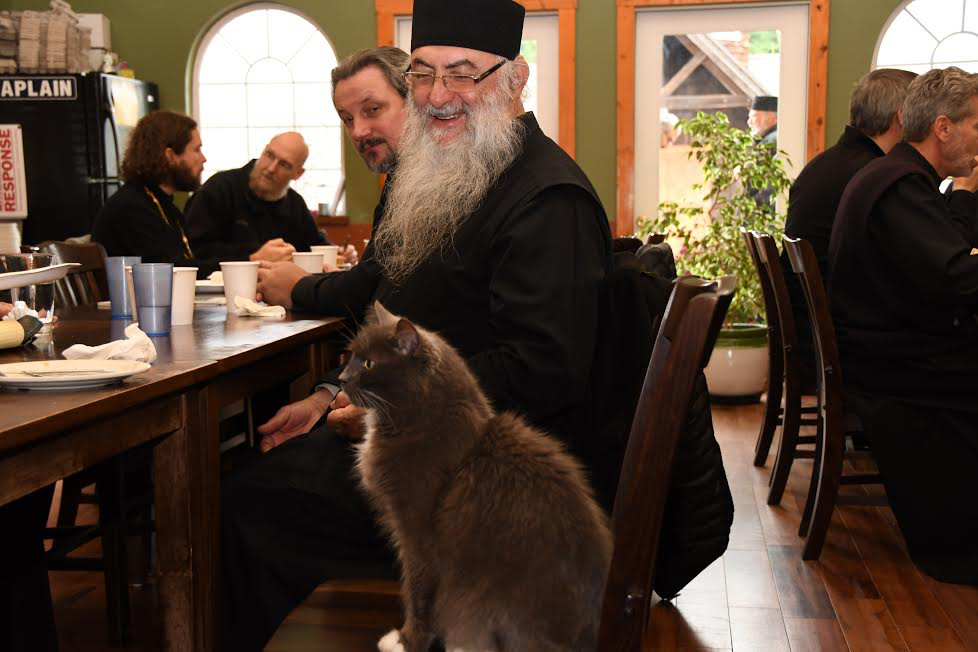 Inside the Great Lavra
One's first sighting of the Great Lavra is overwhelming. Constructed over a thousand years ago to withstand attacks by pirates, Latins, and Muslim invaders, it looks like the ancient medieval fortress town that it is. When entering the main gate you immediately notice a trap door midway between the two massive, reinforced doors. Should an invader manage to break down the first gate, hot oil would be poured down through the trap door above. The thick outer walls of the fortress offered further protection for the monks, whose monastery was in a remote part of the Byzantine Empire.
Inside the monastery's walls we found a city of monks, with spacious grounds, large buildings that housed the monastic brotherhood, guesthouse, kitchen, trapeza, and many small chapels. The magnificent katholikon (the main church), built by Saint Athanasius himself, was filled with frescos, relics of the saints, and a small side chapel which held his holy remains. Within the walls of the monastery was the Treasure House, where  many historic artifacts were kept, including the vestments of the last Byzantine Emperor, Constantine XI Palaiologos.
Along with ourselves, we were in the company of many Germans who had come to the Holy Mountain, not as Orthodox pilgrims, but as tourists seeking the world class hiking trails, free lodging and the hospitality offered by the monks. Some of these men crowded around the relics of saints, not to venerate, but to gaze as though looking at museum displays. I was angered, and commented to Father Basil my wish that these non-believers would just stay off the Holy Mountain. This "was a place of holy pilgrimage, not a tourist destination".
After attending Liturgy the following morning, I left the monastery to explore the outside walls, and happened upon the charnel house, where the bones of thousands of monks are piled upon one another, awaiting the Day of the General Resurrection. Returning to the entrance of the monastery I found Father Basil looking for me. It seemed the monks were just about to begin a service of supplication to the Panagia (the All Holy) Koukouzelissa, in the beautiful chapel dedicated to her. This small Byzantine church was just inside the entrance to the monastery. Upon entering the church we all approached the miraculous icon, prostrated, and venerated her with a kiss. Father Basil lead the way, prostrating twice, kissing the icon, stepping back, and once more offering a prostration in humble veneration.
As I approached the miraculous icon I heard the voice of the Mother of God, clearly familiar and recognizable to me, speaking in the loving tone of a caring mother who was correcting her child. "You were once a tourist." Stunned, I felt shame permeate my whole body and soul. Although I had never heard of an icon speaking to anyone, I knew the voice. This voice was as familiar to me as my own mother's voice, and I knew the Panagia was speaking directly to me, reminding me that I had judged those German men, and that I had once entered an Orthodox church as a tourist. I felt as though I was a little boy being told by my grandmother that she was disappointed in me, and I stepped back, unable to look upon the icon. Unworthy to even venerate her, I kissed the bottom of the frame, turned, ignored the monk who was directing me to a monastic stall, and walked to the very back of the church. There, prostrated behind a large pillar, I remained for the entire service, muffling the sound of my tears. I will never forget her voice, and never forget the shame I felt, having judged these Germans.
With love in Christ,
Abbot Tryphon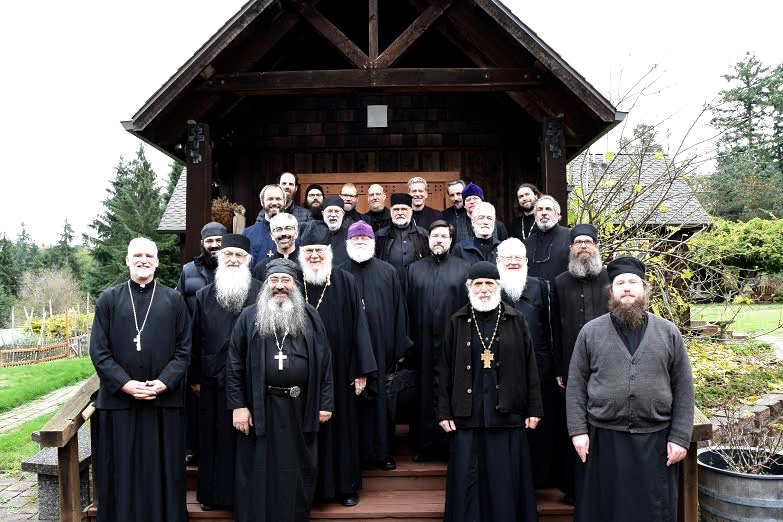 Photos: It was a joy for our monastery to host the Elder Zacharias of Essex, on Saturday, November 4th, when he addressed some twenty-five Orthodox clergy from Washington and Oregon.  Archimandrite Zacharias is a disciple of Elder Sophrony (of blessed memory), who was a disciple of Saint Silouan of Mount Athos. Presently, Father  Zacharias is a monk in the Monastery founded by Elder Sophrony: The Patriarchal Stavropegic Monastery of Saint John the Baptist, Tolleshunt Knights by Maldon, Essex, England. According to our Hieromonk Paul, the Elder was anxious to see our monastery, having become familiar with us through the internet. I'd had already been scheduled to address a retreat held in Calistoga, CA., at Holy Assumption Monastery, thus I will only be able to hear a recording of this momentous visitation of this much revered monk. Father Zacharias and Hammi got along famously.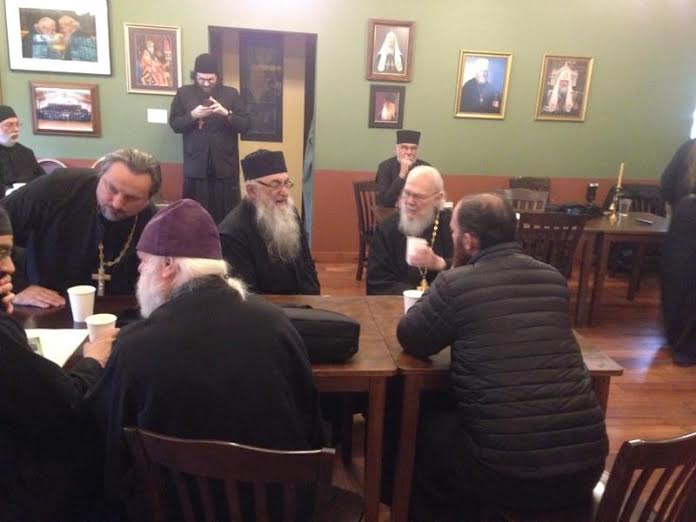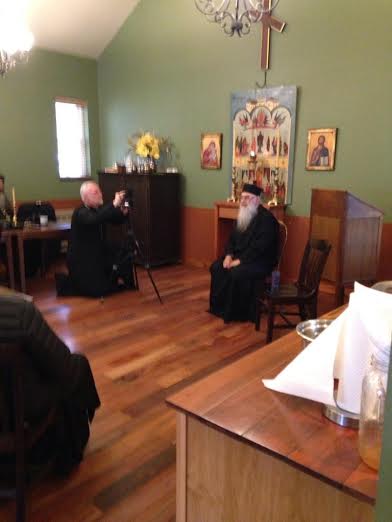 Wednesday November 8, 2017 / October 26, 2017
23rd Week after Pentecost. Tone five.
Fast. Food with Oil
Holy and Glorious Great-martyr Demetrius the Myrrh-gusher of Thessalonica (306).
Commemoration of the Great Earthquake at Constantinople in 740 A.D.
Venerable Theophilus of the Kiev Caves, bishop of Novgorod (1482).
Martyr Luppos (306).
Venerable Athanasius of Medikion Monastery (814).
Venerable Demetrius of Basarbov in Bulgaria (1685).
Venerable Demetrius (14th c.).
St. Anthony, bishop of Vologda (1588).
St. Cedd, bishop of Lastingham (664) (Celtic & British).
St. Eata, bishop of Hexham and abbot of Lindisfarne (686) (Celtic & British).
Martyr Ioasaph, monk of Mt. Athos, disciple of St. Niphon of Constantinople (1536) (Greek).
St. Alexander Okropiridze, bishop of Guria and Mingrelia, Georgia (1907) (Georgia).
Martyrs Artemidorus and Basil (Greek).
Martyr Leptina (Greek).
Martyr Glycon (Greek).
The Scripture Readings
Matthew 10:16-22
Persecutions Are Coming
16 "Behold, I send you out as sheep in the midst of wolves. Therefore be wise as serpents and harmless as doves. 17 But beware of men, for they will deliver you up to councils and scourge you in their synagogues. 18 You will be brought before governors and kings for My sake, as a testimony to them and to the Gentiles. 19 But when they deliver you up, do not worry about how or what you should speak. For it will be given to you in that hour what you should speak; 20 for it is not you who speak, but the Spirit of your Father who speaks in you.
21 "Now brother will deliver up brother to death, and a father his child; and children will rise up against parents and cause them to be put to death. 22 And you will be hated by all for My name's sake. But he who endures to the end will be saved.