And the flowering of a monastic brotherhood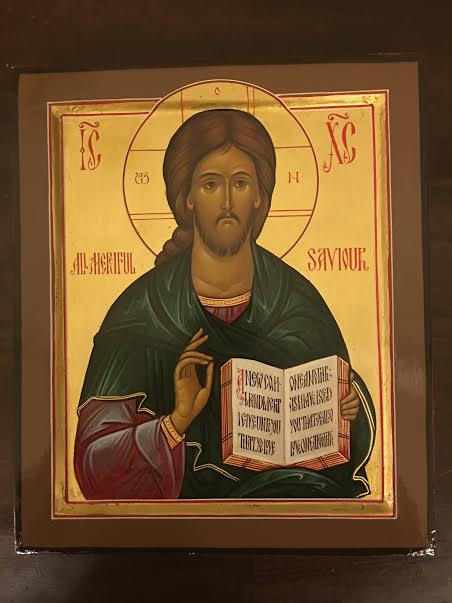 The Holy Community
Arriving in Karyes, Father Basil and I proceeded to the Holy Community in order to present our passports and visas, thus gaining official entrance to the Holy Mountain, the world's only monastic republic. Mount Athos is governed by an assembly of twenty appointed representatives from each of the twenty principal monasteries. From among these is elected annually, and in due rotation, a committee of four presidents, with one of these presidents chosen as Protos. The parliamentary assembly meets every Saturday throughout the year, acting as the supreme governmental and tribunal authority of the Holy Mountain.
Having gained our official blessings to be on the Holy Mountain, we headed for the Church of the Dormition of the Virgin, known as the Protaton, to offer our prayers of thanksgiving. Returning to the center of Karyes, we entered a small cafe for our first meal on the Holy Mountain. The cafe was a medieval building with an ancient kitchen, wood burning cook stove and oven, and no refrigeration. Karyes has a population of around two hundred and thirty men, most of them monastics. Two small shops run by monks, two little bread bakeries, and one small cafe, make up the entirety of the business section of Karyes.
After our meal, we walked about a mile to a small monastery where we sought lodging for the night. Leaving the next morning we began our hike to the Monastery of the Great Lavra, founded in 963 by Saint Athanasius the Athonite. Ranked first in the hierarchical order of the Athonite monasteries, it is considered the mother monastery of Mount Athos, and is a medieval fortress city virtually unchanged since it was built.
With love in Christ,
Abbot Tryphon
Tuesday November 7, 2017 / October 25, 2017
23rd Week after Pentecost. Tone five.
Martyrs Marcian and Martyrius the Notaries of Constantinople (355).
St. Matrona the Confessor of Diveyevo (1963).
Venerable Martyrius the Deacon (13th c.) and Venerable Martyrius the Recluse of the Kiev Caves.
Martyr Anastasius the Fuller at Salona in Dalmatia (3rd c.).
St. Tabitha, the widow raised from the dead by the Apostle Peter (1st c.).
St. Front, bishop of Perigueux (2nd c.) (Celtic & British).
St. George of Amastris, bishop and writer of canons (Greek).
Two Martyrs of Thrace (Greek).
St. Macarius, bishop of Paphos in Cyprus (Greek).
Sts. Philadephus and Polycarp (Greek).
Sts. Crispinus and Crispinianus, Romans, martyrd under Diocletian at Soissons (286).
Martyr Miniatus of Florence (251).
The Scripture Readings
1 Thessalonians 1:6-10
6 And you became followers of us and of the Lord, having received the word in much affliction, with joy of the Holy Spirit, 7 so that you became examples to all in Macedonia and Achaia who believe. 8 For from you the word of the Lord has sounded forth, not only in Macedonia and Achaia, but also in every place. Your faith toward God has gone out, so that we do not need to say anything. 9 For they themselves declare concerning us what manner of entry we had to you, and how you turned to God from idols to serve the living and true God, 10 and to wait for His Son from heaven, whom He raised from the dead, even Jesus who delivers us from the wrath to come.
Luke 11:1-10
The Model Prayer
11 Now it came to pass, as He was praying in a certain place, when He ceased, that one of His disciples said to Him, "Lord, teach us to pray, as John also taught his disciples."
2 So He said to them, "When you pray, say:
Our Father in heaven,
Hallowed be Your name.
Your kingdom come.
Your will be done
On earth as it is in heaven.
3 Give us day by day our daily bread.
4 And forgive us our sins,
For we also forgive everyone who is indebted to us.
And do not lead us into temptation,
But deliver us from the evil one."
A Friend Comes at Midnight
5 And He said to them, "Which of you shall have a friend, and go to him at midnight and say to him, 'Friend, lend me three loaves;6 for a friend of mine has come to me on his journey, and I have nothing to set before him'; 7 and he will answer from within and say, 'Do not trouble me; the door is now shut, and my children are with me in bed; I cannot rise and give to you'? 8 I say to you, though he will not rise and give to him because he is his friend, yet because of his persistence he will rise and give him as many as he needs.
Keep Asking, Seeking, Knocking
9 "So I say to you, ask, and it will be given to you; seek, and you will find; knock, and it will be opened to you. 10 For everyone who asks receives, and he who seeks finds, and to him who knocks it will be opened.