And the flowering of a monastic brotherhood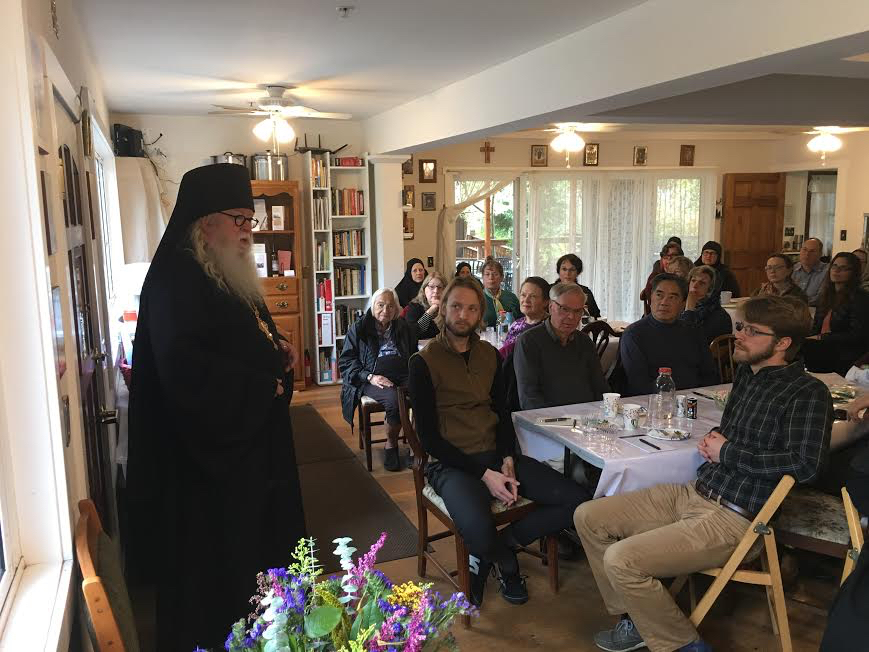 The Holy Mountain
In May of 1989, a little over a year after moving to Vashon Island, my friend Father Basil Rhodes took me on a month's journey to Greece. We spent time in Athens and Thessaloniki, before heading for our ten day stay on the Holy Mountain of Athos. This was my first journey to an Orthodox country, and it was to be a life changing experience. I fell in love with Greece and the Greek people!
Father Basil had a good friend, Christos, who owned and operated a small ecclesiastic supply store near the Metropolitan Cathedral in Athens. We stayed in the Theoxenia, meaning "God's strangers", a simple, spartan, but very clean little hotel, run by pious people. With Icons in every room, and spiritual literature to read, it was located one block from Omonia Square. We walked each day for coffee and a visit with Christos, using his store as our starting point for the exploration of the ancient city. It was in a small shop that I purchased a large icon of Saint Nektarios of Aegina, which is now venerated in our monastery's temple.
Our journey to the Holy Mountain began after a flight from Athens to Thessaloniki, and a long drive by bus to the picturesque village of Ouranoupolis. We boarded the boat that would take us to Daphne, and from this port of entry we traveled by bus to the center of the peninsula, where we entered the ancient town of Karyes, the capital of the monastic republic.
Entrance to Mount Athos is based on rules promulgated by Emperor Constantine Monomachos in 1060, and include the proviso that only males can set foot on the Holy Mountain. Visiting overnight is forbidden except for males over the age of eighteen, and who have been approved for valid religious or scientific interests. Visas are required and are issued by the Directorate of Churches of the Greek Ministry of Foreign Affairs in Athens and by the Directorate of Civil Affairs of the Ministry of Northern Greece in Thessalonika. Visits by Orthodox Christians are limited to one hundred and twenty per day, with a maximum three day stay.
Those males with explicit invitations from any of the monasteries are not included in the limit, and since Father Basil is the spiritual son of Archimandrite George, abbot of Gregoriou Monastery, we received a blessing to remain on the Holy Mountain for ten days. These rules are designed to preserve the solitude and silence of Mount Athos.
With love in Christ,
Abbot Tryphon
Photos: I gave a day long retreat at Holy Assumption Monastery in Calistoga, CA., on Saturday.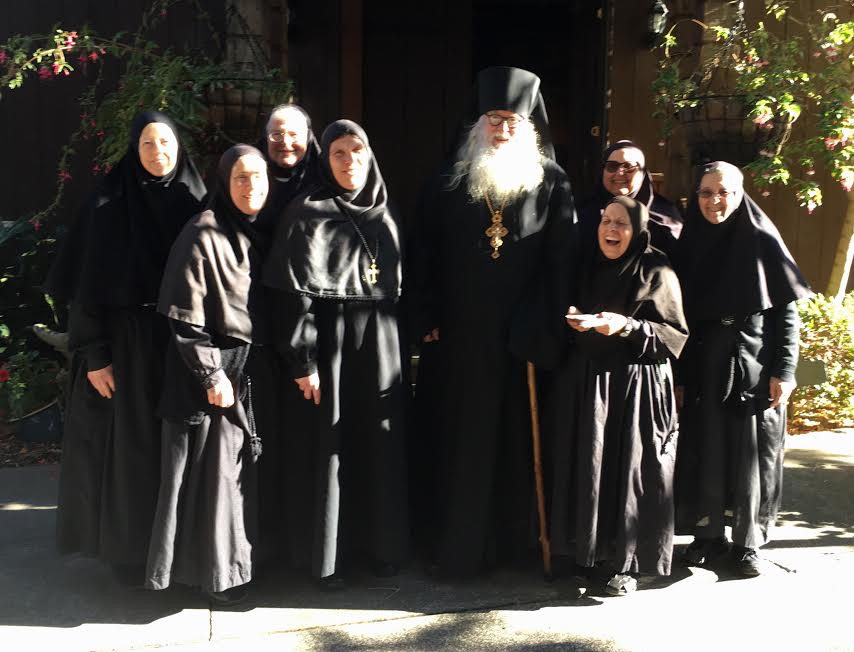 Monday November 6, 2017 / October 24, 2017
23rd Week after Pentecost. Tone five.
Icon of the Most Holy Theotokos "The Joy of All Who Sorrow"(1688).
Martyr Arethas of Omir and with him 4299 Martyrs (523).
St. Zosimas (Verkhovsky), elder of Siberia (1833).
New Hieromartyrs Laurence bishop of Balakhninsk, Alexis priest and Martyr Alexis (1918).
Venerable Aretha (1932).
New Hieromartyrs John and Nicholas priests (1937).
New Martyr Peter priest (1938).
Venerables Aretha (12th C), Sisois (13th C) and Theophil (12th-13th C), Hermits of the Kievan Caves, near caves.
Blessed Elesbaan, king of Ethiopia (553).
Martyr Syncletia and her 2 daughters (6th C).
St. Athanasius, patriarch of Constantinople (1311).
Venerable John, recluse of the Pskov Caves (1616).
Martyr Acacius of Armenia (303).
Venerable Senoch, abbot of Tours (576) (Gaul).
Martyr Sebastiana of Heraclea in Thrace (86).
St. Maglorius, abbot of Sark.
The Scripture Readings
Luke 1:39-49
Mary Visits Elizabeth
39 Now Mary arose in those days and went into the hill country with haste, to a city of Judah, 40 and entered the house of Zacharias and greeted Elizabeth. 41 And it happened, when Elizabeth heard the greeting of Mary, that the babe leaped in her womb; and Elizabeth was filled with the Holy Spirit. 42 Then she spoke out with a loud voice and said, "Blessed are you among women, and blessed is the fruit of your womb! 43 But why is this granted to me, that the mother of my Lord should come to me? 44 For indeed, as soon as the voice of your greeting sounded in my ears, the babe leaped in my womb for joy. 45 Blessed is she who believed, for there will be a fulfillment of those things which were told her from the Lord."
The Song of Mary
46 And Mary said:
"My soul magnifies the Lord,
47 And my spirit has rejoiced in God my Savior.
48 For He has regarded the lowly state of His maidservant;
For behold, henceforth all generations will call me blessed.
49 For He who is mighty has done great things for me,
And holy is His name.
Luke 1:56
56 And Mary remained with her about three months, and returned to her house.
1 Thessalonians 1:1-5
Greeting
1 Paul, Silvanus, and Timothy,
To the church of the Thessalonians in God the Father and the Lord Jesus Christ:
Grace to you and peace from God our Father and the Lord Jesus Christ.
Their Good Example
2 We give thanks to God always for you all, making mention of you in our prayers, 3 remembering without ceasing your work of faith, labor of love, and patience of hope in our Lord Jesus Christ in the sight of our God and Father, 4 knowing, beloved brethren, your election by God. 5 For our gospel did not come to you in word only, but also in power, and in the Holy Spirit and in much assurance, as you know what kind of men we were among you for your sake.
Luke 10:22-24
22 All things have been delivered to Me by My Father, and no one knows who the Son is except the Father, and who the Father is except the Son, and the one to whom the Son wills to reveal Him."
23 Then He turned to His disciples and said privately, "Blessed are the eyes which see the things you see; 24 for I tell you that many prophets and kings have desired to see what you see, and have not seen it, and to hear what you hear, and have not heard it."