Creating harmony out of chaos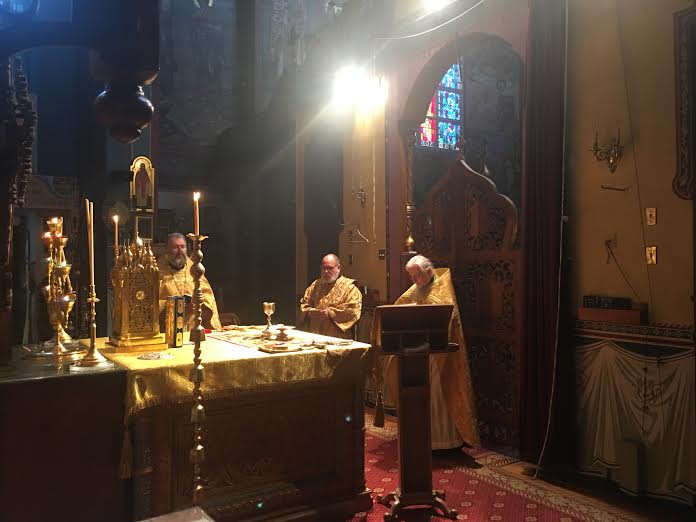 The inevitability of death is particularly difficult to face for most Americans, as we've become a people that eschew traditional funerals, preferring to "celebrate the life of our loved one, while disposing of the body, and banning any sign of death from the memorial service should we even decide to have a service. Yet the awareness of our own eventual death is the very thing we should be thinking about, if we want to be prepared for Eternity.
When we live our life focused on enjoyment, pleasure, and the acquisition of material goods, we enslave ourselves, and can only find freedom in God's love. This love creates perfection and faultlessness, and when we think on our own death we become free to perform every task for God.
Our fallen and imprisoned heart is liberated, and becomes inflamed with the love of God when we enter into a relationship with Him. This love of God engenders a love that permeates our very essence, allowing us to love every person and every creature. Our heart burns with love. This love turns chaos into harmony and it is Divine energy and Divine strength that transforms us into the being God intended us to be. We are His child, deified and made whole, and the chaos of our lives is turned into harmony.
With love in Christ,
Abbot Tryphon
Friday November 10, 2017 / October 28, 2017
23rd Week after Pentecost. Tone five.
Fast. Food with Oil
Great-martyr Parasceva of Iconium (3rd c.).
Martyrs Terence and Neonilla of Syria, and their children Sarbelus, Photus, Theodulus, Hierax, Nitus, Bele, and Eunice (249).
Venerable Stephen of St. Sabbas monastery, hymnographer (807).
St. Arsenius I of Srem, archbishop of Serbia (1266).
Repose of Venerable Job of Pochaev (1651).
St. Demetrius, metropolitan of Rostov (1709).
New Hieromartyr John priest (1918).
New Hieromartyr Archpriest Michael Lektorsky of Kuban (1920).
St. Arsenius of Cappadocia (1924).
Venerable Nestor (not the Chronicler) of the Kiev Caves (14th c.).
St. Theophilus, fool-for-Christ of Kiev (1852).
Martyrs Africanus, Terence, Maximus, Pompeius, and 36 others, at Carthage (250).
Hieromartyr Cyriacus, patriarch of Jerusalem (363), and his mother Martyr Anna.
Venerable John the Chozebite, bishop of Caesarea in Palestine (532).
Hieromartyr Neophytus, bishop of Urbnisi, Georgia (587) (Georgia).
St. Firmilian, bishop of Caesareain Cappadocia, and Venerable Malchion, presbyter (269).
St. Febronia, daughter of Emperor Heraclius (632).
Righteous Virgin Parasceva of Pirimin on the Pinega River (Archangelsk) (16th c.).
New Martyrs Angelis, Manuel, George, and Nicholas of Crete (1824) (Greek).
St. Athanasius I, patriarch of Constantinople (Mt. Athos) (1340) (Greek).
Protection of the Mother of God (Greek).
The Scripture Readings
John 10:1-9
Jesus the True Shepherd
10 "Most assuredly, I say to you, he who does not enter the sheepfold by the door, but climbs up some other way, the same is a thief and a robber. 2 But he who enters by the door is the shepherd of the sheep. 3 To him the doorkeeper opens, and the sheep hear his voice; and he calls his own sheep by name and leads them out. 4 And when he brings out his own sheep, he goes before them; and the sheep follow him, for they know his voice. 5 Yet they will by no means follow a stranger, but will flee from him, for they do not know the voice of strangers." 6 Jesus used this illustration, but they did not understand the things which He spoke to them.
Jesus the Good Shepherd
7 Then Jesus said to them again, "Most assuredly, I say to you, I am the door of the sheep. 8 All who ever came before Me are thieves and robbers, but the sheep did not hear them. 9 I am the door. If anyone enters by Me, he will be saved, and will go in and out and find pasture.
1 Thessalonians 2:14-19
14 For you, brethren, became imitators of the churches of God which are in Judea in Christ Jesus. For you also suffered the same things from your own countrymen, just as they did from the Judeans, 15 who killed both the Lord Jesus and their own prophets, and have persecuted us; and they do not please God and are contrary to all men, 16 forbidding us to speak to the Gentiles that they may be saved, so as always to fill up the measure of their sins; but wrath has come upon them to the uttermost.
Longing to See Them
17 But we, brethren, having been taken away from you for a short time in presence, not in heart, endeavored more eagerly to see your face with great desire. 18 Therefore we wanted to come to you—even I, Paul, time and again—but Satan hindered us. 19 For what isour hope, or joy, or crown of rejoicing? Is it not even you in the presence of our Lord Jesus Christ at His coming?
Luke 11:23-26
23 He who is not with Me is against Me, and he who does not gather with Me scatters.
An Unclean Spirit Returns
24 "When an unclean spirit goes out of a man, he goes through dry places, seeking rest; and finding none, he says, 'I will return to my house from which I came.' 25 And when he comes, he finds it swept and put in order. 26 Then he goes and takes with him seven other spirits more wicked than himself, and they enter and dwell there; and the last state of that man is worse than the first."