Thinking upon our own death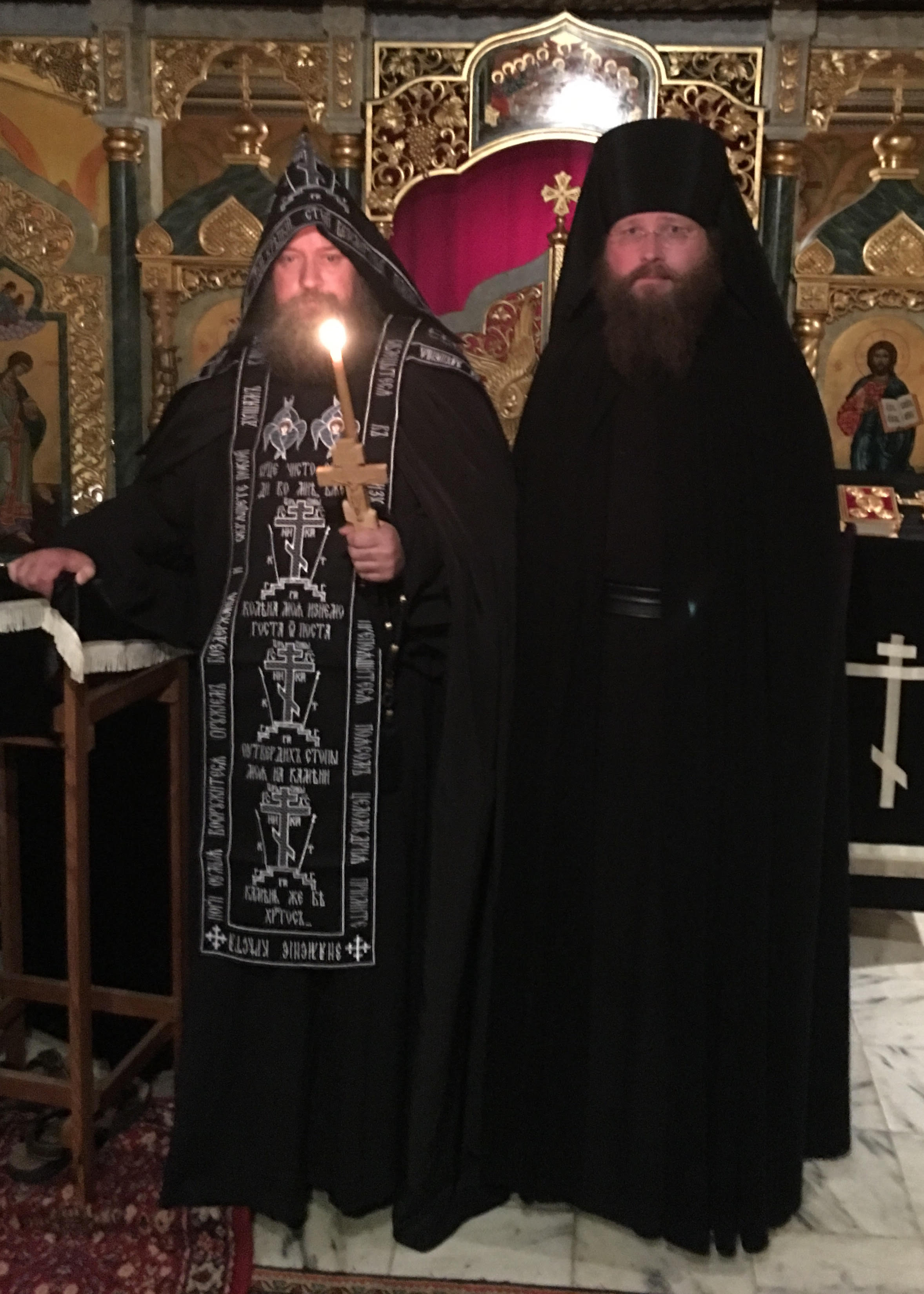 Saint Sisoes, the great ascetic, who stood before the tomb of Alexander the Great, beheld the skeletal remains of one who was once covered in magnificent garments.  Astonished, the saint mourned for the vicissitudes of time and the transience of glory, and tearfully proclaimed, "The mere sight of you, tomb, dismays me and causes my heart to shed tears, as I contemplate the debt we, all men, owe. How can I possibly stand it? Oh, death! Who can evade you?"
As a police and fire chaplain, I have attended more funerals during the past few years, than in all my previous years combined. Many of these officers were killed in the line of duty, often by criminals whose lives had been thoughtlessly lived out, and whose own end was tragic, given the eternal consequences of their actions. During these past few years, I have also lost a number of old friends, and given my age, I expect to lose more friends as the next few years progress.
Death will come for us all, and it is to our benefit not to avoid the thought, for we never know when we will be required to account for our lives. The remaining days of this life should be filled with thoughts of our own eventual death, and how we should use whatever time God has for us, in repentance for our own sins, and in service to others.
For the Christian, death itself is not to be feared, for Christ's Holy Resurrection will be ours, as well. Yet we also know that in order to be joined to His Kingdom, we must have been transformed, that the Fire of God will not be for us, a lake of fire.
With love in Christ,
Abbot Tryphon
Photo: Schema-Archdeacon Amvrosi, of Holy Virgin Cathedral in San Francisco, fell asleep in the Lord at approximately 2:15 on the morning of November 26. Memory eternal, O Lord, grant unto Thy servant Amvrosi. Father Amvrosi is pictured with Archdeacon Peter, also of the cathedral.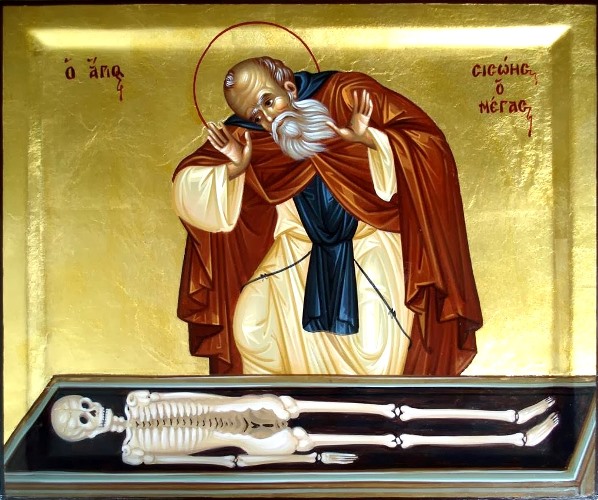 Monday November 27, 2017 / November 14, 2017
26th Week after Pentecost. Tone eight.
Eve of the Nativity Fast.
Holy and All-praised Apostle Philip (1st c.).
New Hieromartyrs Demetrius, Alexander, Victor, Alexis, Michael, Michael, Theodore, Peter, Alexis, Sergius, Nicholas, Basil, Alexander, Nicholas, Demetrius, Demetrius, Porphirius, Basil, George, Basil, Sergius priests, Nicholas deacon, New Hieromartyr Aristrah, Martyr Gabriel and Virgin-martyr Anna (1937).
New Hieromartyr Theodore priest (1940).
New Hieromartyr Sergius priest (1941).
Venerable Philip, abbot of Irap near Novgorod (1527).
St. Justinian the Emperor of Byzantium (565) and his wife St. Theodora (548).
St. Gregory Palamas, archbishop of Thessalonica (1360).
New Martyr Constantine of Hydra (Mt. Athos) (1800) (Greek).
St. Dyfrig (Dubricius), bishop in Hereford and Gwent, hermit of Bardsey Island (ca. 550) (Celtic & British).
St. Malo (Machulus) of Brittany (7th c.) (Celtic & British).
New Martyr Panteleimon the Youth of Asia Minor (Greek).
St. Alberik, bishop of Utrecht (784) (Neth.).
Repose of St. Alexander Nevsky (Alexis in monasticism) (1263).
The Scripture Readings
John 21:15-25
Jesus Restores Peter
15 So when they had eaten breakfast, Jesus said to Simon Peter, "Simon, son of Jonah, do you love Me more than these?"
He said to Him, "Yes, Lord; You know that I love You."
He said to him, "Feed My lambs."
16 He said to him again a second time, "Simon, son of Jonah, do you love Me?"
He said to Him, "Yes, Lord; You know that I love You."
He said to him, "Tend My sheep."
17 He said to him the third time, "Simon, son of Jonah, do you love Me?" Peter was grieved because He said to him the third time, "Do you love Me?"
And he said to Him, "Lord, You know all things; You know that I love You."
Jesus said to him, "Feed My sheep. 18 Most assuredly, I say to you, when you were younger, you girded yourself and walked where you wished; but when you are old, you will stretch out your hands, and another will gird you and carry you where you do not wish."19 This He spoke, signifying by what death he would glorify God. And when He had spoken this, He said to him, "Follow Me."
The Beloved Disciple and His Book
20 Then Peter, turning around, saw the disciple whom Jesus loved following, who also had leaned on His breast at the supper, and said, "Lord, who is the one who betrays You?" 21 Peter, seeing him, said to Jesus, "But Lord, what about this man?"
22 Jesus said to him, "If I will that he remain till I come, what is that to you? You follow Me."
23 Then this saying went out among the brethren that this disciple would not die. Yet Jesus did not say to him that he would not die, but, "If I will that he remain till I come, what is that to you?"
24 This is the disciple who testifies of these things, and wrote these things; and we know that his testimony is true.
25 And there are also many other things that Jesus did, which if they were written one by one, I suppose that even the world itself could not contain the books that would be written. Amen.
1 Timothy 1:1-7
Greeting
1 Paul, an apostle of Jesus Christ, by the commandment of God our Savior and the Lord Jesus Christ, our hope,
2 To Timothy, a true son in the faith:
Grace, mercy, and peace from God our Father and Jesus Christ our Lord.
No Other Doctrine
3 As I urged you when I went into Macedonia—remain in Ephesus that you may charge some that they teach no other doctrine, 4 nor give heed to fables and endless genealogies, which cause disputes rather than godly edification which is in faith. 5 Now the purpose of the commandment is love from a pure heart, from a good conscience, and from sincere faith, 6 from which some, having strayed, have turned aside to idle talk, 7 desiring to be teachers of the law, understanding neither what they say nor the things which they affirm.
Luke 14:12-15
12 Then He also said to him who invited Him, "When you give a dinner or a supper, do not ask your friends, your brothers, your relatives, nor rich neighbors, lest they also invite you back, and you be repaid. 13 But when you give a feast, invite the poor, themaimed, the lame, the blind. 14 And you will be blessed, because they cannot repay you; for you shall be repaid at the resurrection of the just."
The Parable of the Great Supper
15 Now when one of those who sat at the table with Him heard these things, he said to Him, "Blessed is he who shall eat bread in the kingdom of God!"