Kissing the hand of the priest is all about Christ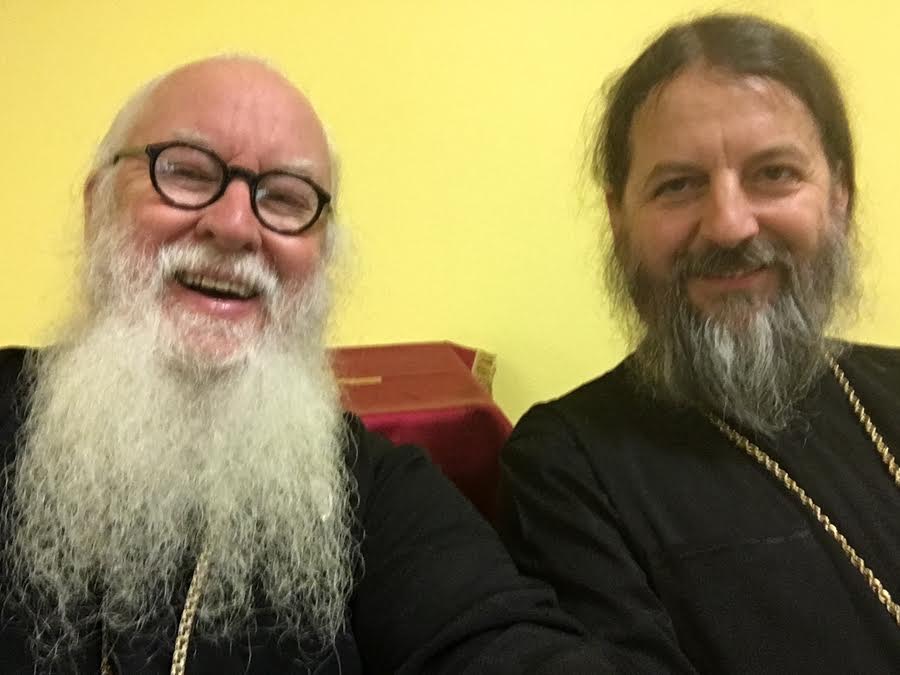 The kissing of the hand of the priest is not about the man, but rather about Christ. It is much like the kissing of an icon, which is not about the veneration of paint and wood, but about the archetype represented in the icon. When we kiss the hand of the bishop or priest, we are not showing respect to the person of the priest but to his sacred office.
The priest, representing Christ, is a living icon of Christ. Though he be a sinner who is unworthy in and of himself of such respect, that he touches the Most Holy Things – the Precious Body and Blood of the Lord, makes the kiss, in actuality, an honor extended to Christ Himself. Through ordination the priest has received the Grace of God to impart spiritual gifts and blessings, so we should not deprive ourselves of these blessings by refusing to kiss the priest's hand.
We should show this respect and receive this blessing whenever we greet, or bid farewell, our spiritual authorities. Also, we should kiss their right hand when we receive the antidoron (the blessed bread at the end of Liturgy) from them or receive the prayer of absolution at confession. We do not, however, kiss the priest's hand when receiving Holy Communion, lest we risk an accident with the Holy Chalice.
There is the true story of a priest pulling away his hand in order to prevent Czar Nicholas II from kissing his hand. The Emperor ordered him to extend it, saying "I am not kissing your hand, but the hand of Christ". In refusing to allow anyone to kiss his hand, any priest, who out of false humility would deprive a pious Christian the opportunity to kiss his hand, deprives the person of Christ's blessing.
With love in Christ,
Abbot Tryphon
Photo: A selfie of Bishop Theodosy of Seattle, and Abbot Tryphon.
Sunday October 22, 2017 / October 9, 2017
20th Sunday after Pentecost. Tone three.
Commemoration of the Holy Fathers of the Seventh Ecumenical Council (787).
Holy Apostle James, son of Alphaeus (1st c.).
Venerable Andronicus and his wife Venerable Athanasia of Egypt (500).
New Hieromartyrs Constantine and Peter priests (1918).
New Hieromartyr Constantine priest (1937).
Righteous Forefather Abraham (2000 B.C.) and his nephew Righteous Lot.
Martyrs Juventius and Maximus at Antioch (4th c.).
St. Publia the Confessor of Antioch (360).
Venerable Peter of Galatia (9th c.).
Icons of the Most Holy Theotokos "Korsun" (Cherson) and "Assuage My Sorrow".
St. Stephen the New of Serbia (1427) (Serbia).
St. Demetrius, patriarch of Alexandria (231).
Hieromartyr Dionysius (Denis, Denys) of Paris, bishop (258) (Celtic & British).
Venerable Stephen the Blind, king of Serbia (1468).
The Scripture Readings
John 20:19-31
The Apostles Commissioned
19 Then, the same day at evening, being the first day of the week, when the doors were shut where the disciples were assembled, for fear of the Jews, Jesus came and stood in the midst, and said to them, "Peace be with you." 20 When He had said this, He showed them His hands and His side. Then the disciples were glad when they saw the Lord.
21 So Jesus said to them again, "Peace to you! As the Father has sent Me, I also send you." 22 And when He had said this, He breathed on them, and said to them, "Receive the Holy Spirit. 23 If you forgive the sins of any, they are forgiven them; if you retain the sins of any, they are retained."
Seeing and Believing
24 Now Thomas, called the Twin, one of the twelve, was not with them when Jesus came. 25 The other disciples therefore said to him, "We have seen the Lord."
So he said to them, "Unless I see in His hands the print of the nails, and put my finger into the print of the nails, and put my hand into His side, I will not believe."
26 And after eight days His disciples were again inside, and Thomas with them. Jesus came, the doors being shut, and stood in the midst, and said, "Peace to you!" 27 Then He said to Thomas, "Reach your finger here, and look at My hands; and reach your hand here, and put it into My side. Do not be unbelieving, but believing."
28 And Thomas answered and said to Him, "My Lord and my God!"
29 Jesus said to him, "Thomas, because you have seen Me, you have believed. Blessed are those who have not seen and yet have believed."
That You May Believe
30 And truly Jesus did many other signs in the presence of His disciples, which are not written in this book; 31 but these are written that you may believe that Jesus is the Christ, the Son of God, and that believing you may have life in His name.
Galatians 1:11-19
Call to Apostleship
11 But I make known to you, brethren, that the gospel which was preached by me is not according to man. 12 For I neither received it from man, nor was I taught it, but it came through the revelation of Jesus Christ.
13 For you have heard of my former conduct in Judaism, how I persecuted the church of God beyond measure and tried to destroy it. 14 And I advanced in Judaism beyond many of my contemporaries in my own nation, being more exceedingly zealous for the traditions of my fathers.
15 But when it pleased God, who separated me from my mother's womb and called me through His grace, 16 to reveal His Son in me, that I might preach Him among the Gentiles, I did not immediately confer with flesh and blood, 17 nor did I go up to Jerusalem to those who were apostles before me; but I went to Arabia, and returned again to Damascus.
Contacts at Jerusalem
18 Then after three years I went up to Jerusalem to see Peter, and remained with him fifteen days. 19 But I saw none of the other apostles except James, the Lord's brother.
Luke 7:11-16
Jesus Raises the Son of the Widow of Nain
11 Now it happened, the day after, that He went into a city called Nain; and many of His disciples went with Him, and a large crowd. 12 And when He came near the gate of the city, behold, a dead man was being carried out, the only son of his mother; and she was a widow. And a large crowd from the city was with her. 13 When the Lord saw her, He had compassion on her and said to her, "Do not weep." 14 Then He came and touched the open coffin, and those who carried him stood still. And He said, "Young man, I say to you, arise." 15 So he who was dead sat up and began to speak. And He presented him to his mother.
16 Then fear came upon all, and they glorified God, saying, "A great prophet has risen up among us"; and, "God has visited His people."