Bringing the spiritual life into our workplace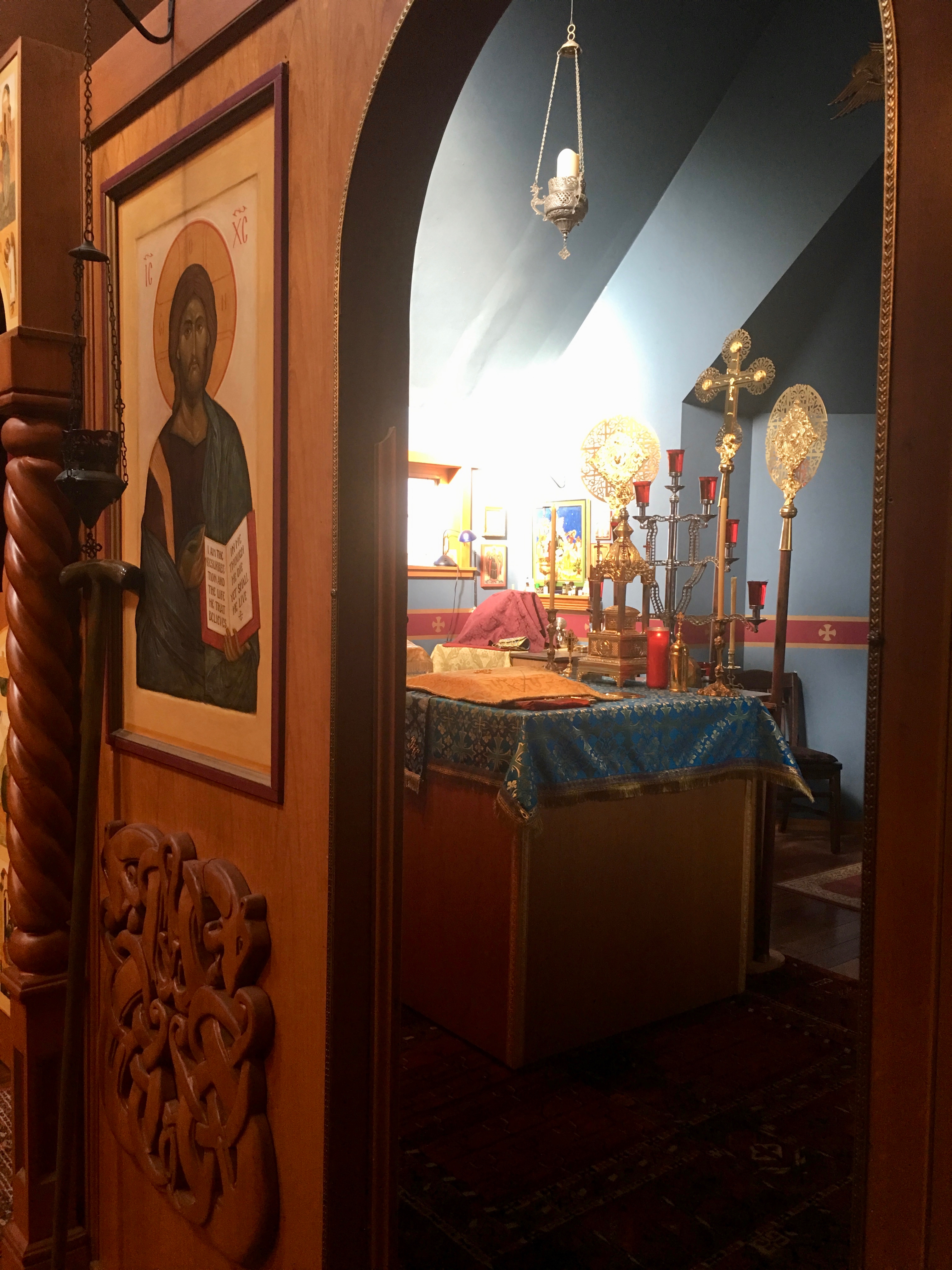 This blog was born out of an attempt on my part to help a young man begin his work day with a spiritual focus. I'd asked him to read the appointed Scripture readings for the Church's liturgical cycle at his desk before beginning his work day. The young man had his office manager tell him he was not permitted to bring a bible to the office because the company did not want religious symbols displayed at work, lest they cause offense to someone else. Never mind there was a Muslim woman who was allowed to wear her large head scarf and takes prayer breaks when the Islamic prayer times arrived.
I asked him if he was permitted to check his email during the day. Since this was permitted, I started copying the Epistle and Gospel readings for the day, and forwarding them on to him. Since that time I have greatly expanded my daily offering. When I turned to the blog format, it seemed appropriate to name the blog The Morning Offering, and it has been a labor of love every since.
Balancing our spiritual life within the workplace can be quite challenging. That said, it is a given that our day should begin with reciting the Morning Prayers, found in our Orthodox Prayer Book, before leaving home. If we commute to work by public transportation, we should get in the habit of reading books that are available in our parish bookstores. If we commute by ferry, as do many in the Puget Sound region, we can keep a book in our vehicle, allowing us to read while waiting on the dock, or crossing the Salish Sea by boat. We can use our coffee break to reread The Morning Offering, or a few chapters in our commuter book. And why not take our book along as our companion, when heading out to lunch?
We may also benefit from downloading the podcast programing from Ancient Faith Radio.  Additionally, the continuous repetition of the "Jesus Prayer" can keep us centered in Christ, even while working in a busy, noisy office.
Implementing these simple ideas can make a huge difference in our workday by adding immeasurably to our own spiritual growth. There is simply no reason we should relegate to the weekend, our spiritual life.
With love in Christ,
Abbot Tryphon
Saturday September 23, 2017 / September 10, 2017
16th Week after Pentecost. Tone six.
Saturday before the Universal Elevation of the Precious and Life-Creating Cross of the Lord
Martyrs Menodora, Metrodora, and Nymphodora at Nicomedia (305).
New Hieromartyrs Ismail, Eugine, John, Constantine, Peter, Basil, Gleb, Basil, John, Nicholas, Palladius priests, Hieromartyrs Meletius and Gabriel, Martyr Symeon, Virgin-Martyr Tatiana (1937).
New Hieromartyr Warus bishop of Lipetsk (1938).
Venerable Paul the Obedient of the Kiev Caves (13th c.).
Venerable Prince Andrew, in monasticism Joasaph, of Kubensk, Vologda (1453).
Synaxis of the Holy Apostles Apelles, Lucius, and Clement of the Seventy..
Martyr Barypsabas in Dalmatia (2nd c.).
Blessed Pulcheria, the Empress of Greece (453).
Sts. Peter (826) and Paul (9th c.), bishops of Nicaea.
Venerable Ioasaph, monk, of Kubensk (Vologda) (1453).
Venerable Cassian, abbot of Spaso-Kamenny and St. Cyril of White Lake Monasteries (1469).
St. Salvius, bishop of Albi (584) (Gaul).
Venerable Finian of Ulster (Ireland), abbot (579) (Celtic & British).
St. Theodaard of Maastricht (668) (Neth.).
Translation of the relics of St. Egvin, bishop of Worchester.
Translation of the relics of St. Ethelwold, bishop of Winchester.
The Scripture Readings
1 Corinthians 10:23-28
All to the Glory of God
23 All things are lawful for me, but not all things are helpful; all things are lawful for me, but not all things edify. 24 Let no one seek his own, but each one the other's well-being.
25 Eat whatever is sold in the meat market, asking no questions for conscience' sake; 26 for "the earth is the Lord's, and all its fullness."
27 If any of those who do not believe invites you to dinner, and you desire to go, eat whatever is set before you, asking no question for conscience' sake. 28 But if anyone says to you, "This was offered to idols," do not eat it for the sake of the one who told you, and for conscience' sake; for "the earth is the Lord's, and all its fullness."
Matthew 24:34-44
34 Assuredly, I say to you, this generation will by no means pass away till all these things take place. 35 Heaven and earth will pass away, but My words will by no means pass away.
No One Knows the Day or Hour
36 "But of that day and hour no one knows, not even the angels of heaven, but My Father only. 37 But as the days of Noah were, so also will the coming of the Son of Man be. 38 For as in the days before the flood, they were eating and drinking, marrying and giving in marriage, until the day that Noah entered the ark,39 and did not know until the flood came and took them all away, so also will the coming of the Son of Man be. 40 Then two men will be in the field: one will be taken and the other left. 41 Two women will be grinding at the mill: one will be taken and the other left. 42 Watch therefore, for you do not know what hour your Lord is coming. 43 But know this, that if the master of the house had known what hour the thief would come, he would have watched and not allowed his house to be broken into. 44 Therefore you also be ready, for the Son of Man is coming at an hour you do not expect.