Divine-Human Oneness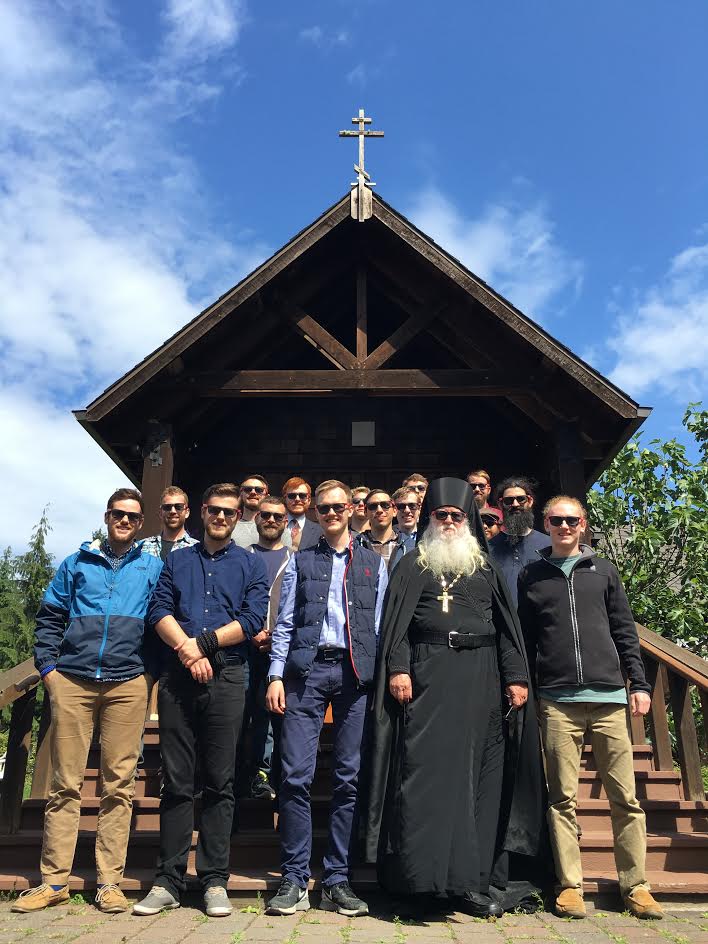 Sobornost is a word that means spiritual harmony based on freedom and unity in love. It is a necessary component in our membership within the Body of Christ, for if we are not bound together in love, our freedom becomes our enemy, separating us from others, and, ultimately from Christ Himself. This concept was so important to the early Christians as to have been the basis for the agape meal, when Christians would share their food with one another, following the celebration of the Eucharistic banquet.
That the pre-communion fast would be broken, following the Divine Liturgy, with a communal meal (the love feast), clearly demonstrates the importance of community within the life of the Church. The sobornost is the divine-human oneness we experience as members of the One Body, the Church, and is the moment when we who are many, become one. It is the image of the unity of the Holy Trinity, finding it's expression among the believers.
Sobornost is not the same as fraternity, a submission to a brotherhood for mutual benefit to the individual. Rather, Sobornost is akin to kenosis (the relinquishment of divine attributes by Jesus Christ in becoming human). Sobornost is when the individual gives up self-benefit for the community or ecclesia.
We can not truly be one in Christ if we do not seek out oneness with our fellow Christians. Nor can we be one with Christ if we routinely reject sobornost for those "heights of spirituality" that make us so conscious of self, while separating ourselves from our neighbor.
With love in Christ,
Abbot Tryphon
Prayer request: Please join us in praying for rain. Washington and Oregon are experiencing unprecedented drought, leaving forests vulnerable to fire. Our island is ripe for a major fire, and we covet the prayers of our friends and benefactors, that the Lord will deliver upon us the quenching rain we so desperately need.
Wednesday September 6, 2017 / August 24, 2017
14th Week after Pentecost. Tone four.
Fast. Food with Oil
Hieromartyr Eutychius (1st c.), disciple of St. John the Theologian.
Translation of the relics of St. Peter, metropolitan of Kiev (1479).
New Hieromartyr Seraphim (1946).
Venerable Aristoclius elder of Moscow (1918).
Venerable Arsenius, abbot of Komel (Vologda) (1550).
Martyr Tation at Claudiopolis (305).
Virgin-martyr Cyra of Persia (558).
Venerable George Limniotes the Confessor of Mt. Olympus (716).
Equal-to-the-Apostles Cosmas of Aitolia (1779).
Icon of the Most Holy Theotokos "Petrovskaya" ("of St. Peter of Moscow") (1306).
St. Martyrius, ArchBishop of Novgorod (1199).
Commemorating the appearance of Our Most Holy Lady, the Theotokos and Ever-Virgin Mary to Venerable Sergius, abbot, of Radonezh (1385).
St. Dionysius of Zakynthos, archbishop of Aegina (1622).
St. Serapion the Wonderworker, abbot of the Monastery of St. John the Baptist at Garesja, Georgia (1747) (Georgia).
New Hieromartyr Cosmas of Aitolia, Equal-to-the-Apostles (1779).
St. Maxim (Sandovich), martyr of the Lemkos, Poland (1914).
The Scripture Readings
2 Corinthians 13:3-13
3 since you seek a proof of Christ speaking in me, who is not weak toward you, but mighty in you. 4 For though He was crucified in weakness, yet He lives by the power of God. For we also are weak in Him, but we shall live with Him by the power of God toward you.
5 Examine yourselves as to whether you are in the faith. Test yourselves. Do you not know yourselves, that Jesus Christ is in you?—unless indeed you are disqualified. 6 But I trust that you will know that we are not disqualified.
Paul Prefers Gentleness
7 Now I[a] pray to God that you do no evil, not that we should appear approved, but that you should do what is honorable, though we may seem disqualified. 8 For we can do nothing against the truth, but for the truth. 9 For we are glad when we are weak and you are strong. And this also we pray, that you may be made complete. 10 Therefore I write these things being absent, lest being present I should use sharpness, according to the authority which the Lord has given me for edification and not for destruction.
Greetings and Benediction
11 Finally, brethren, farewell. Become complete. Be of good comfort, be of one mind, live in peace; and the God of love and peace will be with you.
12 Greet one another with a holy kiss.
13 All the saints greet you.
Mark 4:35-41
Wind and Wave Obey Jesus
35 On the same day, when evening had come, He said to them, "Let us cross over to the other side." 36 Now when they had left the multitude, they took Him along in the boat as He was. And other little boats were also with Him. 37 And a great windstorm arose, and the waves beat into the boat, so that it was already filling. 38 But He was in the stern, asleep on a pillow. And they awoke Him and said to Him, "Teacher, do You not care that we are perishing?"
39 Then He arose and rebuked the wind, and said to the sea, "Peace, be still!" And the wind ceased and there was a great calm. 40 But He said to them, "Why are you so fearful? How is it that you have no faith?" 41 And they feared exceedingly, and said to one another, "Who can this be, that even the wind and the sea obey Him!"