Isolation does not have to be a part of our world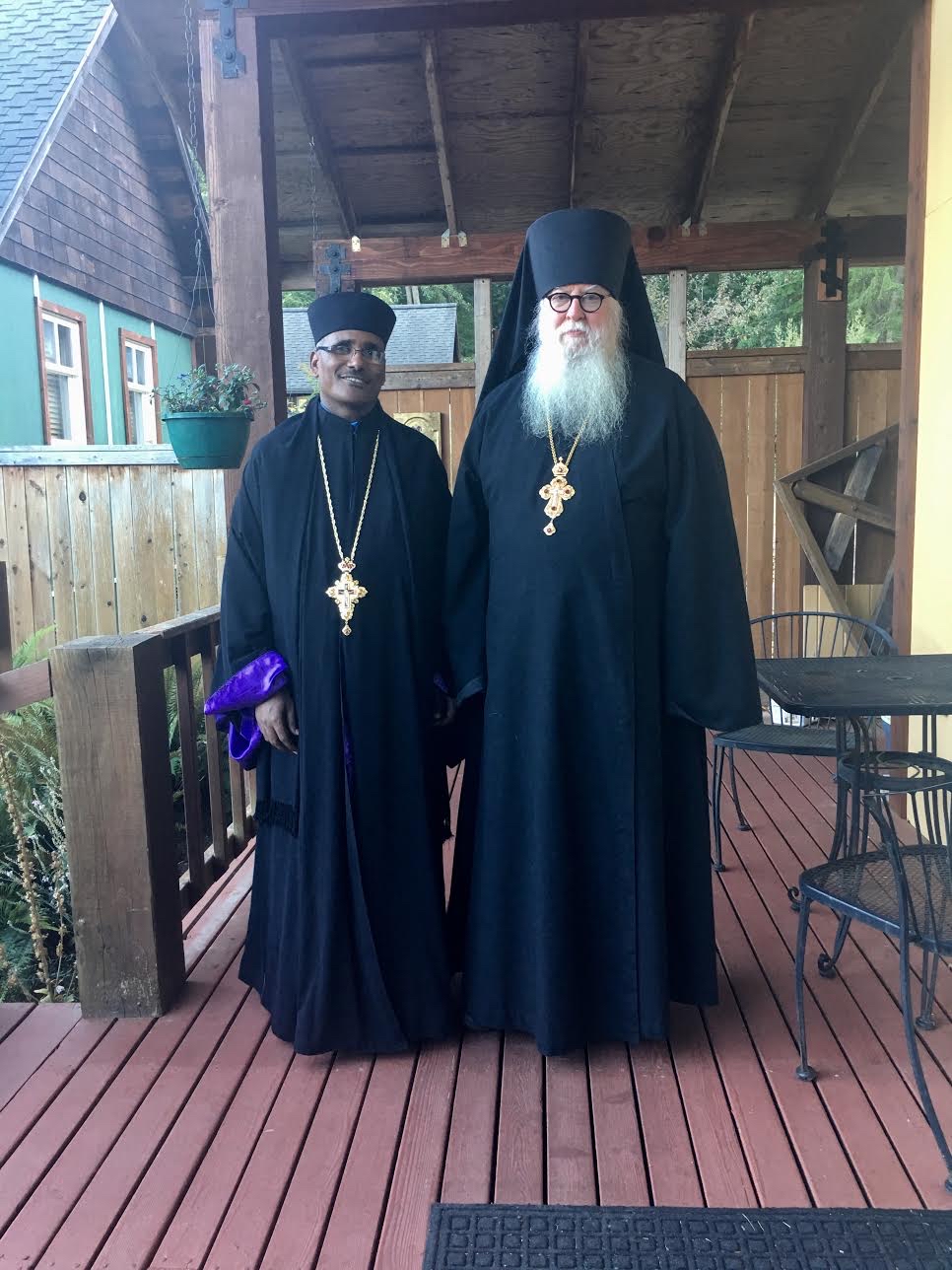 The Church, by Her very nature, is anything but an institution where one can be isolated from others. We only let it be so if we fail to involve ourselves as the people of God, with one another. The greeting given by Orthodox Christians, passing on the holy kiss when we meet one another, or kissing the hand of our priest, are ways we avoid the isolation that dominates the society in which we live. Staying for the coffee hour, or the agape meal following the Sunday Liturgy, are ways in which we can do battle against the isolation that dominates the rest of our world. Attending midweek services is another way to stave off isolation.
Our youth need to learn from us the importance of communicating directly with friends and family. Taking children out for a Sunday afternoon drive, exploring the country side, radio off, is a wonderful way families can reconnect. Taking grandmother on a family picnic to a local park, avoiding the back yard, is a wonderful, old fashioned way of introducing community to children. Letting them play with cousins in a park, as the extended family gathers for a picnic, can build families bonds that will last a lifetime.
And, if we as adults are still blessed to have our parents among the living, we need to include them in our lives. Over the years I've heard many a person lament the passing of their parents, wishing they'd spent more time with them when they were still alive. Regret does nothing to reclaim time wasted in personal pursuit, or allowing our work to reign in importance over the love of our parents, and others important to us, and who will ultimately depart this world.
Isolation is a terrible threat to our way of life. Young people no longer have the communication skills that past generations learned from older family members. I am astounded when I think of how much of my grandparents are a real part of who I've become. It is not just genetics that they passed on to me, but memories of family history that was long gone when I was born. Even parts of my personality were gleaned from my great grandfather. My study, filled as it is with photographs, icons and collectibles, is a style that became my own, having loved the same clutter and warmth of my grandparents home.
Isolation does not have to be a part of our world. It just takes commitment on our part to build family and community. When people visit the monastery I routinely ask that they turn off their cell phones, so we can all leave isolation behind and connect as family, the children of the Most High. What a wonderful thing it would be if each family had two hours each night when the house phone, cell phones, the TV, and all other outside intrusions were banned. How about an evening of playing Uno, as a family, or putting a puzzle together? Then, end the evening with the whole family standing before the icon corner, doing the evening prayers!
Love in Christ,
Abbot Tryphon
Photo: Ethiopian priest, Abba GebreIyesus, visited the monastery from Ontario, Canada.
Monday September 4, 2017 / August 22, 2017
14th Week after Pentecost. Tone four.
Martyr Agathonicus of Nicomedia and his companions: Martyrs Zoticus, Theoprepius, Acindynus, Severian, Zeno, and others, who suffered under Maximian (4th c.).
Martyr Gorazd of Prague, Bohemia and Moravo-Cilezsk (1942).
Venerable Isaac I (Antimonov, the "Elder") of Optina (1894).
New Martyrs Ephraim (Kuznetsov), bishop of Selenginsk and Priest John Vostorgov (1918).
New Hieromartyrs Macarius bishop of Orlov, John and Alexis priests (1918).
New Hieromartyrs Theodore bishop of Penza and with him Basil and Gabriel priests (1937).
New Hieromartyrs John bishop of Velikoluk, Alexis archbishop of Omsk, Alexander, Michael and Theodore priests, Hieromartyr Hilarion, John and Hierotheus (1937)
Hieromartyr Athanasius (270-275), bishop of Tarsus in Cilicia, Venerable Anthusa of Syria (298) and Martyrs Charesimus and Neophytus (270-275).
Virgin-martyr Eulalia of Barcelona (303).
Iveron Icon of the Most Holy Theotokos at the Monastery of St. Alexis of Moscow (1650).
Venerable Bogolep of St. Paisius of Uglich Monastery (16th c.).
St. Symphorian of Autun (2nd-3rd c.) (Celtic & British).
Venerable Sigfrid, abbot of Wearmouth (England) (688) (Celtic & British).
New Hieromartyr Andrew (Ukhtomsky), bishop of Ufa (1937).
Martyrs Irenaeus, Deakon, Or, and Oropsus (Greek).
The Scripture Readings
2 Corinthians 12:10-19
10 Therefore I take pleasure in infirmities, in reproaches, in needs, in persecutions, in distresses, for Christ's sake. For when I am weak, then I am strong.
Signs of an Apostle
11 I have become a fool in boasting; you have compelled me. For I ought to have been commended by you; for in nothing was I behind the most eminent apostles, though I am nothing. 12 Truly the signs of an apostle were accomplished among you with all perseverance, in signs and wonders and mighty deeds. 13 For what is it in which you were inferior to other churches, except that I myself was not burdensome to you? Forgive me this wrong!
Love for the Church
14 Now for the third time I am ready to come to you. And I will not be burdensome to you; for I do not seek yours, but you. For the children ought not to lay up for the parents, but the parents for the children. 15 And I will very gladly spend and be spent for your souls; though the more abundantly I love you, the less I am loved.
16 But be that as it may, I did not burden you. Nevertheless, being crafty, I caught you by cunning! 17 Did I take advantage of you by any of those whom I sent to you? 18 I urged Titus, and sent our brother with him. Did Titus take advantage of you? Did we not walk in the same spirit? Did we not walk in the same steps?
19 Again, do you think that we excuse ourselves to you? We speak before God in Christ. But we do all things, beloved, for your edification.
Mark 4:10-23
The Purpose of Parables
10 But when He was alone, those around Him with the twelve asked Him about the parable. 11 And He said to them, "To you it has been given to know the mystery of the kingdom of God; but to those who are outside, all things come in parables, 12 so that
'Seeing they may see and not perceive,
And hearing they may hear and not understand;
Lest they should turn,
And their sins be forgiven them.'"
The Parable of the Sower Explained
13 And He said to them, "Do you not understand this parable? How then will you understand all the parables? 14 The sower sows the word. 15 And these are the ones by the wayside where the word is sown. When they hear, Satan comes immediately and takes away the word that was sown in their hearts. 16 These likewise are the ones sown on stony ground who, when they hear the word, immediately receive it with gladness; 17 and they have no root in themselves, and so endure only for a time. Afterward, when tribulation or persecution arises for the word's sake, immediately they stumble. 18 Now these are the ones sown among thorns; they are the ones who hear the word, 19 and the cares of this world, the deceitfulness of riches, and the desires for other things entering in choke the word, and it becomes unfruitful. 20 But these are the ones sown on good ground, those who hear the word, accept it, and bear fruit: some thirtyfold, some sixty, and some a hundred."
Light Under a Basket
21 Also He said to them, "Is a lamp brought to be put under a basket or under a bed? Is it not to be set on a lampstand? 22 For there is nothing hidden which will not be revealed, nor has anything been kept secret but that it should come to light. 23 If anyone has ears to hear, let him hear."