A servant cannot be greater than his master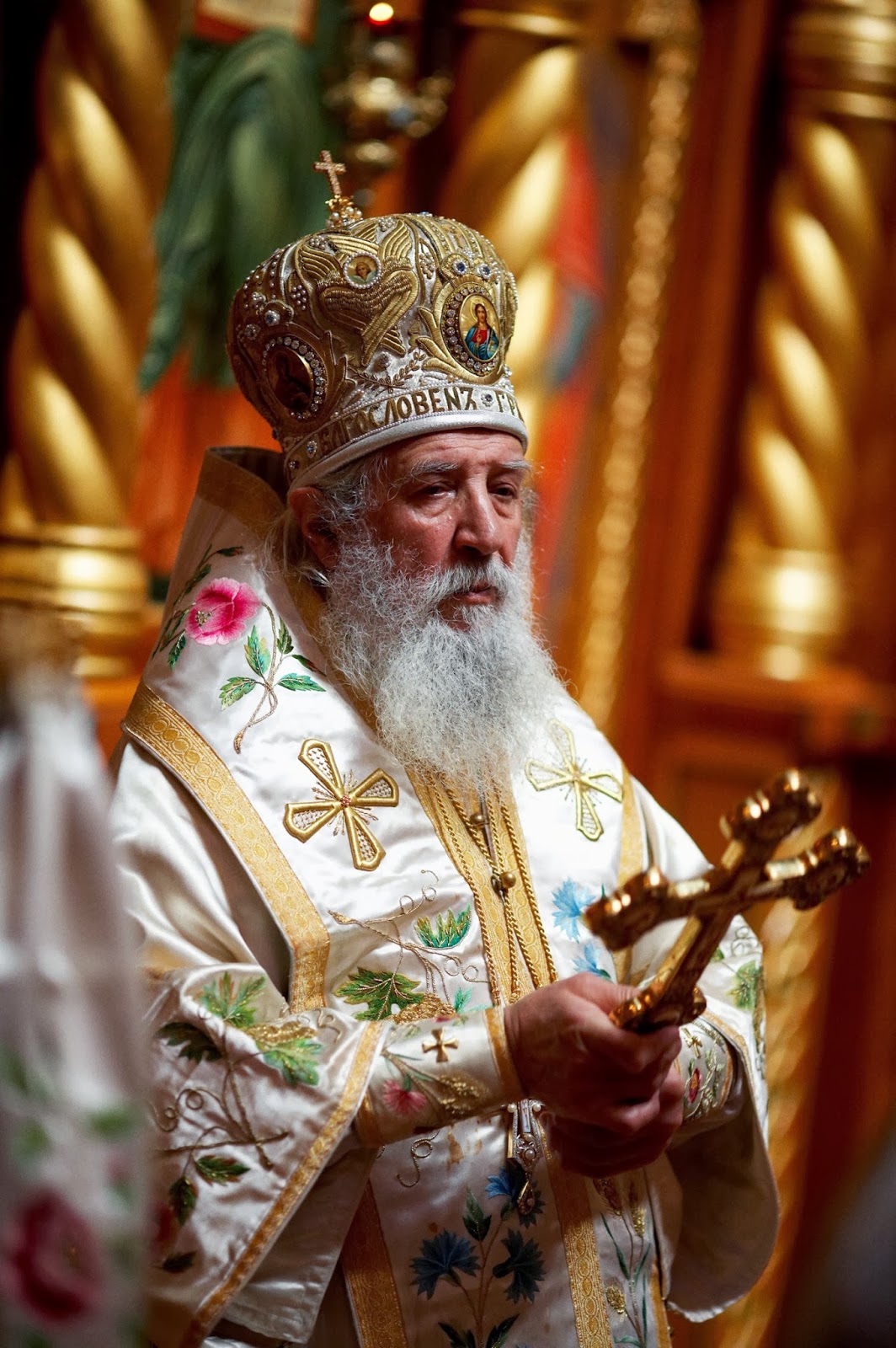 The Sovereign Lord of the Universe came down to earth as a humble servant. He Who sits upon the Wings of the Seraphim, was born to us in a stable. The King of kings came as the Good Shepherd Who laid down His life for His sheep.
We who serve as His priests and bishops can be true to our vocation, only if we serve in all humility, love, and gentleness. The bishop or priest who would set himself up as lord over his people, betrays the Lord Whom he serves. Any priest or bishop who lords over his people as though he were their superior, rather than their servant, betrays the standard of the office, as set in the earliest of times.
The bishop is to be both servant to his people and father to his flock. He represents Christ in the midst of his diocese, and must be compassionate, sweet, longsuffering, humble, and kindhearted. He must be available to his people. The bishop must be humble, lest he fall into the trap of seeing this sacred office as his divine right to lord over those under him.
Orthodoxy does not have lord bishops [prince prelates as bishops], but monks who are consecrated to serve as archpastors and fathers to their people. The western medieval imagery of lord bishops has never had a place in Orthodoxy, and our best bishops have been men of holiness, humility and simplicity. The love and respect shown to these bishops is the same as the love shown to fathers by their children. As Christ in their midst, the bishops rule not by tyranny and fear, but by love and holiness of life. They serve as archetypes of the Good Shepherd, who laid down His life for his flock.
The honor we show our bishops is honor that is shown to Christ Himself, just as when we kiss icons, our love and honor are passed on to the archetype. We call our bishops Lord in the Liturgy, not because they are princely overlords, but because they are Christ in our midst. We love and honor them, because they, like Christ, first loved us. And the love and honor we show them (as icons of Christ) are passed on to the prototype, Christ Himself.
Just as bishops serve as Christ among us, so too the priests serve as the presence of the bishop among his people. They must also be humble and holy servants of their people. They must be loving fathers in the midst of their congregations, knowing that they represent the bishop and therefore Christ Himself. The love of Christ must be visible in the fatherly humility of the priest for his people, and he must lead his people in showing love and respect for their bishop. Priests must support their bishops, realizing the heavy burden that rests upon their shoulders. The priest must pray for his bishop, support his bishop, and love his bishop, even as his own father.
Keeping these biblical images of priest and bishop, the Church is able to keep Her focus on Christ and is protected from becoming like the worldly governments and institutions that surround Her. The Church, in Her wisdom, knows that the world does not need another worldly institution but rather the saving power of a hospital for the soul. The world is in terrible decline and desperate for the example of the selfless service and sacrificial love that only the Church can offer.
The world needs Christ, not simply religion, and the Church can not be Her intended self without her bishops and priests becoming simple, humble, holy servants. The Church's clergy must serve in imitation of the Lord, in all humility and love. If we priests and bishops are to be true to our vocation, we must remember, "a servant cannot be greater than his Master (John 13:16)".
Love in Christ,
Abbot Tryphon
Photo: Metropolitan Laurus of Blessed Memory.
Wednesday September 20, 2017 / September 7, 2017
16th Week after Pentecost. Tone six.
Fast. Food with Oil
Forefeast of the Nativity of the Theotokos.
Martyr Sozon of Cilicia (304).
St. John, archbishop and wonderworker of Novgorod (1186).
Martyrdom of St. Macarius, archimandrite of Kanev (1678).
Venerable Macarius of Optina (1860).
New Hieromartyrs Peter and Michael priests, Alexander diacon (1918).
New Hieromartyr Priest John Maslovsky of Verkhne-Poltavka, Amur (1921).
New Hieromartyrs Eugine metropolitan of Gorky, Stephan priest and Hieromartyrs Eugine, Nicholas and Pakhomius, New Hieromartyrs Gregory, Basil priests, Hieromartyr Leo (1937).
Venerables Alexander Peresvet and Andrew Osliaby (1380).
Venerable Serapion of Spaso-Eleazar Monastery in Pskov (1480).
Apostles Evodus (Euodias) (66) and Onesiphorus (67) of the Seventy.
Martyr Eupsychius of Caesarea in Cappadocia (2nd c.).
Venerable Luke and St. Peter the Cappadocian, abbots of the monastery of the Deep Stream (10th c.).
St. Cassia (Cassiane) the Hymnographer (9th c.).
Venerable Cloud (Clodoald), abbot-founder of Nogent-sur-Seine near Paris (560) (Gaul).
The Scripture Readings
Galatians 6:2-10
2 Bear one another's burdens, and so fulfill the law of Christ. 3 For if anyone thinks himself to be something, when he is nothing, he deceives himself. 4 But let each one examine his own work, and then he will have rejoicing in himself alone, and not in another. 5 For each one shall bear his own load.
Be Generous and Do Good
6 Let him who is taught the word share in all good things with him who teaches.
7 Do not be deceived, God is not mocked; for whatever a man sows, that he will also reap. 8 For he who sows to his flesh will of the flesh reap corruption, but he who sows to the Spirit will of the Spirit reap everlasting life. 9 And let us not grow weary while doing good, for in due season we shall reap if we do not lose heart. 10 Therefore, as we have opportunity, let us do good to all, especially to those who are of the household of faith.
Mark 7:14-24
14 When He had called all the multitude to Himself, He said to them, "Hear Me, everyone, and understand: 15 There is nothing that enters a man from outside which can defile him; but the things which come out of him, those are the things that defile a man. 16 If anyone has ears to hear, let him hear!"
17 When He had entered a house away from the crowd, His disciples asked Him concerning the parable. 18 So He said to them, "Are you thus without understanding also? Do you not perceive that whatever enters a man from outside cannot defile him, 19 because it does not enter his heart but his stomach, and is eliminated, thus purifying all foods?" 20 And He said, "What comes out of a man, that defiles a man. 21 For from within, out of the heart of men, proceed evil thoughts, adulteries, fornications, murders, 22 thefts, covetousness, wickedness, deceit, lewdness, an evil eye, blasphemy, pride, foolishness. 23 All these evil things come from within and defile a man."
A Gentile Shows Her Faith
24 From there He arose and went to the region of Tyre and Sidon. And He entered a house and wanted no one to know it, but He could not be hidden.