The philosophical nihilism that is atheism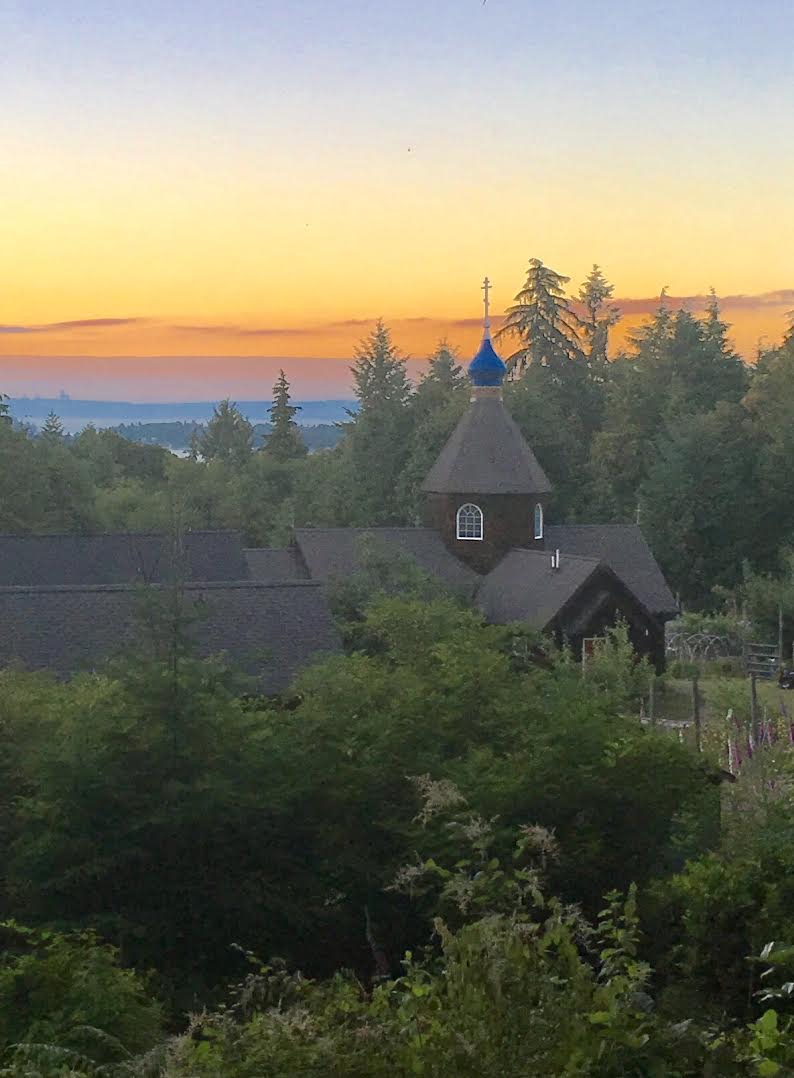 Many of us are challenged as believers as to how we might reach out to  family and friends who have declared themselves atheists, and lead them into an encounter with the God that really does exist. How can we impart faith to those whom we love, without being disrespectful of their opinions and beliefs?
There is no argument that will bring a person to Christ. In this age when all proofs must be scientifically based, our challenge as Orthodox Christians is to show our faith, which is itself immaterial and often irrational, to those who hold to a materialistic world view, where the rational sciences are their only authority. Many of these same people believe strongly in the value of offering their time and skills volunteering to bring love and comfort to those who are suffering, or otherwise in need of loving support. Yet they are unaware of the self-emptying love that these very atheists demonstrate in their charity, is in itself an image of the Christian belief in a God that emptied Himself, and asked his people to serve of the poor and marginalized, while making this the single criterion for entrance into the Kingdom of God.
Our confrontational and polemic debate never accomplishes the goal of bringing our friends and family into a personal relationship with the God who loves them, yet in our desperate desire to bring them into the faith, we stumble, time and again, with clumsy debate that ultimately accomplishes nothing but pushing them further and further into the pit of nihilism.
As a former high school and college debater, I could cite innumerable examples of how both sides can possess the same collection of data, and the same power of logic and reasoning, yet argue for completely different interpretations of the data.
The English author, G.K. Chesterton, once said, asking a Christian to prove God's existence is like asking someone to prove the existence of civilization. What is one to do but point and say, "look, there's a chair, and there's a building." Can we prove civilization by merely selecting an ancient temple, or a tomb from an ancient civilization, to demonstrate that civilization actually exists, rather than experiencing civilization as a whole?
That an atheist presupposes that only what can be apprehended by the senses rightly qualifies as evidence, hardly opens the Christian who believes in a transcendent God, to offer as evidence of the existence of God by pointing as evidence the 'handiwork' of our creator. Should we think we can prove this Transcendent One by pointing to the material evidence, is, ironically, to disprove a transcendent God, and cast out faith.
For those who would suggest the ancient peoples were devoid of scientific knowledge, and thus open to primitive beliefs regarding the existence of God, it is good to remember that the ancients were, perhaps, far more advanced than we are today, which in turn would have opened them to religious inquiry.
How can we prove the existence of One Who never came into existence? Does the Eternal One, Who had no beginning, not exist because He never came into existence? Soren Kierkegaard, in referencing the incarnation of Christ, made this very assessment. That many atheists question the existence of the Eternal One becomes even more ludicrous at a time when many scientists are seeing the universe as itself having no beginning and no end. For the Christian, God is God precisely because He does not have a creator, and has always existed.
If 'the scientific mind' of today lacks the ability for religious speculation, maybe it is because it spends more time on cell phones and the internet, than with nature, and is deprived of the transcendent beauty of a cosmos that is hidden because of the ambient light that defuses the night sky, and hides from view the awesomeness of the universe. On average, most ancient people lived much closer to nature than most of us modern people.
It is noteworthy that Christianity arose in one of the most highly advanced civilizations in human history, as the Roman Empire was the epicenter of innovation and philosophical giants. The claim that Christianity was viable in the ancient world because of widespread ignorance is a profoundly ignorant idea, and devoid of historical fact. In all likelihood, a common person of today who found himself in a philosophical debate with a common person of first century Alexandria, would be utterly humiliated in the exchange.
If we are to honestly assess the Judao-Christian doctrine of God, we will find multiple thousands of years of human testimony and religious development. That the martyrs enduring the most horrific trauma in defense of the faith, to say nothing of the numerous accounts in historical texts that corroborated our faith, we must know that although this does not perhaps prove that God's exists, it does give evidence that should elicit strong consideration.
As we witness a downward spiral in our societal ability to actually communicate face-to-face with one another, the result of  iPhones and the Internet, is it any wonder we are seeing increased numbers of people giving themselves over to the philosophical nihilism that is atheism? If we can't have meaningful relationships with one another, sitting as we do with our friends and family while texting on our cell phones, is it any wonder the reality and intimacy of God eludes us?
Finally, if we are to dialogue with the atheist, we must not succumb to thinking it is ultimately just about the planets and stars, or about whether our God created the universe in six days. The conversation with our atheist friends can not be about the literal interpretation of stories from the Old Testament, for this is not the essential question.
The central question for us is the truth which God revealed to us in and through Jesus Christ. If the God we Orthodox believe to be true, then our religion can only be measured by the love we have for our enemy.
With love in Christ,
Abbot Tryphon
Sunday September 10, 2017 / August 28, 2017
14th Sunday after Pentecost. Tone five.
Synaxis of all saints of Nizhny Novgorod (movable holiday on the Sunday after August 26th).
Venerable Moses the Black of Scete (400).
Uncovering of the relics of Venerable Job of Pochaev (1651).
New Martyrs Archimandrite Sergius (Zaytsev) and monks of Zilantov Monastery of Kazan (1918) hieromonks Laurecnce (Nikitin), Seraphim (Kuz'min), hierodeacon Theodosius (Alexandrov), monks Leontius (Kariagin), Stephen, brothers Gregory (Timofeev), Hylarion (Pravdin), John (Sretensky), Sergius (Galin) (1918).
New Hieromartyr Nicholas priest (1931).
New Hieromartyr Basil priest (1937).
Synaxis of the Saints of the Kiev Caves whose relics repose in the Far Cave of Venerable Theodosius.
Venerable Sabbas, abbot of Krypetsk (1495).
Righteous Anna the Prophetess and Daughter of Phanuel, who met the Lord at the Temple in Jerusalem (1st c.).
Martyr Queen Shushaniki (Susanna) of Georgia (475) (Georgia).
St. Amphilochius, bishop of Vladimir, Volhynia (1122).
Righteous Hezekiah, king of Judah (691 B.C.).
Venerable Theodore (Monk Theodosius of the Kiev Caves), prince of Ostrog (1483).
New Hieromartyr Chrysostom, metropolitan of Smyrna (1922) (Greek).
33 Martyrs of Nicomedia (Greek).
Martyrs Diomedes and Laurence (Greek).
The Scripture Readings
Mark 16:9-20
Mary Magdalene Sees the Risen Lord
9 Now when He rose early on the first day of the week, He appeared first to Mary Magdalene, out of whom He had cast seven demons. 10 She went and told those who had been with Him, as they mourned and wept. 11 And when they heard that He was alive and had been seen by her, they did not believe.
Jesus Appears to Two Disciples
12 After that, He appeared in another form to two of them as they walked and went into the country. 13 And they went and told it to the rest, but they did not believe them either.
The Great Commission
14 Later He appeared to the eleven as they sat at the table; and He rebuked their unbelief and hardness of heart, because they did not believe those who had seen Him after He had risen. 15 And He said to them, "Go into all the world and preach the gospel to every creature. 16 He who believes and is baptized will be saved; but he who does not believe will be condemned. 17 And these signs will follow those who believe: In My name they will cast out demons; they will speak with new tongues; 18 they will take up serpents; and if they drink anything deadly, it will by no means hurt them; they will lay hands on the sick, and they will recover."
Christ Ascends to God's Right Hand
19 So then, after the Lord had spoken to them, He was received up into heaven, and sat down at the right hand of God. 20 And they went out and preached everywhere, the Lord working with them and confirming the word through the accompanying signs. Amen.
2 Corinthians 1:21-2:4
21 Now He who establishes us with you in Christ and has anointed us is God, 22 who also has sealed us and given us the Spirit in our hearts as a guarantee.
23 Moreover I call God as witness against my soul, that to spare you I came no more to Corinth. 24 Not that we have dominion over your faith, but are fellow workers for your joy; for by faith you stand.
2 But I determined this within myself, that I would not come again to you in sorrow. 2 For if I make you sorrowful, then who is he who makes me glad but the one who is made sorrowful by me?
Forgive the Offender
3 And I wrote this very thing to you, lest, when I came, I should have sorrow over those from whom I ought to have joy, having confidence in you all that my joy is the joy of you all. 4 For out of much affliction and anguish of heart I wrote to you, with many tears, not that you should be grieved, but that you might know the love which I have so abundantly for you.
Matthew 22:1-14
The Parable of the Wedding Feast
22 And Jesus answered and spoke to them again by parables and said: 2 "The kingdom of heaven is like a certain king who arranged a marriage for his son, 3 and sent out his servants to call those who were invited to the wedding; and they were not willing to come. 4 Again, he sent out other servants, saying, 'Tell those who are invited, "See, I have prepared my dinner; my oxen and fatted cattle are killed, and all things are ready. Come to the wedding."' 5 But they made light of it and went their ways, one to his own farm, another to his business. 6 And the rest seized his servants, treated them spitefully, and killed them. 7 But when the king heard about it,he was furious. And he sent out his armies, destroyed those murderers, and burned up their city. 8 Then he said to his servants, 'The wedding is ready, but those who were invited were not worthy. 9 Therefore go into the highways, and as many as you find, invite to the wedding.' 10 So those servants went out into the highways and gathered together all whom they found, both bad and good. And the wedding hall was filled with guests.
11 "But when the king came in to see the guests, he saw a man there who did not have on a wedding garment. 12 So he said to him, 'Friend, how did you come in here without a wedding garment?' And he was speechless. 13 Then the king said to the servants, 'Bind him hand and foot, take him away, and cast him into outer darkness; there will be weeping and gnashing of teeth.'
14 "For many are called, but few are chosen."