The bodily resurrection of the Holy Virgin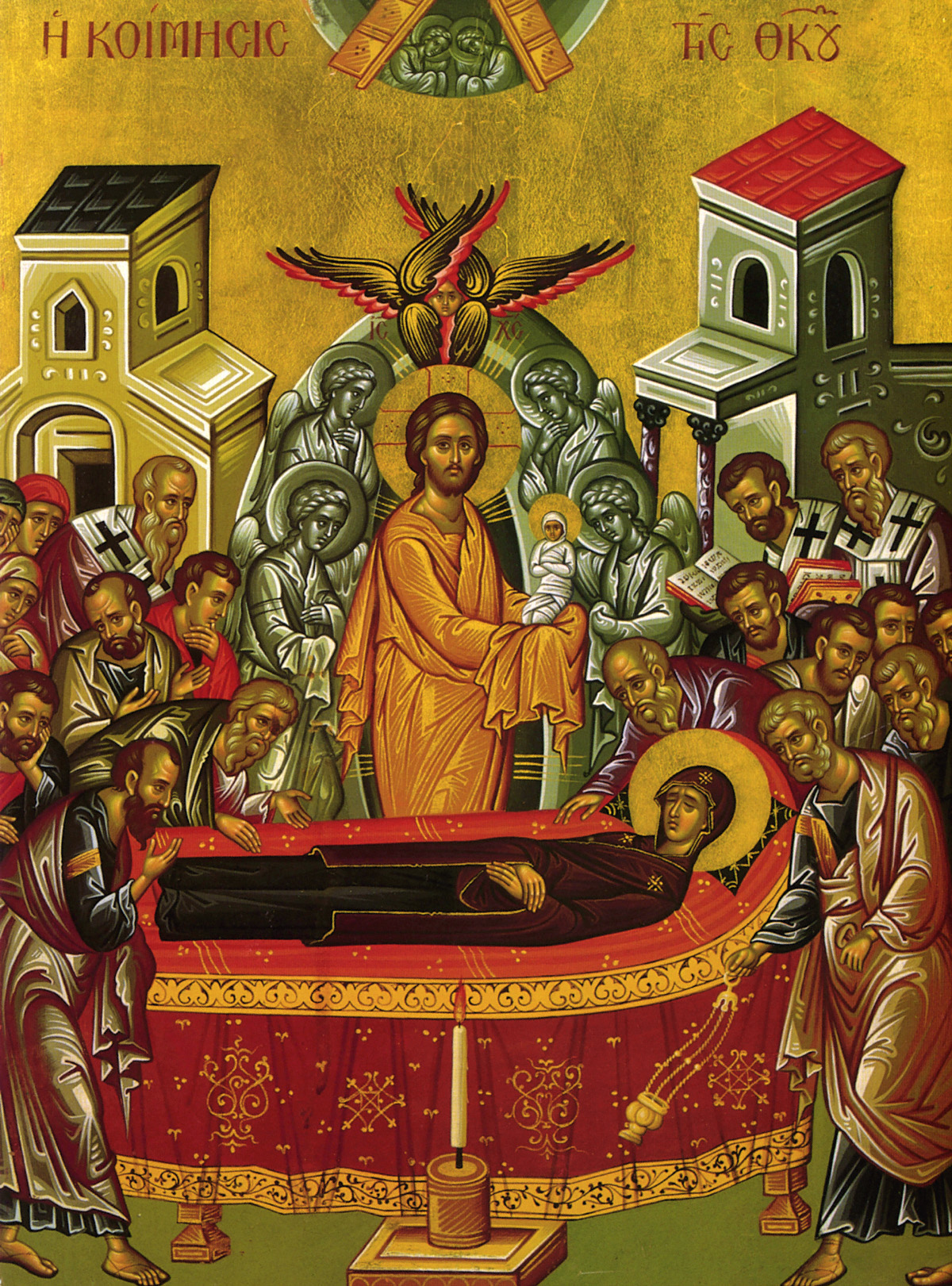 According to the teachings of the Orthodox Church, Mary, having spent her life after Pentecost supporting and serving the nascent Church, was living in the house of the Apostle John, in Jerusalem, when the Archangel Gabriel revealed to her that her repose would occur three days later.
The apostles, scattered throughout the world, are said to have been miraculously transported to be at her side when she died. The sole exception was Thomas, who had been delayed. He arrived three days after her death and is said to have seen her body leaving to heaven. He asked her "Where are you going, O Holy One?" and then she took off her girdle (belt) and gave it to him and said "Receive this my friend" then she disappeared.
Thomas was taken to his fellow Apostles and asked to see her grave so that he could bid her goodbye. Mary had been buried in Gethsemane, according to her request. When they arrived at the grave, her body was gone, leaving a sweet fragrance. An apparition is said to have confirmed that Christ had taken her body to heaven after three days to be reunited with her soul.
The Orthodox Church teaches that Mary died a natural death, like any human being; that her soul was received by Christ upon death; and that her body was resurrected on the third day after her repose, at which time she was taken up, bodily only, into heaven. Her tomb was found empty on the third day because she had already undergone the bodily resurrection which all will experience at the Second Coming, and stands in heaven in that glorified state which the other righteous ones will only enjoy after the Last Judgment.
A blessed feast to all of you!
With love in Christ,
Abbot Tryphon
Monday August 28, 2017 / August 15, 2017
13th Week after Pentecost. Tone three.
The Dormition of Our Most Holy Lady the Theotokos and Ever-Virgin Mary.
Icon of Sophia, the Wisdom of God (Novgorod).
Reverence list of the Dormition Icon of the Mother of God: "Kievo-Pechersk" (1073), "Ovinovsk" (1425), "Pskov-Pechersk"(1472), "Semigorodnaya" (15th c.) and "Piukhtitsk" (16th c.).
"Mosdok" (13th c.), "Atskursk" (1st. c.), "Tsilkansk" (4th c.), "Vlakhernsk" (Georgia), "Vladimirsko-Rostovsky" (12th c.), Gaenatsky (13th c.), "Bakhchisaraysk", "Chukhlomsk" (14th c.), "Surdegsk" (1530), "Tupichevsk" (17th c.) Icons of the Mother of God.
Venerable Macarius the Roman, abbot (1550), and his disciple St. Chariton.
New Hieromartyr Andrew (Voliansky) priest.
St. Christos of Ioannina (Greek).
St. Stephen, elder of Vyatka (1890).
New Martyrs Priest Paul Szwajko and Presbytera Joanna, of Graboviec (Chelm and Podlasie, Poland) (1943).
The Scripture Readings
Luke 1:39-49
Mary Visits Elizabeth
39 At that time Mary got ready and hurried to a town in the hill country of Judea, 40 where she entered Zechariah's home and greeted Elizabeth. 41 When Elizabeth heard Mary's greeting, the baby leaped in her womb, and Elizabeth was filled with the Holy Spirit. 42 In a loud voice she exclaimed: "Blessed are you among women, and blessed is the child you will bear! 43 But why am I so favored, that the mother of my Lord should come to me? 44 As soon as the sound of your greeting reached my ears, the baby in my womb leaped for joy. 45 Blessed is she who has believed that the Lord would fulfill his promises to her!"
Mary's Song
46 And Mary said:
"My soul glorifies the Lord
47     and my spirit rejoices in God my Savior,
48 for he has been mindful
of the humble state of his servant.
From now on all generations will call me blessed,
49     for the Mighty One has done great things for me—
holy is his name.
Luke 1:56
56 Mary stayed with Elizabeth for about three months and then returned home.
Philippians 2:5-11
5 In your relationships with one another, have the same mindset as Christ Jesus:
6 Who, being in very nature God,
did not consider equality with God something to be used to his own advantage;
7 rather, he made himself nothing
by taking the very nature of a servant,
being made in human likeness.
8 And being found in appearance as a man,
he humbled himself
by becoming obedient to death—
even death on a cross!
9 Therefore God exalted him to the highest place
and gave him the name that is above every name,
10 that at the name of Jesus every knee should bow,
in heaven and on earth and under the earth,
11 and every tongue acknowledge that Jesus Christ is Lord,
to the glory of God the Father.
Luke 10:38-42
At the Home of Martha and Mary
38 As Jesus and his disciples were on their way, he came to a village where a woman named Martha opened her home to him. 39 She had a sister called Mary, who sat at the Lord's feet listening to what he said. 40 But Martha was distracted by all the preparations that had to be made. She came to him and asked, "Lord, don't you care that my sister has left me to do the work by myself? Tell her to help me!"
41 "Martha, Martha," the Lord answered, "you are worried and upset about many things, 42 but few things are needed—or indeed only one. Mary has chosen what is better, and it will not be taken away from her."
Luke 11:27-28
27 As Jesus was saying these things, a woman in the crowd called out, "Blessed is the mother who gave you birth and nursed you."
28 He replied, "Blessed rather are those who hear the word of God and obey it."