Holding on to guilt and shame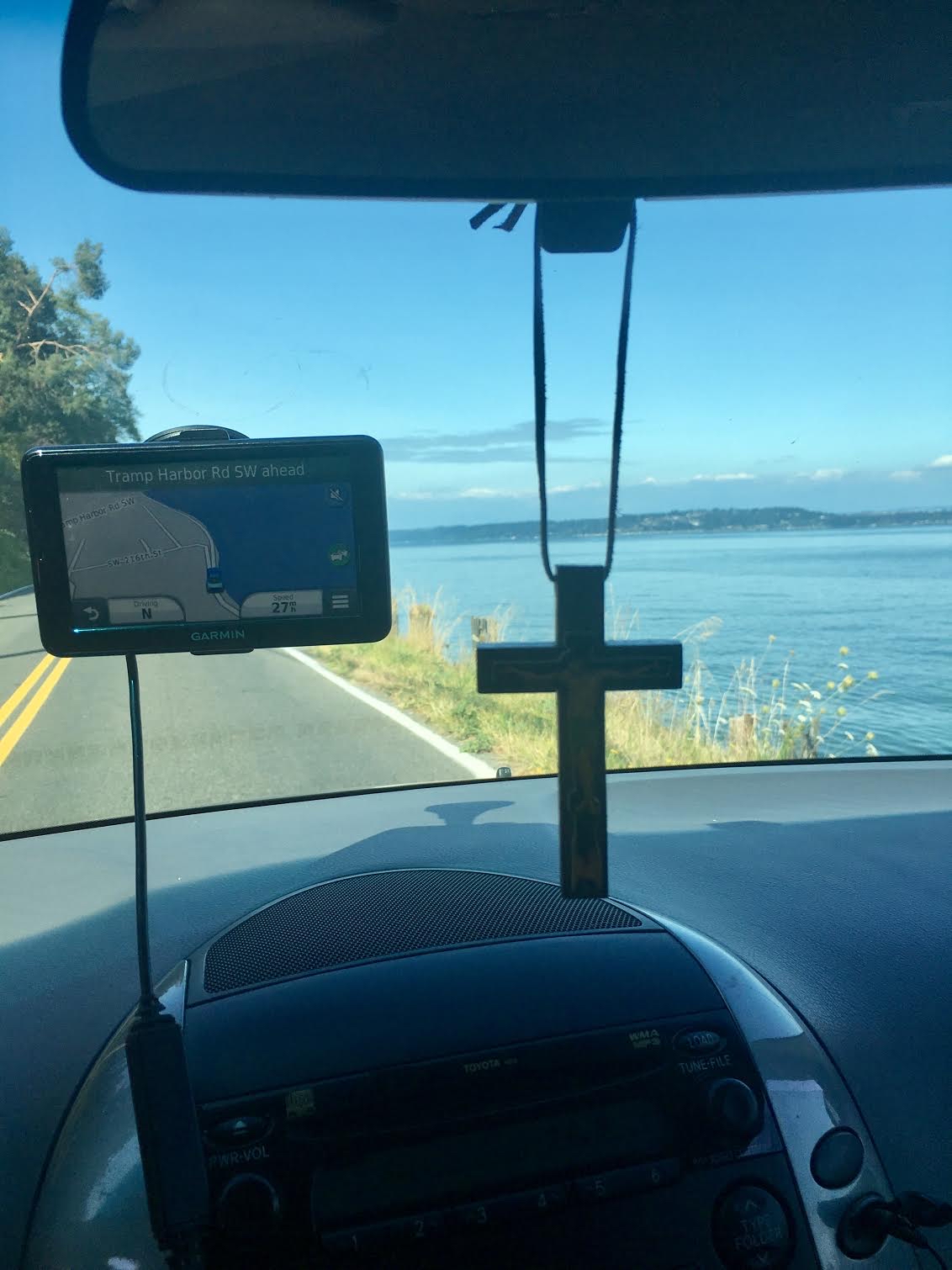 There are many people who cling to memories of past sins, holding on to guilt and shame, reliving things long ago confessed, as though they happened yesterday. They struggle with regrets, often revisiting shame as though they were archeologists, digging for historical artifacts that must be preserved.
Such is not the case with God, for His interest is not in our past, but in our future. Confessed sins are counted as nothing, for God looks with interest on the transformed heart that has been made anew, with contrition. God looks to our future, for His loving mercy is upon the man who has confessed his sin, and that sin is counted as nothing. God is interested in what we are doing with our future, and as a loving Father takes pleasure in the steps we take in our journey towards Him.
For us to look back is to reject the very role of confession, for if we cling to past regrets, we are rejecting the very meaning of repentance, which means a change of heart and taking a direction that is all about the future.
Transformation is not something that happens in an instant, but is a journey towards holiness, and as long as we look to the future with hope, transformation of the heart continues, and our past becomes but a fading memory.
Love in Christ,
Abbot Tryphon
Sunday August 20, 2017 / August 7, 2017
11th Sunday after Pentecost. Tone two.
Dormition (Theotokos) Fast. Food with Oil
Martyr Dometius of Persia (363) and two disciples.
Translation of the relics (1832) of St. Metrophanes, first bishop of Voronezh (1703).
Venerable Anthony of Optina (1865).
New Hieromartyrs Alexander, Peter, Michael, John, Demetrius and Alexis priests, Elisey deacon and Hieromartyr Athanasius (1937).
New Hieromartyr Basil priest (1938).
Venerable Poemen (Pimen) the Much-ailing of the Kiev Caves (1110).
Venerable Pimen, faster of the Kiev Caves (13th c.).
Venerable Mercurius, bishop of Smolensk (Kiev Caves) (1239).
Martyrs Marinus the Soldier and Asterius the Senator at Caesarea in Palestine (260).
Venerable Hor (Horus) of the Thebaid (390).
Virgin Potamia of Alexandria.
Venerable Dometius of Philotheou, Mt. Athos (16th c.).
St. Theodora of Sihla (18th c.) (Romania).
Holy Ten Thousand Ascetics of Thebes (Greek).
Hieromartyr Narcissus, patriarch of Jerusalem (213) (Greek).
Venerable Hyperechius of The Paradise (Greek).
Venerable Sozon of Nicomedia (Greek).
Venerable Theodosius the New, healer of Peloponnesus (862) (Greek).
Venerable Nicanor, wonderworker of Mt. Callistratus (1519) (Greek).
Martyr Afra of Augsburg (304).
The Scripture Readings
John 21:15-25
Jesus Restores Peter
15 So when they had eaten breakfast, Jesus said to Simon Peter, "Simon, son of Jonah, do you love Me more than these?"
He said to Him, "Yes, Lord; You know that I love You."
He said to him, "Feed My lambs."
16 He said to him again a second time, "Simon, son of Jonah, do you love Me?"
He said to Him, "Yes, Lord; You know that I love You."
He said to him, "Tend My sheep."
17 He said to him the third time, "Simon, son of Jonah, do you love Me?" Peter was grieved because He said to him the third time, "Do you love Me?"
And he said to Him, "Lord, You know all things; You know that I love You."
Jesus said to him, "Feed My sheep. 18 Most assuredly, I say to you, when you were younger, you girded yourself and walked where you wished; but when you are old, you will stretch out your hands, and another will gird you and carry you where you do not wish."19 This He spoke, signifying by what death he would glorify God. And when He had spoken this, He said to him, "Follow Me."
The Beloved Disciple and His Book
20 Then Peter, turning around, saw the disciple whom Jesus loved following, who also had leaned on His breast at the supper, and said, "Lord, who is the one who betrays You?" 21 Peter, seeing him, said to Jesus, "But Lord, what about this man?"
22 Jesus said to him, "If I will that he remain till I come, what is that to you? You follow Me."
23 Then this saying went out among the brethren that this disciple would not die. Yet Jesus did not say to him that he would not die, but, "If I will that he remain till I come, what is that to you?"
24 This is the disciple who testifies of these things, and wrote these things; and we know that his testimony is true.
25 And there are also many other things that Jesus did, which if they were written one by one, I suppose that even the world itself could not contain the books that would be written. Amen.
1 Corinthians 9:2-12
2 If I am not an apostle to others, yet doubtless I am to you. For you are the seal of my apostleship in the Lord.
3 My defense to those who examine me is this: 4 Do we have no right to eat and drink? 5 Do we have no right to take along a believing wife, as do also the other apostles, the brothers of the Lord, and Cephas? 6 Or is it only Barnabas and I who have no right to refrain from working? 7 Who ever goes to war at his own expense? Who plants a vineyard and does not eat of its fruit? Or who tends a flock and does not drink of the milk of the flock?
8 Do I say these things as a mere man? Or does not the law say the same also? 9 For it is written in the law of Moses, "You shall not muzzle an ox while it treads out the grain."[a] Is it oxen God is concerned about? 10 Or does He say it altogether for our sakes? For our sakes, no doubt, this is written, that he who plows should plow in hope, and he who threshes in hope should be partaker of his hope. 11 If we have sown spiritual things for you, is it a great thing if we reap your material things? 12 If others are partakers of this right over you, are we not even more?
Nevertheless we have not used this right, but endure all things lest we hinder the gospel of Christ.
Matthew 18:23-35
23 Therefore the kingdom of heaven is like a certain king who wanted to settle accounts with his servants. 24 And when he had begun to settle accounts, one was brought to him who owed him ten thousand talents. 25 But as he was not able to pay, his master commanded that he be sold, with his wife and children and all that he had, and that payment be made. 26 The servant therefore fell down before him, saying, 'Master, have patience with me, and I will pay you all.' 27 Then the master of that servant was moved with compassion, released him, and forgave him the debt.
28 "But that servant went out and found one of his fellow servants who owed him a hundred denarii; and he laid hands on him and took him by the throat, saying, 'Pay me what you owe!' 29 So his fellow servant fell down at his feet and begged him, saying, 'Have patience with me, and I will pay you all.' 30 And he would not, but went and threw him into prison till he should pay the debt. 31 So when his fellow servants saw what had been done, they were very grieved, and came and told their master all that had been done.32 Then his master, after he had called him, said to him, 'You wicked servant! I forgave you all that debt because you begged me.33 Should you not also have had compassion on your fellow servant, just as I had pity on you?' 34 And his master was angry, and delivered him to the torturers until he should pay all that was due to him.
35 "So My heavenly Father also will do to you if each of you, from his heart, does not forgive his brother his trespasses."